Magnificent Oregon Coast Spot Exists Only Half the Time

Upper Lane County - Florence to Yachats Virtual Tour, Oregon Coast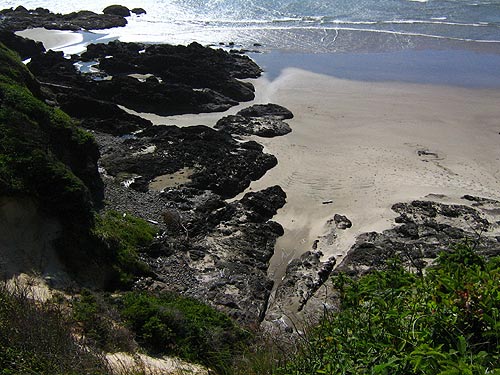 (Yachats, Oregon) – It may be the coolest little Oregon coast beach you've never heard of. It's called Cape Cove Beach, and it's technically part of Cape Perpetua and the Devil's Churn. But you may never get to wander there as it really only exists about half the time – the rest it's covered over by rough waters and dangerous tides.
If you've ever been to the southern face of Cape Perpetua and the Devil's Churn near Yachats, rounded that bend and looked out on the waves crashing over rocky structures up against a cliff, you've seen it. There are benches facing this part of the Churn's sort of base-like area. If you look carefully, you'll see the beach continues back a ways into a tiny cove, where a concrete construction allows water to come through.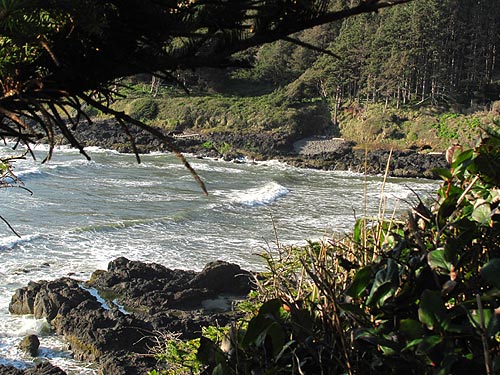 Cape Cove Beach as it often looks: all covered up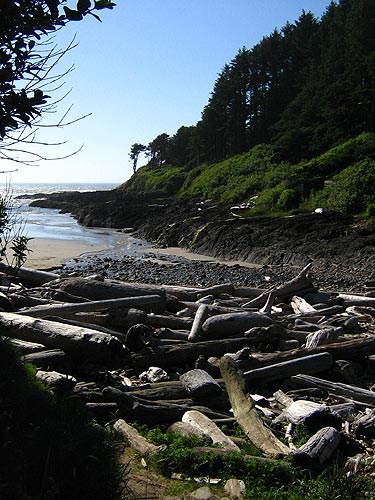 There's a trail here, tons of log debris to climb on, bundles of tide pool action, funky sea life, a mesmerizing labyrinth of basalt slabs and blobs to wander, and a sense of being somewhere many people don't get to visit.
And for good reason. Access to this pleasant place is highly dependent on the tide, which doesn't want you to visit very much.
If tidal conditions are right – and this isn't often – you can get down here and wander with glee. There's lots to check out and explore. But that power of the waves is always being reminded by the presence of massive logs strewn far back into the cove: the only way they could've gotten here is via huge amounts of water.
It's quite difficult to get down here from the Cape Perpetua base, but there is a trail meandering down from up top by the highway, perhaps 100 feet from the wild sights of Cook's Chasm, which often sends a jet stream of sea water shooting at an interesting angle.
Look close at the base of Perpetua, where interesting sea life cling. Among the finds are barnacles, as in this extreme close-up shot.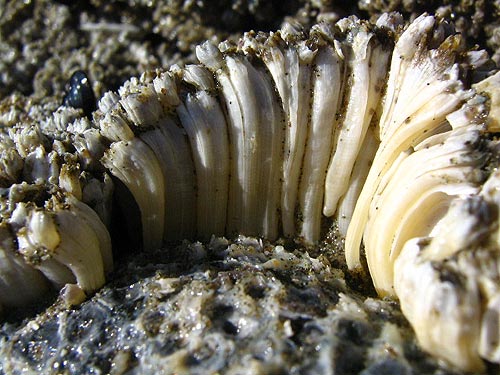 Tiffany Boothe with the Seaside Aquarium explains this unique formation of the crusty creature. She said they're called Thatched barnacles (Balanus cariosus).
"When there is limited horizontal space these barnacles will grow quite tall and narrow," Boothe said. "What you are seeing is an area where a section of barnacles have either been knocked off by the surf or crushed by humans tromping through the intertidal area, allowing you to see the entire length of the barnacle's wall plates. These barnacles have been known to have a lifespan of 15 years."
Keep a lookout for strange marks and colors in the geologic formations here.
You can come down close to the Cape Cove during heavier tidal conditions via the trail, but don't actually get too near, as all kinds of logs and other extremely heavy objects are swirling around there and can easily knock you over or fly up and kill you.