Photos of Newport Chamber, Visitors Center, Central. Oregon Coast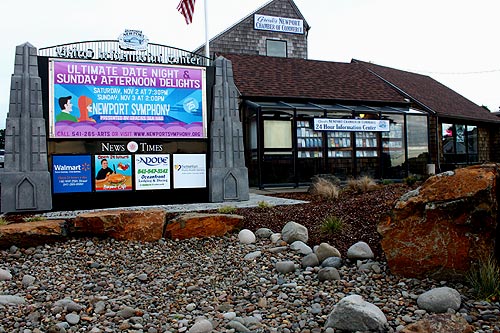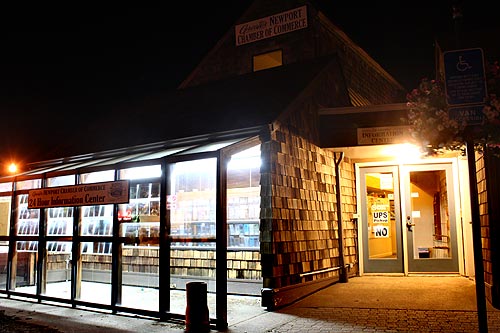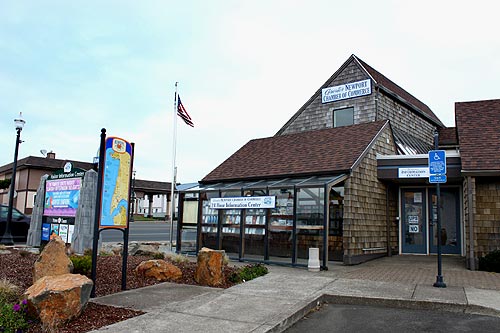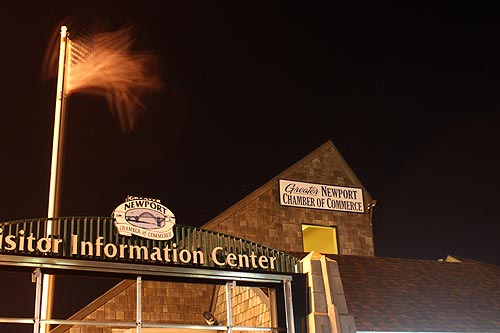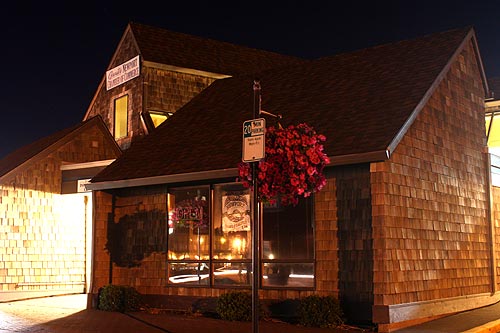 Newport Chamber, Visitors Center, Central. Oregon Coast - visitor news, events, updates from the Chamber.
At the Newport, Oregon Chamber and Visitors Center, you'll find 24-hour visitor information in a covered kiosk/lobby. During businesses hours, peruse a much larger array of brochures about Newport lodging and Newport restaurants, dining. Ask questions about Newport and its many attractions in person, as well as activities about hiking, clamming, ocean tours, whale watching and more.
The chamber also spearheads numerous events throughout the year, such as the massive Newport Seafood and Wine Festival, the Amazing Race and other high-profile happenings.
Look for full Greater Newport Chamber of Commerce info at newportchamber.org. 541-265-8801 or 1-800-COAST44. 555 SW Coast Highway. Newport, Oregon (about halfway through Newport on Highway 101).
News from and about Greater Newport, Oregon Chamber of Commerce, Visitors Center
Newport Marathon Brings in Thousands to Central Oregon Coast
23 May 2016 at 10:29am
(Newport, Oregon) ? June 4 is when thousands smother the streets ... More race information is at http://www.newportmarathon.org . Contact the Newport Chamber for viewing options and places: 541-265-8801. 800-262-7844.
International pianist to perform in Depoe Bay
26 May 2016 at 3:05pm
The Oregon Coast Chamber Music Society will close the 2015-2016 season with internationally acclaimed pianist Alexander Tutunov on Saturday, June 4, at 4 p.m. in the ocean-view home of Dick and Laurel Young in Depoe Bay. The program, ?Love Is in the Air ...
Box Office (May 26)
26 May 2016 at 4:16am
Chamber Music Amici with guests Guy Few ... Oregon Garden Brewfest, June 17 - 19, Oregon Garden, Silverton. Admission: $15-$55. Information: oregongarden.org. Newport Symphony presents A Broadway Romance, 7:30 p.m. Saturday, June 18, Newport Performing ...
Bernie Sanders and Hillary Clinton vie for Kentucky, Oregon
17 May 2016 at 2:54am
The presumptive GOP nominee runs uncontested in today's Republican primary in Oregon. The poll found ... and vote on commission races in Newport and Covington. The Kentucky House is the last legislative chamber in the South still held by Democrats.
Oregon Coast Chamber Orchestra to play three concerts
20 Apr 2016 at 2:19am
YACHATS ? Oregon Coast Chamber Orchestra, under the direction of Robin DeVour ... Musicians in this orchestra come from coastal communities between Newport and Port Orford and from Eugene and Springfield. Performances are: 2 p.m. Sunday, April 24 ...
ROCKIN' THE COAST: Gem and mineral show
24 May 2015 at 10:43pm
For more information visit the clubs website- www.coastagates.org or find us on Facebook- Oregon Coast Agate Club. For information on events and accommodation in Newport visit the Newport Chamber of Commerce website- http://www.newportchamber.org
Video: Newport Loyalty Day controversy stirs boycott
17 May 2007 at 4:45am
NEWPORT -- When two anti-war groups showed up to take part in the annual Loyalty Day Parade in Newport, organizers sent them marching in the other direction. Now two weeks later, as high season on the Oregon coast ... Greater Newport Chamber of Commerce ...

More Updates from the Newport, Oregon Chamber via FB

[CaRP] Can't open remote newsfeed [404].
Have you reserved your tickets yet for the Banquet & Balloon Auction? They a...
by Greater Newport Chamber of Commerce
25 Mar 2015 at 12:00pm
Have you reserved your tickets yet for the Banquet & Balloon Auction? They are going fast! Call 541-265-8801 to attend ?Masquerade on Bourbon Street? April 4th at the Best Western. Thank you to our Presenting Sponsor, the News-Times and to our Table Sponsors: Howard Adams-CPA, Salishan Spa & Golf Resort, Western Title & Escrow, Samaritan Pacific Communities Hospital, Columbia Bank, Rogue Ales, Bigfoot Beverages, Walmart, Chinook Winds Casino Resort, Newport News-Times, US Bank, Holiday Inn Express, The Storage Place, Mariner Enterprises, Thompson Sanitary Service, TCB Management/BBSI, City of Newport, Earthbound Beauty Day Spa and Aquarium Village.



The Greater Newport Chamber of Commerce Ambassadors were there for the ribbon...
by Greater Newport Chamber of Commerce
25 Mar 2015 at 10:15am
The Greater Newport Chamber of Commerce Ambassadors were there for the ribbon cutting at the Big 5 Grand Opening!


Ribbon Cutting at the Big 5 Grand Opening


More Newport, Oregon Visitor Information at the Newport, Oregon Virtual Tour, Map
See Newport, Oregon News Updates: Local Newport, Oregon News, Travel News