Photos of Newport Chamber, Visitors Center, Central. Oregon Coast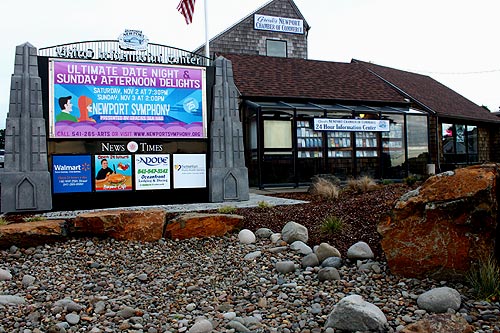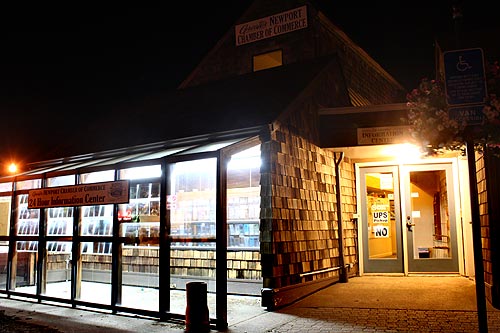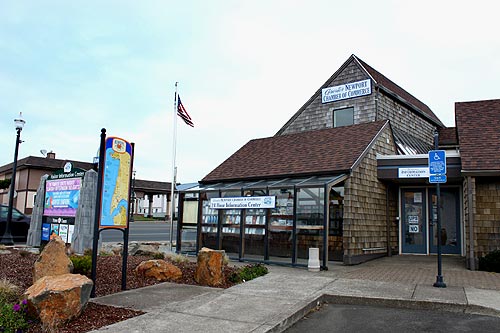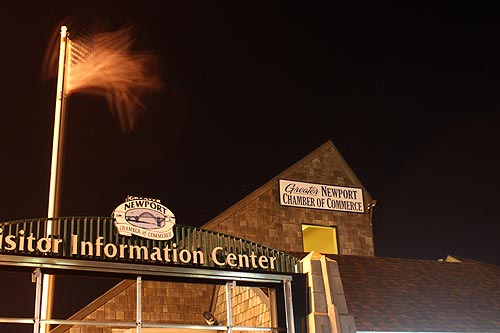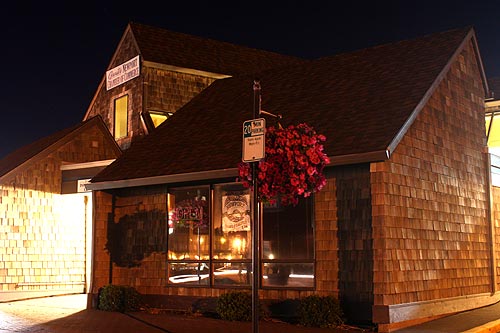 Newport Chamber, Visitors Center, Central. Oregon Coast - visitor news, events, updates from the Chamber.
At the Newport, Oregon Chamber and Visitors Center, you'll find 24-hour visitor information in a covered kiosk/lobby. During businesses hours, peruse a much larger array of brochures about Newport lodging and Newport restaurants, dining. Ask questions about Newport and its many attractions in person, as well as activities about hiking, clamming, ocean tours, whale watching and more.
The chamber also spearheads numerous events throughout the year, such as the massive Newport Seafood and Wine Festival, the Amazing Race and other high-profile happenings.
Look for full Greater Newport Chamber of Commerce info at newportchamber.org. 541-265-8801 or 1-800-COAST44. 555 SW Coast Highway. Newport, Oregon (about halfway through Newport on Highway 101).
News from and about Greater Newport, Oregon Chamber of Commerce, Visitors Center
No vacancy in Madras a year ahead of eclipse
27 Jun 2016 at 5:20pm
For approximately two minutes on the morning of Monday, Aug. 21, 2017, a narrow swath of Oregon will go dark, as the sun fully disappears behind the moon from Newport to Ontario ... by the Madras-Jefferson County Chamber of Commerce.
Edgar 'Jerry' Jerome Hayes III
22 Jun 2016 at 7:15am
After graduation, Jerry accepted a position with National Security Bank in Newport, Oregon, and relocated to the West Coast ... He served as an officer on the boards of the Chamber of Commerce, United Way, Fair Board, and School District Budget Committee.
Newport, Oregon Coast Whoops it Up on Fourth with Variety
26 Jun 2014 at 11:53am
call the Newport Chamber of Commerce at 800-262-7844. Other events around Newport that day include Sea Lion Kisses and behind-the-scenes tour of Oregon Coast Aquarium, a symphonic performance, and a bit of history and jazz at the maritime museum.
Weekend events in Lane County, beyond for June 25-26
24 Jun 2016 at 5:48am
The annual Oregon Highway 36 Yard Sale continues Saturday and Sunday ... The 13th annual Secret Garden Tour sponsored by the Samaritan House Homeless Family Shelter in Newport is from noon to 5 p.m. Sunday, June 26. Tickets are $25 and include visits ...
FACT SHEET: President Obama Announces Winner of New Smart Manufacturing Innov...
26 Jun 2016 at 11:52am
Local and State Organizations: California Chamber of Commerce; City of Los Angeles; Energy Trust of Oregon ; Los Angeles Area Chamber of Commerce; LAnSync, National Association of State Energy Officials; Oregon Department of Energy; PortTech LA ...
Entertainment Briefs
22 Jun 2016 at 12:00pm
From Bulgaria, the Zora String Quartet swept national and international chamber music competitions ... an online map assembled by Oregon State University. From the visitors center at the Hatfield Marine Science Center in Newport to the Summer Farm Festival ...
Newport chamber announces annual award winners
26 Jun 2015 at 3:05am
Patti Ferry, of Oregon State Credit Union, was awarded Chamber Ambassador of the Year. The hospitality committee?s Employee of the Year Award was previously announced at the Know Your Newport training seminar and trade show in May, and that award went to ...

More Updates from the Newport, Oregon Chamber via FB

[CaRP] Can't open remote newsfeed [404].
Have you reserved your tickets yet for the Banquet & Balloon Auction? They a...
by Greater Newport Chamber of Commerce
25 Mar 2015 at 12:00pm
Have you reserved your tickets yet for the Banquet & Balloon Auction? They are going fast! Call 541-265-8801 to attend ?Masquerade on Bourbon Street? April 4th at the Best Western. Thank you to our Presenting Sponsor, the News-Times and to our Table Sponsors: Howard Adams-CPA, Salishan Spa & Golf Resort, Western Title & Escrow, Samaritan Pacific Communities Hospital, Columbia Bank, Rogue Ales, Bigfoot Beverages, Walmart, Chinook Winds Casino Resort, Newport News-Times, US Bank, Holiday Inn Express, The Storage Place, Mariner Enterprises, Thompson Sanitary Service, TCB Management/BBSI, City of Newport, Earthbound Beauty Day Spa and Aquarium Village.



The Greater Newport Chamber of Commerce Ambassadors were there for the ribbon...
by Greater Newport Chamber of Commerce
25 Mar 2015 at 10:15am
The Greater Newport Chamber of Commerce Ambassadors were there for the ribbon cutting at the Big 5 Grand Opening!


Ribbon Cutting at the Big 5 Grand Opening


More Newport, Oregon Visitor Information at the Newport, Oregon Virtual Tour, Map
See Newport, Oregon News Updates: Local Newport, Oregon News, Travel News