Photos of Newport Chamber, Visitors Center, Central. Oregon Coast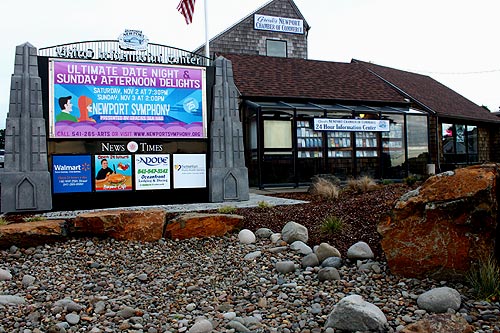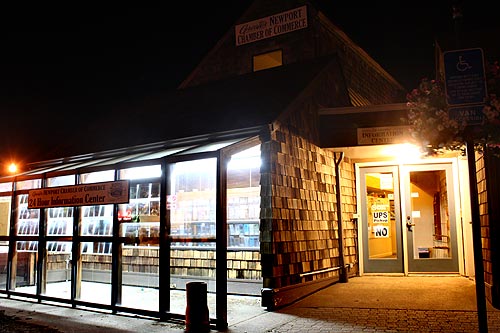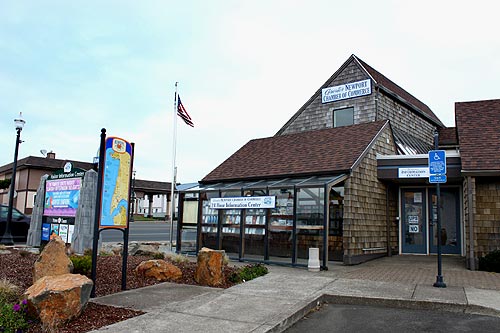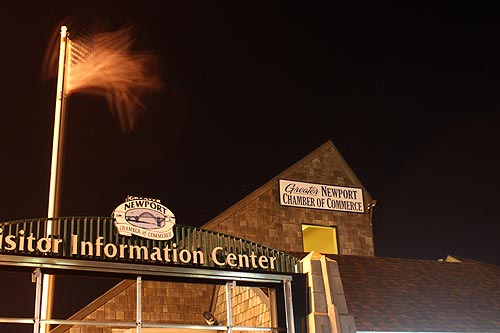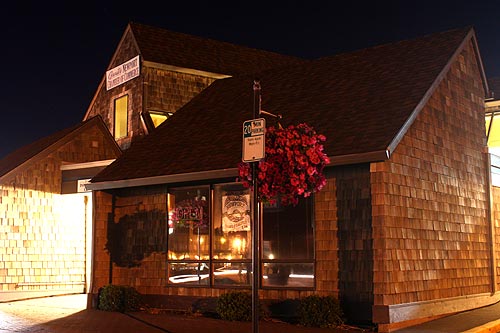 More Newport, Oregon Visitor Information at the Newport, Oregon Virtual Tour, Map
See Newport, Oregon News Updates: Local Newport, Oregon News, Travel News
Newport Chamber, Visitors Center, Central. Oregon Coast - visitor news, events, updates from the Chamber.
At the Newport, Oregon Chamber and Visitors Center, you'll find 24-hour visitor information in a covered kiosk/lobby. During businesses hours, peruse a much larger array of brochures about Newport lodging and Newport restaurants, dining. Ask questions about Newport and its many attractions in person, as well as activities about hiking, clamming, ocean tours, whale watching and more.
The chamber also spearheads numerous events throughout the year, such as the massive Newport Seafood and Wine Festival, the Amazing Race and other high-profile happenings.
Look for full Greater Newport Chamber of Commerce info at newportchamber.org. 541-265-8801 or 1-800-COAST44. 555 SW Coast Highway. Newport, Oregon (about halfway through Newport on Highway 101).
News from and about Greater Newport, Oregon Chamber of Commerce, Visitors Center
Massive Seafood Wine Fest On Course for Central Oregon Coast This Weekend
17 Feb 2014 at 11:20am
(Newport, Oregon) ? (Newport, Oregon ... Maps are available at local businesses and at the Chamber. Saturday continues to be the most well attended day and patrons often arrive during peak hours which may create entry delays. Peak hours are from ...
Central Oregon Coast October Preview for Newport
19 Sep 2013 at 11:02am
Oregon. 541-867-3474. www.aquarium.org. October 26. Scary-Okie. Enjoy a spook-tacular dinner and beer and wine social. Come as you are or dress in your favorite Halloween costume. Prizes, karaoke, and dancing. Sponsored by the Newport Chamber. 6 p.m. Best ...
Newport Chamber of Commerce promotes region in Germany
13 Mar 2013 at 9:41am
NEWPORT?Chamber of Commerce Director Lorna Davis accompanied a high profile delegation to the International Tourism Berlin trade show last week that included Oregon Gov. John Kitzhaber and First Lady Cylvia Hayes. ?Germany is our second largest ...
County commissioner candidates headline forums
22 Apr 2014 at 9:02am
The Greater Newport Chamber of Commerce will hold an event Friday at the Newport Shilo Inn, beginning at noon. On Saturday, a forum sponsored by the Lincoln County League of Women's Voters will be held from 2-4 p.m. at Oregon Coast Community College.
Susan Huntington to lead Seaside Chamber of Commerce
6 May 2013 at 1:07pm
Prior to her stint in Newport, Huntington spent 17 years as the executive director at The Dalles Area Chamber of Commerce. Toward the end of her time there, Huntington was the longest-tenured chamber executive director in Oregon. ?I love chamber work ...
Newport project over; which Oregon coast city should be next (poll)
6 Nov 2013 at 4:41am
Which coast town to visit next Thanks, everyone, who contributed to my recent project on Newport ... or the chambers of commerce. What I see and do can usually be done by regular visitors who don't have to write about it. Before my next Oregon coast ...
Back To Newport
2 Oct 2012 at 10:00am
Perhaps you can guess which one. This poster, perhaps commissioned by the chamber of commerce or the tourist commission, clearly shows that the Oregon Newport is on the left coast. If you look closely, you will see that it illustrates some of the things I ...

More Updates from the Newport, Oregon Chamber via FB
Business After Hours - Embarcadero Waterfront Grille The April Business After...
by Greater Newport Chamber of Commerce
23 Apr 2014 at 8:00pm
Business After Hours - Embarcadero Waterfront Grille
The April Business After Hours will be held this Thursday, April 24th and will be hosted by the Embarcadero's Waterfront Grille, located at 1000 SE Bay Blvd in Newport. Chamber members and guests are invited to attend this complimentary networking event from 5:15 to 7pm.
The Greater Newport Chamber of Commerce would like to send a Special Thanks t...
by Greater Newport Chamber of Commerce
23 Apr 2014 at 2:28pm
The Greater Newport Chamber of Commerce would like to send a Special Thanks to our supporters of our successful Banquet and Balloon Auction.
Thank you to our Presenting Sponsor: Newport News-Times, Auction Sponsor: Wal-Mart, Banking Services: OSU Federal Credit Union, Decor Sponsor: Peter Corvallis Productions, Jewelry & Truffles: Diamonds by the Sea & Aunt Belindas and our Table Sponsors: Howard Adams-CPA, Bigfoot Beverages, Columbia Bank, Columbia Distributing, E-2 Electric, "Retain Commissioner Hunt", James Patrick, Mariner Enterprises, Newport Cafe, Newport News-Times, Rogue Ales, Rowley's Towing, Salon Ethos, The City of Newport, Wal-Mart and Western Title