Photos of Newport Chamber, Visitors Center, Central. Oregon Coast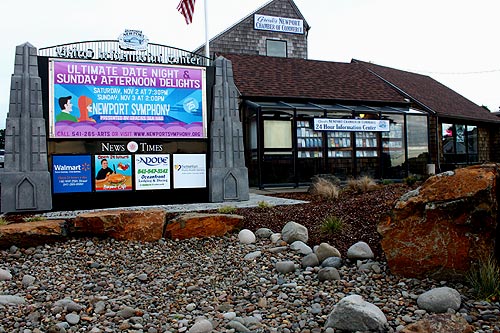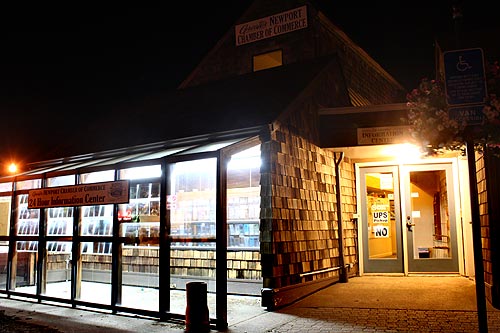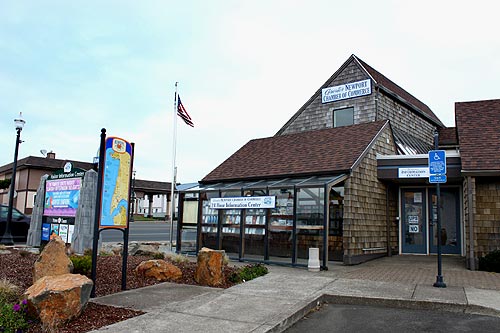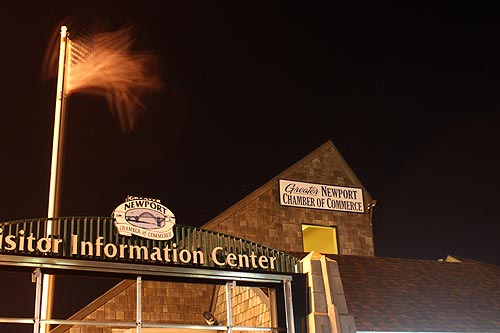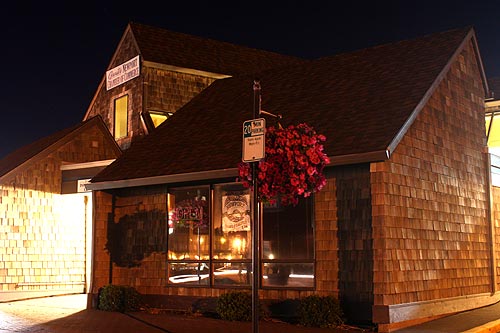 Newport Chamber, Visitors Center, Central. Oregon Coast - visitor news, events, updates from the Chamber.
At the Newport, Oregon Chamber and Visitors Center, you'll find 24-hour visitor information in a covered kiosk/lobby. During businesses hours, peruse a much larger array of brochures about Newport lodging and Newport restaurants, dining. Ask questions about Newport and its many attractions in person, as well as activities about hiking, clamming, ocean tours, whale watching and more.
The chamber also spearheads numerous events throughout the year, such as the massive Newport Seafood and Wine Festival, the Amazing Race and other high-profile happenings.
Look for full Greater Newport Chamber of Commerce info at newportchamber.org. 541-265-8801 or 1-800-COAST44. 555 SW Coast Highway. Newport, Oregon (about halfway through Newport on Highway 101).
News from and about Greater Newport, Oregon Chamber of Commerce, Visitors Center
Central Oregon Coast's Newport Has a Fourth with Extra Booms
15 Jun 2017 at 10:58am
(Newport, Oregon) ? One of the largest Fourth of July displays in ... Looking for some helpful tips on where to watch and dealing with traffic? Newport Chamber Executive Director Lorna Davis offers a few insights. ?The best advice for people who ...
Newport Avenue Market Founders Honored by FMI
12 Jun 2017 at 6:00pm
?Rudy and Debbie are as colorful as the vision they have for their community, and they have kept their shoppers in Bend, Oregon ... In addition, Newport Avenue Market was named Business of the Year by the Bend Chamber in 2014.
Larry Mullins to step down as Samaritan CEO
18 Jun 2017 at 6:00pm
Mullins began a five-year program to unify Albany General Hospital and Lebanon Community Hospital and Good Samaritan, along with hospitals in Lincoln City and Newport to form Samaritan ... Leadership Award by the Oregon Health Forum. He was named CEO ...
Today in the News Media
8 Jun 2017 at 1:32am
The President?s Concert: OSU Chamber Choir presents ?Music of ... Showers tomorrow. Central Oregon: Showers, high of 62, low of 40. Chance of showers tomorrow. Newport: Rain, high of 57, low of 50. Showers tomorrow.
COMMUNITY EVENTS: Calendar
21 Jun 2017 at 1:24am
Lincoln City Chamber of Commerce After Hours at 5:30 ... Flood Insurance Rate Maps meeting from 4:30 to 8:30 p.m. at the Oregon Coast Community College Community Room at 400 SE College Way in Newport. For more information or to obtain a map of individual ...
Greater Newport Chamber-Cmmrc
29 Jan 2015 at 8:00am
The Newport Chamber is located at the address 555 Sw Coast Hwy in Newport, Oregon 97365. They can be contacted via phone at (541) 265-8801 for pricing, hours and directions. The Newport Chamber has an annual sales volume of 0 - 500K. .For more information ...
Newport Chamber Banquet and Balloon Auction coming up April 6th at Best Weste...
25 Mar 2013 at 10:00am
Banquet and Balloon Auction April 6th. Newport, Oregon ? The Greater Newport Chamber of Commerce will mark another gala dinner and auction at their upcoming Banquet and Balloon Auction, ?Krypto-Nite?, celebrating heroes, super and otherwise.

More Updates from the Newport, Oregon Chamber via FB

[CaRP] Can't open remote newsfeed [404].
Have you reserved your tickets yet for the Banquet & Balloon Auction? They a...
by Greater Newport Chamber of Commerce
25 Mar 2015 at 12:00pm
Have you reserved your tickets yet for the Banquet & Balloon Auction? They are going fast! Call 541-265-8801 to attend ?Masquerade on Bourbon Street? April 4th at the Best Western. Thank you to our Presenting Sponsor, the News-Times and to our Table Sponsors: Howard Adams-CPA, Salishan Spa & Golf Resort, Western Title & Escrow, Samaritan Pacific Communities Hospital, Columbia Bank, Rogue Ales, Bigfoot Beverages, Walmart, Chinook Winds Casino Resort, Newport News-Times, US Bank, Holiday Inn Express, The Storage Place, Mariner Enterprises, Thompson Sanitary Service, TCB Management/BBSI, City of Newport, Earthbound Beauty Day Spa and Aquarium Village.



The Greater Newport Chamber of Commerce Ambassadors were there for the ribbon...
by Greater Newport Chamber of Commerce
25 Mar 2015 at 10:15am
The Greater Newport Chamber of Commerce Ambassadors were there for the ribbon cutting at the Big 5 Grand Opening!


Ribbon Cutting at the Big 5 Grand Opening


More Newport, Oregon Visitor Information at the Newport, Oregon Virtual Tour, Map
See Newport, Oregon News Updates: Local Newport, Oregon News, Travel News