Photos of Newport Chamber, Visitors Center, Central. Oregon Coast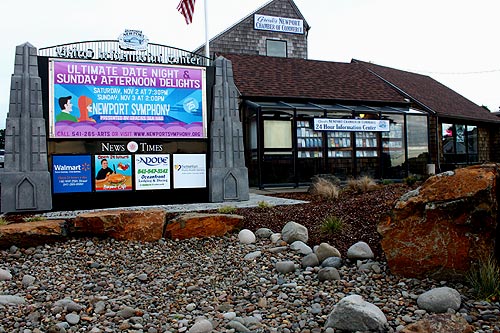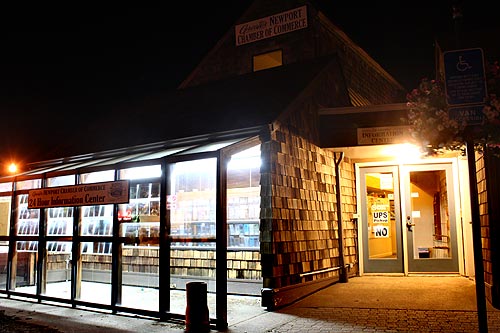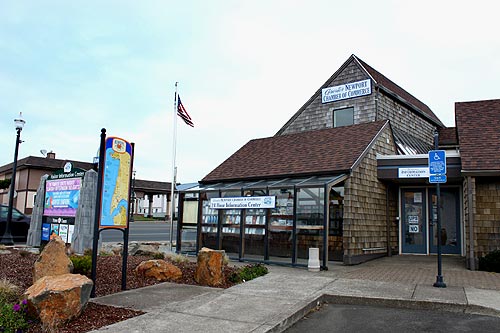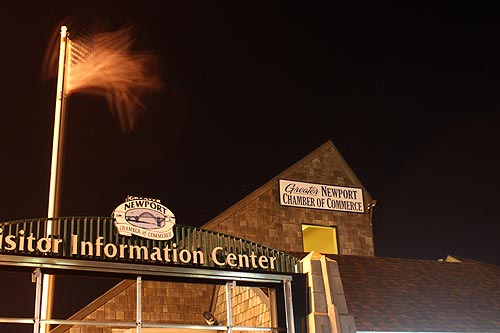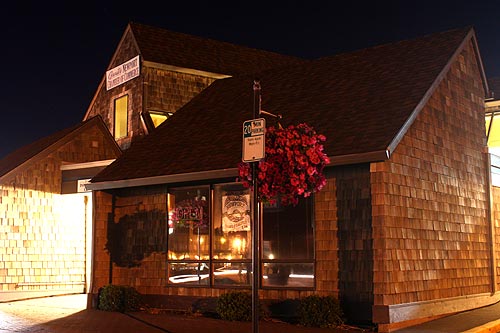 Newport Chamber, Visitors Center, Central. Oregon Coast - visitor news, events, updates from the Chamber.
At the Newport, Oregon Chamber and Visitors Center, you'll find 24-hour visitor information in a covered kiosk/lobby. During businesses hours, peruse a much larger array of brochures about Newport lodging and Newport restaurants, dining. Ask questions about Newport and its many attractions in person, as well as activities about hiking, clamming, ocean tours, whale watching and more.
The chamber also spearheads numerous events throughout the year, such as the massive Newport Seafood and Wine Festival, the Amazing Race and other high-profile happenings.
Look for full Greater Newport Chamber of Commerce info at newportchamber.org. 541-265-8801 or 1-800-COAST44. 555 SW Coast Highway. Newport, Oregon (about halfway through Newport on Highway 101).
News from and about Greater Newport, Oregon Chamber of Commerce, Visitors Center
Travel Oregon Announces Recipients of 2015 Travel and Tourism Industry Achiev...
25 Apr 2016 at 8:12am
The award was given to Lorna Davis, Executive Director of the Greater Newport Chamber of Commerce. An ambassador for the state, Davis helps sell Oregon to visitors across the globe through creative and collaborative efforts at international trade shows and ...
HNTB names Maureen "Mo" Hayes West Division Government Relations and Business...
28 Apr 2016 at 7:54am
Her extensive professional and civic affiliations include serving on the board of the Los Angeles Area Chamber of Commerce where she chairs ... the Willamette River Bridge in Portland, Oregon, built in 1912. That bridge soon was followed in 1914 by ...
Newport, Oregon Coast Whoops it Up on Fourth with Variety
26 Jun 2014 at 11:53am
call the Newport Chamber of Commerce at 800-262-7844. Other events around Newport that day include Sea Lion Kisses and behind-the-scenes tour of Oregon Coast Aquarium, a symphonic performance, and a bit of history and jazz at the maritime museum.
Newport chamber announces annual award winners
26 Jun 2015 at 3:05am
The Greater Newport Chamber of Commerce held its annual awards banquet and ... Awards were handed out, and the chamber board of directors for 2015-16 was announced. Patti Ferry, of Oregon State Credit Union, was awarded Chamber Ambassador of the Year.
WW?s 2016 Endorsements: State of Oregon
4 May 2016 at 12:13pm
After five terms in the Oregon House, including two as speaker, state Rep. Tina Kotek (D-Portland) has built a reputation for discipline and effectiveness. Unlike her counterpart in the upper chamber?the colorful and emotional Senate President Peter ...
Oregon Coast Chamber Orchestra to play three concerts
20 Apr 2016 at 2:19am
YACHATS ? Oregon Coast Chamber Orchestra, under the direction of Robin DeVour ... Musicians in this orchestra come from coastal communities between Newport and Port Orford and from Eugene and Springfield. Performances are: 2 p.m. Sunday, April 24 ...
COMMUNITY CALENDAR
12 Apr 2016 at 2:48pm
Proper Pruning Practices, Lincoln County Master Gardeners, 10 a.m.-noon, Newport Public Library. Call OSU Extension office, 541-574-6534. Oregon Coast Garage Sale, citywide sale, April 15?17. Call Lincoln City Chamber of Commerce,541-994-3070 or visit ...

More Updates from the Newport, Oregon Chamber via FB

[CaRP] Can't open remote newsfeed [404].
Have you reserved your tickets yet for the Banquet & Balloon Auction? They a...
by Greater Newport Chamber of Commerce
25 Mar 2015 at 12:00pm
Have you reserved your tickets yet for the Banquet & Balloon Auction? They are going fast! Call 541-265-8801 to attend ?Masquerade on Bourbon Street? April 4th at the Best Western. Thank you to our Presenting Sponsor, the News-Times and to our Table Sponsors: Howard Adams-CPA, Salishan Spa & Golf Resort, Western Title & Escrow, Samaritan Pacific Communities Hospital, Columbia Bank, Rogue Ales, Bigfoot Beverages, Walmart, Chinook Winds Casino Resort, Newport News-Times, US Bank, Holiday Inn Express, The Storage Place, Mariner Enterprises, Thompson Sanitary Service, TCB Management/BBSI, City of Newport, Earthbound Beauty Day Spa and Aquarium Village.



The Greater Newport Chamber of Commerce Ambassadors were there for the ribbon...
by Greater Newport Chamber of Commerce
25 Mar 2015 at 10:15am
The Greater Newport Chamber of Commerce Ambassadors were there for the ribbon cutting at the Big 5 Grand Opening!


Ribbon Cutting at the Big 5 Grand Opening


More Newport, Oregon Visitor Information at the Newport, Oregon Virtual Tour, Map
See Newport, Oregon News Updates: Local Newport, Oregon News, Travel News