Photos of Newport Chamber, Visitors Center, Central. Oregon Coast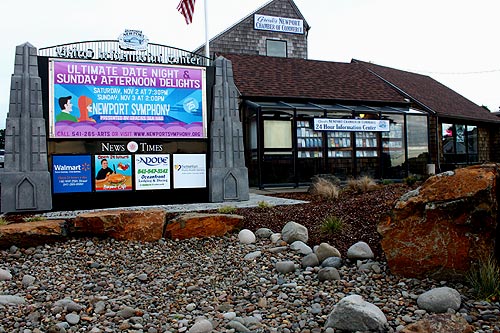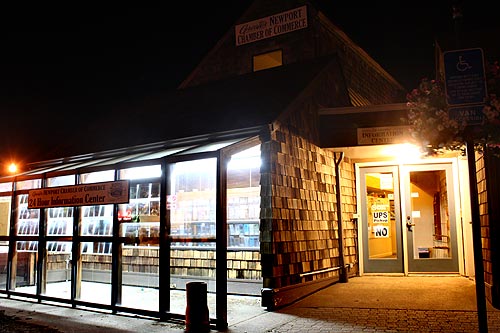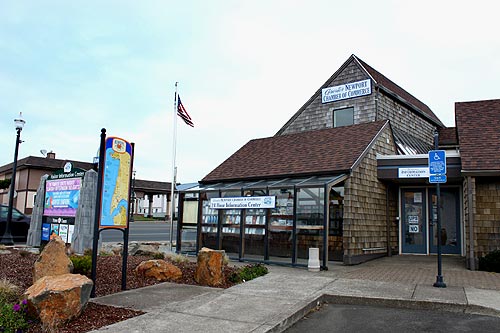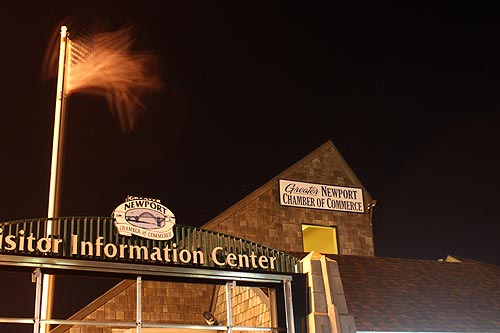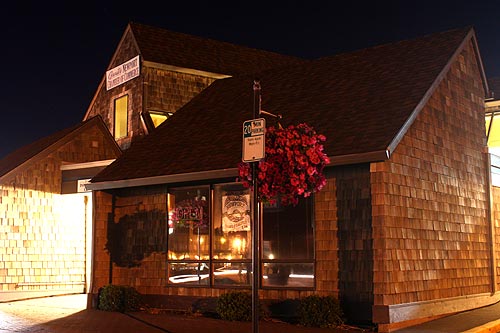 Newport Chamber, Visitors Center, Central. Oregon Coast - visitor news, events, updates from the Chamber.
At the Newport, Oregon Chamber and Visitors Center, you'll find 24-hour visitor information in a covered kiosk/lobby. During businesses hours, peruse a much larger array of brochures about Newport lodging and Newport restaurants, dining. Ask questions about Newport and its many attractions in person, as well as activities about hiking, clamming, ocean tours, whale watching and more.
The chamber also spearheads numerous events throughout the year, such as the massive Newport Seafood and Wine Festival, the Amazing Race and other high-profile happenings.
Look for full Greater Newport Chamber of Commerce info at newportchamber.org. 541-265-8801 or 1-800-COAST44. 555 SW Coast Highway. Newport, Oregon (about halfway through Newport on Highway 101).
News from and about Greater Newport, Oregon Chamber of Commerce, Visitors Center
Auction Wars at Lincoln Storage @ South Beach
27 Feb 2015 at 8:41pm
Bring the family! contributed by the Newport Oregon Chamber Lincoln Storage @ South Beach South Beach OR - http://www.facebook.com/LincolnStorageAtSouthBeach?ref=hl source categories: other event syndication by Syndical.com from Account: newport
Newport Seafood and Wine Festival Wine Competition Winners Announced
20 Feb 2015 at 2:18pm
(NEWPORT, Ore.) - And the winner in a starring role as Best ... expressive of its fruit and a charming representative of Oregon?s signature wine varietal. Winemaker Elliott Johns, wife Jenny, their two children and his parents make up the core of this ...
Community Calendar
4 Mar 2015 at 1:53am
It will be held at the Newport Performing Arts Center from 9 a.m. to 6 p.m. with an hour break for lunch. Tuesday Mar 10 The Lincoln City Chamber of Commerce will have a board meeting at the Oregon Coast Community College, Lincoln City, at 4:30 p.m. Open ...
Rescued sea turtle flown from Oregon to California
24 Feb 2015 at 11:08am
NEWPORT, Ore. (AP) - A sea turtle that was rescued from frigid Northwest waters and treated at the Oregon Coast Aquarium has caught a ... Three men were indicted Monday for a 2013 Chambers County murder. Three men were indicted Monday for a 2013 Chambers ...
Central Oregon Coast's Newport Seafood Wine Fest Tickets Now On Sale
16 Dec 2014 at 10:14am
The Greater Newport Chamber of Commerce is asking all amateur winemakers ... More About Newport Lodging..... More About Oregon Coast Restaurants, Dining..... Two roadwork projects on the north Oregon coast will be causing some delays while part of the ...
Salem through the eyes of Bend?s freshman legislator
2 Mar 2015 at 1:10am
focusing on the importance to Oregon?s economy of the manufacturing jobs his mill created. A walking tour takes in the millrace and turbines, the rooms where wool was picked clean of burrs and dyed and the second-chamber, where wool was turned from ...
Newport veterinarian to move on to new challenges in Corvallis
28 Mar 2013 at 3:04pm
NEWPORT ? The Oregon Coast Aquarium, the Newport Chamber of Commerce, and pet owners throughout Lincoln County all will have to live in the post Dr. Daniel Lewer-era starting on April 1, and no it is not an April fools joke. After practicing for nearly ...

More Updates from the Newport, Oregon Chamber via FB
Table reservations and tickets are now on sale for our annual Banquet and Bal...
by Greater Newport Chamber of Commerce
3 Mar 2015 at 1:55pm
Table reservations and tickets are now on sale for our annual Banquet and Balloon Auction to be held on April 4, 2015 at 6pm. The event includes dinner and entertainment along with an opportunity to bid on hundreds of silent and live auction items. This year?s theme is ?Masquerade on Bourbon Street?. Come as you are or dress in your favorite Mardi Gras costume! Call the Chamber office for tickets 541-265-8801.



Please welcome our newest Greater Newport Chamber of Commerce member: Specifi...
by Greater Newport Chamber of Commerce
2 Mar 2015 at 4:46pm
Please welcome our newest Greater Newport Chamber of Commerce member: Specifically Pacific
Owner: Pete Sanok
Telephone: 269.599.0850
Email: 101@specificallypacific.com
Webstie: www.specificallypacific.com
Coastal apparel & lifestyle company


Wear the Coast
specificallypacific.com

More Newport, Oregon Visitor Information at the Newport, Oregon Virtual Tour, Map
See Newport, Oregon News Updates: Local Newport, Oregon News, Travel News