Photos of Newport Chamber, Visitors Center, Central. Oregon Coast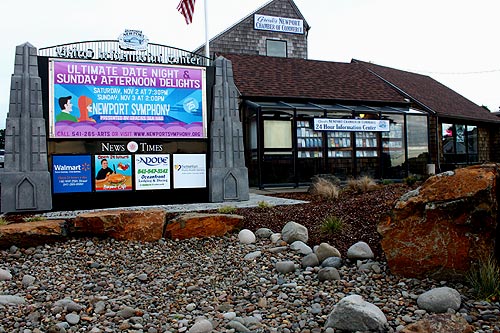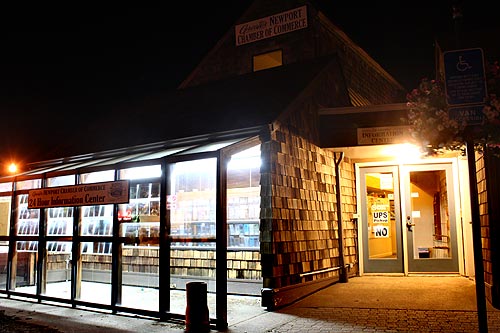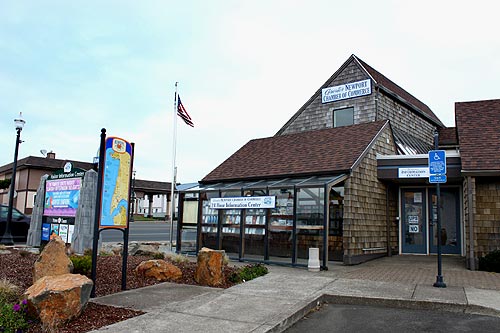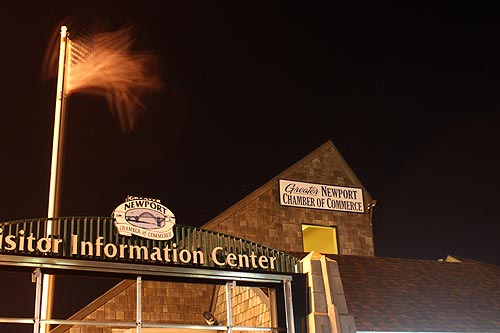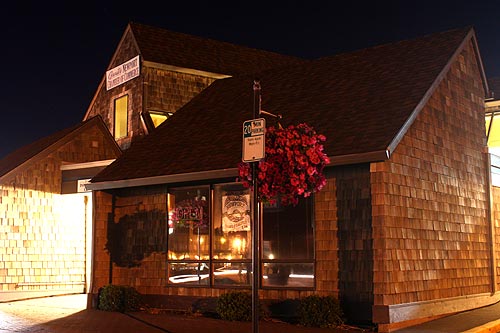 Newport Chamber, Visitors Center, Central. Oregon Coast - visitor news, events, updates from the Chamber.
At the Newport, Oregon Chamber and Visitors Center, you'll find 24-hour visitor information in a covered kiosk/lobby. During businesses hours, peruse a much larger array of brochures about Newport lodging and Newport restaurants, dining. Ask questions about Newport and its many attractions in person, as well as activities about hiking, clamming, ocean tours, whale watching and more.
The chamber also spearheads numerous events throughout the year, such as the massive Newport Seafood and Wine Festival, the Amazing Race and other high-profile happenings.
Look for full Greater Newport Chamber of Commerce info at newportchamber.org. 541-265-8801 or 1-800-COAST44. 555 SW Coast Highway. Newport, Oregon (about halfway through Newport on Highway 101).
News from and about Greater Newport, Oregon Chamber of Commerce, Visitors Center
Central Oregon Coast Prepares for Thousands at Seafood Wine Fest
10 Feb 2016 at 8:59pm
(Newport, Oregon) ? One of the largest events of the winter ... Maps are available at local businesses and at the Chamber. For more information, call 800-262-7844. www.seafoodandwine.com/
Ray touts OSU economic impacts
10 Feb 2016 at 11:05pm
In a presentation to the Corvallis Chamber of Commerce on Wednesday, Oregon State University President Ed Ray touted ... He also talked about the university?s expansion plans in Newport, where the marine studies campus is expected to have as many as ...
Rainy Day Getaways on the Coast
7 Feb 2016 at 4:44pm
U.S. Highway 101, the winding coastal thoroughfare, is especially picturesque between Lincoln City and Newport ... Chamber of Commerce, Huntington had offered the statue of the 16th president, reading a book while riding his horse, first to the state of ...
Newport chamber announces annual award winners
26 Jun 2015 at 3:05am
The Greater Newport Chamber of Commerce held its annual awards banquet and ... Awards were handed out, and the chamber board of directors for 2015-16 was announced. Patti Ferry, of Oregon State Credit Union, was awarded Chamber Ambassador of the Year.
Save Endangered Animals Oregon Campaign Kickoff
7 Jan 2016 at 8:23pm
We must act now to save our endangered animals. contributed by the Newport Oregon Chamber Embarcadero Resort Newport OR - temp source categories: politics event syndication by Syndical.com from Account: syn-newport
ROCKIN' THE COAST: Gem and mineral show
24 May 2015 at 11:30pm
For more information visit the clubs website- www.coastagates.org or find us on Facebook- Oregon Coast Agate Club. For information on events and accommodation in Newport visit the Newport Chamber of Commerce website- http://www.newportchamber.org
Preview: Newport Amazing Race
8 Jun 2013 at 4:22am
The 3rd Annual Amazing Race in Newport is scheduled for Saturday, July 27, 2013, and is put on by the Newport Chamber of Commerce's Young ... type events that are set up like this, the Newport Amazing Race is highly affordable! Teams of 2 can sign up ...

More Updates from the Newport, Oregon Chamber via FB

[CaRP] Can't open remote newsfeed [404].
Have you reserved your tickets yet for the Banquet & Balloon Auction? They a...
by Greater Newport Chamber of Commerce
25 Mar 2015 at 12:00pm
Have you reserved your tickets yet for the Banquet & Balloon Auction? They are going fast! Call 541-265-8801 to attend ?Masquerade on Bourbon Street? April 4th at the Best Western. Thank you to our Presenting Sponsor, the News-Times and to our Table Sponsors: Howard Adams-CPA, Salishan Spa & Golf Resort, Western Title & Escrow, Samaritan Pacific Communities Hospital, Columbia Bank, Rogue Ales, Bigfoot Beverages, Walmart, Chinook Winds Casino Resort, Newport News-Times, US Bank, Holiday Inn Express, The Storage Place, Mariner Enterprises, Thompson Sanitary Service, TCB Management/BBSI, City of Newport, Earthbound Beauty Day Spa and Aquarium Village.



The Greater Newport Chamber of Commerce Ambassadors were there for the ribbon...
by Greater Newport Chamber of Commerce
25 Mar 2015 at 10:15am
The Greater Newport Chamber of Commerce Ambassadors were there for the ribbon cutting at the Big 5 Grand Opening!


Ribbon Cutting at the Big 5 Grand Opening


More Newport, Oregon Visitor Information at the Newport, Oregon Virtual Tour, Map
See Newport, Oregon News Updates: Local Newport, Oregon News, Travel News