Jump-Off Joe and Cliffs of Newport, Nye Beach

Virtual Tour of Newport, Oregon Coast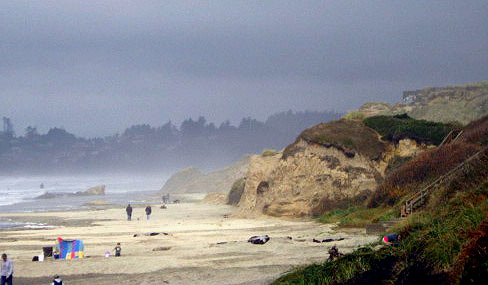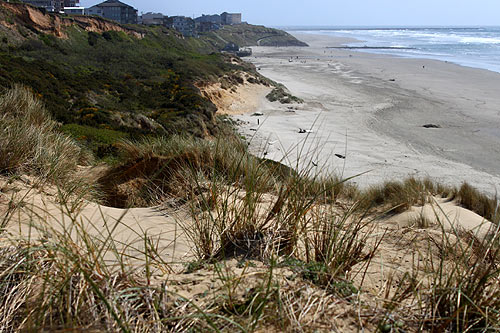 View of Jump-Off Joe from Nye Beach: the cliff jutting out in the distance was until the '90s much more prominent and had an arch for decades.
However, it slowly whittled away and about 1994 or so the arch and the edge of the structure crumbled. If you look closely at the top photo, you can see the large, slightly pointed structure at the tideline and then the cliff of Jump-Off Joe. That blob was where the structure ended until 1994 - now there is that enormous and ever-growing gap between the two.
Latest from 2021: even the top area has now collapsed.
Newport's Jump-Off Joe Gets Dangerous, Oregon Coast Landmark Closed Off A landslide caused the concrete remnants of an old condo project broken and it's now unsafe to wander
See the full Jump-Off Joe background story: The Crazy, Hazy Tale of a Spectacular Oregon Coast Real Estate Failure