Coastal Winery and Quirky Sights, Nehalem

Rockaway Beach, Manzanita, Wheeler, Nehalem Bay Virtual Tour, Oregon Coast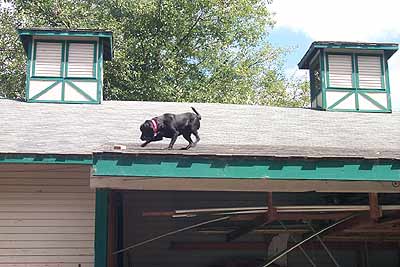 Perhaps the flagship of local nuttiness is at the Nehalem Bay Winery, just a mile up Highway 53. Here, it resembles parts of France or Germany's Black Forest, sitting in the middle of lush pastures, small mountains and thick forests. The winery even looks a bit like an old, rustic European home from some angles. But inside the tasting room, it's tie-dye t-shirts over dress attire for employees. The décor boasts everything from local history and comic pictures to images of Ken Kesey scrawled on the walls.
Case in point: the "roof woof." In the early 2000's, a regular loiterer at the winery was this dog named Boo (well, actually it's Boo Boo), who delighted visitors by finding a way onto the roof.
After all, it's here where Ken Kesey sometimes showed up to read his works, hang out or just show off the Further bus. Below: nearby Nehalem Bay State Park.