Neskowin Coarse Sands

Lincoln City, Oregon Coast Virtual Tour, Inland 101, Neskowin, Corridor of Mystery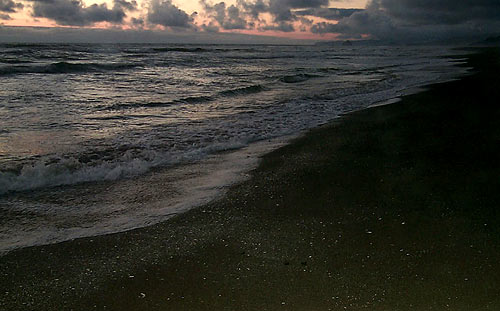 The Secrets of North Neskowin:
There is something even spiritual about this area of Neskowin - spiritual and mystical at the same time. It's an elusive, indefinable quality, perhaps the result of no one at all around here (as it's too far north along tiny Neskowin's road system to be found by anyone but those who have homes around here). Perhaps it's the way the sands plunge quickly into the water, allowing the waves to come crashing bigger and faster, yet dissipate suddenly to quietly lap at your feet (as the sands do at the north end of Seaside and around Bella Beach, near Depoe Bay). Perhaps it's the mysterious dark sands near the water line, which are comprised of bigger and coarser grains than most beaches in Oregon.
There are unusually large amounts of broken shells littering here as well. Combined with the coarser sands, this makes walking barefoot somewhat uncomfortable.
Solitude is much more easily found here. You're literally miles from any other major beach. The sound and action of the surf seem to penetrate your consciousness more deeply in this placid place.
Maybe it's all these things. Or maybe it's just that this place simply feels different - very different - as if some loving, unseen force is here in greater strength.