Spouting Horn of Depoe Bay

Virtual Tour of Depoe Bay, Oregon Coast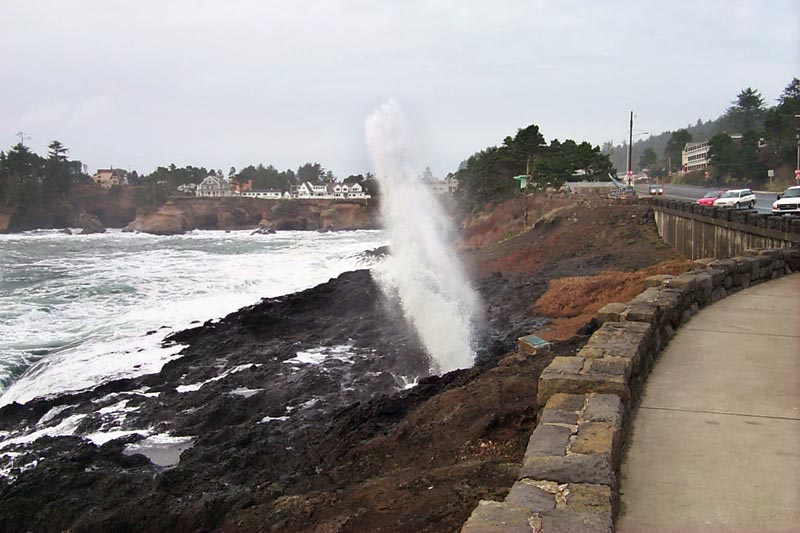 This tiny town is big on gargantuan waves, with a rocky shoreline that compresses wave energy into explosive moments on a regular basis. Basalt structures line the edge of the continent here, with the rocky ledges and cliffs often typified by a unique geological feature called "bubble basalt."
Seemingly the town's centerpiece is the massive spouting horn, where a crevice in the rocks stretches back towards the sea wall and dead ends right below it. This structure squeezes the energy of the waves until they have nowhere else to go and they fire upwards into a stream of ocean water that varies in degrees of spectacular. It doesn't always happen, but if conditions are right, you may see this violent surge of water shoot up into the air as high as 40 or 50 feet.
Other times it creates only small spouts that spray the sea wall a little bit.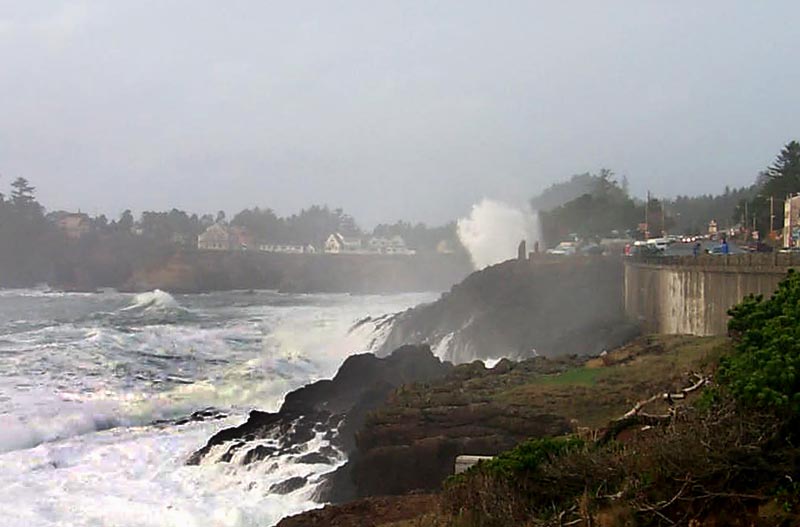 Those larger eruptions of ocean can surprise motorists driving past. There are few things more surreal than to have to initialize your windshield wipers because of a spray of sea water that just enveloped your car.
Locals and businesses living near the bridge and sea wall have to wash their cars and properties with frequency because of the constant spray of sea mist from the area.
Depoe Bay is the only town on the Oregon coast with a spouting horn within its borders, much less its downtown. There are other spouting horn features around the coast, but not many, including two near Cape Perpetua. Below: the crevice of the spouting horn in a less maniacal mood.