Oregon Coast Surprises: Marine Gardens near Depoe Bay Exposed

Virtual Tour of Depoe Bay, Gleneden Beach, Lincoln Beach, Otter Rock, Oregon Coast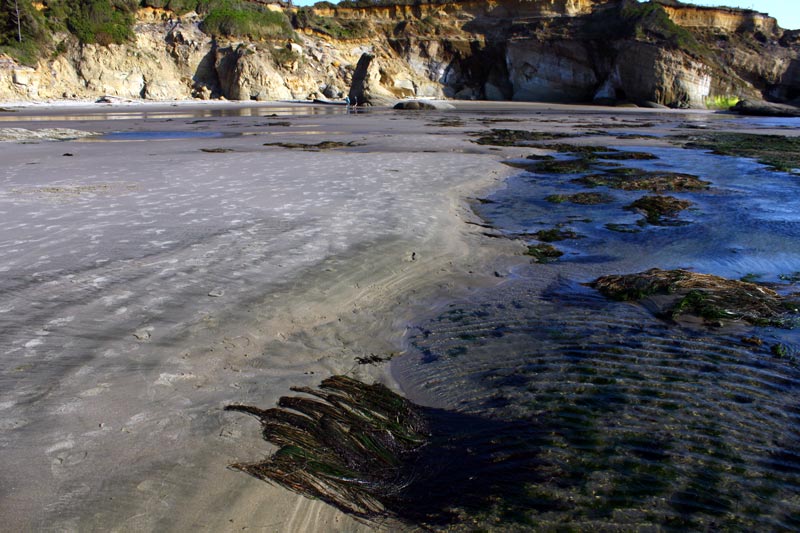 (Depoe Bay, Oregon) – Sometimes, under the right conditions, the strangest, wildest situations can present themselves on the Oregon coast.
During the vast majority of the year, the Devil's Punchbowl is a raging cauldron of manic ocean water, churning with varying degrees of ferocity as the waves are sent inside this confined space and knocked around at high speeds. The little cove-like beach next to it – accessible via a trail from a secondary parking lot on the Otter Crest headland – is a thin stretch of sand, often not safe to traverse during even slightly stormy conditions.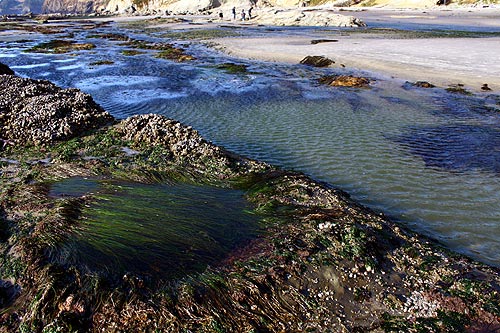 The summer of 2011, however, proved a startling oddity in this way: abnormally calm conditions which resulted in not only fairly regular access to many hard-to-get-to landmarks, but it also created extra-high sand levels that kept the tides at bay. This, in turn, made the inside of the Devil's Punchbowl accessible much more often than normal, which usually happens only at extreme low tide events, perhaps twice a year.
Another side effect was that the high sand levels made this very ironic situation: it kept the sea water far away from the tiny beach next to the Punchbowl - so far that it made it look like extremely low sand levels. The marine gardens visible here at lower tides were much more greatly exposed than normal.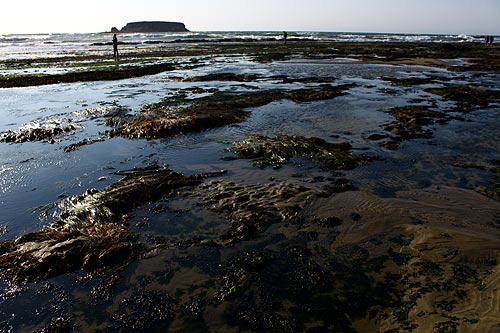 Beneath you now was all this inviting bedrock, covered in a living carpet of tide pool critters of all types, shapes and sizes. A whole new world was available for exploring. Not just starfish, but an entire landscape of urchins, barnacles and so much more – almost as far as the eye can see.
So much lurks here beneath the waves that it's mind-boggling.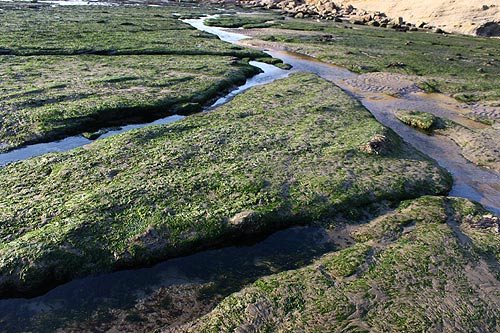 One of the big mesmerizing factors here is the geology that is evident – objects and aspects clearly visible to the amateur scientist. A variety of basalt slabs and shapes present themselves suddenly, in a place that's already full of hypnotizing rock structures.
You can visit this beach easily during many times of the year, and at lower tides a lot of these intriguing creatures emerge. You will need to keep a close eye on the tide, however, and never turn your back on the ocean. These kind of high sand level events are extremely rare, perhaps once in a decade or so, but the marine gardens are visible under the right conditions.