Lincoln City Landmarks - the Subtle Central Oregon Coast

Lincoln City, Oregon Coast Virtual Tour, Inland 101, Neskowin, Corridor of Mystery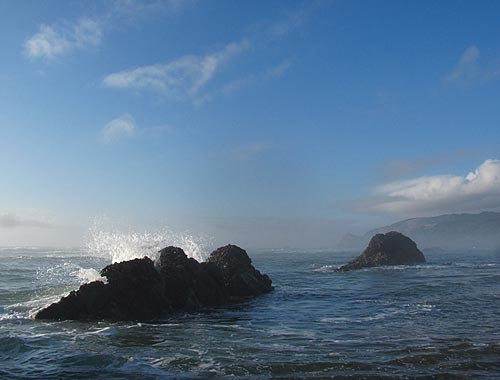 (Lincoln City, Oregon) – It's a relative late-comer, as far as Oregon coast towns go. Lincoln City didn't exist before 1964; before then it was simply a long stretch of sandy beach north of Depoe Bay dotted by several smaller villages, with names like Wecoma, Taft and Nelscott, among others.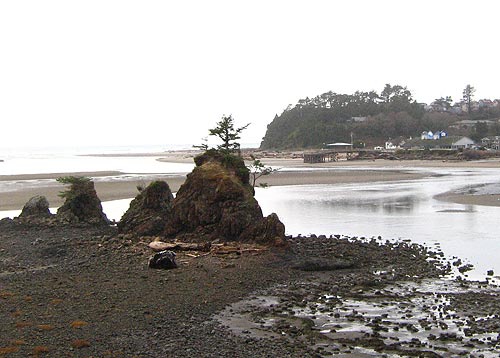 Now it's several miles of pristine beaches and some major shopping opportunities, along with all the conveniences of the modern world you could ever want – often just steps from this still somewhat wild, sandy stretch.
At the southern end sits the Taft area, with its centerpoint being the Siletz Bay. At low tides, massive mud flats become visible, looking a bit like a lost world. The set of seastacks at its eastern end also provide plenty of atmosphere, as well as photographic opportunities.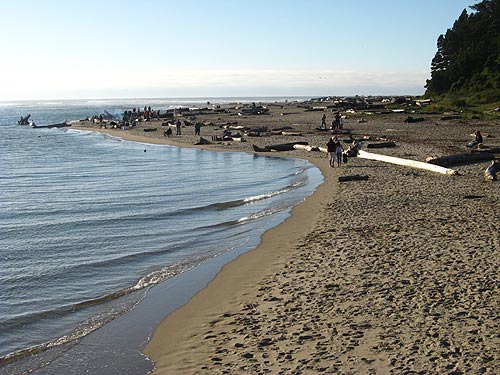 During most the time, however, it's the beach here that's the real attraction, calmer along this area facing the bay than just around the corner, where the waves can get a little crazy in stormy periods. Still, this spot is no shirker to enormous tidal action, either. It's smothered in massive logs that could only have arrived here via even much bigger waves.
A soaring cliff mostly occupies the area north of here, only allowing access from the famed Inn at Spanish Head resort complex until you get to SW 35th Street. This is a bit of a hidden access, but a beautiful one.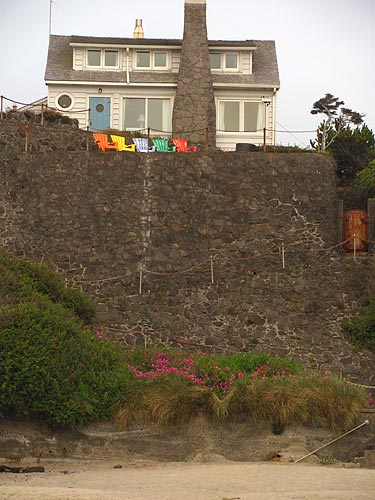 Here begins the Nelscott district with a few miles of – again – gorgeous beaches. Cliffs again block access for a while, but provide plenty of interesting stuff to look at, like huge homes and their sprawling, spiraling beach access stairways.
A bit further north is the center of town – the D River access. This is one of the most popular parts of Lincoln City, partially because of the D River and the way it disappears at certain low tides. There are also telescopes at the wayside.
Just north of there, find the backroads behind the hotels and you'll discover some engaging hidden beach accesses, or simply keep walking north from the D River area.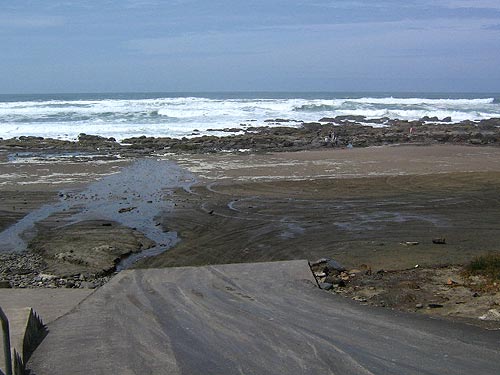 Up north a tad is the NW 15th access, where a ramp allows some driving access on the beach. Many interesting objects appear here at low tide, and especially at low sand level events.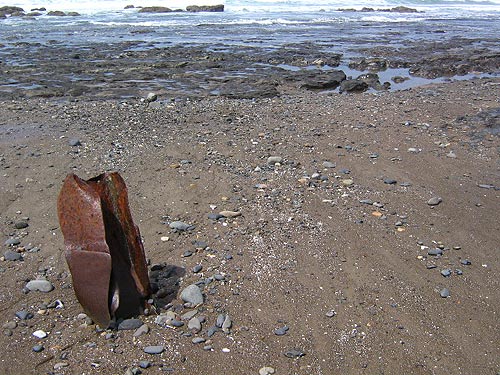 Another intriguing set of landmarks happens at the north end, at streets like NW 26th, the Grace Hammond Park access or the bottom of NW 21st (where the Sea Horse Motel sits). Two of them have long, winding stairways going to the bottom, and plenty of cool stuff to explore once there.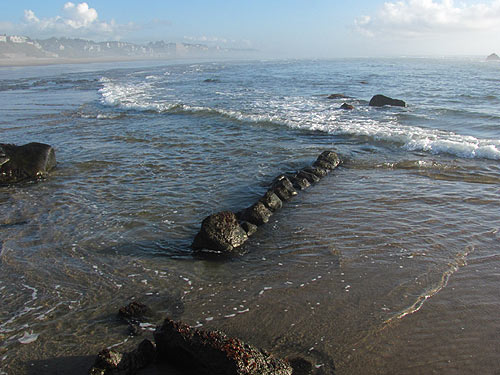 At one point, a set of basalt rocks juts out, causing the surf to pull some mighty and colorful stunts.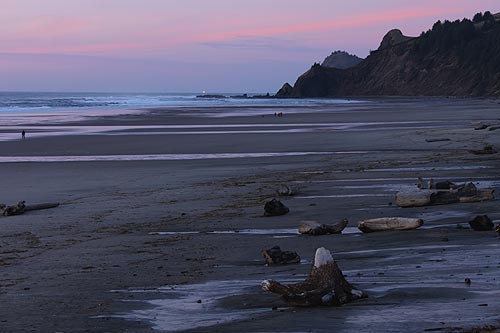 After a set of hidden beach accesses near streets like NW 50th and so on, you come to the extreme northern end of Lincoln City and the Road's End State Recreational Site.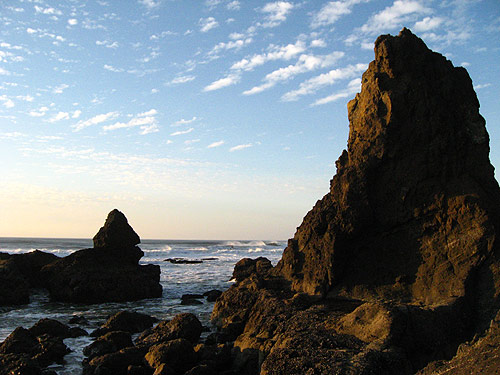 A sizable parking lots sits next to a small, circular one, both of which are often crammed full of people in the summer, often flying kites. The beach then wanders below a rising cliff area, which eventually comes to the final dead-end of the town's strand, where Wizard Rock resides along with a cluster of tidepools and even a secret sea cave.