Lincoln City, Oregon Sightseeing Delights in 100's of Photos
Published 11/21/2013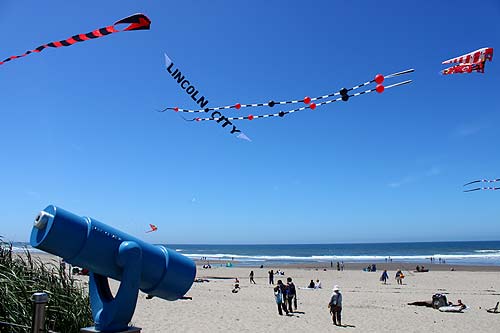 (Lincoln City, Oregon) – Looking for sightseeing possibilities on the central Oregon coast, but don't know where to start? Need a quick overview of beaches in Lincoln City – and maybe a photo preview in an at-a-glance format? The Lincoln City, Oregon Coast Virtual Tour, Map fills that need, as well as providing milepost information for the area, a map and dozens of other features that help you explore this area efficiently. There are over 100 photos of the area total, but some 50 stops along the tour are previewed with thumbnail photos for quick reference.
If you start at the southern end, Siletz Bay has a long history of being a hotspot for seals. They lounge at the northern tip of the Salishan Spit and can often be seen in the water, with their little heads bobbing in the waves, curiously checking you out.
Siletz Bay is part of the Taft district, and there are a variety of beaches here. Round the corner of the big bluff and you'll start walking towards the rocky blobs near the Ester Lee Motel and Inn at Spanish Head.
The Nelscott area is next, mostly accessible through a series of beach paths and rampways that are a bit on the hidden side.
The Lincoln City Virtual Tour then moves you around the D River area and its variety of wonders, and then you can see the ramp that allows you to drive on the beach just a little ways.
Sizable cliffs then take over, and through streets like NW 26th – in and around that number range – you encounter long stairways as the only beach accesses. At the northern end of Lincoln City, the accesses return to low, easy paths, including one gem that has a little memorial to deceased pets.
The Lincoln City Virtual Tour spends considerable time on the extreme northern section at the Road's End area, as there are numerous treasures to be discovered there.
A quick exploration of Cascade Head then leads you to what is sometimes called the Corridor of Mystery and the heady and the slightly hidden village of Neskowin. This rustic little bit of heaven features a wide variety of wonders, including the awe-inspiring Ghost Forest – geologic remnants of a 2000-year-old forest.
The Lincoln City Virtual Tour then crosses that boundary between central Oregon coast and north coast and shows off some stunning hidden spots just before Pacific City.
See the Lincoln City, Oregon Coast Virtual Tour, Map for the full effect. There's even the Lincoln City, Oregon Complete Guide, which lists every single beach access in the area. Also see Lincoln City Lodging.