Viewpoints, Tidal Surprises of Depoe Bay's Boiler Bay, Central Oregon Coast

Virtual Tour of Depoe Bay, Gleneden Beach, Lincoln Beach, Otter Rock, Oregon Coast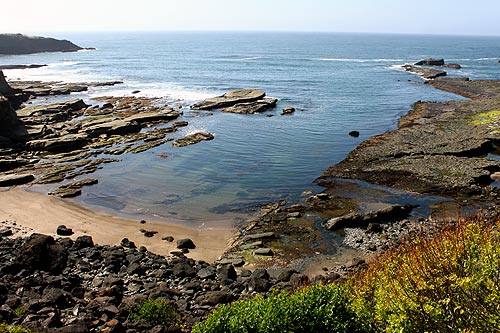 (Depoe Bay, Oregon) - As you travel either north or south - coming into or out of Depoe Bay - you'd better not blink. Don't blink or you'll miss this delicious spot for exploration, which is also haunted by the boiler from a long ago wrecked ship.
Sitting at the north end of Depoe Bay, just after its northern outskirts, you'll encounter Boiler Bay and the headland known as Boiler Bay State Viewpoint. Boiler Bay itself lies just below a teeny, tiny gravel pullout with no markings.
This is probably for good reason. It's not advisable to go down to the bay. But if you do, make sure conditions are 100 percent calm and the tide isn't anywhere near the rocks below. Over the last three decades, several visitors to the Oregon coast have lost their lives here.
Not for the physically weak, it takes a bit out of you to gain access to the tidal intrigue scattered around here. A small gravel parking lot at the top leads to a rather steep and boulder-laden trail snaking its way down to the bay. At higher tides there's very little beach here, and even at lower tides it's mostly a labyrinth of rocky slabs and stones, sometimes covered with that nasty, green algae that'll make you slip and fall on your head in a split second.
But the fun of Boiler Bay lies in its awesome tide pools, clandestine caves and meandering paths over and around its mostly rocky landscape. If the tide is low enough, there's an endless array of exploration to be had, opening up tiny coves and other places to hide from the wind.
The bay is named after its ancient, ragged resident: the boiler from the shipwrecked J. Marhoffer, which settled here after catching fire at sea. The boiler is all that remains, and it becomes visible at somewhat lower tides. In fairly rare circumstances, the tide gets low enough to get near the boiler or maybe even touch its encrusted corpse.
Getting back up is a strenuous climb, and for those unwilling or unable to make the jaunt there's picnic facilities and plenty of magnificent views from the parking lot.
Even more on the area at the Depoe Bay, Gleneden Beach Virtual Tour, Map.