Waldport's Alsea Bay Bridge, Night Views and History

South Beach, Seal Rock, Waldport Virtual Tour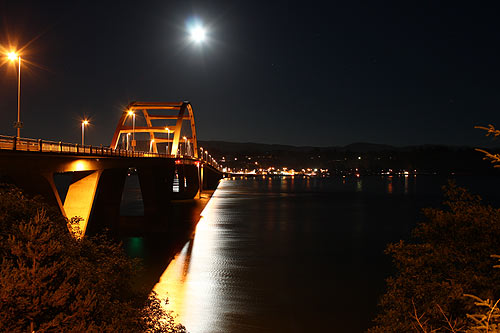 (Waldport, Oregon) – At 2,910 feet long, it's perhaps one of the longer bridges along the Oregon coast, but not by a lot. Waldport's Alsea Bay Bridge is full of scenic wonders, however, as you zoom along its expanse and take in vistas of the bay, parts of Bayshore district and the ocean lapping at the edge of the bay mouth in the distance.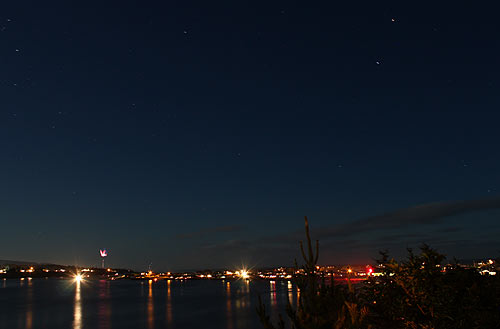 At the northern end sits the Bayshore District, a campground, a turnaround viewpoint of the Alsea Bay and a pleasant drive to Seal Rock, a few miles north. At the southern end of the bridge you come into Waldport's downtown, and you'll find a wayside or two, as well as the Alsea Bay Historic Interpretive Center – telling the whole story of the bay and other facets of Waldport's existence.
Beneath this side of the bridge, sometimes you'll find hordes of carousing sea lions as well.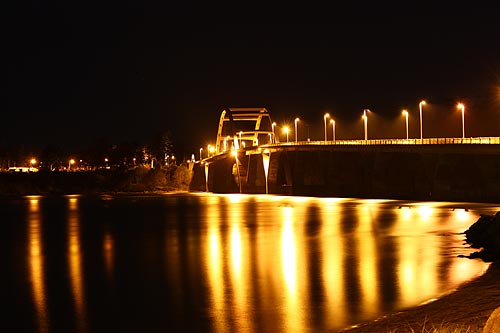 At night the Alsea Bay Bridge seems to glow in a way that's different from other Oregon coast bridges. Largely because there is more lighting here than on top of the others, but also because of the Art Deco-style spire-like "rooms" that seem to guard each end of the bridge. Interesting lighting effects happen here with regularity.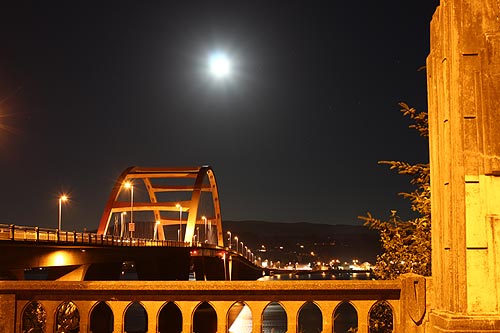 The moon seems especially at home above this architectural beauty as well.
This is not the first bridge in this spot, however historic it appears to be. The original was built in 1936 and designed by Conde McCullough, who designed numerous other bridges along the Oregon coast. That one clocked in at 3,011 feet and lasted until 1991, when it was finally demolished because it wasn't holding up to the wild environment of the central Oregon coast.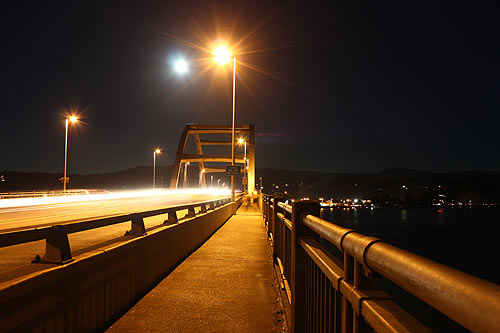 Before that happened, however, the second bridge – this one you see now – was started in 1988, designed by NTB Corporation of Missouri (a firm which began in 1914, long before McCullough's first bridge at Waldport).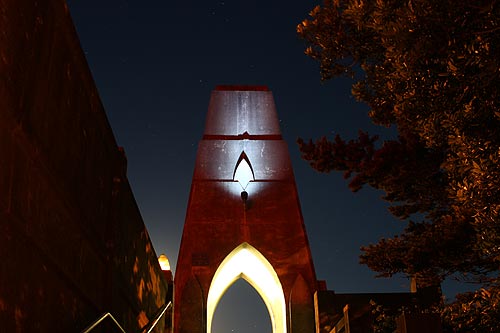 Photographs of this Oregon coast icon at night add a whole other dimension to enjoying these views.