Kiwanda's Mighty Mysteries: Astounding Sights Atop an Oregon Coast Headland

Three Capes Loop Virtual Tour, Oregon Coast: Oceanside, Netarts, Tierra Del Mar, Pacific City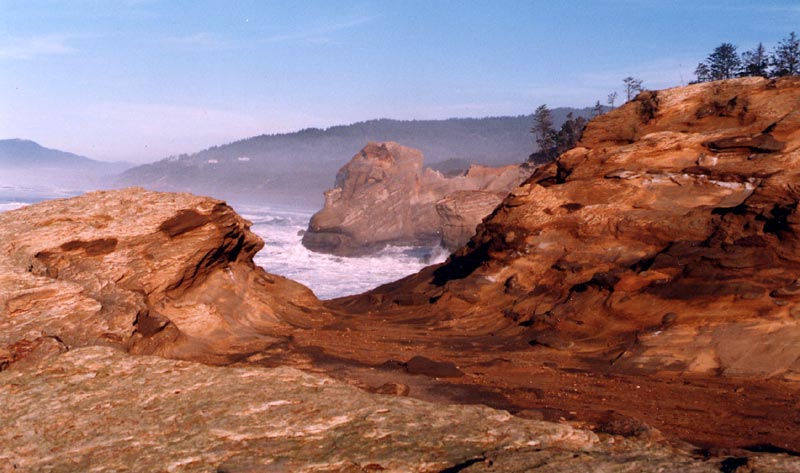 (Pacific City, Oregon) - It's not enough that Pacific City's Cape Kiwanda is one of the more recognizable features in all of Oregon, and that the town and the headland are probably among the most popular attractions on all of the Oregon coast.
Indeed, there is much more to the iconic headland than meets the eye, although those that venture on top of this sandstone beauty get quite an eyeful, no matter how long or short a time spent there.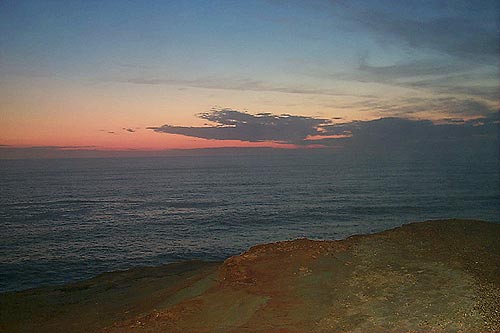 One of the more obvious pleasures is the panoramic views that abound here. Once on top, after a leg cramp-inducing climb up 30 feet of soft sand, you'll notice much explodes out in front of you. It's 180 degrees of vast ocean around you, especially as you get towards the outer edges and the fenced area - some parts of which include a telescope.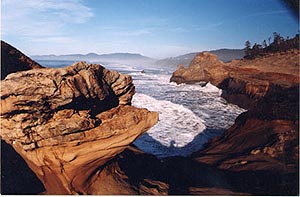 Meanwhile, you're walking on curiously colored rocks, which get curiouser and curiouser in some parts of this headland.
Wander to the northern side and you'll see even stranger rock formations below. Then, you can look southward and see the wind sculpted cliffs and craggy configurations from whole new angles. This can be especially rewarding if the sun hits the area just right, and the cliffs light up with a vibrant gold color and the ocean turns an impressive deep blue. It's almost tropical in vibe, given the right conditions.
From other angles, the place is downright surreal, like something out of a Yes album cover done by Roger Dean or a Dr. Suess book.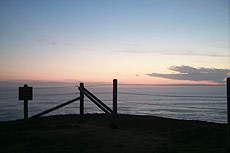 In one spot - access to which is no longer available because of extreme dangers - really wild formations appear. There seems to be a giant ape face poking out of the headland at one point. Meanwhile, at this strange and forbidden spot, the landscape turns to more of a pockmarked, almost moon-like terrain, full alien beauty. (Note: the ape face has mostly detiriorated since the 2010's and the "duck bill" rock was destroyed by vandals in 2016. See the article on this and newer photos)
During this whole time, of course, the massive sand dune sits behind you as you're wandering here, checking out the views.