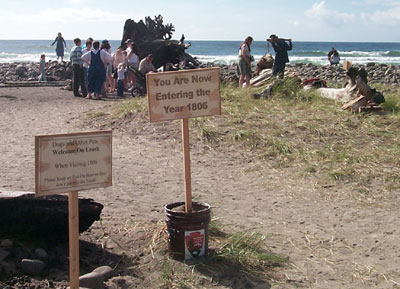 Periodically, the Fort Clatsop National Memorial and the Seaside History Museum celebrate Seaside's contribution to the history of Lewis & Clark with the "Saltmakers Return." On these dates, head to Avenue U (at the southern end of town) and you'll find signs declaring "You Are Now Entering 1806."
They aren't kidding. The men in period costume – set with the task of boiling sea water for salt – don't even talk like the modern populace, speaking in period dialect and completely unaware of any cultural or technological reference beyond the year 1806. Visitors are encouraged to ask questions, but the demonstrators will be playing their parts to the tee, so they won't "understand" modern words or terms of modern conveniences. Officials advise: "The best way to start a conversation with a Salt Maker is to ask, 'How are you today?' 'Where are you from?' and 'What is your name?' " From there, you can ask other questions about their journey.
The event doesn't take place every year, but when it does it's in August.