Photos of Yachats Chamber, Visitors Center, Central. Oregon Coast (and beach spots in the Yachats area)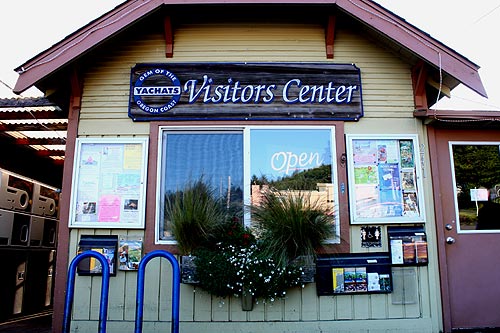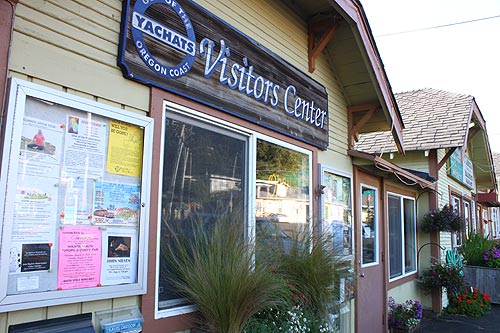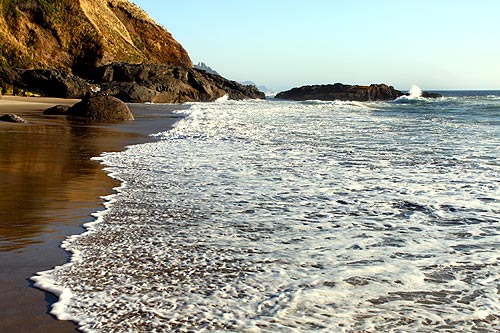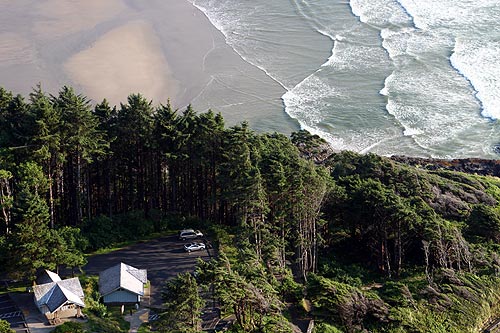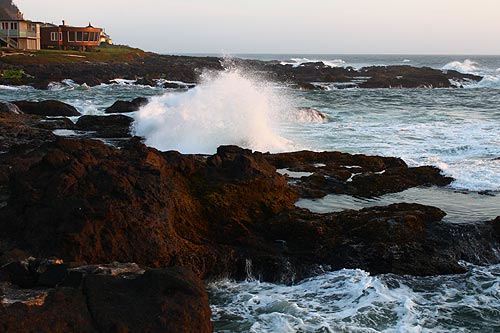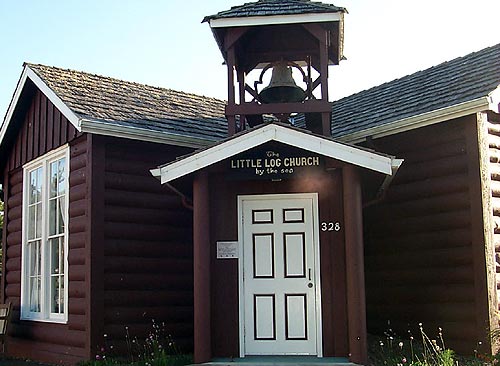 Yachats Visitors Center, Central. Oregon Coast and Yachats Chamber of Commerce - visitor news, events, updates from the center.
You will find the Yachats Visitor Center at 241 Hwy. 101 (downtown between W 2nd & W 3rd), 547-3530, 800-929-0477. See the full website at Yachats.org and GoYachats.com.
At the Visitor Center in downtown Yachats, there are hordes of brochures and bundles of visitor information for the area. Some are available after business hours but most materials will be found online or inside the center. Visitor information includes Yachats attractions, beaches, Yachats dining and restaurants, and Yachats lodgings and vacation rentals.
Transportation possibilities to and from Yachats include Caravan Airport Transportation, 541-994-9645 (coast), 503-288-5108 (Portland); Yaquina Cab (24 hours), 541-265-9552 in Newport, and at Newport's Enterprise Auto Rental, 1-800-325-8007 (Reservations). Bus transportation includes Newport's Valley Retriever Bus Line, 541-265-2253; and Greyhound Bus Lines, 1-800-231-2222.
News from and about Yachats Chamber of Commerce, Visitors Center
Yachats fun fungi weekend 3-day festival starts tonight
18 Oct 2019 at 4:59am
YACHATS ? The Yachats Area Chamber of Commerce will sponsor the 20th Yachats Village Mushroom Fest, inviting mushroom lovers from near and far to come enjoy a weekend ? fungi feast, to learn how to ...
AN ESCAPE TO THE OREGON COAST FOR $199
31 Dec 2000 at 7:59pm
Packing list for next Oregon Coast trip: 1. Waterproof coat and pants for those windy, rainy days. 2. Shorts for those beautiful, sunny days. 3. Rain shield to cover camera. 4. Sunshade for camera ...
Yachats Village Mushroom Fest Oct. 20-21
15 Oct 2018 at 3:03am
This festival is sponsored by the Yachats Area Chamber of Commerce. For the full detailed schedule, visit the events page of the Yachats chamber's website, yachats.org. For more information, email ...

Twitter Updates from Yachats Chamber of Commerce, Visitors Center
More Yachats, Oregon Visitor Information at the Yachats Virtual Tour, Map and the Upper Lane County Virtual Tour
See Yachats, Oregon News Updates: Local Yachats, Oregon News, Travel News