BEACH NEWS YOU CAN USE
Covering 160 miles of Oregon coast travel: Seaside, Cannon Beach, Manzanita, Nehalem, Wheeler, Rockaway, Garibaldi, Tillamook, Oceanside, Pacific City, Lincoln City, Depoe Bay, Newport, Waldport, Yachats & Florence.
Summer Cometh: Are you ready?
TV Show Spotlights N. Oregon Coast Paranormal Legend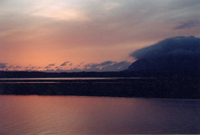 Wheeler at sunset
(Wheeler, Oregon) – It's called the "Wheeler Moment," and it will be the subject of independently produced "The Oregon Coast Show" on Thursday night.
The slightly paranormal – but certainly kooky – legend about a proliferation of serendipitous coincidences in the tiny north Oregon coast town of Wheeler will get its 15 minutes of fame on Thursday, June 15. The Oregon Coast Show, which airs at 7:30 p.m. on Channel 22 KPXG TV (PAX) in northwest Oregon, will feature Winston Laszlo of Old Wheeler Hotel and Peg Miller of Ekahni Books, talking about their experiences with the odd legend.
A "Wheeler Moment" is a hazy thing to define, unless you've experienced it, say many locals and regulars of the area. But it essentially means the area seems to have a greater occurrence of interesting, and often happy, coincidences.
Miller described it as: "you're thinking about something, or needing something, and it just sort of appears."
Miller said she was interviewed by Oregon Coast Show reporter Kimberly Jacobsen, talking about her experience with needing a plumber when she owned Maggie's Guestrooms a few years back, and the plumber literally just appeared at her door.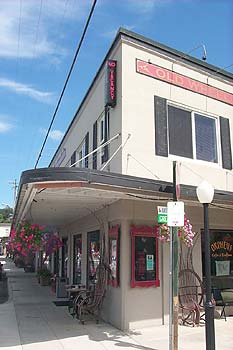 Old Wheeler Hotel and the trippy streets of Wheeler
"I had just discovered the leak," Miller said. "And I was wondering what I was going to do. Then I was interrupted by the doorbell of the B&B, and there was a guest at the door. During registration, I mentioned I had this leak to deal with, and it turned out he was a plumber."
The man helped her repair it and became her regular plumber after that.
Other "Wheeler Moments" for Miller include the time she was having trouble with the latch on a thousand-dollar bracelet, and it turned out a guest was a jeweler, among numerous others.
Even Oregon Coast Show Executive Producer Rick Gibson said he had a "mini" Wheeler Moment. "The best thing that happened to me was that there was only one parking spot left, right in front of Peg's store when we arrived for her interview, and I got it," Gibson said. "It was extremely easy to haul all the video equipment in and out of Peg's store and the Old Wheeler Hotel."
Miller said she was a little nervous during the filming and just before the crew arrived.
"It was really peculiar for me," Miller said. "I was like, 'holy cow,' what are all those Wheeler Moments? There are so many of them, and I can never remember them."
Miller said she had to call her boyfriend, Wheeler Antiques owner and local historian, Garry Gitzen, to jolt her memory.
Miller wondered how all this would come across to the general public. "How will all this 'play in Peoria?,' as they say," she said. "But really, these things happen a lot here – a lot more than anywhere else."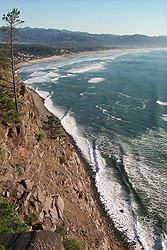 Above Manzanita and Nehalem Bay
Oregon Coast Show producer Rick Gibson got the idea from BeachConnection.net, calling on editor Andre' Hagestedt to talk about the legend and point him to interview subjects.
"I live part time in Portland, part time in Newport, and part time in Manzanita, so I go to a lot of different places around northwest Oregon," Hagestedt said. "These things really do happen a lot more in Wheeler and the whole Nehalem Bay area, in fact. I've got dozens of my own Wheeler Moments. Sure, weird coincidences happen to people a lot. But not like this. Wheeler and the Nehalem Bay are very trippy."
BeachConnection.net will run a larger story about the Wheeler Moments later this week, in the days just before The Oregon Coast Show segment airs.
The Oregon Coast Show airs every Thursday, 7:30 p.m. on KPXG TV (PAX) from Portland. The show reaches the 1.1 million households in the Portland Broadcast Market Area. Viewers watch on Comcast CH-5, over-the-air on CH-22 and on Dish TV on CH-22. Viewers who have Dish TV on the coast can also watch on CH-22. To find out what's on "The Oregon Coast Show" from week to week, people can visit their website at: www.oregoncoast show.com.
The June 15th episode leads with an exciting tour of Tillamook Cheese, then follows with "Must Be a Wheeler Moment," then concludes with a visit to a Lincoln City Glass Art Studio.