Oregon Coast Landmark: Exploring Seal Rock's Varied Details

South Beach, Seal Rock, Waldport Virtual Tour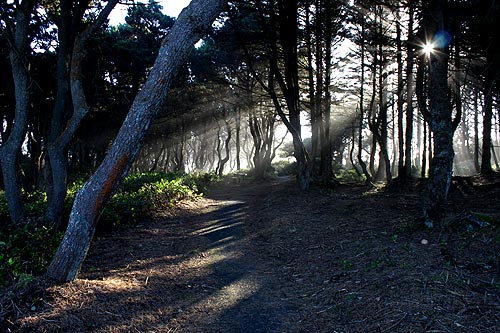 (Yachats, Oregon) – Between Newport and Yachats sits a lovely secret laying in plain sight.
What began as a hopeful boomtown in the late 1800's petered out quickly into the hidden hamlet of Seal Rock. There was a railroad line planned to stop here, to bring hoardes straight from the valley to this spot, which would've resulted in quite the different landscape for tourism on the central Oregon coast. But several failed deals thwarted that plan, and now tiny Seal Rock is a sleepy stop along Highway 101 with a handful of businesses and a load of natural amenities.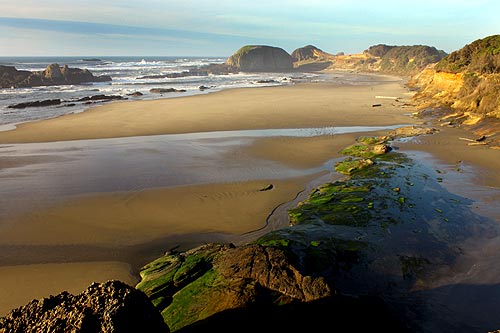 The main attraction is, of course, the big rock itself: a towering behemoth of black basalt that presides over all the other myriad attractions. This is actually Elephant Rock - not the "Seal Rock" in the town's name. Curiously enough, this beach was originally called Seal Rocks - with an "s." That eventually dropped by the wayside.
Walk through this sometimes misty and mystical forest, down the pathway meandering its way to this half-circle beach, and the rock is the first thing you'll see. It's actually a bird refuge, as are other parts of the basalt structures here, so heed the signs that say "keep off."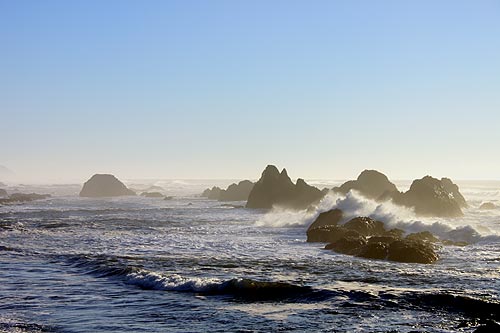 There are plenty of places to wander on foot, however – or even just watching the crazed wave action from on high will often suffice. It doesn't take much of a tide height to put on a show here.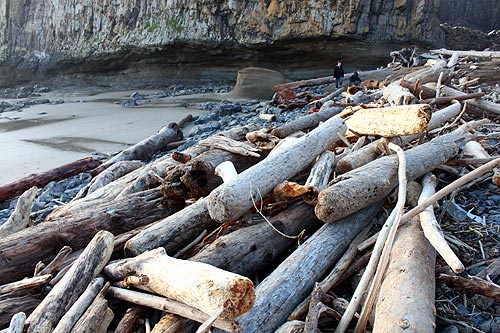 Upon closer examination, Elephant Rock's bottom area has plenty of interesting geological features, like this massive "groove" that appears to go around the structure. Lots of beach debris lurk here as well.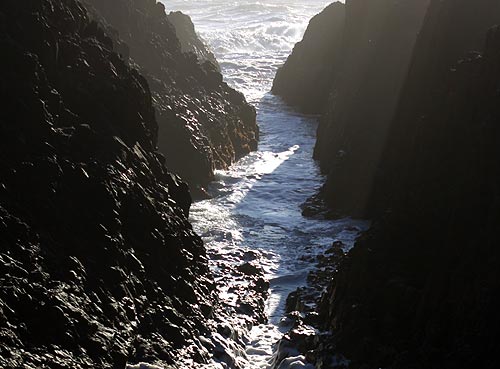 One of the main attractions at Seal Rock beach (Seal Rock State Recreational Site) is the sizable crevice that hides on the other side of the big rock. This is not an area you want to visit too up-close, as the tides can get awfully mean and dangerous here. But a fair amount of the time you can at least watch it from just above, and see lots of fascinating wave action come barreling through.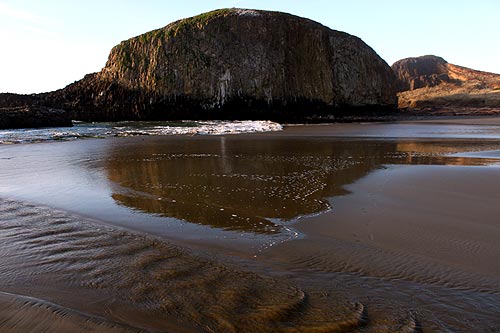 The area can be just a tad reminiscent of Cannon Beach's Haystack Rock: if you were very new to the Oregon coast it would be probably be difficult to tell this Newport-area stalwart from the Cannon Beach landmark.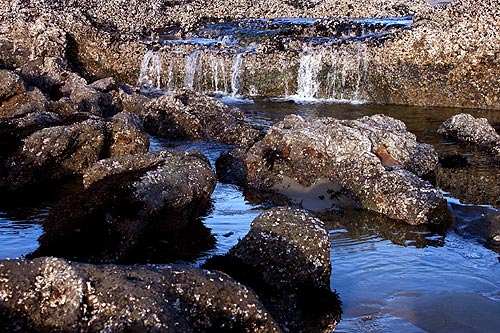 If you find the area at low tide conditions and low enough sand levels, you'll discover a ton of unusual grooves, shapes and maybe even a secret waterfall. Tidal conditions will not always let you walk on this beach. It can be very dangerous, so don't hit this sandy hangout unless the waves are clearly far from the cliffs above it.
Seal Rock is about ten miles south of Newport, and about 13 miles north of Yachats.