Mysteries and Surprises of an Oregon Coast Landmark: the Devil's Punchbowl

Virtual Tour of Depoe Bay, Gleneden Beach, Lincoln Beach, Otter Rock, Oregon Coast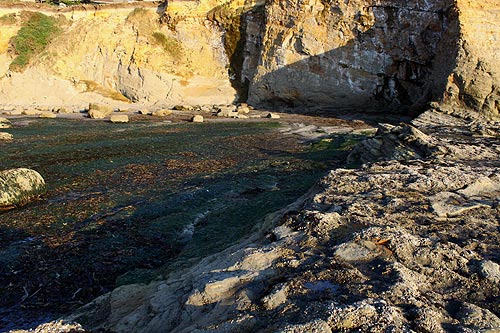 Published 06/17/2012
(Depoe Bay, Oregon) – Every once in a blue moon, that oh-so revered Oregon coast landmark, the Devil's Punchbowl, does something even more extraordinary than its usual level of constant surprise: it lets you get inside it. Normally, the tide here is too deep and too wild to even approach this tourist hotspot, and you can only watch the oceanic melee from above. But once or twice a year an extreme minus tide allows access inside this stunning, jaw-dropping oddity. It's then when a host of spectacular secrets reveal themselves. (Above: the second cove beyond the cove next to Devil's Punchbowl)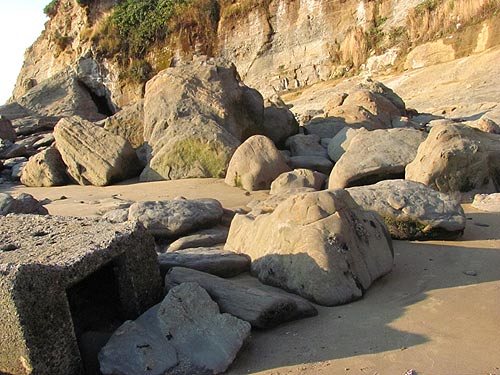 Even more dramatic is when tide levels allow you access to the very hidden cove around the northern edge of this cozy little cove. As you approach this tip – normally covered in raging tides – the first surprise greets you: this mysterious concrete object. Perhaps part of a drainage system that fell into the sea, perhaps some other usage, it looks much like an opening to a heretofore hidden bunker of some sort. Whatever its purpose, this knowledge is lost long ago and now it simply sits here amidst the rubble, causing the imagination to fire off.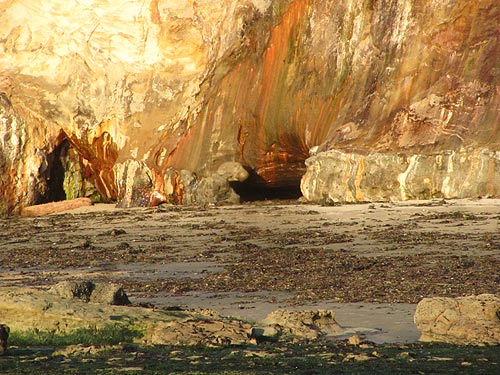 After ambling over a series rocky shelves that vary in degrees of difficulty for the climber, you come across this weird and wild landscape: yet another cove, covered in slippery, green algae and seaweeds. The patterns here are not unlike the ribbed and criss-crossing channels and grooves of the basalt bedrock next to the Devil's Punchbowl, but here they are less walked upon. Indeed, for good reason: this stuff is so slippery every other step would mean footfall of some sort, and a series of cracks in your skull.
So it stays in pristine shape.
You'll also immediately notice a series of caves way back against the cliff here at Otter Rock. These, too, tease with their unattainable mysteries.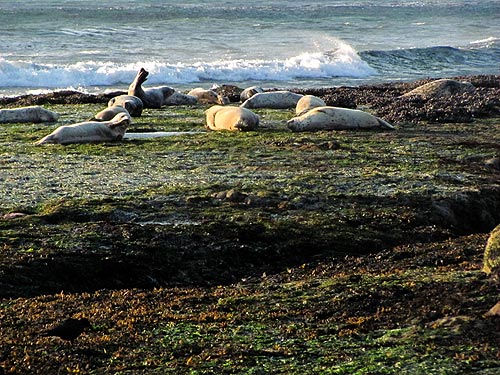 Yet another surprise awaits, but this time right up against the tide line. This place is apparently a resting place for Harbor seals. They lounge here in peace and comfort, safe from the interference of humans.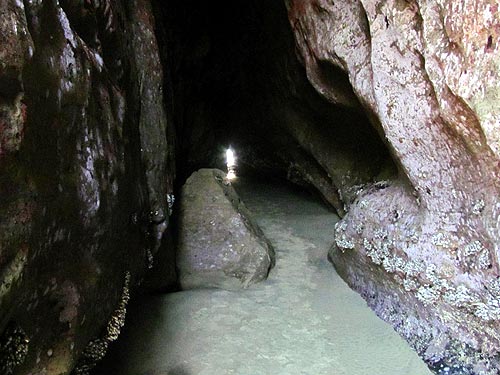 Then, for more insane surprises, head back towards the Devil's Punchbowl and explore its many cracks and crevices closely while the tide is in this rare state. It's worth your time. You may discover this wild little geologic nugget: a secret cave normally beneath the sea. There's a channel cut through one of the large walls surrounding the Punchbowl, just large enough for a man to crawl through. Though upon first sight it appears quite high it quickly shrinks in height.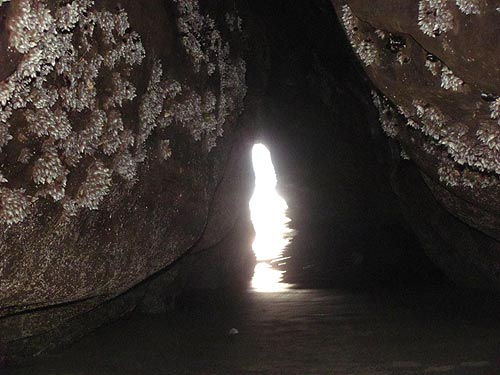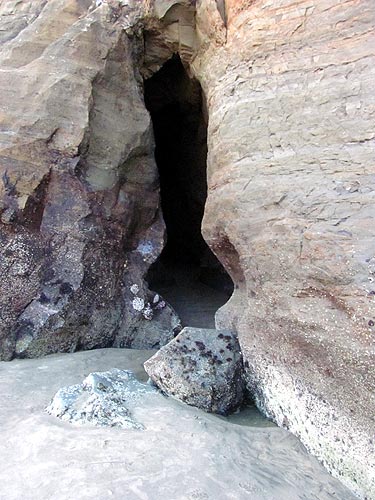 Peek inside and you'll see a bright light at the end of this tunnel: that's the sea. It goes right through to the other side.
At right, this mysterious cave seen from the outside.
Remember, these conditions are extremely rare and the Devil's Punchbowl is normally not accessible in the least. Do not even attempt to wade through the water around the Punchbowl as you'll most assuredly get swept away. These photos were provided as a means to show what almost no one can ever see.
The Devil's Punchbowl does have a beach next to it that is accessible most of the time, if the right tidal and storm conditions permit. The Punchbowl and its beach are located between Newport and Depoe Bay, on the central Oregon coast. See the Depoe Bay Virtual Tour for more information.