Photos of Yachats Chamber, Visitors Center, Central. Oregon Coast (and beach spots in the Yachats area)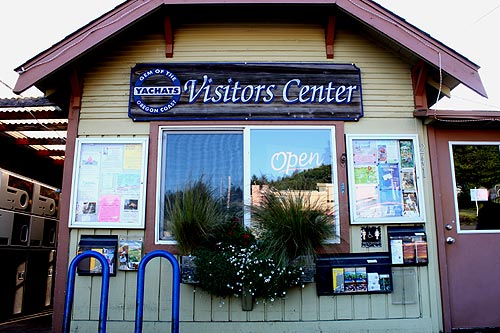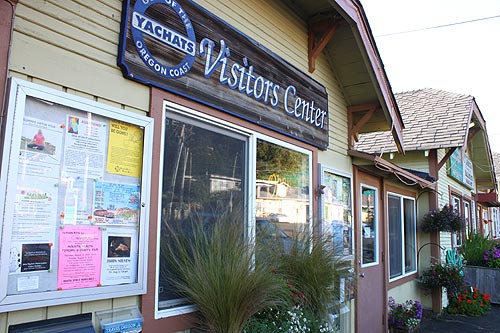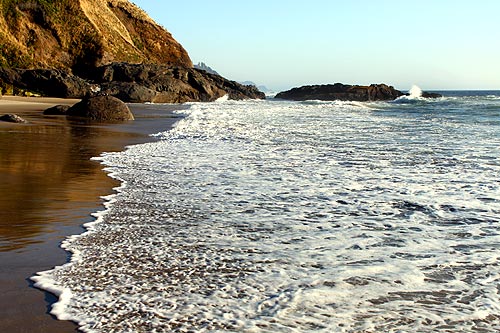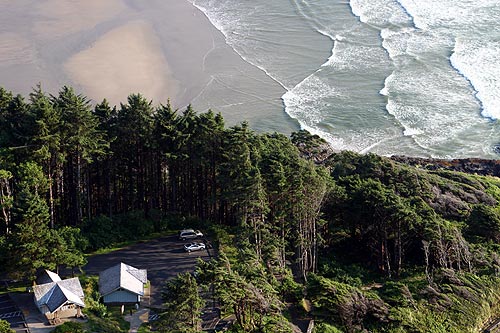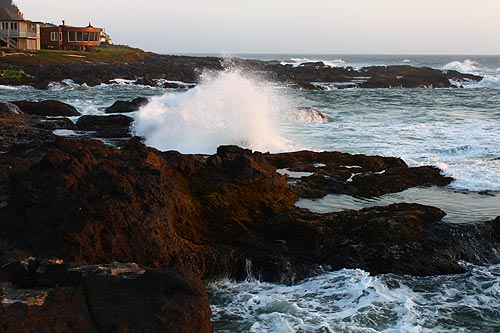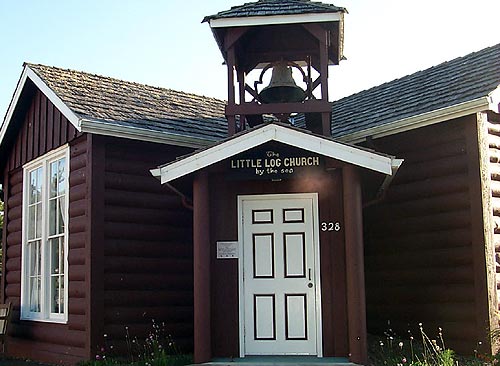 Yachats Visitors Center, Central. Oregon Coast and Yachats Chamber of Commerce - visitor news, events, updates from the center.
You will find the Yachats Visitor Center at 241 Hwy. 101 (downtown between W 2nd & W 3rd), 547-3530, 800-929-0477. See the full website at Yachats.org and GoYachats.com.
At the Visitor Center in downtown Yachats, there are hordes of brochures and bundles of visitor information for the area. Some are available after business hours but most materials will be found online or inside the center. Visitor information includes Yachats attractions, beaches, Yachats dining and restaurants, and Yachats lodgings and vacation rentals.
Transportation possibilities to and from Yachats include Caravan Airport Transportation, 541-994-9645 (coast), 503-288-5108 (Portland); Yaquina Cab (24 hours), 541-265-9552 in Newport, and at Newport's Enterprise Auto Rental, 1-800-325-8007 (Reservations). Bus transportation includes Newport's Valley Retriever Bus Line, 541-265-2253; and Greyhound Bus Lines, 1-800-231-2222.
News from and about Yachats Chamber of Commerce, Visitors Center
Yachats Chamber of Commerce is awarded visitor center contract
17 Jan 2013 at 2:18pm
YACHATS ? The Yachats Chamber of Commerce will continue to run the Yachats Visitor Center after the city council last week awarded a $54,695 contract to the chamber, the only organization to submit a bid. For the complete article see the 01-18-2013 issue.
Nelson Hardin Grubbe 1922-2014
8 Oct 2014 at 2:47am
He was awarded Citizen of the Year from the Portland Junior Chamber of Commerce, received an award from the Governor ... Susan Liberti of Talent and Nancy Grubbe of Yachats, two stepsons, Alan Richards of Cottage Grove and Mark Richards of Hawaii ...
Central Oregon Coast January Preview: Early Winter in Yachats, Florence
17 Dec 2013 at 10:00am
(Yachats, Oregon) ? Early winter is about whales ... Siuslaw Awards Dinner. The Florence Area Chamber of Commerce honors recognized leaders within Florence?s business community. 6-9 p.m. Florence Events Center. 715 Quince St. Florence, Oregon.

Twitter Updates from Yachats Chamber of Commerce, Visitors Center
More Updates from the Yachats Chamber and GoYachats via FB
(no title)
by GoYACHATS
20 Oct 2014 at 7:24pm

Photos of Oregon Coast Today
A flowery scene above Cape Perpetua
Mushroom happenings around Yachats!
by GoYACHATS
16 Oct 2014 at 3:23pm
Mushroom happenings around Yachats!




Mushroom Festival Event this weekend!
by GoYACHATS
15 Oct 2014 at 12:22pm
Mushroom Festival Event this weekend!


Yachats Area Chamber Of Commerce and Visitor's Center
www.yachats.org
Yachats Area Chamber of Commmerce & Visitors Center features visitor, relocation and business information about Yachats and the surrounding area on the central Oregon coast.
GoBigWaves = GoYachats!
by GoYACHATS
13 Oct 2014 at 3:11pm
GoBigWaves = GoYachats!

https://scontent-b.xx.fbcdn.net/hphotos-xpa1/v/t1.0-9/p100x100/10509771_988100311205962_5207811053932731237_n.jpg?oh=ff8bb058efe21bf24e111e3edc069b0f&oe=54ADFA10

Ken Gagne

Yesterday's Yachats crashing waves were some of the biggest I've seen all year.

More Yachats, Oregon Visitor Information at the Yachats Virtual Tour, Map and the Upper Lane County Virtual Tour
See Yachats, Oregon News Updates: Local Yachats, Oregon News, Travel News