Photos of Yachats Chamber, Visitors Center, Central. Oregon Coast (and beach spots in the Yachats area)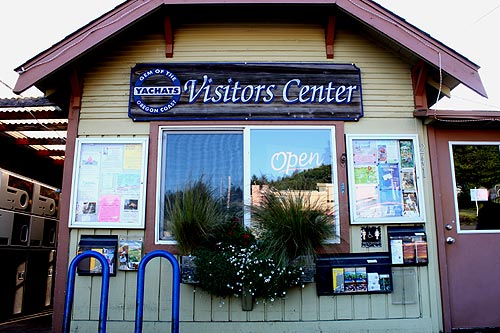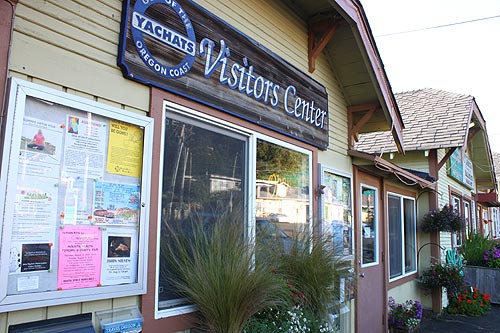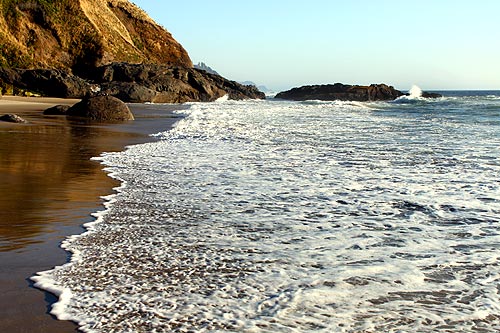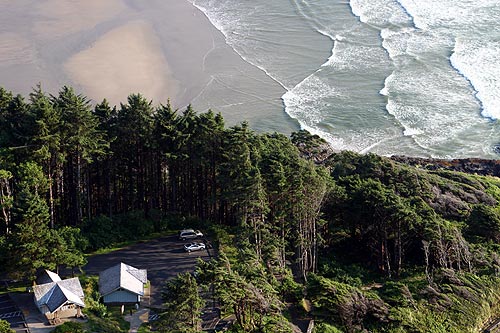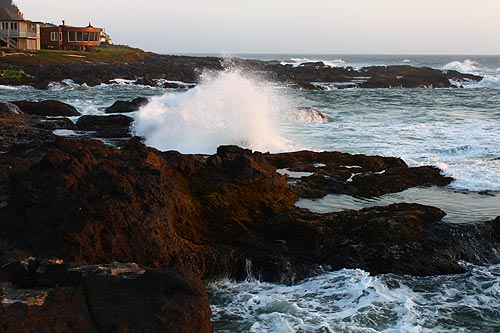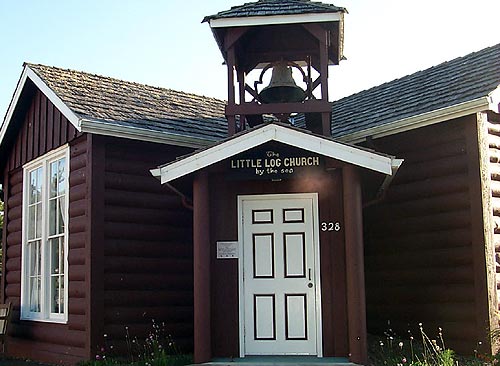 Yachats Visitors Center, Central. Oregon Coast and Yachats Chamber of Commerce - visitor news, events, updates from the center.
You will find the Yachats Visitor Center at 241 Hwy. 101 (downtown between W 2nd & W 3rd), 547-3530, 800-929-0477. See the full website at Yachats.org and GoYachats.com.
At the Visitor Center in downtown Yachats, there are hordes of brochures and bundles of visitor information for the area. Some are available after business hours but most materials will be found online or inside the center. Visitor information includes Yachats attractions, beaches, Yachats dining and restaurants, and Yachats lodgings and vacation rentals.
Transportation possibilities to and from Yachats include Caravan Airport Transportation, 541-994-9645 (coast), 503-288-5108 (Portland); Yaquina Cab (24 hours), 541-265-9552 in Newport, and at Newport's Enterprise Auto Rental, 1-800-325-8007 (Reservations). Bus transportation includes Newport's Valley Retriever Bus Line, 541-265-2253; and Greyhound Bus Lines, 1-800-231-2222.
News from and about Yachats Chamber of Commerce, Visitors Center
Yachats Chamber of Commerce is awarded visitor center contract
17 Jan 2013 at 3:18pm
YACHATS ? The Yachats Chamber of Commerce will continue to run the Yachats Visitor Center after the city council last week awarded a $54,695 contract to the chamber, the only organization to submit a bid. For the complete article see the 01-18-2013 issue.
RHYTHM AND MOOS: Yachats drumming event
17 Aug 2015 at 7:00am
Pick up the tour map at the Yachats Chamber of Commerce Visitor Center, in town, or online at yachats.org/Yachats_River_Valley_Farm_Tour_2015.pdf Drive carefully and watch out for cyclists along this narrow scenic road. For drumming details contact ...
Yachats 4th of July Celebration
15 Jun 2015 at 11:00am
the Yachats la de da Parade, sponsored by the Chamber of Commerce, begins at noon. Before and after the parade explore the town to enjoy special treats and great food, games, art and live music. Find a place on the beach by the mouth of the Yachats River ...

Twitter Updates from Yachats Chamber of Commerce, Visitors Center
More Updates from the Yachats Chamber and GoYachats via FB

[CaRP] Can't open remote newsfeed [404].
(no title)
by GoYACHATS
21 Jun 2015 at 1:53pm

RDTV June 21 2015 Jim Gibbs Oregon Lighthouses

The expert on West Coast Lighthouses passed away a few years ago but over the years we interviewed Jim Gibbs several times. He was a wonderful man who could ...
Happy Fathers Day!
by GoYACHATS
21 Jun 2015 at 12:06pm
Happy Fathers Day!



Congratulations! Yachats - "Water and Light." Yachats Monthy Photo Contest
by GoYACHATS
19 Jun 2015 at 6:09pm
Congratulations! Yachats - "Water and Light." Yachats Monthy Photo Contest


May 2015 Winners, Runner-up and Honorable Mentions
Congratulations! Yachats - "Water and Light." Yachats Monthy Photo Contest
The winning image in April's "Driftwood" Photo Contest is Driftwood on Heceta...
by GoYACHATS
19 Jun 2015 at 6:03pm
The winning image in April's "Driftwood" Photo Contest is Driftwood on Heceta Head Beach, submitted by Michael Hare of Salem. Congratulations, Michael!


April 2015 Winner


More Yachats, Oregon Visitor Information at the Yachats Virtual Tour, Map and the Upper Lane County Virtual Tour
See Yachats, Oregon News Updates: Local Yachats, Oregon News, Travel News