Photos of Yachats Chamber, Visitors Center, Central. Oregon Coast (and beach spots in the Yachats area)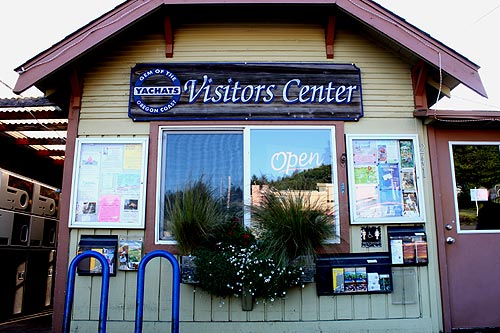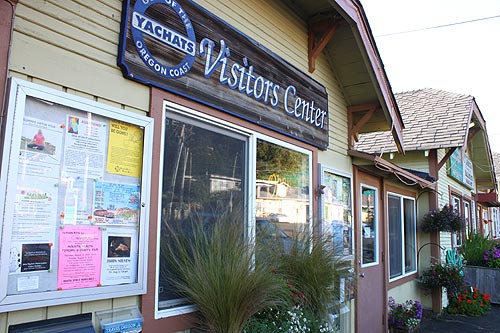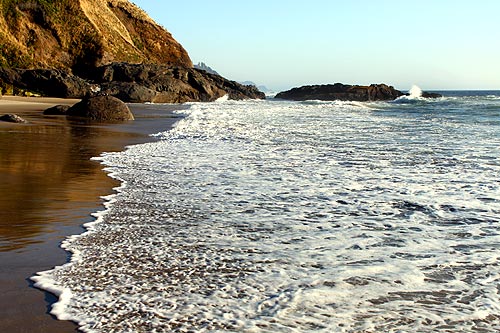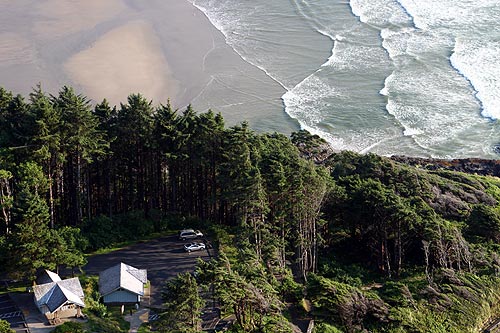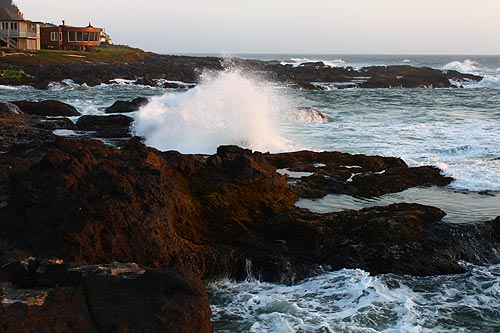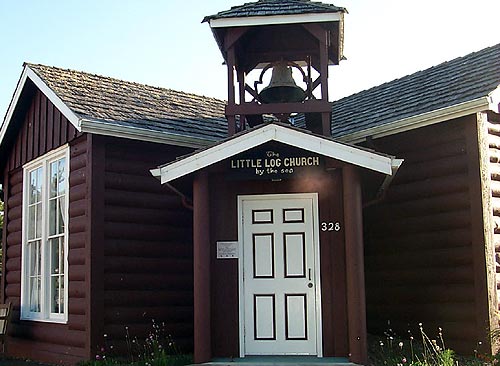 Yachats Visitors Center, Central. Oregon Coast and Yachats Chamber of Commerce - visitor news, events, updates from the center.
You will find the Yachats Visitor Center at 241 Hwy. 101 (downtown between W 2nd & W 3rd), 547-3530, 800-929-0477. See the full website at Yachats.org and GoYachats.com.
At the Visitor Center in downtown Yachats, there are hordes of brochures and bundles of visitor information for the area. Some are available after business hours but most materials will be found online or inside the center. Visitor information includes Yachats attractions, beaches, Yachats dining and restaurants, and Yachats lodgings and vacation rentals.
Transportation possibilities to and from Yachats include Caravan Airport Transportation, 541-994-9645 (coast), 503-288-5108 (Portland); Yaquina Cab (24 hours), 541-265-9552 in Newport, and at Newport's Enterprise Auto Rental, 1-800-325-8007 (Reservations). Bus transportation includes Newport's Valley Retriever Bus Line, 541-265-2253; and Greyhound Bus Lines, 1-800-231-2222.
News from and about Yachats Chamber of Commerce, Visitors Center
Yachats Chamber of Commerce is awarded visitor center contract
17 Jan 2013 at 11:48am
YACHATS ? The Yachats Chamber of Commerce will continue to run the Yachats Visitor Center after the city council last week awarded a $54,695 contract to the chamber, the only organization to submit a bid. For the complete article see the 01-18-2013 issue.
Central Oregon Coast January Preview: Early Winter in Yachats, Florence
17 Dec 2013 at 9:30am
The Florence Area Chamber of Commerce honors recognized leaders within Florence ... 6-8 p.m. Ona. 131 Hwy 101 N. Yachats, Oregon. January 1. New Year?s Day Peace Hike. Sponsored by the Yachats Trails Committee. 10 a.m.-1 p.m. Start at Yachats Commons.
Local event missing local fish
3 Jul 2006 at 10:00am
"They go down to California to get them. I hate to say it, but they do," said Betty Dunn, a volunteer with the Yachats Chamber of Commerce. Lions Club member Eric Clark, 41, owner of Clark's Market, remembered plenty of smelt when he first moved to town 30 ...

Twitter Updates from Yachats Chamber of Commerce, Visitors Center
More Updates from the Yachats Chamber and GoYachats via FB
(no title)
by GoYACHATS
28 Aug 2014 at 9:20pm

Photos from Terry Hill's post in Yachats Community
Hi friends --- My Yachats Farmstore appearance has been moved up a day to Friday, August 29 at 5 PM. Same Bat-channel, same Bat-music, same Bat-fun. Scheduling conflicts happen, and this was one. (Say! That could be a bumper sticker: "Scheduling Conflicts Happen." It seems somehow familiar. . .) Anyway, be there, bring grandma, bring the young-uns, bring strange Uncle Jasper. But leave the hogs and chickens at home. See my website www.terryhillmusic.com for more information and more fun.
Beautifully written!
by GoYACHATS
27 Aug 2014 at 5:42pm
Beautifully written!


Timeline Photos
Low tide, light wind, the season floats in late summer sky and shine. ? at KOHO.
It's a party!
by GoYACHATS
26 Aug 2014 at 11:48am
It's a party!


Timeline Photos
Johnathan L. and all his gull-friends were having way so much fun this morning at the beach.
Right now, right here, this moment. Grab it...GoYachats!
by GoYACHATS
25 Aug 2014 at 5:43pm
Right now, right here, this moment. Grab it...GoYachats!


Timeline Photos
Five miles up river from Yachats it was 78 degrees and only 62 here on my deck this afternoon.

More Yachats, Oregon Visitor Information at the Yachats Virtual Tour, Map and the Upper Lane County Virtual Tour
See Yachats, Oregon News Updates: Local Yachats, Oregon News, Travel News