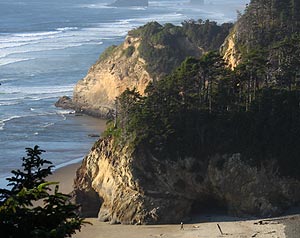 Here, a remnant of the old traffic light remains, which kept these ancient vehicles from smacking into each other.
There's also an interesting detail sitting right across from this traffic light, on the north side of the "road" – one that's obviously out of place in such a rugged setting. Look for a small, metallic knob here, apparently quite old and indicating the presence of an electrical line of some sort at one point.
Below, the ancient road when it was first built: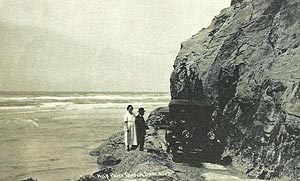 More on the history of Hug Point as well as other parts of north Oregon coast highways:
Oregon Coast History: Life Before Highway 101, When Beaches Were Roads - You probably haven't stopped to think about it, but there was a time when Highway 101 didn't exist along the Oregon coast. What did early Oregon settlers do to get from one coastal town to another?