Here, Baker Beach comes into full view, with the lakes of Alder Dune Campground to the east.
Nearby is the Horse Coast Trail System. The point here is traipsing up to Cape Mountain, which lies some three miles up and to the east of Highway 101. Take Herman Peak Rd. and there's about 14 miles of trails awaiting you – on foot or on your horse. The trailhead lies almost three miles up, then giving way to trails that lead you through lush forests, large meadows, huge ocean vistas, and even a replica of an old Indian shelter.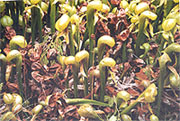 Also near here you'll find the Darlingtonia Wayside, which features insect-chomping plants that mostly live between there and northern California. These rarities sit around, just waiting to catch bugs with their sticky parts, then slowly digest them. Insects get lured by the colors and smells that attract them, and they soon find themselves confused by clear areas that look like exits, only to get sucked into sticky parts that eventually cause their demise.
Picnic tables abound here, and this rainforest-like park features a wooden walkway which keeps you elevated and away from the protein-hungry plants. The wayside is free, and you'll find it just off 101, near Mercer Rd.