Shipwreck Skeletal Remains: Peter Iredale, N. Oregon Coast

Astoria, Warrenton, Gearhart Virtual Tour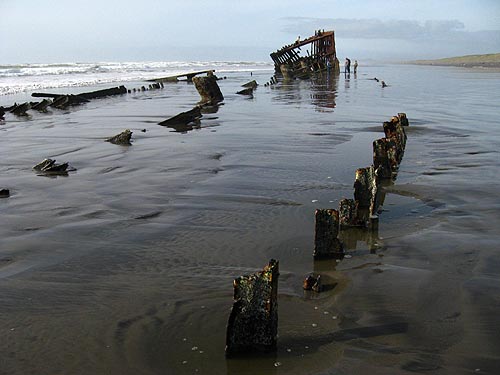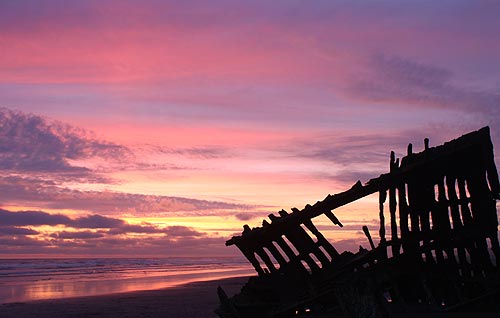 Accessible by Peter Iredale Road from inside Fort Stevens State Park, the wreck is part of the massive park - one of the largest in the state.
Various parts of the Wreck of the Peter Iredale appear at different times of year, thanks to sand levels. Of course tides make a difference as well.
The lower part of the ship, now entirely under the sand, allows only views of the very tops of the structure. Even then, this can disappear in summer's higher sand levels.
If the tide safely allows, people tend to climb all over the rusted bones of the giant schooner.
The bottom photo, taken on the first day of summer at sunset, shows another favorite view of the elderly structure. People love their sunset shots of the shipwreck's silhouette.
Note:driving on the beach from here southward is legal, but not north of Peter Iredale Road.
Latest News on Peter Iredale Shipwreck

wreck of peter iredale - BingNews
Search results

Eerie shipwreck sites around the world
9 Sep 2021 at 10:03am
Related: Eerie Abandoned Factories Across America Astoria, Oregon The Peter Iredale went aground in 1906 on its way to the Columbia River. The rusted skeleton of the four-masted steel ship can ...
Elleda Wilson: In One Ear: Local brevities
23 Sep 2021 at 5:51am
Of note: The Derby Park, built in 1887, was owned by Peter Iredale & Son of Liverpool. It was only in service for one year. From Friday, Sept. 26, 1890: ?Geo. W. Traver, a prominent Tacoma (Washington ...