A Different Look At Lincoln City, Oregon Lodging - Oregon Coast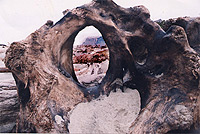 (Lincoln City, Oregon) – The town straddles miles of pristine beaches, with no interruption in beach strolling possibilities from just south of Cascade Head all the way to the Siletz Bay. With low bank accesses just about everywhere, it's some of the most accessible beach on all of Oregon's coast, boasting some of the most pristine and beautiful sands on this shoreline.
There are more lodgings in this town than any other along the entire Oregon coast, boasting something like 400 (not including vacation rental homes – but there are more of these than anywhere else on the coast as well). Lincoln City comes complete with an enormous array of lodging choices: from small, quaint and understated B&B's, economy motels, mid-price range family lodgings with numerous amenities, flashy, upscale hotels that bring new dimension to the word "luxury," to vacation homes small, large, historic and thoroughly modern.
There is, in short, something to be found for everyone looking for accommodations in Lincoln City.
More Lincoln City Lodging can be found here.