Oregon Coast Turtles Improve - Baby Whale Stranded
Published 01/04/2010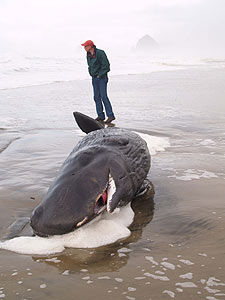 (Oregon Coast) – Just as a baby sperm whale washes up deceased at Cannon Beach, there is positive word on two turtles who were found stranded on the Oregon coast in November.
The Oregon Coast Aquarium reports an Olive Ridley sea turtle and a Green sea turtle found stranded almost two months ago are improving in their conditions.
"We are on schedule for a mid to late January transfer to San Diego's SeaWorld Turtle Rehabilitation Center," said a representative from the Oregon Coast Aquarium. "We will conduct more diagnostic tests to determine their levels of proteins and globulin, which are indicators of overall health."
The Ridley sea turtle is no longer on fluids, while the Green sea turtle is still getting aided by fluids pumped into her body cavity. X-rays were taken to look for lung problems, although none were found. It also seems the Green sea turtle has a fracture in one of its flippers.
On Saturday, a baby sperm whale was found at Cannon Beach, clocking in about 15 feet long. Scientists estimate it was about a month old.
Staff from the Seaside Aquarium responded to the scene initially, then called in researchers from the Marine Mammal Stranding Network out of Portland State University.
"Sperm whales are not uncommon along the Oregon Coast," said the aquarium's Tiffany Boothe. "They are just not seen very often due to their elusive behavior."
The Oregon Coast Aquarium is a 501(c)(3) not-for-profit educational attraction dedicated to the highest quality aquatic and marine science programs for recreation and education so the public better understands, cherishes, and conserves the world's natural marine and coastal resources. For more information, visit the Aquarium's Web site at www.aquarium.org or call (541) 867-FISH.
Dr. Dan Lewer, Aquarium Veterinarian, X-Rays a female Green sea turtle as she continues to receive supplemental fluids into her body cavity. The X-rays were conducted to look for lung problems and nothing was found, but a fracture was revealed in one of her flippers. Courtesy Photo.
Upcoming Events in Seaside, Oregon
January 15 – 16. 26th Annual Barbershop Cabaret. The Seaside Chamber of Commerce & Q.C.E.D. present the Annual Barbershop Cabaret At the Seaside Civic & Convention Center. 415 1st Ave. Seaside, Oregon. 503-738-6391. wwww.seasidechamber.com.
February 6. First Saturday Art Walk. Various locations around Seaside, Oregon. 5 p.m. – 8 p.m. Contact Seaside Chamber of Commerce. 503-738-6391.
February 14. A Sweet Affaire. Fundraiser for AAUW Scholarship Foundation & Sunset Empire Parks and Recreation. 4 p.m. – 6:30 p.m. $35 per ticket. Seaside Civic & Convention Center, 415 1st Ave. Seaside, Oregon. 503-738-3311.
February 20. Weddings at the Beach Bridal Show. Seaside Civic & Convention Center, 415 1st Ave. Seaside, Oregon. 503-738-5331.
February 26 - 28. Oregon Dixieland Jubilee. Three day festival with twelve bands five venues, dance floors, shuttles, afterglow party and more. Various locations throughout Seaside, Oregon. 866-345-6257.