Covering 180 miles of Oregon coast travel: Astoria, Seaside, Cannon Beach, Manzanita, Nehalem, Wheeler, Rockaway, Garibaldi, Tillamook, Oceanside, Pacific City, Lincoln City, Depoe Bay, Newport, Waldport, Yachats & Florence.
08/19/07
Of Geology and of Ghosts: Scary Tales of the Oregon Coast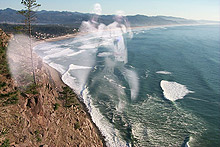 Various ghost tales inhabit the Nehalem Bay area
(Oregon Coast) – There are plenty of stories about things that go bump in the night around coastal beaches, lighthouses and even bars. The stories literally go on and on, with varying degrees of credibility.
There is something much scarier than those ghosties and beasties, however. The reality of how these beaches acquired many of their landmarks is a truly freaky tale.
Stories of spirits may or may not be true, but they're certainly fun to indulge in.
Truth, however, is far, far stranger than fiction – especially when you're talking about the geologic freakzone that formed Oregon and its coast many millions of years ago.
Scary Rivers of Lava on the Coast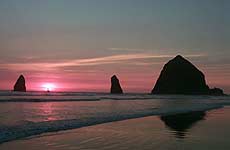 Cannon Beach's landmark Haystack Rock was made from an underground re-eruption that came from another lava flow
Picture this: a massive river of lava erupts in Idaho, so big it covers miles at a time as it marches along at around 4 mph. It sears entire forests into ashes and fumes. It builds gigantic damns of molten rock that are perhaps miles long, sometime bulging up to 20 feet high. It marches its way through riverbeds and canyons, snaking its way around mountains, until it slithers its sinister, scorching heat into the ocean – having traveled some 300 miles, about seven days later. It's hundreds of miles long, spewing out continuously and fiercely so that when it reaches the ocean it fills crevices and muddy areas thousands of feet deep.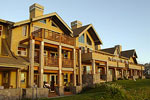 The Ocean Lodge. There will not be another property built like this in Cannon Beach in our lifetimes. Rare, premiere ocean front location; handsome, dramatic architecture and tasteful, fun (nostalgic) beach interiors. Overlooks Haystack Rock. 100 percent smoke free. Imaginative special occasion packages. Massive wood burning lobby fireplace. Library w/ fireplace, stocked with impressive book collection. Pet and family friendly. Lavish continental buffet breakfast. In-room fireplaces, mini-kitchens. Jacuzzi tubs in select rooms. DVD players, complimentary movies. Morning paper. Warm cookies. 888-777-4047. 503-436-2241. 2864 Pacific Street. Cannon Beach, Oregon. www.theoceanlodge.com
This was the scene in Oregon some 15 million years ago, and it was the beginning of the birth of many of the incredible structures and tourist attractions you now see on the scenic Oregon coast. A colossal fissure in the Earth around where Lewiston, Idaho is now poured these horrendous flows into this area. It's the same hot spot that now powers Yellowstone National Park, and has before created the mega-disastrous super volcanoes that have erupted a few times over the millennia.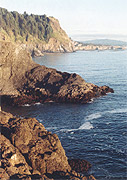 Cape Fouweather, which towers over the sea, came from an eruption 100's of miles long
The coast at that time was about 15 miles farther inland than it is now. According to Seaside geologist Tom Horning, sometimes these lava flows poured into the ocean and then they spread out through the soft marine sediments for dozens of miles, burrowing into the layers. They then managed to come back up elsewhere, re-erupting through thousands of feet of muck, onto the sea floor, essentially making their own eruptions for a brief time (geologically speaking).

They then cooled to become solid basalt. Over millions of years, some of these massive invasions of lava were lifted with the sediments above sea level with the rising of the coast range. They in turn were eroded away, until they formed headlands and features we now know as Neahkahnie Mountain near Manzanita or Tillamook Head between Seaside and Cannon Beach.
Another kind of lava flow that formed the headlands we know and love is called intra-canyon flows. These kind of flows snaked their way to the coast through riverbeds and around other land features, arriving at the coast to build up and up out of deltas of rubbly submarine pillow basalt. These were also capped by sheets of dry-land lava flows.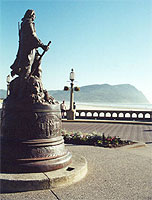 Seaside's Tillamook Head is a distant relative of the super volcano that destroyed the atmosphere millions of years ago, and of the fissure that now powers Yellowstone's geysers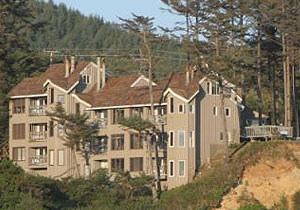 STARFISH POINT Newport - Offers only the finest in luxury condominium lodging. Every unit is focused on the beauty of the sea and the beach.
All units boast two bedrooms, two bathrooms, designer kitchens, wireless broadband Internet, fireplaces, Jacuzzi's and private decks. Friendly staff dedicated to high quality and superb customer service. 140 NW 48th Street, Newport. (541) 265-3751. (800) 870-7795. www.starfishpoint.com
Meanwhile, the ocean levels rose and fell around the landmasses and basalt shapes a few times. They too were eroded by time and water into shapes we now know as Cape Foulweather, Cape Lookout, Yaquina Head and Cape Meares.
Numerous such lava flows (perhaps around 300) erupted from about 12 million years ago to 17 million years ago, according Horning. They happened approximately every 100,000 to 200,000 years, creating their own kind of havoc, but in turn laying the groundwork (pun intended) for the beauty we now see.
Meanwhile, millions of years earlier, Cascade Head was its own volcano, said Horning of the large, looming headland just north of Lincoln City. And what about those mini-eruptions that happened just offshore? Horning said they're often responsible for many of the coast's most famous landmarks.
"Haystack Rock in Cannon Beach was one of those," Horning said. "Sea stacks are often from submarine feeders for the re-erupting lavas. They're all part of plumbing systems."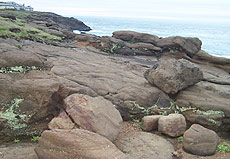 Much of Depoe Bay is bubble basalt - where a massive lava flow hit the ocean water and cooled quickly
Erosion also plays a major part in what you see with that famous structure (which is currently the third highest sea stack in the world), along with the oceans rising, falling and the land doing the same.
"The basalt that Haystack Rock is made of is about 15 million years old," Horning said. "It was an enormous hill of rock until about 3000 years ago, when rising sea levels allowed the surf to wash away all but the strongest lava/basalt. Some 4000 to 5000 feet of the original submarine volcano is missing from it now, having been eroded for more than 12 millions years."
Ghosts of the Oregon Coast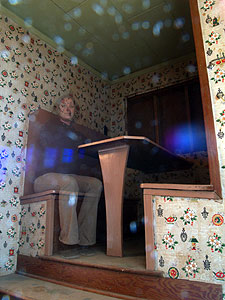 What lurks upstairs in the Seaside Aquarium - if anything? (photo: Tiffany Boothe, Seaside Aquarium)
There's a scary side to Seaside.
Example one: the Seaside Aquarium may have a closet containing something - or rather, an upstairs that could be haunted. When the building was a natatorium back about 80 years ago, there were apartments at the top floor. They actually were in use until the early 70's. That area isn't used much at all now, but some employees there say they've heard whispers over the years the top floor is haunted. Various stories have been handed down through the generations about noises coming from there.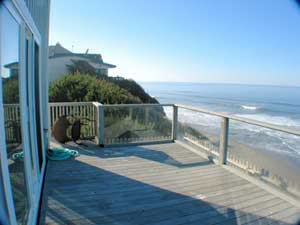 Lincoln City Vacation Homes Something for everyone: smaller homes with a view to a large house that sleeps 15. All are either oceanfront or just a few steps away – all with a low bank access and fantastic views. Most are in the Nelscott area; one is close to the casino. You'll find a variety of goodies: fireplaces, multiple bedrooms, dishwashers, Jacuzzis, washer/dryers, hot tubs, cable TV, VCR, barbecues; there's a loft in one, and another sprawling home has two apartments. Pets allowed in some homes – ask first. Each comes with complete kitchens. Most have seventh night free. Prices range from winter $85 to summer $230 per night. www.getaway2thecoast.com. 541-994-8778.
Talk to staff at Girtle's Restaurant and Lounge downtown and you'll hear tales of flying coffee pots, shadows of someone walking in what are empty rooms and apparitions appearing periodically. The rumor is that the old Seaside Hotel collected a long list of lingering souls in its 100-year-long history. When it was torn down in the 80's, many of the spirits followed staff there when they went to work for Girtle's.
Down in Wheeler, the Old Wheeler Hotel has plenty of haunted tales, enough that a few ghost hunters have sauntered through there over the years. Owner Winston Laszlo has had some experiences he can't explain, and he and his wife tell strange tales of how the building seemed "fight" them as it was being remodeled. (www.oldwheelerhotel.com. 877-653-4683.) Also in the bay area, locals talk about the lady who actually got a permit in the 90's to burn down her own property. She was apparently a descendent of local tribes and claimed the home was haunted by spirits of native children killed in a fire in that spot centuries ago.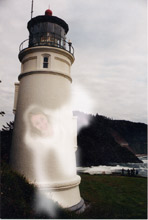 Heceta Head Lighthouse's ghostly tale has many witnesses
Nothing sits in that spot to this day.
Further south, in Lincoln City, the North Lincoln Fire Station is said to have an apparition lounging in the recreation area. The Wildflower Grill has tales of a butt-pinching ghost named Matilda. The Siletz Bay has some crazy stories about a ghost ship appearing and disappearing.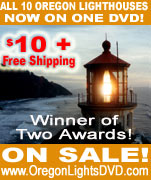 Lighthouses are often the subject of haunted tales, and the Oregon coast certainly isn't left out of that category. All but one of them have been clearly debunked. The haunting at Heceta Head Lighthouse, near Florence, is widely regarded as a real one, with loads of witnesses. Even the family that runs the B&B there claims to have seen the ghost and considers her part of the family.
Beings from beyond are not nearly as frightening as lawsuits or folks from Hollywood – and that's what the Yaquina Head Lighthouse had to deal with back in the 70's. The film crew for "The Hardy Boys" TV series came out there to film on location for a special Halloween episode, and even gussied up the interior of the lighthouse with cobwebs and other spooky accoutrements.
The problem is they left the set décor there, essentially leaving the lighthouse a shambles. It took a lawsuit by local authorities to get the crew to come back and clean it up.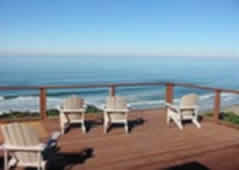 A1 Beach Rentals, Lincoln City. Perfect for large family vacations all the way down to a getaway lodging for two - with over 25 vacation rental homes to choose from. A breathtaking collection of craftsman or traditional beachfront homes, or oceanview houses – from one to seven bedrooms. In various areas of Lincoln City and overlooking the beach, with some in Depoe Bay. All kinds of amenities are available, like hot tubs, decks, BBQ, rock fireplaces, beamed ceilings and more. Some are new, some are historic charmers. Lincoln City, Oregon. 1-(503)-232-5984. www.a1beachrentals.com.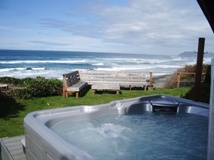 Arch Cape Property Services. Dozens of homes in that dreamy, rugged stretch between Cannon Beach and Manzanita known as Arch Cape. Oceanfront and ocean view , or just a short walk from the sea.
All homes are immaculate and smoke free; some pet friendly (with a fee). Some with broadband, indoor or outdoor hot tubs, fireplaces, decks, and fire pits or barbecues. Call about tempting winter specials that go until March (not valid holidays, however). www.archcaperentals.com 866-436-1607.

D Sands Condominium Motel, Lincoln City. Free, fresh baked cookie upon check-in is just the start. All rooms beachfront and up against Lincoln City's most famous stretch of beach: the D River. Each room comes as a suite or mini-suite, and has a kitchen and balcony or patio. Some w/ gas fireplaces, while all have a DVD Players; movies to rent come with free popcorn. Heated indoor pool, a spa, and this fabulous beach is lit at night. Rooms sleep from two, four to six - including a deluxe fireplace suite. Gift certificates orspecial occasion packages. www.dsandsmotel.com. 171 S.W. Highway 101. 800-527-3925.
Weiss' Paradise Suites & Vacation Rentals - Seaside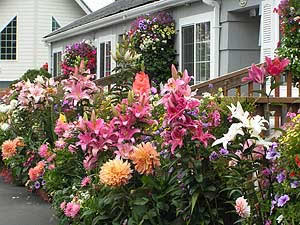 Unique Luxury Accommodations in Seaside. 1BR Suites, 1BR & 2BR Duplex Units and 3BR Houses, units for 2-8 people. Rent entire property for 20-26. Close to beach, river and Broadway St.
Suites are designed for two adults; vacation rental units for families. All units have kitchen and many have fireplace, deck and jetted tub. Comfy robes, slippers, luxury bath amenities, quality linens and more. 741 S. Downing St., Seaside. 800-738-6691. www.SeasideSuites.com

Tradewinds Motel, Rockaway Beach. All rooms are immaculate and have TV's, VCR's and in-room phones w/ data ports. Oceanfronts have queen bed, a double hide-a-bed, kitchen, cozy firelog fireplace and private deck. Both types sleep up to four people. Others are appointed for a two-person romantic getaway, yet still perfect for those on a budget. Elaborate oceanfront Jacuzzi suite has two bedrooms, kitchen, double hide-a-bed, fireplace and private deck, sleeping as many as six. For family reunions or large gatherings such as weddings, some rooms can connect to create two-room and three-room suites. Some rooms pet friendly. 523 N. Pacific St., Rockaway Beach. (503) 355-2112 - 1-800-824-0938. www.tradewinds-motel.com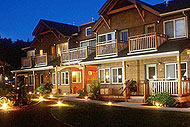 Inn at Cannon Beach. Beautifully wooded natural setting at quiet south end of Cannon Beach. Great during winter storms with a new book by the fireplace – or when the sun is out for family fun and beach strolling. Handsome beach cottage-style architecture. Lush flowering gardens and naturalized courtyard pond. Warm, inviting guest rooms. Continental buffet breakfast. Warm Cookies. Family and Pet Friendly. Welcome gifts. Smoke-free. Complimentary Wireless Connectivity. Wine and book signing events. 800-321-6304 or 503-436-9085. Hemlock At Surfcrest, Cannon Beach, Oregon. www.atcannonbeach.com.
RELATED STORIES
SPECIAL SECTIONS
oregon coast weather
oregon coast mileage chart & map
day trips, suggested itineraries
Oregon Coast Lodging Specials
Search BeachConnection.net's 1,000 pages
Oregon Coast Real Estate
Oregon Coast Pictures
Atypical Things to Do
Oregon Coast Camping
Seaside, Oregon Lodging
Cannon Beach, Oregon Lodging
Manzanita, Wheeler, Rockaway Beach Lodging
Lincoln City Lodging
Depoe Bay Lodging
Cannon Beach Complete Guide
Lincoln City Complete Guide
Seaside, Oregon Complete Guide
OR TAKE THE VIRTUAL TOUR

ASTORIA
Where the Columbia meets the Pacific, Land of Lewis & Clark and loads of atmosphere & history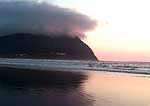 SEASIDE
The Promenade, Tillamook Head, family fun & broad, sandy beaches

CANNON BEACH
A mysterious lighthouse, upscale yet earthy, a huge monolith, fine eateries & an art mecca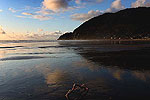 NEHALEM BAY
Manzanita's beaches, Nehalem and Wheeler's quirky beauty; laid back Rockaway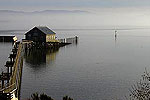 TILLAMOOK BAY
Garibaldi, Barview, Bay City, Tillamook & an oceanfront ghost town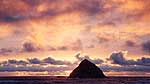 THREE CAPES LOOP
The hidden secret of the coast: Cape Meares, a lighthouse, Oceanside, Netarts and Pacific City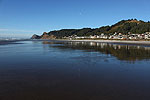 LINCOLN CITY
& THE CORRIDOR OF MYSTERY
Miles & miles of unbroken beaches, Cascade Head, Neskowin and many manmade attractions

DEPOE BAY
A spouting horn downtown, freaky hidden cliffs and whales, whales, whales

NEWPORT
Time-tripping Nye Beach, a bustling bayfront, marine science-central and two lighthouses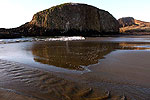 WALDPORT / SEAL ROCK
Pristine, even secretive sands and wild geologic landmarks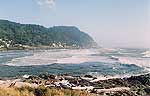 YACHATS
Constantly dramatic wave action, a mix of the rugged & upscale

UPPER LANE COUNTY
25 miles of deserted beaches & oodles of wonders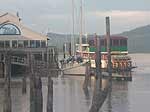 FLORENCE
A lighthouse, ancient bayfront and miles and miles of fluffy dunes