Regularly features extremely low rates). Hot tub, free secure wi-fi and a boutique feel, holds no more than two. Covered courtyard. Full kitchenette: microwave, toaster oven, electric skillet, crock-pot, blender. Just north of Florence (A 40-minute drive from Newport, Oregon). 650-575-9151.
Website
.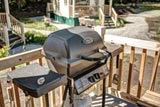 Sheltered Nook on Tillamook Bay
.
E
co-friendly with tiny homes (each 385 sq ft). Features a complimentary breakfast each morning. Pet friendly. 7860 Warren Street. Bay City, Oregon. (503) 805-5526. http://shelterednook.com

PCPosters.com -
Mugs, apparel, t-shirts, posters and more from Pacific City and the Oregon coast. Bring the beaches home with you. Awesome gifts, souvenirs.