Devil's Churn on the Central Oregon Coast
Published 02/10/2011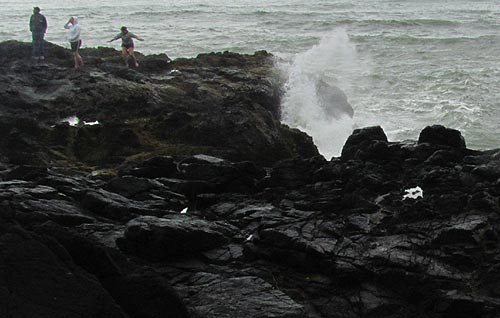 (Yachats, Oregon) – Sometimes, it's all in a name.
The Devil's Churn, a few miles south of the sleepy hamlet of Yachats, lives up to its moniker. Some 100 feet of a massive crevice in the basalt base of towering Cape Perpetua funnels the energy of waves in, then compresses them until they spill over the side in dramatic explosions of sea and foam. If this were a more superstitious time, we would indeed be blaming the devil himself for this display. (Above: three people are forced to run from a wave at the Devil's Churn. It does soak them within a split second.)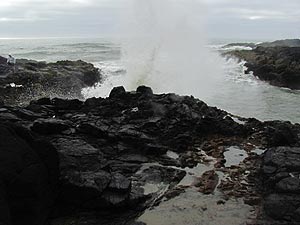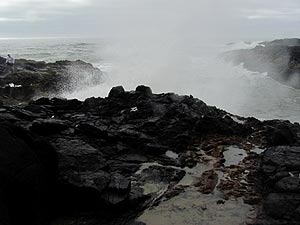 A wave hits hard and comes to tower 30 feet above the heads of people on the ledge
Still, in spite of its ability to live up to its reputation, it's more of a funnel rather than a place where waves churn. But perhaps the "Devil's Funnel" sounds wimpy and a bit more to do with the baking arts than some place to witness nature in a dangerously beautiful state.
In many instances, the most powerful and incredible explosions come from near the mouth of the Churn. There, rocky ledges that almost look as if they guard this basalt beastie often bear the initial brunt of these waves, which are merciless. At this point, they often detonate in interesting patterns, doing a kind of ballet in the air at times.
This place is filled with more oceanic insanity during the winter and spring, and summer and fall frequently see it in a calmer, less angry mood. These are okay times to head down the snaking, scenic path to the bottom: the parking lot is a good 50 feet above the structure itself.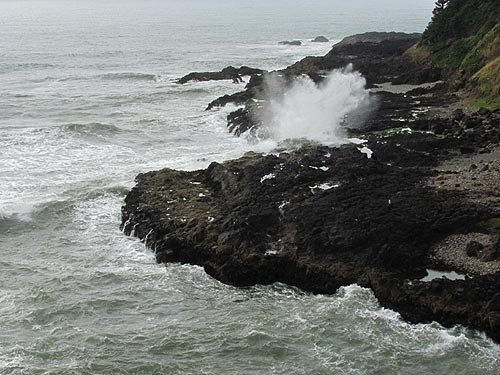 Indeed, this place is devilish and is quick to injure or take a life. Stay away from the ledges at all times, no matter what the conditions. But especially if the waves are in a churning state, stay clear of the bottom, as this place often tosses logs and other debris up in the air – stuff which can even crush you.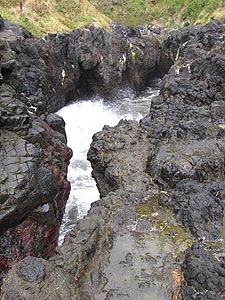 During calmer moments or especially low tides, you can peek at the back of the Churn, and notice the crevice briefly goes beneath the rock, and then the rockface opens up again. This back area – which often popular with visitors – is especially dangerous as that's where much of the debris gets lobbed. But during less maniacal moments, you can see colonies of sea life clinging to the black rock as if nothing scary or crazy is going on.
Around the southern end of the ledges lurks a beach, and some park benches for simply sitting and viewing (pictured below). During the summer and more tranquil tides, this is a fun, somewhat secret beach, with views to the mottled top of Cape Perpetua, some 700 feet above it all (which is a blast of an attraction all itself).
There is also a secret path down to this beach next to the handicap access for Cook's Chasm.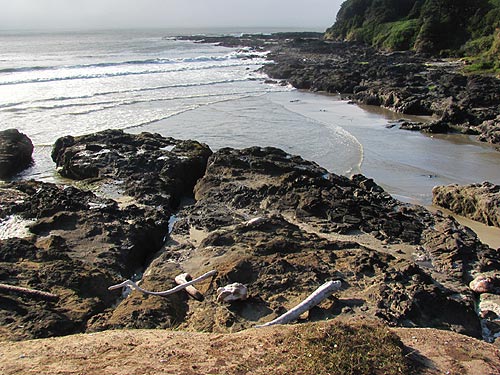 The main path down to the Devil's Churn is full of dramatic twists and turns itself, and scenic vantage points abound for both the north view and the southern view. For those less hardy souls – or if it's especially inclement weather – the top parking lot provides plenty of dramatic views of the all the action.
From here, it's about 20 miles of more dramatic Oregon coast scenery and lots of secret beaches until you reach Florence. North of here – between Cape Perpetua and Yachats - also makes for fascinating scenic stops, like one apex in the winding road that's about 300 feet above the powerful, raging surf.
Make sure you bring a camera – at least one, if not more.
More About Yachats Lodging .....
More AboutWaldport, Yachats Restaurants, Dining.....
LATEST OREGON COAST NEWS STORIES