Covering 180 miles of Oregon coast travel: Astoria, Seaside, Cannon Beach, Manzanita, Nehalem, Wheeler, Rockaway, Garibaldi, Tillamook, Oceanside, Pacific City, Lincoln City, Depoe Bay, Newport, Waldport, Yachats & Florence.
07/15/08
Oregon Coast Bars - The Big Booze Review
By Andre' Hagestedt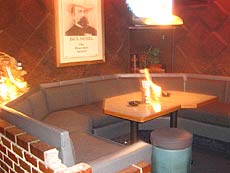 Pudgy's in Seaside - nicknamed the "Star Trek" bar
(Oregon Coast) - Yes, it's true: it is actually my job to go to the beach. I am part web geek, part journalist, part photographer, part ad sales; and half coastie and half Portlander. I love the vibrant nightlife scene of P-town and its abundant ethnic restaurants (which you can't get on the coast), but I'm equally in love with the Oregon coast, its myriad natural amenities and mysteries, and its gleefully wacky, off-kilter bar scene.
So it's in that spirit that I provide this brief tour of spirits on the Oregon coast: a madcap expedition of 140 miles of opportunities to booze it up on the beach.
I like to think of myself as a loungy version of Lewis & Clark: a compass in one hand and a stiff drink in the other. I'm hoping that one day Seaside will replace that statue of Lewis & Clark with one of me, thanking me for all the coastal promotion I do - complete with a laptop in front of me, and the aforementioned drink and compass in my hands.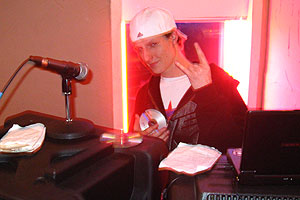 The Wateringhole features KJ Johnny Utah, an amusing host if there ever was one
So let's start with Seaside, shall we? It's often got this reputation of a party town for high schoolers at spring break - and that's not really correct. To say it is a party town for the over 21 set is a fact, with a staggering variety of wateringholes within stumbling distance of your lodging - or even the beach.
Now, that is one of life's more sublime pleasures: bouncing around the beach all ripped out of your mind. I do it as often as I can. There's some intriguing stuff to play with on the beach at night, even more fun when you're wacked.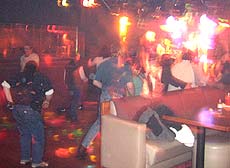 Wild dance floor times at Girtle's
Girtle's is one of the legendary bars on the coast. It's the bar that time forgot, with Nagle prints adorning the walls, early 80's furniture (that could've been part of the Austin Powers flicks) and - get this - a house Top-40 cover band. Girtle's is a massive hoot, with all manner of trailer park princesses - both local and tourist - shaking their little and often large behinds to a band that plays hits from various decades. It's surreal and silly, but the coastal characters and the less colorful residents are friendly and fun. Some weeknights feature the main singer/guitarist backing you up along with recorded tracks on karaoke. Novel and amusing. It's the coastie version of Portland's own Karaoke from Hell, but without that goofball donut shop owner greasing up the stage.
A couple doors down, Pudgy's is delightfully retro, nicknamed the "Star Trek bar" for its mod-flavored décor. You can almost see Captain Kirk hitting on some blonde here. This is a place where you can get to know the locals and other tourists well, with conversation lubed by fairly solid drinks.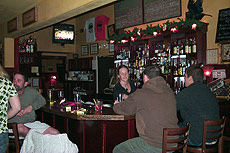 Warren House, Cannon Beach
Sleepy Cannon Beach has a few interesting options. The Lumberyard is good for innovative, wacky cocktails, but it closes kind'a early and has this pervasive commercial vibe. The Driftwood Inn is more rustic, downhome and coastal crusty, while Bill's Tavern is often a big favorite with its own microbrews. My personal favorite is Warren House Pub, at the southern end of town. The regulars are all fantastic people, the bartenders full of warmth and good jokes, and the smokeless atmosphere is a breath of fresh air while still containing some of the goofy elements that are so endearing about coastal bars.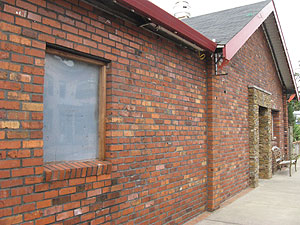 The San Dune Pub in Manzanita recently discovered a whole layer of historic brick beneath its siding, which it now proudly boasts.
The Manzanita area is chock full of the coolest bar selections these days, and most people here are far more accepting of alternative lifestyles – be that gay or simply out-there hipster. The San Dune Pub is part rustic, part upscale, yet thoroughly relaxed and yet buzzing with an infectious energy. It's hard to find a more interesting atmosphere on the coast actually. It's essentially the "cool" place on the whole north coast.
Nearby, Nehalem's The Wateringhole has plenty of promise and seriously stiff drinks, but is still struggling with identity and revolving personnel issues. Most of the time it's a kick in the pants, especially on Wednesday karaoke nights, but you do find a disturbing redneck element at times.
Just around the bend, the Nehalem Bay Winery provides quirky wine tasting possibilities (during the day time, however), as does its sister business, the Depoe Bay Winery, way down south in Depoe Bay. Don't miss the Nehalem Bay Winery's special events, however, like Day of the Muse each July, the reggae festival in June (sometimes fused with the crab fest in Wheeler), or the big bluegrass festival in August.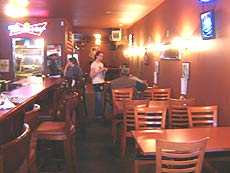 Rick's Roadhouse & Grille, Rockaway Beach
Immediately south of Nehalem, in Wheeler, the Sea Shack is quite the hangout for crusty locals and about as coastie as you can get. They're wary of newcomers at first, but are quick to engage in lively conversation if you're not an asshole tourist.
Rockaway Beach features two rather pleasant ways to get smashed. Rick's Roadhouse & Grille is nice enough to take Grandma to, and their karaoke nights are becoming legendary. The Blue Water Grill is cozy in an authentic, scraggly coastie kind of way, with a fantastic view of the surf.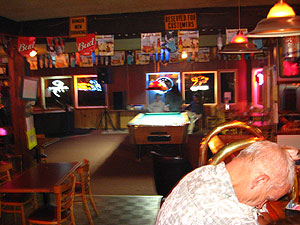 Garibaldi's Ghost Hole, like many coastal bars, come complete with passed out elderly folk
In Garibaldi, things can be a bit scary. The Ghost Hole has one of the wackiest names in all of Loungedom: it sounds to outsiders like some sort of torrid dalliance with Caspar (but it's named after a local fishing spot). It's pretty rough around the edges, but you get used to it, and even the most semi-toothless of regulars are nice people. There's also a hilarious story about a friend of mine who took Taylor-Taylor from the Dandy Warhols there, and he sang karaoke to an audience so clueless as to who he was they didn't even clap.
In Tillamook, there's a smattering of wacky bars, like the Rendezvous. Tiny Oceanside – which has only a few businesses – now features strippers at the Anchor Inn. It's not expected to last long.
The Kernville near Lincoln City, where you may catch the girl who played the lead in the Tanya Harding musical
Pacific City has quite a handful of interesting bars. The Sportsman Pub 'n' Grub is rather legendary for its kookiness and David Lynch-like flavor, and on the other side of the spectrum sits the upscale Delicate Palate Bistro and its brilliant martinis and excellent wine selection.
Lincoln City is probably the party king of the coast. The Chinook Winds Casino is the big monster, but it's also full of the frat types from the central coast and around the state we'd all like to avoid. Nice surroundings, shitty crowd. Avoid it like the plague, unless you're one of those idiots who hangs at the hoochie/frat dance bars in Portland and Salem, and you think just because it's top-40 played over the ear-busting speakers it's cool. Jeez, I'm getting sick and irritated with you just writing about you people.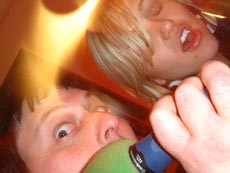 Singing karaoke at Maxwell's, and some hot (but stupid) drunk chick from the valley invades my stage space
One of my personal faves is Maxwell's, where the staff is interesting, fun, and the KJ's are extremely sweet people. Plus, you can watch tourists really get stupid and surreal, as they think no one will notice them now that they're out of town. They also have one of those insanely cool databases of karaoke songs that go on forever, more than a lot of Portland spots have.
The other can't-miss is Snug Harbor, down at the very southern end of Lincoln City: likely THE weirdest bar ever. Some of the regulars are serious freaks, making a walk on Burnside look like lunch with your parents. But they're delightfully so. You'll see things at this out-there dive you've never imagined seeing, and you'll laugh your ass off. You'll find yourself shaking your head and pinching yourself, to make sure you're not dreaming. It's that surreal.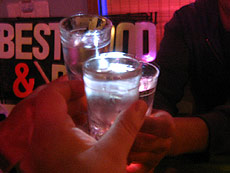 Drinkin' and screwin' around with lights at the Tidepool in Depoe Bay
Also notable are Roadhouse 101 with its enormous, varied crowds for live music, although usually the same old tired blues we've seen a hundred times here in Portland. Another cool, laidback spot is the quiet, slightly upscale Kernville Steakhouse just outside of town, where Beth Willis often plays (you'll remember her from the Tanya Harding musical this past winter in Portland).
Depoe Bay hosts a funky little secret called the Tide Pool, where a family-friendly gathering place is one half and a kooky, nautical-themed retro lounge in back makes up the rest of the bar. It's like the Rat Pack meets Gorton's Fisherman.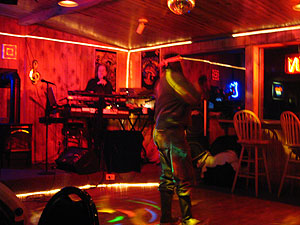 Swirling, heady times at Wing Wa in Depoe Bay
By far one of the coolest hangouts on the coast lurks at Wing Wa in Depoe Bay, a somewhat bizarre Chinese restaurant turned out-there karaoke and one-man band dive at night. They too have a good helping of karaoke songs, and the KJ double-duties as a one-man band. It's so gleefully time tripping it hurts. The locals are rough around the edges at times, but thoroughly welcoming if you're not a jerk and take the time to chat with them. They're really quite enchanting. Like the TidePool, you'll find it on 101.
Newport has a fair amount of bars, but little of note anymore. The local's hangout Sand Bar can make for interesting times, as does the oft-times surreal Moby Dick's. Both are dives in different ways, but there's something about Newport bar patrons that is a little off, too. I know, I lived there part time for a while last year and had a mix of good and bad experiences. It's been an intriguing mix of fascinating people to chat with, drunken idiot restaurant workers full of themselves, to even a skinhead encounter.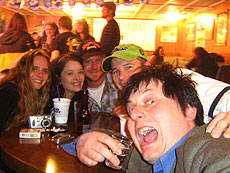 Moby Dick's in Newport
Café Mundo (kind of an all-age thing) and the recent addition of Nana's Irish Pub provide some refreshing respite from the more hardened elements of the town, however.
Slightly snooty Yachats rightfully calls itself the "gem of the coast," and two bars there shine like beacons on the coast. The bar inside Yachats Wine Trader/River House restaurant is glorious in beauty and mixology, and it's fantastic if you want a nice place to imbibe but don't want anything too pretentious. Across the street, the Landmark has quite the live music scene – better than Corvallis and Salem combined. National acts cruise through there as do a fair amount of Eugene and Portland bands. And it has its goofy dive elements as well as strong drinky-poo's.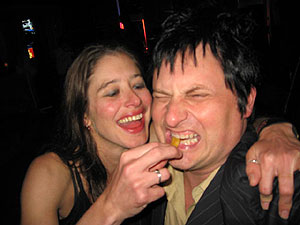 The author clowns with one of the local bartenders in Manzanita
A Note About Coastal Bars and Etiquette: Being a part time Portlander and coastie, I see both sides of this. Yes, many of the locals are on the wacky side and it takes a little getting used to. But so are Portlanders. We revel in that whole "keep Portland weird" thing, right? Many coasties pride themselves on their rugged individuality and their lack of interest in what is hip and cool. Feel free to laugh with them, but don't laugh at them (well, ok, with some you just can't help it). But even the most inadvertently hilarious colorful character can have some remarkably good points.
Don't be a prick or the archetypal tourist: spend some time to get to know these people. And don't underestimate them, either. I've had some heady discussions about Frank Zappa and prog rock with a car mechanic in Newport, and some vibrant discourse about Brian Eno with a random guy in Seaside.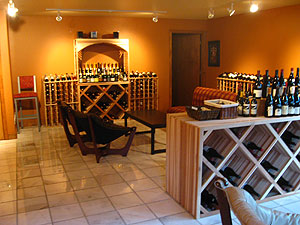 Yachats Wine Trader, Yachats
Sure, I delight in freaking some of them out by playing Bauhas, Manic Street Preachers or other oddities on the Internet jukeboxes in Seaside and Newport. Sure, I stand out by wearing suits all the time, even in the bars, sometimes just to get the puzzled looks. I like to have subtle fun with them. They can be cantankerous, crusty and not always well read, but coasties are really wonderful people who are living life more on their own terms than many of us with cool haircuts and tattoos here in P-town.
And God it is fun to get drunk with them.
RELATED STORIES
Click here for video of Dec. storm aftermath

Oregon Coast Best of Awards for the Year And the winners are: best of Oregon coast restaurants, lodgings, science, odd events in nature and stunning moments for 2007

Watching Transformations of Oregon Coast Beaches Seasons change and so do beaches, revealing different sides and a variety of eye-popping sights
OREGON COAST VIRTUAL TOURS
Explore Every Beach Spot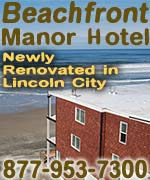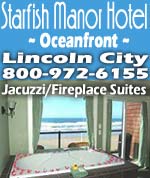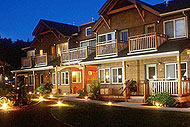 Inn at Cannon Beach. Beautifully wooded natural setting at quiet south end of Cannon Beach. Great during winter storms with a new book by the fireplace – or when the sun is out for family fun and beach strolling. Handsome beach cottage-style architecture. Lush flowering gardens and naturalized courtyard pond. Warm, inviting guest rooms. Continental buffet breakfast. Warm Cookies. Family and Pet Friendly. Welcome gifts. Smoke-free. Complimentary Wireless Connectivity. Wine and book signing events. 800-321-6304 or 503-436-9085. Hemlock At Surfcrest, Cannon Beach, Oregon. www.atcannonbeach.com.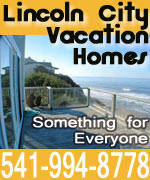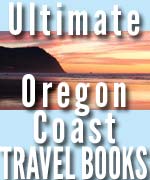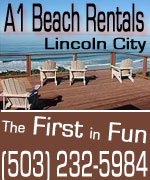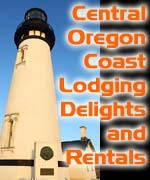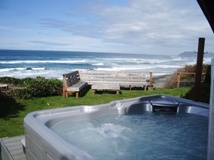 Arch Cape Property Services. Dozens of homes in that dreamy, rugged stretch between Cannon Beach and Manzanita known as Arch Cape. Oceanfront and ocean view , or just a short walk from the sea.
All homes are immaculate and smoke free; some pet friendly (with a fee). Some with broadband, indoor or outdoor hot tubs, fireplaces, decks, and fire pits or barbecues. Call about tempting winter specials that go until March (not valid holidays, however). www.archcaperentals.com 866-436-1607.

Tradewinds Motel, Rockaway Beach. All rooms are immaculate and have TV's, VCR's and in-room phones w/ data ports. Oceanfronts have queen bed, a double hide-a-bed, kitchen, cozy firelog fireplace and private deck. Both types sleep up to four people. Others are appointed for a two-person romantic getaway, yet still perfect for those on a budget. Elaborate oceanfront Jacuzzi suite has two bedrooms, kitchen, double hide-a-bed, fireplace and private deck, sleeping as many as six. For family reunions or large gatherings such as weddings, some rooms can connect to create two-room and three-room suites. Some rooms pet friendly. 523 N. Pacific St., Rockaway Beach. (503) 355-2112 - 1-800-824-0938. www.tradewinds-motel.com