Cape Lookout State Park Beaches: Wild, Wondrous Skies, Trees

Three Capes Loop Virtual Tour, Oregon Coast: Oceanside, Netarts, Tierra Del Mar, Pacific City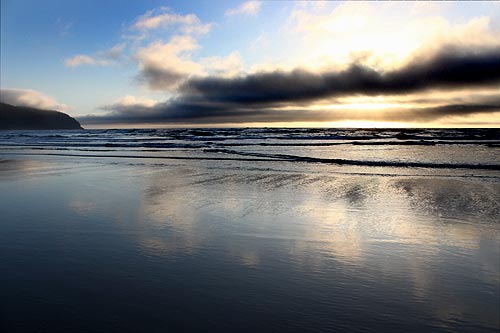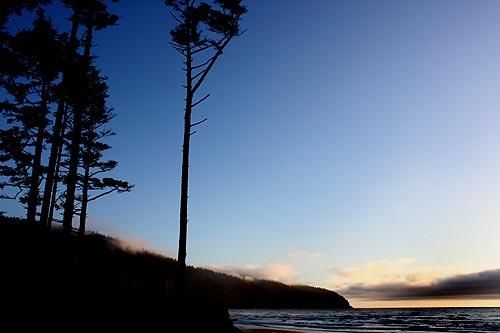 Something about Cape Lookout State Park seems especially conducive to stunning skies. Sunset along these soft, sandy beaches can fire up these clouds just offshore and at times create incredible reflections in the wet strand closer to the tideline.
Massive, soaring trees here at Cape Lookout– stripped bare from the middle downwards by constant winds and wild conditions – offer up impressive silhouettes during such sunset moments. Grand and stately in stature, these are monsters by most Oregon coast arboreal standards.
The beach goes on for about a quarter mile to the south, but several miles to the north, becoming less and less hospitable to the hiker as it thins out closer to the Netarts Spit, getting a bit dangerous.
More updates on Cape Lookout State Park below.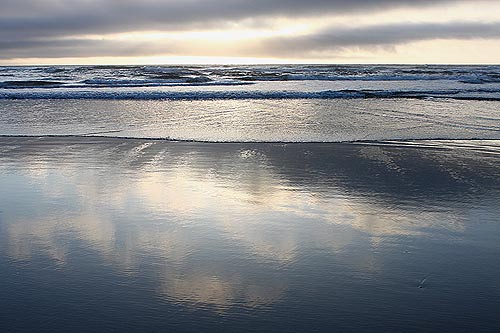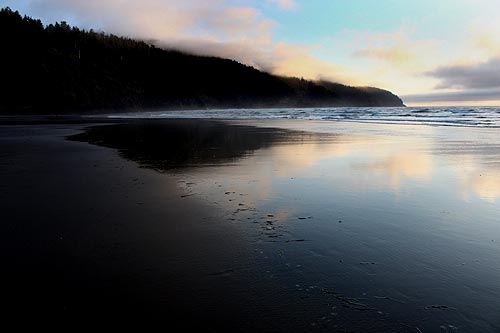 State Officials Send Safety, Warning Reminders for Oregon Coast; Video
14 Mar 2018 at 10:58pm
"March can be a tricky time of year on the coast," said Lisa Stevenson, OPRD beach ranger speaking at Cape Kiwanda State Natural Area. "The ocean can still experience stormy winter weather despite the warmer temperatures on land." A variety of threats and ...
Video: Eight Stunning Skies on Oregon Coast - Moody, Startling, Surreal
16 Mar 2018 at 11:15pm
At Arch Cape, it gets particularly intense, with purples, pinks and shades of red exploding in unique ways. The next scene is Yachats in mid-spring. Thick clouds have suddenly moved in on an otherwise sunny, upbeat day. The winds have kicked into high gear.
Latest on Oregon Coast Crabbing - New Dock for N. Coast Lake
12 Mar 2018 at 10:30pm
The Oregon Department of Agriculture and the Oregon Department of Fish and Wildlife said this week it has opened up recreational and commercial crabbing from Cape Blanco, north of Port Orford, to the California border. Levels of the marine biotoxin domoic ...
Central Oregon Coast Spring Preview: Lincoln City Events in March, April
12 Mar 2018 at 10:30pm
Hit the Lincoln City Cultural Center on March 18 for a Coffee Concert. Local musicians perform in a casual Sunday matinee concert, with complimentary pastries and java by Cape Foulweather Coffee. Admission by donation, with all proceeds going to the LCCC.