Structures of Small Oregon Coast Town Resemble Ancient Civilization
Published 06/08/2011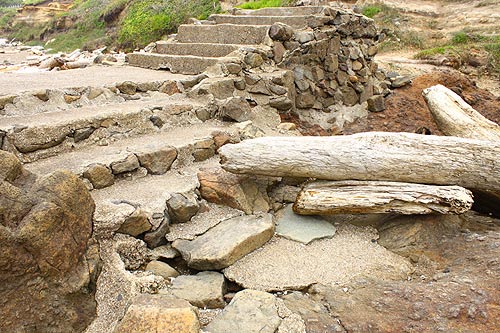 (Yachats, Oregon) – If ever there was a place on the Oregon coast that got the imagination moving in a sci-fi direction, it would be Yachats. From the sprawling rocky structures that dominate the shoreline in strange, otherworldly formations, to actual remnants of the creations of Mankind – things here can either look like an alien world or even the remnants of some ancient civilization we've never before encountered.
Really, it's the beauty of nature itself and the architectural interactions of humans. If you look closely at this lovely locale, and give yourself time to take in the details, you'll discover some amazing things hiding in plain sight.
There is of course the most obvious of oddities: the destroyed stairway to the rocky beach here. There is something vaguely Roman ruins-like about it, like you've stumbled upon a chunk of that empire that somehow found its way to Oregon's coast. Indeed, it was a happy and thriving stairway for many years, at least in the 90's, until a winter storm or two took it out.
Officials have since built another descending to the beach at another angle.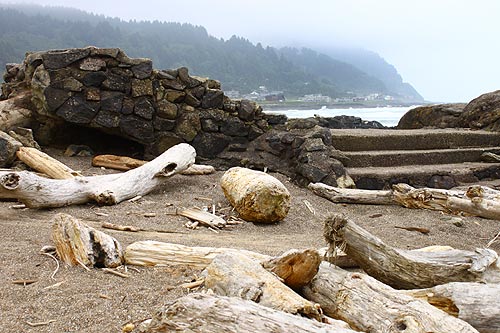 From certain angles, however, this destroyed stairway really takes on a much more ancient vibe. It sparks the imagination and makes you think of Atlantis or something much more exotic.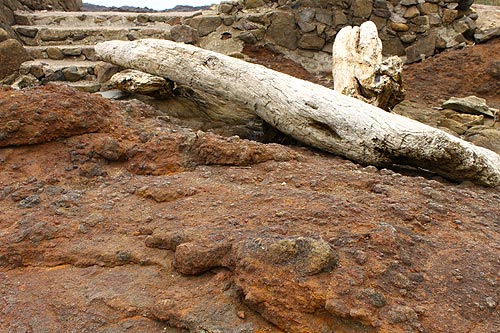 It doesn't hurt that mystery-building aesthetic that from certain angles the wild reds of the basalt rock here come into distinct clarity. Now, it resembles something from out of the "Star Trek" series.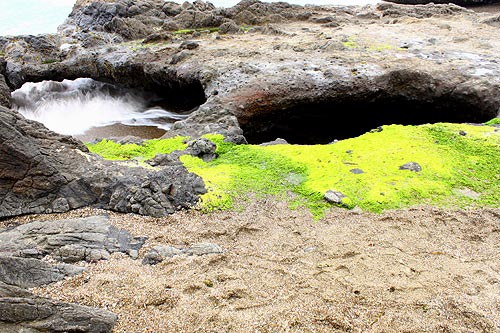 There is a strange and mesmerizing feature in the rock here where the tide runs underneath this basalt platform, and two holes worn in the rock allow a kind of spouting horn action to take place at times. At lower, calmer tides, you can get down here and watch this action.
It too looks a bit like ruins of an ancient building at times.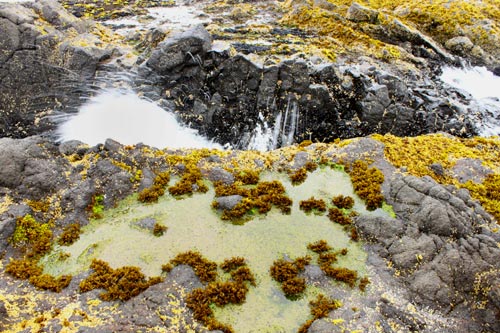 Don't forget the tide pools here as well - and of course don't forget beach safety when doing so. Don't go near the edges of these if the waves wash up here at all – which is really most of the time. You'll get walloped and/or swept away.
Sometimes, intriguing cracks run through rocks here, allowing for tidal surprises, however.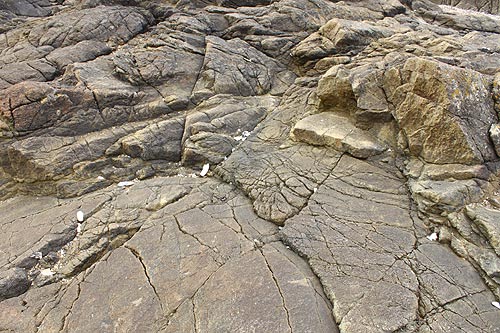 Other times, it's simply a blast to examine the shapes of the basalt here – left over from massive lava eruptions millions of years ago. It's awe-inspiring and actually quite frightening to think about this place as it was being formed: what you're standing on was once a huge lava flow.
Be extremely careful here: do not wander near the edges of these rocks. If you're on a spot where it's wet because a wave has hit it - you've gone too far.
More About Yachats Lodging.....
More About Waldport, Yachats Restaurants, Dining.....
| | | |
| --- | --- | --- |
| | | |
Back to Oregon Coast
Contact Advertise on BeachConnection.net