Covering 180 miles of Oregon coast travel: Astoria, Seaside, Cannon Beach, Manzanita, Nehalem, Wheeler, Rockaway, Garibaldi, Tillamook, Oceanside, Pacific City, Lincoln City, Depoe Bay, Newport, Waldport, Yachats & Florence.
10/31/07
Weekends of Wine and Song in Central Oregon Coast Town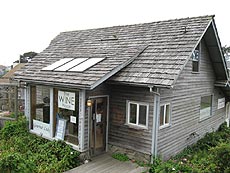 The Wine Shop, Yachats
(Yachats, Oregon) – The tiny town of Yachats, on the most dramatic part of the central Oregon coast, is buzzing with activity in November. A combination of wine tastings and live music just down the street makes this the hub of activity on weekends.
At the Landmark Lounge and Restaurant, blues and reggae rule the day, with a hefty dose of both visiting the little bar with a giant music scene all its own.
At The Wine Place - located in the heart of downtown Yachats, at Hwy. 101 and W. Fourth St. – there is always featured a wide selection of wine and gourmet goodies. The shop's patio and loft seating provides space to enjoy glasses of wine or bottles purchased in the store - with no corkage fee. It's here where you can sip and savor the autumn, with opportunities to meet winemakers and industry experts.
And don't miss the newest shop in The Wine Place complex: Cheese & Crackers, a cozy shop offering a variety of artisan cheeses and light fare. Cheese & Crackers is located immediately next door to The Wine Place. All wine tasting events are free.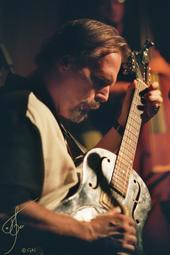 Thad Beckman
All live music events at the Landmark are free as well.
Landmark: Friday, Nov. 2, 9 p.m. The T Club. Positive reggae, hip-hop, and Dub from a young Eugene outfit. Here's a band that is just starting out. But with originals like "Catholic Guilt," "Social Responsibility" and "War Junkies," it's a not the kind of group you usually see. This is a fully urban trip, bringing the sounds of city to the edge of the world. Some come to Yachats to get away from this kind of stuff, but there are those who wish there was a lot more of it. Make up your mind as you dance the night away.
Landmark: Saturday, Nov. 3, 9 p.m. The Divers. From the 50's and 60's, a retooled Eugene favorite. Here's a veteran group with a new lineup, doing Rolling Stones, Ike & Tina Turner and the Yardbirds. There aren't too many groups out there who specialize in the ancient times when the lunatics ran the asylum. But these guys tout themselves as being focused on songs "from the British Invasion to greasy soul to a smoldering pile of down and dirty blues."
Wine Place: Sat. Nov. 3, 1 to 4 p.m., Pudding River Wine Cellars. Meet and mingle with winemaker Sean Driggers of Pudding River Wine Cellars. A family-owned and operated venture, Driggers is both owner and winemaker for this four-acre vineyard overlooking the Pudding River in the Willamette Valley. A new but growing winery, Pudding River was featured in the prestigious 2007 Portland Indie Wine Festival.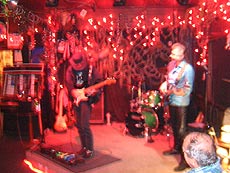 Landmark Lounge, Yachats
Landmark: Sunday, Nov. 4, 4 p.m. Open Jam. For 5 1/2 years the Landmark has hosted the open jam, and now it's returned to Sunday afternoons. Bring your instrument or just your ears. Catch a fire. With the sun setting over the beach, seals rolling in the river, and Gilbert the seagull lounging on the railing.
Landmark: Friday, Nov. 9, 9 p.m. The Thad Beckman Band. Americana-infused blues from an Oregon original. The songwriter circle has taken a lot of years, but Beckman has made it all the way around. Starting in Portland, where he played in the high school band, then all aboard for Vietnam to fight for his country, then back to Humboldt County and on to Austin, he's now back in Portland, playing with his own band. Along the way he shared stages with such as B.B. King, Albert Collins, James Cotton, The Band, Emmylou Harris, The Fabulous Thunderbirds, and Dan Hicks and the Hot Licks.
Landmark: Saturday, Nov. 10, 9 p.m. The Jerry Zybach Band. Groovy blues and rock with one of the Northwest's top bluesmasters. Accomplished singer, guitarist, bassist, songwriter, arranger, and bandleader, Jerry Zybach does it all. Thirty some years into it, he's at the top of his game and just keeps growing as an artist. Classical voice training as a young man gives him a unique take on the songs he loves. He has a great ability to project emotion whether he's playing his Gibson 135, his Harmony H50, his collection of resonators or acoustics, finger style and slide. He's ripped up the Landmark on several occasions and is one of the coast's favorite performers.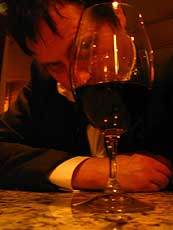 Fun with fine wines
Wine Place: Sat. Nov. 10, 1 to 4 p.m., Tempranillo Tasting. Named after a village in northern Spain, tempranillo is not typically grown in the Pacific Northwest, until the Abacela Winery, in southern Oregon's Umpqua Valley, took a try. The results are outstanding: The winery's 1998 vintage Tempranillo earned a double gold medal at the San Francisco Wine Competition, besting 19 other Spanish tempranillos. During this free tasting, The Wine Place shares samples of both Spanish and Oregon tempranillo, and lets you be the judge.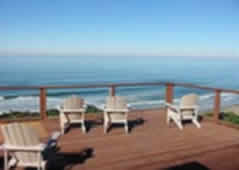 A1 Beach Rentals, Lincoln City. Perfect for large family vacations all the way down to a getaway lodging for two - with over 25 vacation rental homes to choose from. A breathtaking collection of craftsman or traditional beachfront homes, or oceanview houses – from one to seven bedrooms. In various areas of Lincoln City and overlooking the beach, with some in Depoe Bay. All kinds of amenities are available, like hot tubs, decks, BBQ, rock fireplaces, beamed ceilings and more. Some are new, some are historic charmers. Lincoln City, Oregon. 1-(503)-232-5984. www.a1beachrentals.com.
Landmark: Friday, Nov. 16, 9 p.m Blue Meadows. A lot of Hendrix, plus reggae and funk, from Seattle. Here's a Seattle-based cat whose music spans the world of diversity. He's an award-winning member of the reggae band Eek-a-Mouse but for this show has his own band and his own style. He says he does a lot of Jimi Hendrix in his current gigs, but his musical background ranges across the boundaries of Afro-Cuban, funk, hip-hop, reggae, rock, calypso and everything in between. BluMeadows says his music is best described as "consciousness" rock with a universal message. The music has taken him across the U.S., Europe and the Far East. He's performed with Parliament Funkadelic, Joe Higgs, Buddy Miles, Liquid Jesus, Branford Marsalis, Bruce Hornsby, Dave Lewis, Pete Depoe (Redbone), Don Carlos, Obo Addy, and Leon Hendrix to name but a few.
Landmark: Saturday, Nov. 17, 9 p.m. The Bluesdusters. Originals soaked in the blues tradition, from Ashland. For a couple of years now: Johnnie O. (John Nelson) from Chicago via Denver and L.A., and Grif (Leonard Griffie) from L.A. have laid out their brand of blues in the Northwest. The originals continue to grow, reflecting lives led and lives lived, away from the big city. The result is a simmering and subtle tone that allows the big riffs to really stand out. Quiet is a note often overlooked in the hectic scene of a bar, but these guys don't let the quiet disappear, they use it for their own enjoyment - and for ours.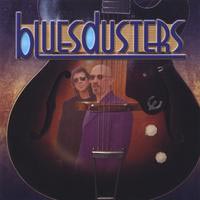 Bluesdusters play the Landmark on Nov. 17
Wine Place: Sat. Nov. 17, 1 to 4 p.m., Happy Third Anniversary. Three cheers for The Wine Place, as the friendly Yachats wine shop celebrates three years of good wine and good times. Join shop owner Carrie Yano for a festive afternoon of "Vino Vixen" favorites, paired with treats from Cheese & Crackers, the new neighboring shop offering a variety of artisan cheeses and light delicious fare.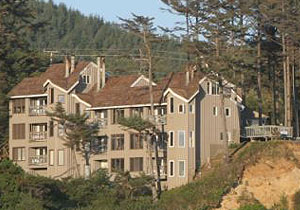 STARFISH POINT Newport - Offers only the finest in luxury condominium lodging. Every unit is focused on the beauty of the sea and the beach.
All units boast two bedrooms, two bathrooms, designer kitchens, wireless broadband Internet, fireplaces, Jacuzzi's and private decks. Friendly staff dedicated to high quality and superb customer service. 140 NW 48th Street, Newport. (541) 265-3751. (800) 870-7795. www.starfishpoint.com
Landmark: Friday, Nov. 23, 9 p.m. Moon Mountain Ramblers. A combination of bluegrass, folk and experimental from Bend. This five-piece band started with a traditional bluegrass sound but has expanded into rock, jazz, and funk. Voted best band in Central Oregon in 2004, MMR has recently added former Taarka percussionist Dale Largent, who has moved the group into experimental waters. The rest of the Bend-based outfit includes Dan McClung slapping the double bass and blowing the harmonica, Jenny Harada sawing the fiddle, Joe Schulte chopping the mandolin and Matt Hyman on the guitar. The band is just starting to get out of the Bend area on tour following performances in festivals all over the High Desert region, opening for the David Grisman Quintet, Misty River, Jackstraw, and the McClosky Brother's Band.

Landmark: Saturday, Nov. 24, 9 p.m. Vibe Nation. Evolutionary reggae with danceable originals and much-loved covers. Led by the musical and spiritual energy of veteran Rastafari players Jahfree-I and Sister Susannah, here is another of Oregon's growing community of reggae bands. This is a large group, also featuring April Scott on vocals, Scott Valpey on drums, Trey Logstrethe on bass, Ras T on keys and Roger McConnell on guitar. Vibe Nation has played at Sam Bond's, John Henry's and other Eugene clubs and has opened for the Mighty Diamonds, Israel Vibration and the Mediations. Welcome to the ocean.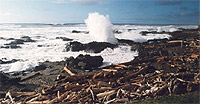 Dramatic waves are the usual thing at Yachats
Wine Place: Fri. Nov. 23 - Sat. Nov. 24,1 to 4 p.m., After Thanksgiving Tastings. Are you plucked, stuffed and overdone? Turkey day may be over but the fun just begins at The Wine Place. The cozy wine shop is chock full of fine wine. Oregon wines abound, including top picks from Abacela Winery, Kramer Vineyards, Bradley Winery, Stangeland Vineyards & Winery, and August Cellars. Enjoy a taste or a glass and unwind in the upstairs loft with family and friends.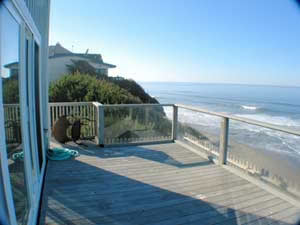 Lincoln City Vacation Homes Something for everyone: smaller homes with a view to a large house that sleeps 15. All are either oceanfront or just a few steps away – all with a low bank access and fantastic views. Most are in the Nelscott area; one is close to the casino. You'll find a variety of goodies: fireplaces, multiple bedrooms, dishwashers, Jacuzzis, washer/dryers, hot tubs, cable TV, VCR, barbecues; there's a loft in one, and another sprawling home has two apartments. Pets allowed in some homes – ask first. Each comes with complete kitchens. Most have seventh night free. Prices range from winter $85 to summer $230 per night. www.getaway2thecoast.com. 541-994-8778.
Landmark: Friday, Nov. 30, 9 p.m. Two Leg Lucy. Classic rock covers and originals from red hot Eugene guitar band. Roger McConnell and his band Two Leg Lucy are growing with every gig. His covers are sharper and his spooky, evocative guitar originals are starting to move into a leading role. Roger has toiled in other bands for years and is now experiencing a breakout run that comes from getting out on your own.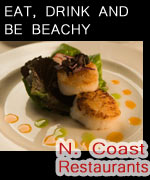 Landmark: Saturday, Dec. 1, 9 p.m. T-Bone Stone Band. Eugene veteran of the blues brings his band to the coast. T-Bone Stone has been playing music since he was 8, starting with the sax and moving to guitar and vocals. He has played blues fests all around the country including Chicago, Monterey, Sacramento, and the Mississippi Valley Fest. He has also appeared at Buddy Guy's in Chicago and B.B. King's in Los Angeles.
The Landmark is at 111 Highway 101. Yachats, Oregon. 541-547-5459. www.landmark-yachats.com.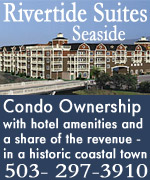 The Wine Place is open Wed.-Sun., 11a.m. – 5 p.m. (and Monday and Tuesday by chance). Parking is available in the lot behind the shop. For up-to-the-minute events and information, call 541-547-5275 or visit www.iloveoregonwine.com.
The Wine Place and the Landmark are nestled in the charming seaside village of Yachats, Oregon. Located along the stunning coastal route, it's all 26 miles south of Newport, 26 miles north of Florence, 85 miles from Eugene and 75 miles from Corvallis.


D Sands Condominium Motel, Lincoln City. Free, fresh baked cookie upon check-in is just the start. All rooms beachfront and up against Lincoln City's most famous stretch of beach: the D River. Each room comes as a suite or mini-suite, and has a kitchen and balcony or patio. Some w/ gas fireplaces, while all have a DVD Players; movies to rent come with free popcorn. Heated indoor pool, a spa, and this fabulous beach is lit at night. Rooms sleep from two, four to six - including a deluxe fireplace suite. Gift certificates orspecial occasion packages. www.dsandsmotel.com. 171 S.W. Highway 101. 800-527-3925.
Weiss' Paradise Suites & Vacation Rentals - Seaside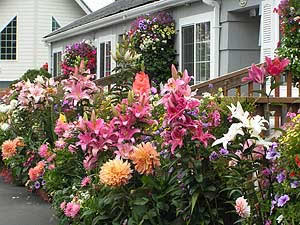 Unique Luxury Accommodations in Seaside. 1BR Suites, 1BR & 2BR Duplex Units and 3BR Houses, units for 2-8 people. Rent entire property for 20-26. Close to beach, river and Broadway St.
Suites are designed for two adults; vacation rental units for families. All units have kitchen and many have fireplace, deck and jetted tub. Comfy robes, slippers, luxury bath amenities, quality linens and more. 741 S. Downing St., Seaside. 800-738-6691. www.SeasideSuites.com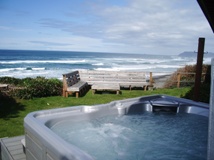 Arch Cape Property Services. Dozens of homes in that dreamy, rugged stretch between Cannon Beach and Manzanita known as Arch Cape. Oceanfront and ocean view , or just a short walk from the sea.
All homes are immaculate and smoke free; some pet friendly (with a fee). Some with broadband, indoor or outdoor hot tubs, fireplaces, decks, and fire pits or barbecues. Call about tempting winter specials that go until March (not valid holidays, however). www.archcaperentals.com 866-436-1607.

Tradewinds Motel, Rockaway Beach. All rooms are immaculate and have TV's, VCR's and in-room phones w/ data ports. Oceanfronts have queen bed, a double hide-a-bed, kitchen, cozy firelog fireplace and private deck. Both types sleep up to four people. Others are appointed for a two-person romantic getaway, yet still perfect for those on a budget. Elaborate oceanfront Jacuzzi suite has two bedrooms, kitchen, double hide-a-bed, fireplace and private deck, sleeping as many as six. For family reunions or large gatherings such as weddings, some rooms can connect to create two-room and three-room suites. Some rooms pet friendly. 523 N. Pacific St., Rockaway Beach. (503) 355-2112 - 1-800-824-0938. www.tradewinds-motel.com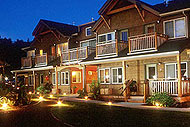 Inn at Cannon Beach. Beautifully wooded natural setting at quiet south end of Cannon Beach. Great during winter storms with a new book by the fireplace – or when the sun is out for family fun and beach strolling. Handsome beach cottage-style architecture. Lush flowering gardens and naturalized courtyard pond. Warm, inviting guest rooms. Continental buffet breakfast. Warm Cookies. Family and Pet Friendly. Welcome gifts. Smoke-free. Complimentary Wireless Connectivity. Wine and book signing events. 800-321-6304 or 503-436-9085. Hemlock At Surfcrest, Cannon Beach, Oregon. www.atcannonbeach.com.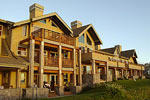 The Ocean Lodge. There will not be another property built like this in Cannon Beach in our lifetimes. Rare, premiere ocean front location; handsome, dramatic architecture and tasteful, fun (nostalgic) beach interiors. Overlooks Haystack Rock. 100 percent smoke free. Imaginative special occasion packages. Massive wood burning lobby fireplace. Library w/ fireplace, stocked with impressive book collection. Pet and family friendly. Lavish continental buffet breakfast. In-room fireplaces, mini-kitchens. Jacuzzi tubs in select rooms. DVD players, complimentary movies. Morning paper. Warm cookies. 888-777-4047. 503-436-2241. 2864 Pacific Street. Cannon Beach, Oregon. www.theoceanlodge.com
RELATED STORIES
OREGON COAST VIRTUAL TOURS
Explore Every Beach Spot