N. Oregon Coast Presentation Features Underwater Volcanoes
Published 03/05/2014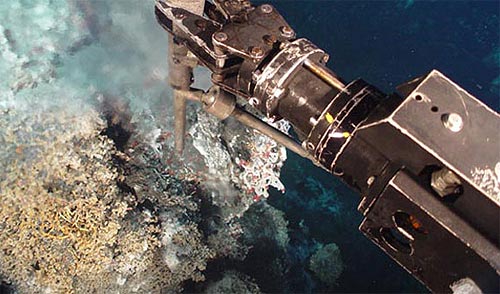 (Cannon Beach, Oregon) – Those wild, weird and wonderful undersea volcanoes will show up in Cannon Beach on Thursday, March 13. Not in person, of course, but via a talk given by Dr. Bill Chadwick of the Hatfield Marine Science Center and NOAA at the Cannon Beach History Center & Museum. (Undersea volcano photos here courtesy VENTS program, NOAA).
Some of the initial reports of this phenomenon were discovered by a ship connected to the Hatfield a couple decades – and this even inspired an episode of "The X-Files" in the 90's. In this talk, you get to dive down to the Axial Seamount and learn about the life of one of the most active underwater volcanoes in the North Pacific Ocean.
It's called the Axial Seamount and it's located about 250 miles off of the shore of Cannon Beach on the Juan de Fuca Ridge. The Juan de Fuca Ridge is a spreading center where two tectonic plates are separating; the Pacific Plate is moving to the west and the Juan de Fuca plate is moving to the east. As the plates separate, magma that is generated in the Earth's mantle rises up and erupts on the seafloor to create new ocean crust.
The Axial Seamount is a fantastic location for studying interdisciplinary marine research, which includes vulcanologist Dr. Bill Chadwick. Several years ago scientists discovered a new eruption of Axial Seamount. The lava flow from the 2011 eruption was at least 1.2 miles wide.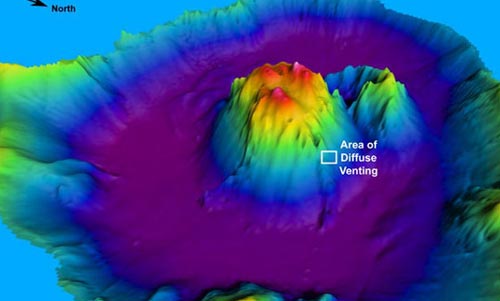 "Volcanoes are notoriously difficult to forecast and much less is known about undersea volcanoes than those on land, so the ability to monitor Axial Seamount, and determine that it was on a path toward an impending eruption is pretty exciting," said Chadwick. "When eruptions like this occur, a huge amount of heat comes out of the sea floor, the chemistry of sea floor hot springs is changed, and pre-existing vent biological communities are destroyed and new ones form. Some species are only found right after eruptions, so it is a unique opportunity to study them."
Over the past few years several eruptions have been recording at the Axial Seamount. According to the NOAA website, during an expedition to Axial Seamount in September 2013 scientists discovered that the inflation rate since the 2011 eruption was higher than expected, totaling 1.57 m of reinflation since the April 2011 eruption. Dr. Bill Chadwick will talk about these findings and what they mean for coastal inhabitants.
Dr. Chadwick is a vulcanologist and research professor in the Cooperative Institute for Marine Resources Studies at Oregon State University's Hatfield Marine Science Center in Newport, Oregon and is a collaborator with the NOAA Vents Program.
He received his Ph.D. in geology from the University of California at Santa Barbara. His research focuses on how submarine volcanoes work, how volcanic events impact hydrothermal systems, and documenting the character of seafloor eruptions. He also conducts volcano monitoring, both on land and underwater, to better understand the underground magma movements that lead to eruptions.
This event is free and open to the public. The Museum is located at the corner of Sunset and Spruce in Cannon Beach, Oregon. cbhistory.org. 503.436.9301. More about Cannon Beach below and at the Cannon Beach Virtual Tour, Map.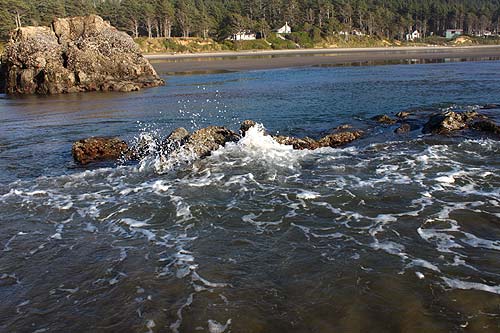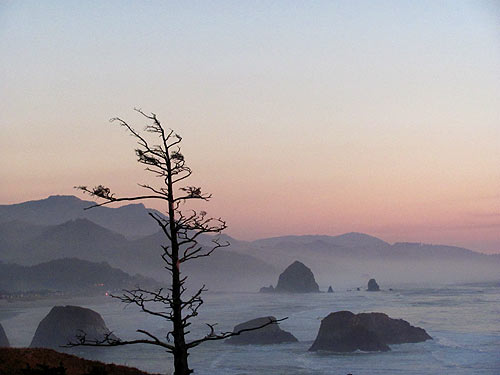 More About Cannon Beach Lodging.....
More About Oregon Coast Restaurants, Dining.....
LATEST Related Oregon Coast Articles
MDU Resources acquires Teevin & Fischer Quarry in Oregon
23 Apr 2018 at 11:56pm
MDU Resources Group, Inc. announced that it has acquired Teevin & Fischer Quarry, LLC, on the north Oregon coast, but the price was not disclosed. It will become part of Knife River Corp. and continue providing crushed rock and gravel in the Clatsop County area. ?We are excited to expand into the ...
Wyden, Merkley co-sponsor bill to prevent coastal oil spills
23 Apr 2018 at 8:22pm
Merkley and Wyden's move comes as the Oregon coast is under new threat of being opened to offshore drilling by the Trump administration. The legislation is cosponsored by Senators Markey (D-Mass.), Menendez (D-N.J.), Van Hollen (D-Md.), Whitehouse (D-R.I.), Shaheen (D-N.H.), Booker (D-N.
Bloom where you're planted: East Coast transplant puts down new roots in Oreg...
23 Apr 2018 at 6:52pm
?But outrage about an evolving present is dangerous; it prevents us from recognizing or remembering patterns from the past,? Morales writes. ?Oregon has long been a land of newcomers, beginning with the first wagons that traversed the Cascade Mountains and descended into the Willamette Valley, ...
VIDEO FORECAST: Warming Trend Continues
23 Apr 2018 at 6:41pm
"here's a live look at ashland from the oregon shakespeare festival. "here's a live look at the caveman bridge in grants pass from taprock northwest grill. "here's a live look at the oregon coast from the port of brookings harbor. temperatures are only to go up from here. upper 70s are expected today, and ...
Oregon Coast Video: Chaotic and Calm at Hug Point, near Cannon Beach
23 Apr 2018 at 6:29pm
(Cannon Beach, Oregon) ? There are many, many aspects to the north Oregon coast hotspot of Hug Point, just south of Cannon Beach. A waterfall, a freaky cave, that old road carved out of rock, the ancient stumps and oddities lying beneath its sands, and much more. Two major sides to Hug Point can ...
Oregon adopts new rules for crab
23 Apr 2018 at 5:33pm
Harmful algal blooms complicated commercial Dungeness crab seasons on the Oregon Coast for the past three seasons, threatening the viability of the state's most valuable fishery. Now fishery managers and industry representatives hope new rules will allow more flexibility for where and how fishing ...
?American Idol? making history with first-ever simultaneous coast-to-coast vo...
23 Apr 2018 at 3:52pm
To compensate for the three-hour time difference, beginning Sunday April 29, the show will air live at 8 p.m. Eastern time and 5 p.m. Pacific, with an 8 p.m. replay for West Coast viewers. ABC Entertainment President Channing Dungey said in a statement, ?As we head into the next phase of the American ...
Janelle ?Jan? Pinardi
23 Apr 2018 at 2:11pm
Janelle ?Jan? Pinardi passed away at her home in Palm Springs, CA, on April 9, at age 63, due to complications of cancer; she was surrounded by her closest family and friends. Jan was born in August of 1954 in Portland and spent most of her adult life in Sisters, the Oregon Coast, Palm Springs, CA, ...

Back to Oregon Coast
Contact Advertise on BeachConnection.net
All Content, unless otherwise attributed, copyright BeachConnection.net Unauthorized use or publication is not permitted
Follow us on


OREGON COAST VIRTUAL TOURS
Explore Every Beach Spot