N. Oregon Coast Presentation Features Underwater Volcanoes
Published 03/05/2014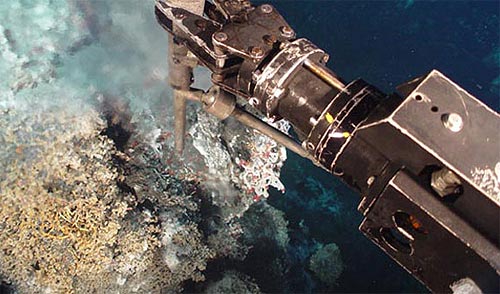 (Cannon Beach, Oregon) – Those wild, weird and wonderful undersea volcanoes will show up in Cannon Beach on Thursday, March 13. Not in person, of course, but via a talk given by Dr. Bill Chadwick of the Hatfield Marine Science Center and NOAA at the Cannon Beach History Center & Museum. (Undersea volcano photos here courtesy VENTS program, NOAA).
Some of the initial reports of this phenomenon were discovered by a ship connected to the Hatfield a couple decades – and this even inspired an episode of "The X-Files" in the 90's. In this talk, you get to dive down to the Axial Seamount and learn about the life of one of the most active underwater volcanoes in the North Pacific Ocean.
It's called the Axial Seamount and it's located about 250 miles off of the shore of Cannon Beach on the Juan de Fuca Ridge. The Juan de Fuca Ridge is a spreading center where two tectonic plates are separating; the Pacific Plate is moving to the west and the Juan de Fuca plate is moving to the east. As the plates separate, magma that is generated in the Earth's mantle rises up and erupts on the seafloor to create new ocean crust.
The Axial Seamount is a fantastic location for studying interdisciplinary marine research, which includes vulcanologist Dr. Bill Chadwick. Several years ago scientists discovered a new eruption of Axial Seamount. The lava flow from the 2011 eruption was at least 1.2 miles wide.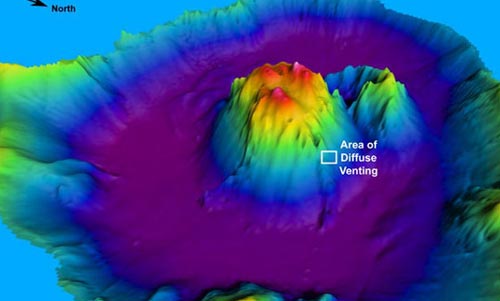 "Volcanoes are notoriously difficult to forecast and much less is known about undersea volcanoes than those on land, so the ability to monitor Axial Seamount, and determine that it was on a path toward an impending eruption is pretty exciting," said Chadwick. "When eruptions like this occur, a huge amount of heat comes out of the sea floor, the chemistry of sea floor hot springs is changed, and pre-existing vent biological communities are destroyed and new ones form. Some species are only found right after eruptions, so it is a unique opportunity to study them."
Over the past few years several eruptions have been recording at the Axial Seamount. According to the NOAA website, during an expedition to Axial Seamount in September 2013 scientists discovered that the inflation rate since the 2011 eruption was higher than expected, totaling 1.57 m of reinflation since the April 2011 eruption. Dr. Bill Chadwick will talk about these findings and what they mean for coastal inhabitants.
Dr. Chadwick is a vulcanologist and research professor in the Cooperative Institute for Marine Resources Studies at Oregon State University's Hatfield Marine Science Center in Newport, Oregon and is a collaborator with the NOAA Vents Program.
He received his Ph.D. in geology from the University of California at Santa Barbara. His research focuses on how submarine volcanoes work, how volcanic events impact hydrothermal systems, and documenting the character of seafloor eruptions. He also conducts volcano monitoring, both on land and underwater, to better understand the underground magma movements that lead to eruptions.
This event is free and open to the public. The Museum is located at the corner of Sunset and Spruce in Cannon Beach, Oregon. cbhistory.org. 503.436.9301. More about Cannon Beach below and at the Cannon Beach Virtual Tour, Map.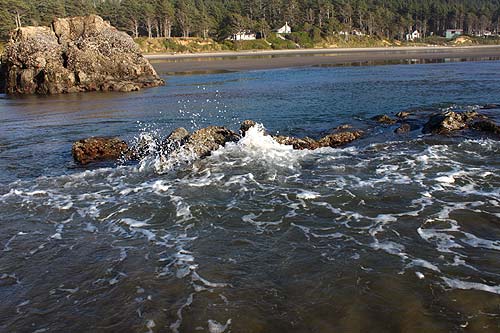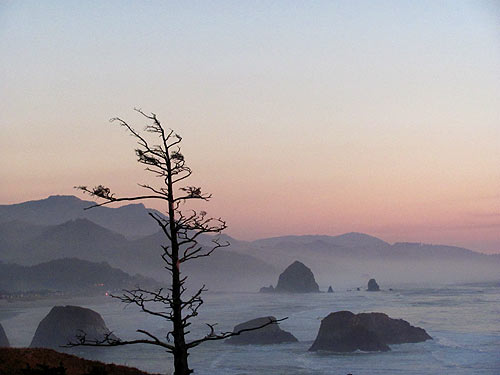 More About Cannon Beach Lodging.....
More About Oregon Coast Restaurants, Dining.....
LATEST Related Oregon Coast Articles
Do you even lift, bro? Dragonfly flexes on surfer's finger in mesmerizing vid...
17 Aug 2017 at 5:56pm
In a captivating video posted on August 10, a man was enjoying a surf out on the Oregon coast when he noticed a dragonfly wash up on the shore.
Traffic begins to pile up in Eastern Oregon as eclipse viewers converge on th...
17 Aug 2017 at 5:00pm
Days before a total solar eclipse crosses the Oregon sky Monday, some ... City on the Oregon coast to Baker City and Ontario near the Idaho border.
Solar eclipse brings former KATU-TV weatherman Rob Marciano back to Oregon
17 Aug 2017 at 4:48pm
The now New York-based Marciano will be back in Oregon on Aug. ... Marciano sounds a bit rueful about being stationed at the Oregon Coast, ...
Oregon Coast Beach Fires Banned, Other Eclipse Closures, Traffic Restrictions
17 Aug 2017 at 4:46pm
(Oregon Coast) - Hot, dry conditions have caused some drastic measures around the state and on the beaches. This and the influx of eclipse watchers ...
Manz City Council chooses Nuttall for council vacancy
17 Aug 2017 at 3:18pm
... retirement so they made the decision to utilize a vacation home they'd purchased in Manzanita and moved to the Oregon Coast as fulltime residents.
Eclipse traffic already heavy in central Oregon
17 Aug 2017 at 2:45pm
Traffic is already a headache in central Oregon as thousands of people ... It's the first total, coast-to-coast solar eclipse in the U.S. in 99 years and ...
Comparing Oregon solar eclipse experiences, 1979 to 2017
17 Aug 2017 at 2:45pm
2017: This will be the first coast-to-coast eclipse in America in 99 years, and Oregon is in the spotlight first again. The path of totality is narrower this ...
Highway 6 likely to be major route for coastal eclipse viewers
17 Aug 2017 at 2:22pm
Highway 6 likely to be major route for coastal eclipse viewers ... less than 30 miles from Gales Creek, starting in the morning on the Oregon coast.

Back to Oregon Coast
Contact Advertise on BeachConnection.net
All Content, unless otherwise attributed, copyright BeachConnection.net Unauthorized use or publication is not permitted
Follow us on


OREGON COAST VIRTUAL TOURS
Explore Every Beach Spot