Biggest News Stories on Oregon Coast for 2011: Creepy to Cuddly
Published 12/26/2011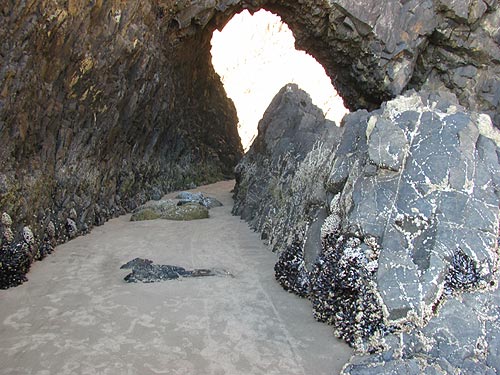 (Oregon Coast) – It was the year of the big tsunami scare, adorable seal pups being born, of strange space phenomena, glowing sand and dramatic weather and sand level events. 2011 had plenty going on along this coastline, and what happened this year has created much to keep an eye on in the coming year (above: remarkable stuff was visible this summer because of high sand levels, like the arch at Arch Cape).
Things started off gently enough with a popular look at space and astronomy from the beaches. One of the biggest stories was an exploration of interstellar phenomenon from a coastal perspective Compendium of Astronomy, Star Shots from Oregon Coast at Night. This series of articles was widely re-syndicated around the internet.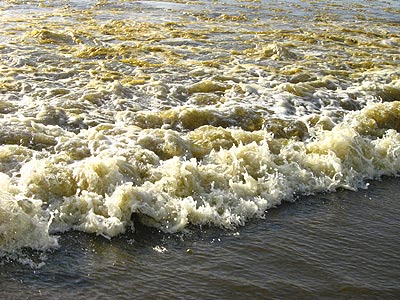 Wacky waves in Seaside
In late February, a massive snow storm - Snow on the Oregon Coast - and The People Who Love-Hate It – turned this place into the "snow-regon coast." It created some wonderful images, especially from Cannon Beach.
Dark, oily waves returned to Seaside, as they do sometimes, making a splash. Dark, Oily Waves on North Oregon Coast a Positive Thing
Then, however, in March the big news turned to the enormous tsunami scare. One Friday that month turned frightening as an earthquake in Japan tore up that country – including a horrific tsunami. Then, around 11 p.m., you could see the faces of news anchors on Portland TV station KGW-Channel 8 turn ashen and white, live on the air, as a NOAA spokesman announced that a tsunami watch on the Oregon coast turned to a definite warning, and even predicted the possibility of catastrophic 11-foot waves to smother towns like Cannon Beach.
Sirens shot off along the coast within an hour or two, a massive – yet orderly – evacuation ensued, and officials learned a lot about what worked and what didn't. Meanwhile, for the several hours before the anti-climatic larger-than-usual sneaker wave hit these shores around 7 a.m., Oregon Coast Beach Connection crashed several times a minute because of the overwhelming traffic. Something like a quarter of a million hits were registered on this website in a few hours time from around the world as people checked for updates. Oregon Coast Residents Recall Intensity of Tsunami Evacuations
Luckily, Oregon received not much more than a bit of damage to Depoe Bay and some larger and more expensive destruction in the harbor at Brookings. A few dimwits purposefully loitered around the beaches, waiting to photograph what might occur, and some minor injuries were reported because of that.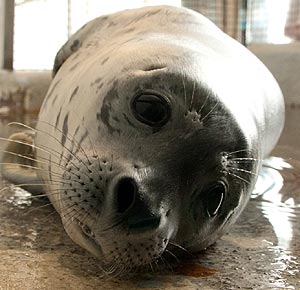 New seal pup at Seaside Aquarium (photo courtesy Seaside Aquarium)
There was an odd story of a pair of musicians staying in the Willamette Valley near Silverton who were convinced they would have to evacuate (almost 100 miles away from the coast).
There was some minor concern about the possibility of radiation coming to the west coast because of a damaged nuclear power plant, but that turned to be completely off the mark. One goofball internet publication tried to spread panic through sensationalized and fictional stories of more tsunami alerts and radiation issues over the next couple of weeks, raising the ire of a huge number of coastal residents for a time.
Roadwork on the coast was a big issue all year. First, there was that huge tunnel project on Highway 26, creating nighttime traffic diversions and problems – until June. Even then, other work along 26 slowed traffic. A slide near Happy Camp, along the Three Capes Loop, cut off traffic flow from one end of Oceanside and Netarts during the summer, making for some unhappy campers and tourists. The project along Highway 20 towards Newport hit some major financial and strategic snags, and even Highway 18 towards Lincoln City encountered its share of closures and detours on and off over the year.
Feeding seagulls turns out to be a big no-no, and Killer whales and other whales made quite the appearance in the spring.
In the seriously cute department, Seaside Aquarium had not just one – but two – baby seals born within a week of each other N. Oregon Coast Sees Yet Another New Seal Pup.
Summer kicked in, bringing one of the best seasons ever for warm weather. Record highs at times gave way to the longest stretch of glorious days the coast had seen in years. It would wind up staying mostly sunny and warm from late June into September and October.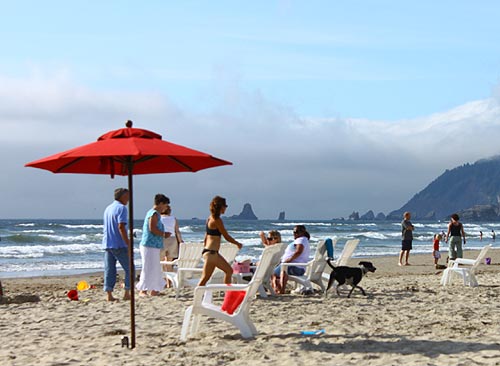 Bikini weather on the coast this summer.
These calm conditions created some startling sights, as they resulted in really high sand levels. More Images of Striking Oregon Coast Sand Levels from Summer This shifted a river in Lincoln City and made the coast look like one big minus tide event all the time.
These conditions also gave the coast plenty of glowing sand moments, and a run of tiny jellyfish everywhere Tiny Jellyfish Make Sizable Invasion in Some Oregon Coast Spots
.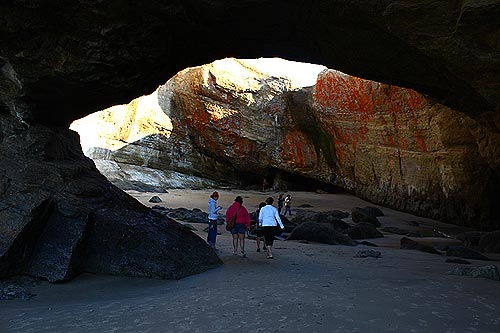 Stunning low sand levels this summer: inside the Devil's Punchbowl near Depoe Bay.
Another huge story this year was NOAA's predictions for when and how much tsunami debris from Japan would wind up on the Oregon coast NOAA Predictions for Tsunami Debris Arrival at Oregon Coast: When, How Big. Some has recently arrived on the northern Washington coast, earlier than predicted, so the coming year will be an interesting one in this regard.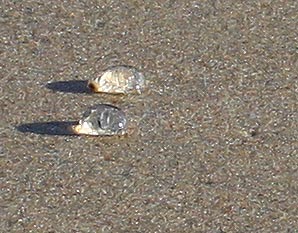 Jellyfish invasion this summer.
Most recently, the Oregon coast and inland Oregon broke some records for the driest December ever Weather Records Broken Around Oregon, on the Coast.
Other popular stories this year:
Small Shark Found Barely Alive on North Oregon Coast It's the third time in two weeks such a shark has washed up
Birds Abound in Parts of Oregon Coast Oregon Department of Fish and Wildlife is touting some remarkable birding possibilities on the Oregon coast right now
Central Oregon Coast Cave Tells a Varied Geologic Tale An ancient story of towering volcanoes, searing lava flows for hundreds of miles, continents drifting over millions of years
Time Lapse Video of Oregon Coast, Manzanita Area Visit the Oregon coast and see two hours of the day in just a few minutes
More About Oregon Coast hotels, lodging.....
More About Oregon Coast Restaurants, Dining.....
LATEST OREGON COAST NEWS STORIES
Back to Oregon Coast
Contact Advertise on BeachConnection.net