BEACH NEWS YOU CAN USE
Covering 160 miles of Oregon coast: Seaside, Cannon Beach, Manzanita, Nehalem, Wheeler, Rockaway, Garibaldi, Tillamook, Oceanside, Pacific City, Lincoln City, Depoe Bay, Newport, Wadport, Yachats & Florence.
Need Romantic Ideas? Of course you do.....
Oregon Travel Secrets: Coastal Sea Stacks
(Oregon Coast) - They stand like enormous sentinels just offshore, as if guarding the beaches or headlands they've stood in front of for eons. Dark, brooding and even a little spooky when you stare at them long enough, their size is a little intimidating. It's not hard to imagine them coming to life - becoming animated - and causing a frightening amount of damage. Godzilla would have nothing on them.
However, all they are is ancient - and incredibly resilient. They've been around for millions of years. But for the last 100 or so years of Oregon's coastal tourism history, they, and the areas around them, have served as major attractions and sources of fun and awe.
As obvious and as imposing as they are, they have their hidden sides and aspects. And so do the areas in which they reside.
Rockaway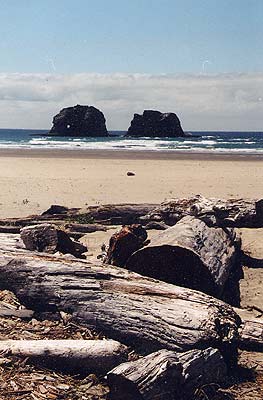 The Twin Rocks looming offshore pop into view briefly in the Twin Rocks section of Rockaway, at its southern end. As you drive past Minnehaha St. on 101, you'll catch a brief glimpse as the dunes dip ever so swiftly, and the two sea stacks appear as two giants peeking out from the beach accesses. They don't appear again until you're in the middle of town or on the beach. At the access at Minnehaha St., they are at their closest to the beach. Once you get up onto the main beach parking lot by the trolley, the Twin Rocks are in the distance, but they show another side. This angle allows the arch to become more pronounced and obvious. It doesn't look as thick from this angle as it does at the southern end.
This beach goes on for seven miles, and is still one of the coast's more pristine, in spite of it being so well known. It's like a hidden tourist resort, existing well on those contradictions in terms for years. Numerous hotels, a few eateries and several "touristy" shops inhabit this lengthy town, yet it never becomes bogged down in that commercial feel, no matter how hard it tries.
Cape Kiwanda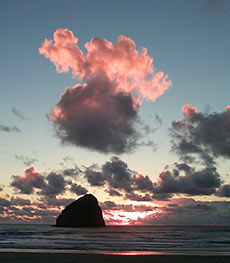 This sea stack, with its arm-like structure hanging at its side, is one of two on the North Coast that share the name Haystack Rock. Being a monolith, it stands alone just a ways from the golden, wind carved cliffs of Pacific City's Cape Kiwanda. Sometimes, you'll see fishing boats wandering somewhat close to the giant basalt structure - and you'll feel a little jealous. "Why can't I inspect it at such close quarters?" you ask yourself.
Climb Kiwanda to catch dozens of amazing views and structures you won't see anywhere on the coast. From weirdly colored, pockmarked landscapes that look like an alien world, a giant bowl of basalt and sand with surprise geysers of sea water to incredible craggy cliffs of varied shapes to the brilliant gold of the cape that seems to catch fire when the sun hits it right.
Cannon Beach
Here sits the other Haystack Rock with its much-photographed "needles" - the smaller stacks which jut upwards near the main monolith. Haystack, seen here in the distance, allows you to climb it a little bit and ogle the tide pools at lower tides.
Then, a ways to the north, you can catch loads of other sea stacks from Ecola State Park (the view in this photograph). At the very northern end of the town's beaches, the tide and a set of stacks guard the hidden beach of Crescent Beach - only accessible by a mile and a half hike from the road near the entrance to Ecola State Park. At those rare extreme low tides, you can walk into the beach (briefly, however, as the tide closes things back up soon).
Also from Ecola, you can catch the best and closest view of distant, mysterious Tillamook Rock and its legendary lighthouse - about a mile offshore.
Heceta Head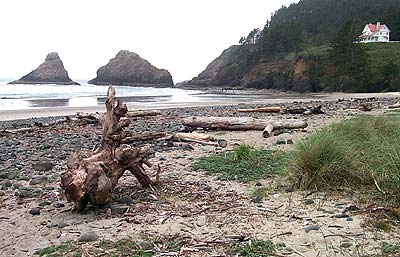 On this varied and fun-filled beach near Florence, two sea stacks cap the headland which sports the Heceta Head Lighthouse and a labyrinth of amazing trails that show off unforgettable views. On the beach below, numerous sea caves line the cliffs here and provide tons of amusement possibilities.
The interesting story about the closest sea stack is that it was actually much more connected to the headland. However, tourists in the earlier part of the century spent so much time getting stranded or in trouble on the rocky bluffs that state authorities blasted the accessible chunks of rock away to keep folks from getting up there.
Now, the lighthouse allows visitors and tours, and the keeper's quarters is a B&B. The beach is a mix of tide pools, caves, sand, cobblestones and various birds that like to feast or just hang out.