Surprises of an Oregon Coast Spring: Tides, Crazed Foam, Orcas, Intense Sunsets
Published 03/31/2011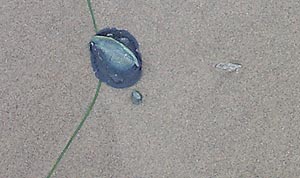 Velella velella, one of the oddball finds of spring
(Oregon Coast) – Spring on the Oregon coast is probably the most interesting time of year, full of more remarkable discoveries than any other time, but it's likely the most neglected. Some locals call it the "secret season" for all its wild riches, from empty beaches, beachcombing wonders, bizarre foam action, weather surprises, Killer whales, cute seals and funky critters to sunset light effects that put a rock concert to shame.
First, less people means more alone time on the beaches – you've got them to yourself. Even some of the busier beaches are devoid of others – no matter what the weather. This is no secret to lodgings on the coast, so they boast bundles of specials to entice you out there, creating a double whammy of attractive qualities.
Come April – and even in March – there's an interesting mix of weather that kicks in, as the region bounces back and forth between sunny and stormy and everything in between, often within a half hour or so. Things change wildly several times a day on many days during this season.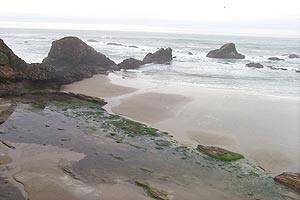 Seal Rock
This means some monster, spectacular storms can still be found, at least in April, creating behemoth wave conditions. Great storm wave action is often found around rocky spots like Depoe Bay, Yachats, Seal Rock or Ecola Creek State Park near Cannon Beach.
Before the spring breaks kick in, March can still feature some wildly low sand levels. Even April can show this off, but during this month the levels have started to rise This translates to excellent agate hunting conditions, and sometimes the continued appearance of "ghost forests" (ancient stumps sticking out of the sand, somewhere between 2,000 to 4,000 years old).
Agate hunting conditions change wildly depending on what storms do to sand levels in an area. One day they can be great in a spot; sometimes just hours to days later the agate beds are gone. Places to keep your eye on are Oceanside, just north of Pacific City, Hug Point (near Cannon Beach), Agate Beach in Newport, beaches just south of Seal Rock and some parts of Lincoln City.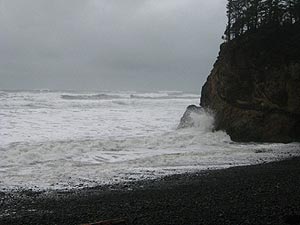 Gravel beds at Hug Point: possibly good for agate hunting.
The ghost forests haven't been seen much this year, but at Neskowin they can be seen year round.
Another little known secret is that Japanese glass floats – now quite rare – will still show up periodically after the storms of February and March. However, you have to know what to look for along the beaches and the right conditions. It's quite a skill.
Spring also brings lots of phytoplankton blooms, especially in April it seems. These, when combined with the right storm conditions, create some impressive oddities like crazy foam that does wild tricks. You may see it flying across the highway or flying upwards, looking like snow going the wrong direction.
Phytoplankton are actually responsible for much of the surf bubbles and foam you see.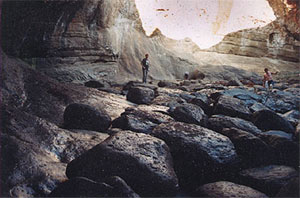 Inside the Devil's Punchbowl
These storms will in turn cause interesting stuff to wash up. Sometimes because of storms, but often because of the currents and west winds, a rather odd little jellyfish known as velella velella – or Purple Sails – show up on the beaches. Usually it happens from April through June, if it happens (and it doesn't occur every year). They will wash up in enormous numbers, covering the beaches.
Unfortunately, they wind up rotting in a day or two, especially in the warmer rays of June, and you get some pretty stinky beaches for a few days.
While March hosts the big Whale Watch Week, that's only an official, manmade construction, as the whales continue migrating through the region for some time. However, You'll need calmer conditions to see them.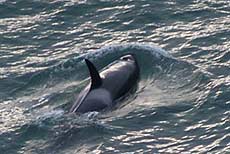 Killer whales near Florence (photo Seaside Aquarium)
Every year, however, the central Oregon coast gets a little visit from Orcas – or Killer whales. It's hard to spot them, but worth a try. They've been known to do some rather extraordinary things, as one actually chased a sea lion through Yaquina Bay once, and others have been seen munching on moving prey.
This is the reason they show up here: they're following new-born whale calves up the coastline. The Whale Watch Center in Depoe Bay has seen them partake in their favorite meal – rather violently, of course.
They usually start showing up about the middle of April and stay through most of May.
May and June bring some of the lowest minus tides of the year, partially because of calmer conditions. Mostly however, this is just the cycle of the moon interacting with the tides, sometimes creating enormous drops, like minus two feet or more. This will allow for some mind-boggling discoveries and tide pool explorations. It's times like these that spectacular hidden spots become briefly accessible, like Crescent Beach at Cannon Beach, chunks of Oceanside not normally seen, and the Devil's Punchbowl near Newport may become reachable.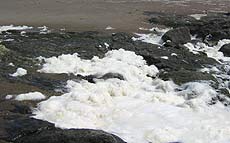 Thick foam at Lincoln City
May not only brings in flowers but an increasing number of nice weather days, often more pleasant than June. Chilly weather and sizable winds will continue, but they're interspersed with more sunny days, and gone are those big storms that still happen in April. Some really hot days on the coast are not unheard of either, though not necessarily something that happens every May.
In fact, to the frustration of the tourism industry, June tends to be rainier and less hospitable than May on the coast - in many years, anyway.
One thing you can also count on from April through early June is more dramatic sunsets than usual. The exact reason is unclear, but during this time of year you get a lot of mixed conditions, which results in big, fat puffy clouds and varied atmospheric layers of different humidity and such. This seems to give the last rays of the sun plenty to bounce off of and cut through, creating interesting patterns in how the light rays are split and coloring the sunset in a variety of different shades.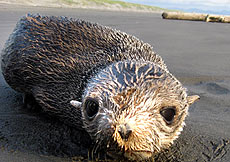 Baby seal (photo Seaside Aquarium)
Late spring and early summer also mean molting seals and baby seals showing up. Yes, the babies are exceptionally cute; and the molting seals, with their sores and sad looks, are heart wrenching. But the last thing you should do is interfere.
Baby seals always have a mother nearby, so you should stay away as you don't want to scare her off.
Molting seals are on the beach for a reason – to keep dry and chill out with their nasty but temporary skin conditions. Leave them alone too.
More About Oregon Coast hotels, lodging.....
More About Oregon Coast Restaurants, Dining.....
| | | |
| --- | --- | --- |
| | | |
LATEST OREGON COAST NEWS STORIES
Back to Oregon Coast
Contact Advertise on BeachConnection.net