Snow on the Oregon Coast - and The People Who Love-Hate It
Published 02/24/2011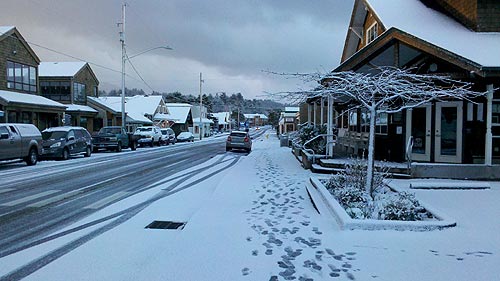 (Oregon Coast) – Welcome to the Snow-regon Coast.
It's a combination of serious beauty and serious road hazards, of ethereal peacefulness on a raucous beach and worry about how many guests are going to cancel for the weekend (photo above: Cannon Beach this morning, taken by Kristine Gottsch).
There are two sides of this coin, when it comes to snow hitting the Oregon coast. (Submit your own snow photos to our FB page)
Thursday morning yielded plenty of lovely sights on the beaches, especially the north coast, but snow made little mark south of Pacific City. It stuck around for a bit up north, but didn't stick for long on the central coast.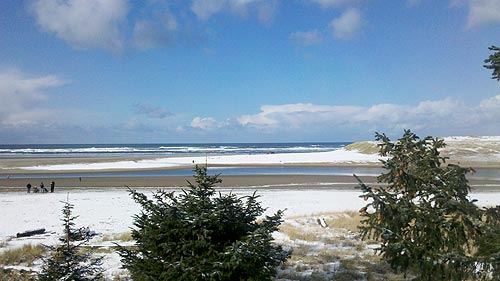 Kristine Gottsch, of The Ocean Lodge and Inn at Cannon Beach, took some remarkable photographs of snow-covered sand and streets in Cannon Beach, appropriately calling one scene "magical." (Above)
In Manzanita, Brian Hines, owner of San Dune Inn, was grumbling about cancellations for the weekend at his motel, and wasn't entirely pleased with snow after his own car took a nosedive into a ditch last week during an icy spell.
"Looking forward to the snow? Yes," he said. "To see if I can send the Explorer into another ditch like I did last week. Some weekend cancellations are already in, plus the big spike in gas prices. In any event, as usual, we'll take whatever comes in a sign of good faith."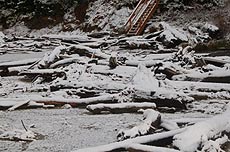 Snowy beach in Newport a few years ago (photo Starfish Point)
On the other hand, Danielle Johnson of Manzanita Beach Getaway Rentals, was looking forward to it on Wednesday.
"Just when I think the coast could not get anymore beautiful, it snows," she said. "The combination of the rough terrain and the soft snow is truly a site to see. It just goes to show you that there is always something on the Oregon Coast to amaze you."
Down in Newport, Michele Franck of Oregon Beach House Rentals was worried Wednesday after just having driven through McMinnville and a heavy snow storm. A big weekend is coming up with the Newport Seafood and Wine Festival, and such weather issues wreak havoc on the tourism industry.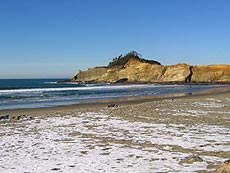 Pacific City looked like this for a while this morning.
"The weathermen on TV are not our friends," Franck said. "We are two openings short of a full house for the Wine & Seafood Weekend. While we hope our guests will not take any risks, we also have to say that seeing snow on the sand is amazing and worth the trip."
Wendy Higgins, manager of The Ocean Lodge in Cannon Beach, echoed some of the concerns about tourism numbers.
"We have the Yoga Festival this weekend and a painting workshop," Higgins said. "I would hate to see people canceling."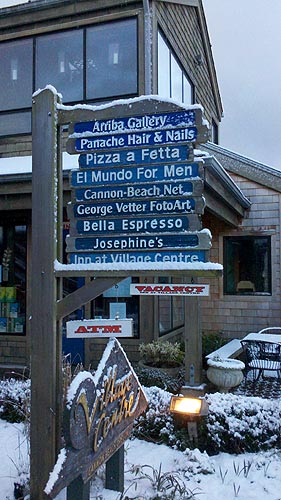 Another negative to snow was expressed by those at By the Sea Vacation Homes in Seaside, but this time with more of a naturalist slant.
"Snow on the Oregon coast is an unwelcome guest. It is beautiful in the mountains. However, we are mild weather lovers here. The white against our beautiful beaches makes them look like dirt! Our marine birds are also at a loss when this happens. Just want the mild weather rain and what naturally should happen on our coast line.
Jill Princehouse, owner of Oceanfront Cottage in Oceanside, was pleased with the idea of snow, however.
"We always look forward to snow on the coast because it contributes to the already beautiful surroundings," she said. "When there's snow it's also very relaxing and peaceful."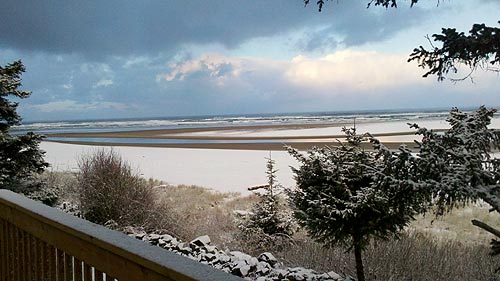 More About Oregon Coast hotels, lodging.....
More About Oregon Coast Restaurants, Dining.....
LATEST OREGON COAST NEWS STORIES