Cute Seals Seal the Deal at Oregon Coast Tourist Attraction
Published November 2007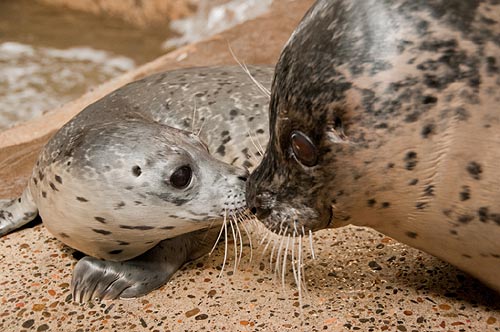 Some by photos Seaside Aquarium, including the above
(Seaside, Oregon) – It's been around for 70 years now, making it one of the oldest aquariums in the entire country. Less than ten years before it began, this building was a natatorium – a salt-water bath house that heated the water in a giant pool for tourists.
That's not to be confused with the word "sanitarium," although the aquatic chaos up front at the Seaside Aquarium sometimes gives you that impression. It's crazy up here, with all these seals going nuts. They look like giant fish flopping around in and out of the water, splashing and making odd noises in an attempt to coax chunks of fish from modern tourists who have, by and large, never heard of a natatorium.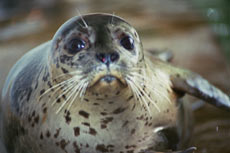 One of three baby seals born in recent years are the very picture of adorability (photo Tiffany Boothe)
These harbor seals are, of course, the big focal point of the Seaside Aquarium – now a north Oregon coast tourism institution that manages to get on TV a lot with its work with the Marine Mammal Stranding Network, running to the rescue anytime something interesting washes up. There's plenty of stuff to see in the rest of the facility: a freaky octopus, a fish species where the males actually give birth and other stuff that's stranger than fiction. But it's those adorable wet mammals and their loony-tunes displays that bring people in.
There are fourteen in the aquarium's manmade herd – all of them two or three generations down from the originals that were captured in the middle part of the century. Three were born just last year, maxing out the capacity for occupancy at the aquarium. So during the last couple years they've had to separate them during mating season to ensure no more mating.
Every night and every day, it's more or less the same routine for aquarium handlers, including manager Keith Chandler. They feed the little wackos when they open up, let the public stuff their bellies during their day in the viewing area, then they herd them back into the nighttime pen as they drain the public pool.
In the meantime, each of the flippered ones has acquired a different way to attract attention to their need for fish heads. Each has a different personality. "They all have their own little schtick," said Chandler. "We don't train them. We let them be individuals. They learn from people what works. The public basically trains them."
Some smack the water. Some make crazy noises that sound like groaning zombies. Each does a variety of weird and super cute things that ensure the public will throw tidbits at them.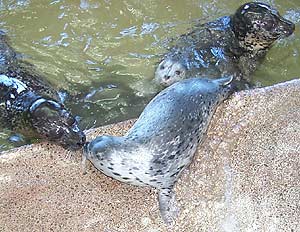 Seals doing unusually cute things
"We had one years ago that stuck her tongue out," Chandler said. "I don't know how she learned to do that. But I have the feeling it might've been a customer who taught her by sticking their tongue out at her. It was the coolest thing. Another one stood back at the back of the pool and lifted her flipper up. Then people would yell, 'Oh look at her – she's raising her hand.'
"Some of them splash, others make different noises. And the noises are different from each other. They're like dogs – each dog has a different bark. It talks a different way from the others."
The youngest ones are still emulating the older ones for tricks for tidbits. They eventually learn their own thing. "Right now, the little ones are still just getting away with looking cute," Chandler said.
The seals are even comical behind the scenes. Not only does each have a different personality, but they treat handlers differently. Some employees talk about how the seals like Chandler and employee Jason Hussa, but Tiffany Boothe may not be in their favor as much. She sometimes has difficulty getting them into the night pen at closing time.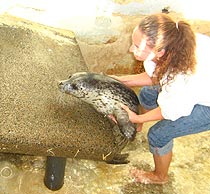 Boothe is forced to pick up the baby seals at closing time, as she tries to herd them into the night pool
Chandler says that's not true. "They don't dislike her," he said. "They're like cats. They test you. They'll bug you. I think they know that I won't give up, and neither will Jason. But they think Tiffany might."
They all have different names as well. There's Scully (she was so named because she was born on the day the "X-Files" movie came out in '98). Cecil, Vivian and Shireen were the latest born, back in the summer of 2006. One was named by a contest winner. There's Cosmo (purportedly not a Seinfeld fan himself). Lewis and Clark were born in the spring of '03, just as the north coast was preparing for the flood of bicentennial tourists that never came. Ivar is named after relatives of the family that owns the aquarium that started the famed restaurant chain in the Seattle area. Reagan was named because he was born on the day the former president died. Then there are Greta, Wyatt, Travis and Sarah.
Finally, Drexler is the oldest, born in 1983, the day after Clyde Drexler was drafted into his basketball career. Drexler is the only male old enough to mate. The others are still not interested in fooling around. At more than 20 years old, he's already well past his life expectancy and isn't expected to be around long.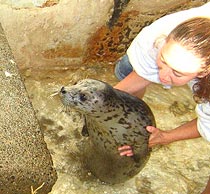 "In the wild, they live about 15 years," Chandler said. "In captivity, harbor seals make it to around 20 years old."
Chandler said in the wild they will get eaten by a predator or get eye injuries, and then can't hunt for food. "Here, they just sit back and wait for us to feed them."
The Seaside Aquarium set a record back in 1979 when a seal named Clara passed away at age 35. "I'm not sure if that's the record anymore," Chandler said. "But it was at the time."
They were also the first aquarium to successfully breed harbor seals back in the 1950's.
The herd spends most of the time in the viewing area when the aquarium is open during the day, although some choose to wander in back. Especially the young ones, Chandler said, enjoy going back to play. But luckily, it's upfront where they prefer to be, basking in the giggles and joy emitted by the public. It's also good for aquarium business, as the little guys and gals are fairly visible to people strolling by on Seaside's Promenade, via a large window that allows just enough of a peek to tease people into coming in, but not enough to get completely entertained for free.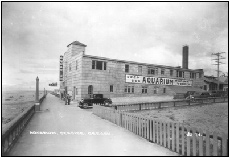 Seaside Aquarium in the old, old days
Feeding them is carefully measured and is quite an art form all its own, with the help of Mother Nature.
They are fed periodically throughout the day if there aren't enough patrons to stuff their little brown faces. But if things get really busy, Chandler says they aren't going to get extremely fat when tourists keep throwing food at them.
"We check the food output by the hour if we're busy," Chandler said. "We can regulate how much they're getting fed by the size of the trays. Plus, when they're full, they'll just stop eating. They're smarter than you and me. They'll just ignore you if you're trying to throw food at them."
With all the fame and attention the aquarium has been getting in recent years, with media coverage of them dealing with odd things that wash up onshore in Seaside, there's still yet another claim to fame for the aquarium. Their regular vet is the legendary Dr. Mayberry – the same man who helped deliver Packy the elephant in the early 60's at the Oregon Zoo.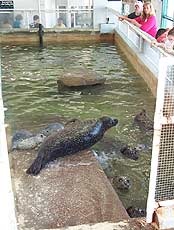 The day pool is the only remnant of the natatorium pool that is visible to the public
There are those who still try to be detractors to what the Seaside Aquarium is doing and who criticize them for not letting the animals go back into their natural habitat. "They won't survive that," Chandler said. "They've never been in the wild; they were all born here. You wouldn't take your dog into the forest and let it go, just because that's where its species used to live. Same thing with the seals."
Most people understand that when they confront the aquarium with those kind of questions. But some have made up their minds ahead of time and don't listen, Chandler said.
Whatever the political view of the creatures, they are undeniably cute and amusing. Videos of them have been popping up on YouTube in increasing numbers – like this one showing Hussa getting them to do some oddball things.
The Seaside Aquarium is on the Promenade in Seaside. Trays of fish food are sold for $1. There is an admission cost. 503-738-6211. www.seasideaquarium.com.
More About Oregon Coast hotels, lodging.....
More About Oregon Coast Restaurants, Dining.....
LATEST OREGON COAST NEWS STORIES
Back to Oregon Coast
Contact Advertise on BeachConnection.net