Covering 180 miles of Oregon coast travel: Astoria, Seaside, Cannon Beach, Manzanita, Nehalem, Wheeler, Rockaway, Garibaldi, Tillamook, Oceanside, Pacific City, Lincoln City, Depoe Bay, Newport, Waldport, Yachats & Florence.
06/01/08
SeaFest Gives Detailed Glimpse Inside, Beneath Oregon's Coast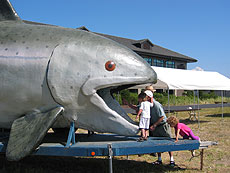 Claudia Chinook at the SeaFest
(Newport, Oregon) - Pilot an underwater Remotely Operated Vehicle (ROV), touch a giant Pacific octopus, or try out dozens of other hands-on activities designed to teach about the ocean. It's all happening Saturday, June 28 at SeaFest, the Hatfield Marine Science Center's (HMSC) annual open house and marine festival in Newport.
This year's theme "Ocean Frontiers: On the Crest of Discovery" highlights research questions and findings that scientists have been exploring at the bayside marine lab operated by Oregon State University in cooperation with state and federal agencies charged with protection of the marine and coastal environment. The open house and festival activities run from 10 a.m. to 4:30 p.m. All events are free.
Among the many exhibits, special tours and activities lined up for this year's SeaFest are: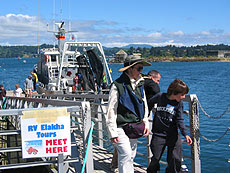 You can tour some of the research vessels this year
Explorations of the undersea environment just off the Center's research dock with the Oregon Department of Fish and Wildlife's mini-ROV. The dock's pilings are rich with invertebrate life and other species that can be observed through the camera "eye" of the remotely controlled vehicle. A large ROV will be on display at the dock along with video highlights from its undersea survey work. ODFW Marine Resources Program volunteers will talk about shellfish and fish biology and how to determine the age of a fish.
Also at the dock visitors are invited to tour Oregon State University's two research vessels, the 185-foot R/V Wecoma and the 54-foot R/V Elakha. Marine Discovery Tours of Newport will also be offering rides across Yaquina Bay aboard the rigid-hull inflatable "Oregon Rocket".
The Kids' Zone is back again this year with activities throughout the day such as the Travels of a Water Molecule, buoy toss, papermaking, fish printing, shore crab races, incredible edible bugs and face painting.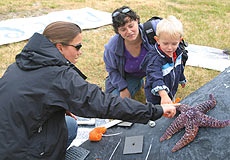 Touching seastars at the Hatfield's festival
Always a favorite are the behind the scenes tours of the HMSC's research facilities including the molluscan broodstock aquaculture lab, the seawater system and aquatic animal husbandry tour.
A film series of short movies about the sea will run every 20 minutes throughout the day on the big screen in the Visitor's Center.
Markus Horning, assistant professor at the HMSC's Marine Mammal Institute, will deliver the keynote address at 11 a.m. intriguingly titled "Sea lion tele-medicine, what orcas eat, how to dive into old age and other stories of research from pole to pole."
"SeaFest is a great opportunity for the public to interact with the scientists at the Center, tour the labs and see first hand the research into the ocean at our doorstep," said Lisa Mulcahy coordinator of the annual event. "SeaFest is very popular with families with something of interest for everyone."
In addition to the aquarium displays and touch pools in the Visitor Center where kids can get their hands wet inspecting sea stars, anemones, skates, sea urchins and the giant Pacific octopus, there are dozens of special exhibits created just for SeaFest. Other highlights include the U.S. Coast Guard helicopter search and rescue demonstration on Yaquina Bay and, live music, food and prizes for kids activities.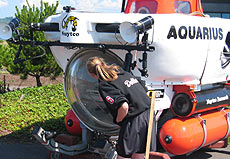 Here, you get to check out a submersible up close and personal
"Of course what people love most about SeaFest are the behind-the-scenes tours and the hands-on activities that make learning about the marine and coastal environment a fun experience," Mulcahy said.
Co-hosting the event with OSU are the university's partner agencies at the HMSC: the Oregon Department of Fish and Wildlife, National Oceanic and Atmospheric Administration (NOAA), U.S. Department of Agriculture, U. S. Environmental Protection Agency and the U.S. Fish and Wildlife Service.
Major community sponsors of SeaFest 2008 are the Confederated Tribes of Siletz Indians, Georgia-Pacific of Toledo and Marine Discovery Tours of Newport.
For more information visit http://hmsc.oregonstate.edu/seafest/. Accommodation requests related to a disability should be made to Lisa Mulcahy 541-867-0219 or Seafest@oregonstate.edu
About OSU's Hatfield Marine Science Center: The center is a research and teaching facility located in Newport, Ore., on the Yaquina Bay estuary, about one mile from the open waters of the Pacific Ocean. It plays an integral role in programs of marine and estuarine research and instruction, as a laboratory serving resident scientists, as a base for far-ranging oceanographic studies and as a classroom for students.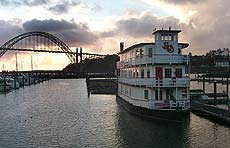 Newport's Yaquina Bay
Event Descriptions and Details
Passport to the Ocean - This is SeaFest's most popular activity. It brings both adults and children together with the local scientist's and their research in the Science Zone. You will learn about current scientific research on climate change, ocean conditions and more. After picking up a "Passport" in the Kid's Zone Tent, children can then visit the Science Zone and find clues and answers to questions found at each exhibit. When the correct answers are given you then receive a stamp on your passport. When your passport is filled, return it to the Kid's Zone Tent and select a free gift for participating.
Tidepool "No-Take" Walk – Join tidepool rangers from Yaquina Head Outstanding Natural area as they help you practice tip-toeing through a tidepool without "taking" any wildlife or plants. During this version of the "cake walk" game everybody wins when the music stops if you remember to walk on bare rock, rather than upon tidepool animals and plants.
The Incredible Journey: Travels of a Water Molecule - With the roll of a pair of dice kids follow the movement of a water molecule through the water cycle. Due to the randomness created by the dice, each person follows his/her own path just as a water molecule does. As you move through this activity you add colored beads to a string representing the places you have been. When done, the string forms a bracelet to become a permanent reminder of your journey as a water molecule.
Bat Ray Hat by the Oregon Coast Aquarium ­ Become the envy of all your friends by creating your very own Bat Ray hat. Now, wearing a fish on your head might not be your idea of high fashion, but we¹re here to tell you that this hat is guaranteed to make you look and feel absolutely ridiculous and silly and will most likely make your parents smile. It's the perfect accessory for keeping the sun off your head or for blending in with a huge group of bat rays.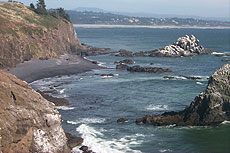 Hidden beaches of Newport: the black sands beneath Yaquina Head are rumoured to be so magnetic they throw off compasses
Flippers, Fur and Fun: by the Oregon Coast Aquarium (for Grades K-2)
What makes a mammal a mammal? With the help of costumes, a "Seal Shimmy" song and dance, an inflatable elephant seal, slides, pelts and bones kids will find out how seals and sea lions use their amazing adaptations for survival in the vast ocean environment.
From Tubefeet to Tentacles (for Grades 3-5) Discuss how crazy life would be living in the Pacific Northwest's rocky shore tidepools! Using crazy animal costumes and an interactive presentation you will discover how four marine invertebrates are supremely adapted to survive there and how you can do your part to protect them and their homes.
Fish Printing – Educators from Sea Grant will teach you about the ancient Japanese technique of printing the shape and characteristics of a fish onto paper from the painted fish itself. This is a fascinating, entertaining and educational activity for children and adults. You will be able to take home your own print from a selection of fishes.
Whale Tales by Morris Grover –Interact with a 12-foot whale by operating its tail, fin, mouth, blowhole with narration by a member of the Whale Watching Spoken Here!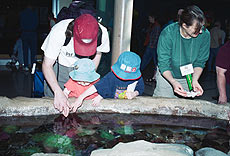 The touchpool at the Hatfield is always a huge attraction for kidlets
Storyweaver – Rebecca "Storyweaver" Cohen, Newport's own Oracle, tells lively tales of sea creatures for children of all ages. Four 10-minute sessions from 1:00 to 2:00 p.m. Come prepared to have fun in this audience participation activity.
Sustainability Outdoor Quest - "Quests" have come to the Oregon coast! The entire family can discover the importance of sustainability as you seek hidden clues and the location of a box hidden on the grounds of the Hatfield Marine Science Center. Once you make your find, you can sign the logbook and stamp your hand or paper to mark your accomplishment.
Talk About Trees and Papermaking – How well do you know your forest? Test your skills at identifying parts and products that come from trees at the Talk about Trees booth. Then join Ms. B and friends for a special session to create your own hand-made paper decorated with plants and other fun and festive bits and pieces that will make it one-of-a-kind.
Junior Ranger Beaver - JR Beaver is the mascot of Oregon State Park's Junior Ranger and Beach Safety Programs. The bigger than life superstar of parks is a charismatic, photogenic addition to the 2008 HMS Seafest and will appear several times throughout the day, accompanied by a state park staff person who will distribute Beach Safety and Junior Ranger information.
Buoy Toss – Join the fun and practice your boating skills. Participants will coil rope and then toss a buoy (attached to the rope) at a life ring. If you can get the buoy through the center of the ring, you'll win great prizes like tickets on the Oregon Rocket or Discovery, courtesy of Marine Discovery Tours, the official cruise company of the Oregon Coast Aquarium.
Poster Contest – View the artwork of the Youth World Oceans Poster Contest sponsored by the Hatfield Marine Science Center, Oregon Coast Aquarium and Oregon Sea Grant. Awards and recognition from grades K-12 will be announced June 28 at SeaFest. Each poster will reflect one or more of the seven Essential Principles of Ocean Literacy.
Shore Crab Races. Join in on this thrilling and unforgettable race between shore crabs. Participant's hand-pick a shore crab from an aquarium, the crabs then race against each other to the finish to the cheers of the crowd. The first crab to cross the finish line wins and will compete against the other finalists to determine the Grand Shore Crab Champion. The human winners of each shore crab race will win a special "crabby" prize.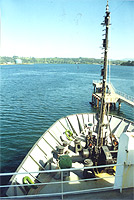 Aboard one of the research vessels at the Hatfield
Face Painting. Hey kids if you want to stand out in the crowd and show off your enthusiasm for the deep blue sea then visit the face painting booth and have your face decorated with creatures from the sea. Cost: $1.
Incredible Edible Bugs. Explore live macro invertebrates. Participants of all ages will get to locate, catch and observe native stream bugs from local streams. They can draw pictures of them, identify them and check them out under a magnifier. Great fun for young and old alike. It's buggeriffic!
All Day Events, 10 a.m. to 4:30 p.m.
Passport to the Ocean – begins at Kids Zone Tent
Incredible Journey: Travels of a Water Molecule - Hall by Staff Lounge
Junior Ranger Beaver - Lawn by Kids Zone Tent
Bat Ray Hat - Oregon Coast Aquarium Room 30/32
Buoy Toss - Lawn by Kids Zone Tent
Tidepool Walk - Tent near Kids Zone Tent
Whale Tales - Community Tent
Sustainability Outdoor Quest - Tent by Kids Zone Tent
Talk About Trees - Hall by Staff Lounge
World Oceans Poster Contest - Hall by Staff Lounge
Face Painting - Staff Lounge
Incredible Edible Bugs - Room 28
10 a.m. All day long events for Kids Zone Begin
10:30: Opening Ceremonies, Visitor Center Courtyard
11 a.m. - 12 p.m. At Oregon Coast Aquarium – Activity TBA, Kids Zone: Room 30/32
12 a.m. - 1 a.m. Fish Printing, Kids Zone: Room 37
12:30 - 1:30 Papermaking, Kids Zone: Room 31
1 p.m. - 2 p.m. Storyweaver (1 hr), staff Lounge (Storyweaver)
1:30 - 2:30 Fish Printing, Kids Zone: Room 37
1:30 – 2 Shore Crab Races, Lawn by Kids Zone Tent
2:30 - 3:30 At Oregon Coast Aquarium – Activity TBA, Kids Zone: Room 30/32
3:30 – 4 Shore Crab Races, Lawn by Kids Zone Tent
4:30 SeaFest ends

RELATED STORIES
Click here for video of Dec. storm aftermath

Oregon Coast Best of Awards for the Year And the winners are: best of Oregon coast restaurants, lodgings, science, odd events in nature and stunning moments for 2007

Watching Transformations of Oregon Coast Beaches Seasons change and so do beaches, revealing different sides and a variety of eye-popping sights

Staggeringly Cool Ideas for Oregon Coast Romance Be it the season of Valentine's or be it any time of the year, Oregon's coastline has essentially cornered the market for cuddle-inducing possibilities and gushy activities for the hand-holding set

Day or Night Mysteries and Merriment on Oregon Coast It's more than just nightlife that comes to life, but the beaches offer major opportunities

Oregon Coast Travel Site Goes Wireless Provides Lodging Reports - Oregon Coast Beach Connection now has mobile lodging and dining listings, along with weekly lodging availability reports