Covering 180 miles of Oregon coast travel: Astoria, Seaside, Cannon Beach, Manzanita, Nehalem, Wheeler, Rockaway, Garibaldi, Tillamook, Oceanside, Pacific City, Lincoln City, Depoe Bay, Newport, Waldport, Yachats & Florence.
05/04/08
Oregon Coast Travel: A Long Look at Rockaway Beach
By Andre' Hagestedt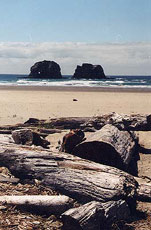 Rockaway Beach is known for the "Twin Rocks" structures offshore
(Rockaway, Oregon) - You can't miss it as you amble along Highway 101, with its long stretch of sandy beaches and the massive, rather imposing twin sea stacks that sometimes pop ominously into view. It's right on the beaten path, right there in front of you, indeed all around you. Yet it's still not one of the biggest tourist hotspots on Oregon's glittering coastline, refraining from being too crowded even on the most crowded of days during the busy season.
It's still a little bit of a secret, in spite of its seven miles of pristine sands.
It is Rockaway Beach, just a tad south of the Nehalem Bay and just a mile or two north of Barview, Garibaldi and the Tillamook Bay.
It makes me think of that Ramones' song: "Rock, rock, rock, rock Rockaway Beach…", or maybe that song makes me think of Rockaway Beach. In either case, they were writing about the one in New York, and there's even a section of Rockaway called Manhattan Beach, as if the founding fathers and mothers were a little obsessed with the vibe of "Sex and the City" or something.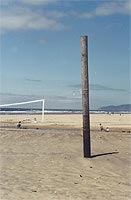 Manmade beach fun at Rockaway during the summer with a volleyball net
It's also where I go to really just chill sometimes, as often this beach has nary another soul around. Especially if you stick to the northern or southern ends. That's the odd thing about Rockaway Beach (often simply called Rockaway, without the "Beach" half of its name): it's essentially a major tourist destination that isn't. It's a sizable little beach town, bigger than its immediate neighbors to the north and south. But it's not nearly as crammed full of people as Manzanita or certainly Cannon Beach or Seaside. That's not to say the place doesn't get bulging with tourists during the summer, because it does. But not as much or as often as other beach towns. And there are far fewer traffic jam-ups here, partially because Highway 101 just glides along smoother than it does in Seaside or Garibaldi.
This slightly off-the-beaten-path dynamic has resulted in a lot of lodging businesses ditching their buildings and selling their lots off to condo developers. Many simply weren't making it, or doing as well as they'd hoped. This exodus began a few years ago, and then a construction boom took off around 2004, culminating in bundles of high-end condos cropping up all along the middle section of town. Now, the place is populated by part time owners, more of an upscale crowd – those who are changing the town with a demand for finer things. When they're not around, the pool of vacation rentals is chock full of fancy places to call home for a while, most of them beachfront.

Tradewinds Motel, Rockaway Beach. All rooms are immaculate and have TV's, VCR's and in-room phones w/ data ports. Oceanfronts have queen bed, a double hide-a-bed, kitchen, cozy firelog fireplace and private deck. Both types sleep up to four people. Others are appointed for a two-person romantic getaway, yet still perfect for those on a budget. Elaborate oceanfront Jacuzzi suite has two bedrooms, kitchen, double hide-a-bed, fireplace and private deck, sleeping as many as six. For family reunions or large gatherings such as weddings, some rooms can connect to create two-room and three-room suites. Some rooms pet friendly. 523 N. Pacific St., Rockaway Beach. (503) 355-2112 - 1-800-824-0938. www.tradewinds-motel.com
Some of these condo units are selling for over $1 million. A few have décor fashioned after posh Las Vegas clubs and attractions. It's quite stunning, even mind-blowing.
Nature is King in Rockaway Beach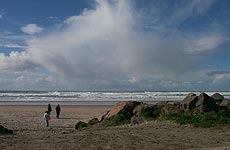 One of many beach accesses in town
The main attraction to Rockaway is, of course, the beach. It's all flat and sandy here, running from the south jetty of the timid mouth of the Nehalem Bay to the semi-rocky shoreline of Barview.
Not much else makes up the beach, except for the two gargantuan blobs just a ways out to sea called the Twin Rocks. These two sea stacks are best seen up close at the southern end of town, primarily the beach access at the end of Minnehaha Street. Both are about 150 feet high or so. One has a massive hole in it, the other is – from the beachgoer's angle – apparently whole still. But the hole – or arch - can only be seen from the northern end of town, when it's a good mile away. The closer vantage point hides the arch.
The two structures are rather spooky and imposing so close. Stare at them long enough, and you almost believe they're monsters ready to come back to life and go stomping through town Godzilla-style.
What's interesting here is the tideline changes directly in front of the Twin Rocks. The waterline curves outward a bit in this spot, apparently because the presence of the two massive basalt structures does something to either the sand distribution directly to the east of them, or they actually create a small drop in water volume on the beach near them. The "indent" of sorts – actually it means there's a tad more beach here – is almost as long as the Twin Rocks themselves. Whatever the reason, it's intriguing, and adds a sense of power to their already hefty visage and to their mystique.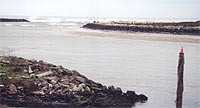 The tiny mouth of the Nehalem Bay
At Manhattan Beach, up against the jetty, things get rather interesting. The sea isn't as wild here as it is along the jetties of Newport or Warrenton. It's much easier to go bounding around these massive boulders, under most conditions. The mouth of the Nehalem Bay is surprisingly small here, especially considering how large the bay actually is. You'll find yourself gawking at its rather diminutive stature, if you're familiar with the Nehalem Bay at all.
From here northward, Highway 101 veers inland along the contours of the bay for about eight miles, curving and weaving along thick forestland – which isn't as thick as it used to be these days, because of the big December '07 windstorm. There are some awe-inspiring sights to gape at it, with loads of flattened tree stands still visible along this route. You wind past glimpses of the railroad, old pilings from God only knows what, and beautiful scenic vistas of green across the bay and the looming presence of Manzanita's Neahkahnie Mountain.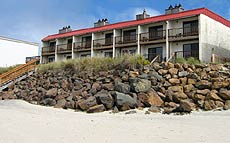 The Tradewinds Motel is a beachside favorite in Rockaway
This all ends up at the tiny, charming little burgh of Wheeler, with Nehalem a couple miles from there, and Manzanita another couple miles up the road.
The eastern side of 101 boasts massive Lake Lytle, where fishing is seemingly always in a frenzied state, provided by plenty of little piers. There's a sizable water sports facility at the southern end of the lake that provides goofy-looking, brightly colored boats and other forms of aquatic transportation for your watery pleasure, especially on hotter summer days. These are often in the shape of whimsical animals.
In the manmade realm, Rockaway Beach sports the railroad line, which is part of some of the fun rides on local steam locomotives that make their way around here. There's a Funland-style arcade that draws lots of kiddies, and a bevy of shops line the road here that cater from everything to obscure antique hunters to lovers of the kitsch and surfers.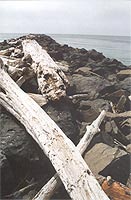 The jetty at Rockaway Beach
The town's decor is an interesting mix of old style beach funk, nostalgic coastal historical facades and the upscale, modern condos that have popped up recently. There's a time travel-like glimpse of the Oregon coast's past as well as its future as you drive along 101, or even explore the backroads that run up against the shoreline.
Some of the buildings and cottages hearken back to ages past, including some homes covered in beach flotsam that recall the Oregon coast many of us grew up with. Others have a 19th century look about them, with a touch of old wild west. And then there's the future, represented by the intriguing designs of the condos – some of which are built to withstand huge tidal surges, set up higher than the rest.
Gobbling Up Rockaway
Restaurants are a big staple in Rockaway Beach, and ever growing. Plenty of seafood options sit along 101, including one big restaurant whose sign screams that as well as "chicken and dumplings."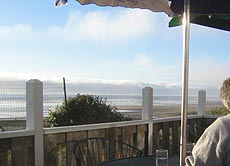 Dining outdoors, right on the beach, at the Blue Water Grill
Karla's Smokehouse is a big standout, with 70-something Karla still at the helm of her fish smoking business, stubbornly holding on to her recipes and techniques – stating clearly that the secrets of this biz will die with her. She still does everything herself, but has slowed to being open only weekends in recent years.
In the same building is an oyster house that collects the freshest stuff from nearby Netarts Bay.
Next door is the stunning D'Max Barbecue, with quite possibly the best barbecue in the whole state. Sadly, they're open only limited hours, sometimes during the winter season not at all, or maybe on weekends, if you're lucky. Here, owners LJ and Maxine slow-cook their goodies for days in a cantankerous-looking black contraption out in front of the preparation trailer. There's a tent with picnic tables that's fine for nicer days, but in winter, forget it. You'll want to get this stuff to go and eat it in the safety and warmth of your own car.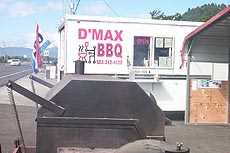 D'Max BBQ in Rockaway
I live in Portland most of the week, and on the north coast part of the week. I haven't found any place in Portland yet that even comes close to D'Max's barbecue quality (although a place in Seaside does get near them).
Rockaway Beach is also fortunate to have the Blue Water Grill, a restaurant and bar that kicks proverbial behind for a variety of reasons – mostly because it has among the best restaurant views on the entire Oregon coast. During the summer, you can dine outdoors, fairly close to that intoxicating tide. At night, its bar also features one of those oh-so-wonderful Internet jukeboxes, so you can order up the coolest obscure tunes in the world (my personal faves are oddities like Brian Eno, Manic Street Preachers and Peter Murphy).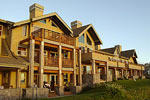 The Ocean Lodge. There will not be another property built like this in Cannon Beach in our lifetimes. Rare, premiere ocean front location; handsome, dramatic architecture and tasteful, fun (nostalgic) beach interiors. Overlooks Haystack Rock. 100 percent smoke free. Imaginative special occasion packages. Massive wood burning lobby fireplace. Library w/ fireplace, stocked with impressive book collection. Pet and family friendly. Lavish continental buffet breakfast. In-room fireplaces, mini-kitchens. Jacuzzi tubs in select rooms. DVD players, complimentary movies. Morning paper. Warm cookies. 888-777-4047. 503-436-2241. 2864 Pacific Street. Cannon Beach, Oregon. www.theoceanlodge.com
On the eastern half of 101, Rick's Roadhouse boasts a beautiful atmosphere of polished wood and no smoking – a place you'd feel good about taking elderly relatives, in spite of it being a bar. Outstanding sub sandwiches populate the menu here.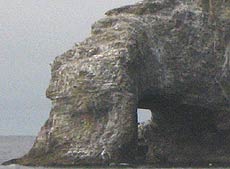 The imposing presence of the arched member of Twin Rocks is a little spooky when viewed up close with a zoom lens
Looking Deep Into Rockaway's Past
The town itself actually began around 1909, but of course other people populated this area for hundreds, maybe thousands of years before that. But Rockaway really began some millions of years ago, with enormous lava flows that came scouring their way across prehistoric Oregon from a spot hundreds of miles to the east.
Twin Rocks has the same unusual beginning as their famous cousin to the north, Haystack Rock in Cannon Beach. It's freaky enough to imagine these gargantuan lava flows, hundreds of miles long, slowly seeping their way to the shoreline about 45 million years ago. But stranger still were the mini-eruptions that were created by these huge flows.
Sometimes, they found softer sediment or parts of the ocean floor, then sizzled their way downwards, sometimes thousands of feet. Then, they would find their way back up to the surface, and erupt somewhere else in a smaller dose. Sometimes they would erupt from the ocean floor, sometimes up on dry land.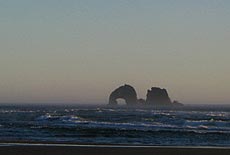 The origin of these monstrous sea stacks is a rather frightening one, and it means Haystack Rock in Cannon Beach is their cousin
Then, they would freeze into basalt rock – the black stuff we know that makes most sea stacks on Oregon's coast, according to Seaside geologist Tom Horning.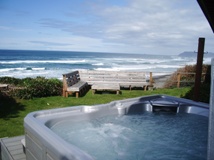 Arch Cape Property Services. Dozens of homes in that dreamy, rugged stretch between Cannon Beach and Manzanita known as Arch Cape. Oceanfront and ocean view , or just a short walk from the sea.
All homes are immaculate and smoke free; some pet friendly (with a fee). Some with broadband, indoor or outdoor hot tubs, fireplaces, decks, and fire pits or barbecues. Call about tempting winter specials that go until March (not valid holidays, however). www.archcaperentals.com 866-436-1607.
"Haystack Rock in Cannon Beach was one of those," Horning said. "Sea stacks are often from submarine feeders for the re-erupting lavas. They're all part of plumbing systems."
Twin Rocks is likely one of those as well, Horning said.
Fast forward to around 1900.
At that time, the area that became Rockaway wasn't populated at all. It was still called "Garibaldi Beaches," and the long stretch of sand served only as a kind of makeshift road for perhaps a few people a year on horseback. Absolutely no one lived here.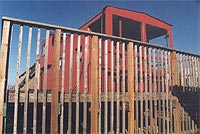 The visitor center is housed in an old caboose in homage to the "daddy train" of the town's past
In 1907, the first railroad lines were opened to Tillamook from Hillsboro, and thus a floodgate of homestead claims gushed forth in northern Tillamook County in 1909, including Rockaway. The first railroad line was owned and promoted by Elmer E. Lytle – for whom an entire lake is now named. The first train arrived in Tillamook about 1911, and then the rush was on for development and progress.
The train played an integral role. Rockaway Beach's official website describes the train to town in this way:
"The train from Portland back in the teens and 20's was the main mode of transportation to the coastal communities. It was an all day, dusty, long trip by car over gravel and plank roads, so the old steam trains played an important role in those early days. The train left Portland around 9 a.m. and arrived in the Rockaway area about 2:30 p.m. An extra engine was used to help it over the summit."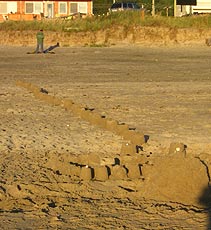 The beach is the big attraction at Rockaway - all seven miles of it
Nowadays, of course, the trip from Portland is a mere one hour and 45 minutes – if you're coming over Highway Six or Highway 26.
That train became known as the "Daddy Train" eventually. A regular part of life in this fledgling resort town were the families who stayed out here for weeks at a time, but Dad had to remain inland at his job during the weekdays. Friday afternoons brought quite the celebrations as dads showed up on the trains to join the wife and kids.
Since then, the town has gone through plenty of ups and downs. Apparently, in the 70's and 80's it was one of the big hotspots for the coast. These days, Rockaway Beach is definitely on the upswing again.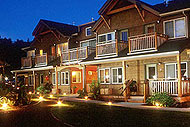 Inn at Cannon Beach. Beautifully wooded natural setting at quiet south end of Cannon Beach. Great during winter storms with a new book by the fireplace – or when the sun is out for family fun and beach strolling. Handsome beach cottage-style architecture. Lush flowering gardens and naturalized courtyard pond. Warm, inviting guest rooms. Continental buffet breakfast. Warm Cookies. Family and Pet Friendly. Welcome gifts. Smoke-free. Complimentary Wireless Connectivity. Wine and book signing events. 800-321-6304 or 503-436-9085. Hemlock At Surfcrest, Cannon Beach, Oregon. www.atcannonbeach.com.
RELATED STORIES
Click here for video of Dec. storm aftermath

Oregon Coast Best of Awards for the Year And the winners are: best of Oregon coast restaurants, lodgings, science, odd events in nature and stunning moments for 2007

Watching Transformations of Oregon Coast Beaches Seasons change and so do beaches, revealing different sides and a variety of eye-popping sights

Staggeringly Cool Ideas for Oregon Coast Romance Be it the season of Valentine's or be it any time of the year, Oregon's coastline has essentially cornered the market for cuddle-inducing possibilities and gushy activities for the hand-holding set

Day or Night Mysteries and Merriment on Oregon Coast It's more than just nightlife that comes to life, but the beaches offer major opportunities

Oregon Coast Travel Site Goes Wireless Provides Lodging Reports - Oregon Coast Beach Connection now has mobile lodging and dining listings, along with weekly lodging availability reports
OR TAKE THE VIRTUAL TOUR

ASTORIA
Where the Columbia meets the Pacific, Land of Lewis & Clark and loads of atmosphere & history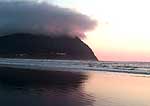 SEASIDE
The Promenade, Tillamook Head, family fun & broad, sandy beaches

CANNON BEACH
A mysterious lighthouse, upscale yet earthy, a huge monolith, fine eateries & an art mecca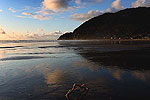 NEHALEM BAY
Manzanita's beaches, Nehalem and Wheeler's quirky beauty; laid back Rockaway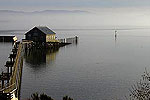 TILLAMOOK BAY
Garibaldi, Barview, Bay City, Tillamook & an oceanfront ghost town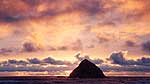 THREE CAPES LOOP
The hidden secret of the coast: Cape Meares, a lighthouse, Oceanside, Netarts and Pacific City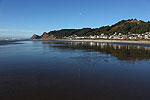 LINCOLN CITY
& THE CORRIDOR OF MYSTERY
Miles & miles of unbroken beaches, Cascade Head, Neskowin and many manmade attractions

DEPOE BAY
A spouting horn downtown, freaky hidden cliffs and whales, whales, whales

NEWPORT
Time-tripping Nye Beach, a bustling bayfront, marine science-central and two lighthouses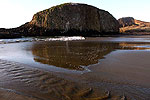 WALDPORT / SEAL ROCK
Pristine, even secretive sands and wild geologic landmarks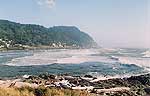 YACHATS
Constantly dramatic wave action, a mix of the rugged & upscale

UPPER LANE COUNTY
25 miles of deserted beaches & oodles of wonders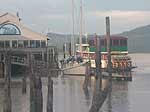 FLORENCE
A lighthouse, ancient bayfront and miles and miles of fluffy dunes