Wild Stories Emerge from Oregon Coast Tempest (including video)
Published 12/07/2007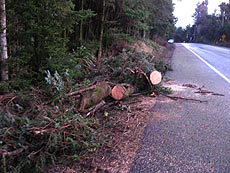 Debris by the side of the road, near Cannon Beach
(Oregon Coast) - One woman nearly lost her dog to a gust. Another fell through a second story floor and broke her ribs. Two people died in the Nehalem area. Trees smashed the homes and vehicles of residents. Tourists were stranded. Entire churches or piers were ripped away. Highways were blocked by thick masses of debris.
And then there were the days of darkness and no showering that followed. The storm and it's aftermath have been quite an adventure.
There were almost no reports of injuries, aside from a couple of fatalities in the Nehalem area. But in Seaside, one disturbing injury didn't get noticed. BeachConnection.net correspondent Jenny Maxwell shattered a few ribs because of a hole in the floor of her house, caused by the storm. Resting at her mother's place in Vancouver, Washington, Maxwell said the windows blew out during the high winds, and rain completely soaked the upper floor of the house she shares with her sister.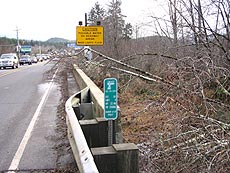 Downed trees at Seaside loom by the roadside
Sometime after the big storm, the floor was apparently so badly weakened by the water that she fell through the floor, injuring a few ribs.
Brian Hines, owner of San Dune Inn in Manzanita, had a little damage to his property.
"We lost a few roof shingles and the barbecue area gazebo just got crushed," Hines said. "Lots of trees and power lines down, and of course a woman got washed away in her car in the Nehalem Falls area."
A couple families who had lost their homes huddled in his rooms, even though there was no power or hot water. Other guests included some stranded tourists and a man who was a refugee from an encounter with a tree.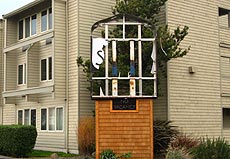 Inn at Seaside's sign was taken out during the storm
"Had three stranded people here," Hines said. "One guy, George, a driver for Franz Bakery had a couple of trees fall – slowly - on his rig on 101 at the top of Neahkahnie at about 11 p.m. Saturday. He slept in his truck for the night. He was o.k. He came to us on Sunday. Through 9-1-1 again we were able to get a message via the Portland Police to his wife and company that he was o.k. The tree people finally got him freed up to go on Tuesday."
Hines noted some comical moments during the noisy melee.
"The warning siren/speaker went off Monday, but you couldn't hear the message because of the wind," Hines said. "Went up to City Hall, it had a sign that said 'closed due to storm - go to Police/fire dept.' Needless to say nobody there as they were probably out checking stuff. Eventually called 911 but they said it was some sort of malfunction in the warning system."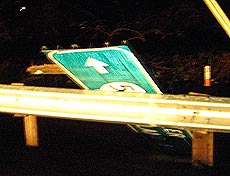 Roadsign at Nehalem Bay: one of many objects laid waste along the bay by the big winds
In Lincoln City, Karen and Gene Scrutton own A1 Beach Rentals and the Whistling Winds Motel. She was with relatives in Portland while husband Gene was at the motel – which was aptly named during this storm.
"My husband Gene was staying at the Whistling Winds Motel when the 125-mph hit," Scrutton said. "Sounded like a train coming through the motel. No damage other than a little roofing. That old place was really rockin' and rollin'."
At the Seaside Aquarium, manager Keith Chandler had his hands full during the storm. They were prepared, with generators and tanks full of gas to help keep the sea water circulating for the fish. But this meant Chandler had to spend the entire week at the facility – with little time for his family in Astoria.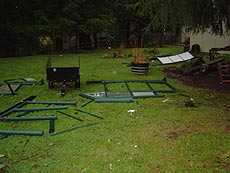 A greenhouse in Manzanita was ripped apart on Monday
"I've had to refill the generators every two and a half hours," Chandler said. "Which meant I haven't gotten very little sleep."
The aquarium itself received no damage, in spite of being right in the open and taking the full force of the winds. But part of that was Chandler fighting the wind and a couple of key bolts on the aquarium's sign, which threatened to tear loose a couple times.
His description of the event sounds like one of the "Die Hard" movies.
"I had to hang out of the second story window about three or feet, in all that wind, to secure some bolts that were coming loose," Chandler said. "They had come out about six inches, and they're nine-inch bolts, so there wasn't a lot of thread left on them. But I got them in.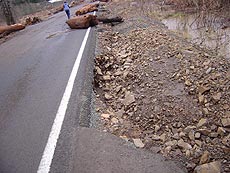 Damaged road near Manzanita earlier this week
"I wasn't going to go up on a ladder in that wind, so I had to hang out the window. Ironically, we just put back in those windows, which were covered over decades ago. If we hadn't have put them back in the last couple years, we wouldn't have a sign."
The front window of the aquarium was heavily sandblasted, Chandler said. It took employees a while to get the caked sand off the front area.
One woman named Jan, who works at the Little Apple Grocery in Manzanita, said she nearly lost her small dog when a big gust came up. With her hands she indicates a height of two feet when she describes how high the dog was lifted up.
"Like Toto, in the 'Wizard of Oz,' I put my dog out on the deck Sunday night," she said. "It's a four and a half pound toy poodle. I had to grab her and bring her back in. A gust came up, and it caught her and a chair behind her and everything."
Jan said she's been keeping the poor pooch on a leash since then.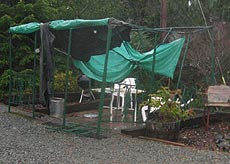 The gazebo at Hines' San Dune Inn was destroyed
Connie Barradas, one of the managers at the Liberty Inn in Lincoln City, had a few small adventures as well, aside from the boredom that came after, when there was no electricity.
"It was a wild storm and scary, with the high winds," Barradas said. "It gets kind'a boring sitting around in the dark. One morning, I could not get out of my apartment complex to go to work due to a tree being down. The winds sure did damage the Casino and the sign in the Safeway parking lot. I was so happy to have the power back on Tuesday night and very thankful that none of the trees came down by my apartment."
Like many along the coast, David Johnson, owner of Cannon Beach Fultano's Pizza came through ok, in spite of the horrendous winds. But it was the aftermath that became a problem.
"Couple trees on the adjacent property that came down, but no lost shingles or no real problems at our home," Johnson said. "I was at Tongue Point and I felt the wind actually lift up my pickup a little bit. I mean, it wasn't off the ground, but you could feel it take some of the weight off the wheels. Scary"
More About Oregon Coast hotels, lodging.....
LATEST OREGON COAST NEWS STORIES
Fall Equinox on Oregon Coast Brings Lunar Sights, Celebrations to Inland, Por...
September 22 brings the official change to fall and Second Summer weather
NEW ULTIMATE OREGON COAST TRAVEL BOOK: Lincoln City, Gleneden Beach, Neskowin
The Lincoln City book snagged the #1 new release category in Kindle's Pacific U.S. Regional Travel. See the others books as well. Sciences
Colorful Sun Halos Spotted Above N. Oregon Coast
The esoteric wonder is the sibling of the nocturnal moon halo. Weather, science
SOLVE Needs Volunteers for Oregon Coast Beach Cleanup, Sept 29
Since 1984, over 130,000 volunteers have removed an astounding 1.7 million pounds. Seaside events, Manzanita events, Astoria events, Cannon Beach events, Pacific City events, Garibaldi events, Lincoln City events, Depoe Bay evens, Newport events, Yachats events
Isolated Thunderstorms, Waterspouts Possible on Oregon Coast
NWS in Portland is warning of thunderstorms for the Oregon and the possibility of waterspouts
Lewis and Clark Return to N. Oregon Coast in Living History Reenactment
The famed program that shows the Corps of Discovery in action is back in Seaside. Seaside events
Changes in Oregon Coast Tourism Promotions Include New Brand, Book
One visitor center makes a major change while another publishes a book. Lincoln City, Tillamook, Pacific City, Manzanita
Extinct Volcano of Oregon Coast: Cascade Head's Fiery Surprise
This now pleasant hiking experience was a nasty, mean feature. Geology, Lincoln City

Back to Oregon Coast
Contact Advertise on BeachConnection.net