Confessions and Conversions of An Oregon Coast Hater
Published 03/22/2011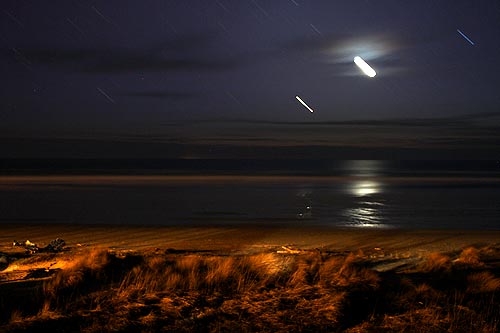 By Andre Hagestedt
(Oregon Coast) – Since about 2000, my big joke has been that I'm "so obsessed with the Oregon coast that it's ready to take a restraining order out on me." Actually, that has been the case for much longer than that – perhaps since 1994 or so (above: Manzanita at night).
But the frightening, oddball truth is that for at least a couple decades in my life, I hated the Oregon coast. I loathed it.
Let's go over the transformation, shall we?
It probably came down to my loony mother – a native German, who gave birth to me in the same German town where she was born – and who insisted on going to the same annoying beach spot over and over while we were kids, growing up in Salem in the early 70's. I still hate this place to this day (and no, I won't tell you where it is).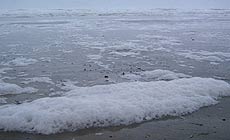 A cold and wet Oregon coast didn't appeal to me as a child.
Mom had her own way of doing things, and the rest of the family was doomed to follow these wacky ways – or else. It was unpleasant. Family outings to the coast meant being trapped in a car with her for hours, listening to her mad ravings, and then being tethered to a sand dune-smothered beach where sand continually blew into my eyes and cold weather reigned.
This wasn't the tropical beaches filled with bikini-clad babes I was seeing on "Hawaii 5-O" or shows about California as a ten-year-old in the early 70's. Nope. This sucked, I always thought.
Except for some brief experiences in Yachats, I distinctly remember. Here, vast, craggy and alien-looking landscapes made of basalt rock made me think of Star Trek (the Shatner incarnation, as that was still playing on TV at the time). My brother and I would bounce around these basalt structures with manic glee, like two puppy dogs finally let loose to run free for a bit. We'd play-pretend Star Trek here, with me as Captain Kirk, and it wasn't hard to imagine you were on an alien planet in this wild and weird-looking spot.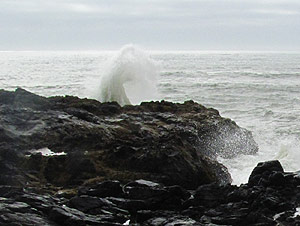 Alien landscapes of Yachats
We'd always stay at the Fireside Motel – still owned by the same family to this day. Mom would always scream at us to watch out because of the gaping holes in the rocks where massive tidal action lurked, which I always thought was uber-annoying. But now I see why and don't blame her for that bit of panic.
Also, somewhere around this time, there are photographs of our family at one of the first Sandcastle Festivals in Cannon Beach, circa 1970 or late 60's. My dad had one of those jazz musician goatees then (not the annoying meathead goatees you see on sportscasters these days, and which I call "facial mullets.") He was so cool looking in retrospect, though I remember the beard freaked me out for a bit at the time.
While I remember almost nothing from being at this beach, I distinctly remember the strong smell of beach fires there, which took me decades to appreciate.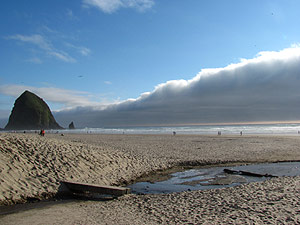 Cannon Beach, where the Sandcastle Festival started in the early 60's.
But by and large, my childhood and early teen memories are filled with this very annoying place that shall be unnamed, and a fairly deep hatred of the beach. I did not go to the coast on my own until about age 23.
Somewhere after that experience – circa 1986 – a girlfriend dragged me to Oceanside. I was blown away. Something about that place captivated me, and I found myself unknowingly getting more and more hooked on this part of the coast.
In 1987, I dragged another girlfriend to Oceanside and to the village of Neskowin, where she and I celebrated a month together by a beach fire with champagne in the middle of the night, as something very surreal and startling happened. We saw a puzzling glow on the horizon that I still can't explain to this day – and it made me realize there were mysteries about the ocean and its skies that were waiting to be unlocked.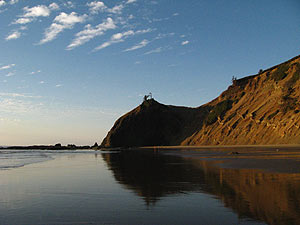 Lincoln City
This place was very different, and it had my attention.
Over the course of the 90's, I find myself gravitating more and more towards the coast. In the late 80's, I heard about this "glowing sand" phenomenon from a former Lincoln City resident, and I was enthralled. In the summer of 1993, while walking on the beach at night with a couple of hot girls in a drunken haze, I start to see these mysterious green sparks beneath our feet. I thought it was the liquor for a while, until they admitted they saw it too. I then realized I was seeing the glowing sands I'd heard about years before.
Around 1995, I fell into music journalism, writing for the Salem paper, which entailed occasional trips to an all-age live music venue in Newport. Somewhere around this time I realized that if I didn't go to the coast at least once a month, I'd get cranky. The Newport club was pivotal in this. But when it shut down a year later, I found myself branching out into travel writing just so I could continue hitting the coast on a monthly basis.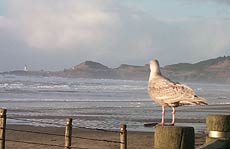 Newport's Nye Beach: I saw glowing sand here for the first time in 1993.
The light had switched on by this time. I was addicted. I began working on a book idea about the coast, which meant visiting and documenting literally every single beach access on the coast. I'd drive around the north coast, central coast and the Florence-to-Yachats area with a tape recorder in my hand, talking about every detail I'd see, then stopping at every single access and taking pictures.
This became a heavier workload around 2000 when I became editor of a now-defunct publication and then moved from the creepy town of Salem to Portland, eventually settling into living in Manzanita part time, as I also continued my work as a music journalist in Portland and my explorations of the coastline.
Yada yada yada – eventually Oregon Coast Beach Connection was born of all this, and I left the world of interviewing rock stars completely for hanging out with coasties. I started looking back at how I used to loathe the beaches and its cold weather as a kid, and didn't understand the transition at all at times.
Then recently I remembered an odd thing: apparently we used to live in Port Orford, back when I was a toddler, about 1964. My brother was born there. We must've moved to Salem/Keizer about 1966 or so, and then to north Salem by '68, because I remember watching Star Trek in that house (on its initial network run) and the first moon landing.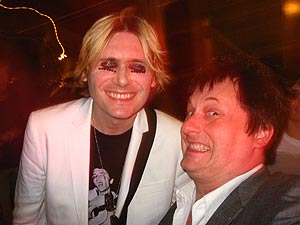 Me at the right, with Nicky Wire of Manic Street Preachers (now I'm just showing off)
While in the Langlois/Port Orford area, I wonder if my parents took us to the beach a lot, and some sort of imprinting thing happened? I wonder if it engrained something in me – deeper in my subconscious than I may ever realize.
This may be the reason I now feel more like a coastie than a Portlander, in spite of my hipster fashion leanings, with my wearing black all the time and spiky, punkish hair (somewhere between Ron Wood and Manic Street Preachers), a look more at home in a big city than little Manzanita. This early exposure to the coast may be why I gravitate so easily towards to the surf, the tide line, and the varied beaches themselves.
It goes beyond the attraction to natural beauty. It's like I'm connected to this ocean. There are even times when I could swear it recognizes me somehow.
I'm now what I call a "professional beach bum."
In any case, it's rather amazing how life can take you full circle sometimes.
More About Oregon Coast hotels, lodging.....
More About Oregon Coast Restaurants, Dining.....
LATEST OREGON COAST NEWS STORIES
Back to Oregon Coast
Contact Advertise on BeachConnection.net