Oregon Coast Town a Center for Sleuths on March 10
Published 03/02/2012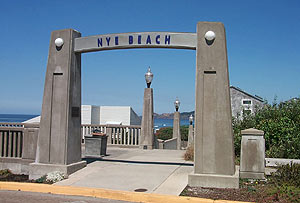 (Newport, Oregon) – The Nye Beach Mystery Weekend returns to Newport this year on March 10 – an annual festival of sleuthing that grows in participation every time around.
Each year, around 100 people gather in the historic district of Nye Beach, buy Mystery Packets with clues, wander to various spots in town to interview suspects, gather clues, and then hopefully guess who committed the crime at the end of the day's big reveal. Locals play the parts of witnesses and suspects, dressed in period garb – with the entire framework and "plot" for the mystery an original creation, written by one of several local residents.
Follow the signs to Nye Cottage (424 W. Olive Street, Newport, Oregon) in Nye Beach to start the adventure. This is where the Mystery Weekend Packets may be purchased for $10 each. Packets include information about all the suspects, the locations of all clues, the schedule and location for interrogation of suspects, and one entry form with your solution to the crime.
Between 10 a.m. and 5 p.m. participants collect clues, interview suspects, and work on their solution to this mystery.
Solutions are due at 5 p.m., Saturday, March 10, and are to be turned in at Nye Cottage.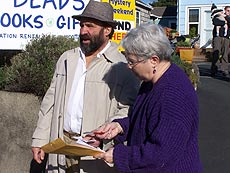 Sleuthing in Nye Beach
The reveal begins at 7pm at The American Legion, located at424 W. Olive Street (follow the signs). There is no fee to attend the reveal.
Prizes (gift certificates from participating merchants) will be presented to those who solve the mystery. All entries will also be eligible for drawings for a variety of door prizes, and there will be a raffle ticket drawing for items and gift certificates provided by local merchants. These raffle tickets may be purchased between 6:30 and 7pm (March 10) for the drawing. Raffle tickets costs are fifty cents each, or five for two dollars. The drawings will begin at 7pm. The reveal will be at 7:30pm. All entrants must be present to win.
This year's festival is called "Dr. Minthorn's Bathhouse Horror" and the narrative goes like this:
Newport Rain Times, January 17, 1922
Stewart Pott was found yesterday floating dead in a tub of full of milk at Dr. Minthorn's Nye Beach Sanitarium. This appears to be the work of a cereal killer.
Stewart "Stu" Pott, the minister of his own non-denominational church in Salem, was also very active in his community. A noted lecturer, he often spoke to high school and college civics classes, charity events, and town hall meetings. The body was found at 5:15 PM by the Sea Bath's desk clerk as he conducted his final sweep of the building before locking up for the night.
The coroner's report reveals that Mr. Pott received a blow to the head from a blunt instrument just prior to his death. The cause of death was drowning. Strangely, the body was found just minutes before a fire started at the nearby Natatorium. Authorities have not disclosed whether the tragedies are connected.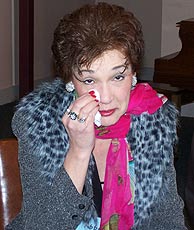 A witness in the case gets especially dramatic: part of the fun of the festival is those dressed in period garb.
Inspector Bob N. Weave has brought in the following suspects for questioning:
Violet Curtains, the outspoken flapper/suffragette. Pinko, the One-Man-Big-Band. Hyman Troble, the traveling bible salesman. Constance Whining, the loquacious hypochondriac. Honey Pott, the devoted wife of the deceased. Herbert Hoover, the United States Secretary of Commerce and nephew/adopted son of bathhouse owner Dr. John Minthorn.
Tips for Sleuths:
1. Be prepared for a challenge. There will be a point at which each of you throws up your hands and says, "I don't have a clue!" That is normal and expected. Don't give up. Keep coming up with ideas and testing them by interviewing the suspects.
2. Interviewing a must. There is a lot important information that can only be gathered by questioning the suspects.
3. Don't forget about Inspector Bob N. Weave. The inspector will be roving around, interviewing the suspects himself. He has gathered a lot of information and is very knowledgeable about the case. He may be able to answer questions that the suspects can't. Also, bounce your ideas off him and see what he thinks.
4. Put as much detail into your response as possible. Figuring out who done it will probably not be enough to win. You have to say how and why the suspect committed the murder. Include as many details as you can. These details will separate first, second and third place.
Information: 541-270-2234
More Newport below: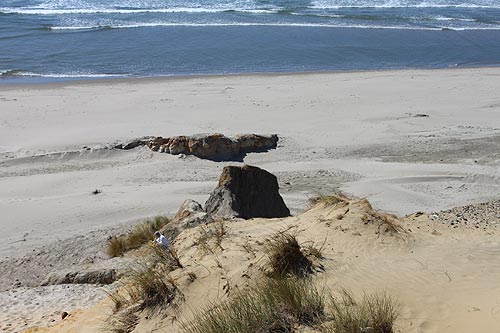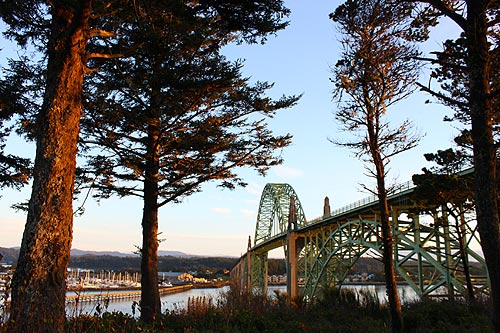 More About Newport Lodging.....
More About Oregon Coast Restaurants, Dining.....
LATEST OREGON COAST NEWS STORIES