The Oregon Coast with No Name
Published July 2008
(Oregon Coast) - There are some of those extraordinarily beautiful beach spots on the Oregon coast that suffer from a kind of identity crisis: they don't have one. They are unmarked beaches, with no signage, often lurking behind hidden trails from the side of the road or simple gravel patches next to the highway. Consequently, these spots are rather clandestine - tucked away in a kind of Oregon coast middle of nowhere. They're hard to find, even harder to remember the name of, and they're often bereft of other beachgoers.
They're also some of the best finds of the Oregon coast.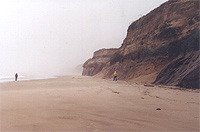 Hidden spot south of Newport
South of South Beach

After the South Beach area of Newport, it's a host of winding, twisting spots on the road and residential areas with no beach accesses.
But a set of truly hidden crescent-shaped dents in the cliffs lie near a hidden beach access about eight miles south of Newport. Look for Stonecrest Cellars B&B near MP 146, and less than a quarter mile south of that you'll see an unmarked beach access with a gravel patch by the side of the road.
Once on this unnamed beach, you'll find a pleasant stream and a lot of striking sandstone cliffs. But head maybe a quarter of a mile to the south and there are a couple of rounded-out areas in the cliffs, one of which has a tiny waterfall. These act as nifty coves from which to hide from the wind, which are perfect for sunbathers. There is a tiny stretch of climbable spots above the cliffs next to the beach access.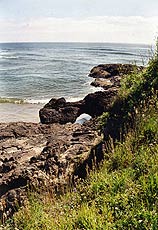 Wonders abound at this nameless spot, like the funkly little basalt arch
At the Lincoln County Line
About milepost 168, right at the county line between Lincoln County and Lane County, you'll find an unmarked beach access which holds a little more than the average nameless beach. This one has a paved parking lot, for one thing.
There's a paved trail down to the beach, which forms a cozy little cove of sorts. At the northern end, closer to the parking lot, a small arch is formed by the basalt rock structure that caps this end. From here, you can hop up onto the rocks and enjoy a mesmerizing labyrinth of rocky structures and crevices peeking into the ocean (be careful).
In wintertime, this area is often not a good place to be, especially if it's fairly stormy. But during lighter tidal events, there's some interesting oceanic drama that you can get somewhat close to. Although you will have to watch the waves and stay far enough away that any large stuff the Pacific feels like tossing around can't reach you. Plus, these crevices give interesting glimpses to the ocean's madness.
Above the basalt is a small weave of trails, although this seems to be cordoned off by state authorities more and more.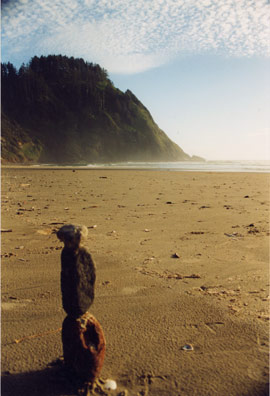 Secret beach at the end of the Hobbit Trail
Hobbit Trail
Also in upper Lane County, about 10 miles north of Florence and a mile or so south of Carl Washburne State Park, there's a rather nondescript set of parking lots on both sides of the road. Upon closer investigation, you'll find it's called the Hobbit Trail - one of the more mystique-ridden and curious hidden spots on the Oregon coast.
It's so named because the eerie tunnel-like earthen walls that surround you at certain points upon your descent. But it's a place sometimes favored by creative-types from the Eugene area who often construct wildly imaginative structures from the natural objects lying around, like amazing gardens of rocks, things you might find in Japanese gardens, strange rune-like figures from stones or whimsical carvings in the sandstone.
Or maybe it is occupied by gnomes who scurry away from their constructions upon the approach of any human being?
It's also known by some as a place where hippies run naked.
There's a breathtaking trail from here that meanders a little over a mile through forestland and the occasional stunning viewpoint, eventually twisting and switching back periodically to wind up behind the Heceta Head Lighthouse.
On the east side of the highway is another trail connecting up to the China Creek trail after one mile. Here, you pass more natural wonders along the way. Keep along the path named "Valley Trail."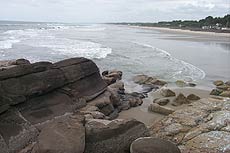 Where the sand meets the change in landscape, just north of Yachats
End of Yachats' 804 Trail
Yachats is typified by a giant landmass of basalt along the shoreline, while the seven miles of beaches between there and Waldport are one big fluffy strand of soft sand. Somewhere just north of Yachats is where the change abruptly starts.
At the end of a nondescript road, just outside the city limits, the beach turns from sand to rocky. It's here where the 804 Trail abruptly ends – or begins, depending on your point of view – as does a massive labyrinth of basalt structures and shapes that intrigues the imagination while it makes for exceptional climbing fun.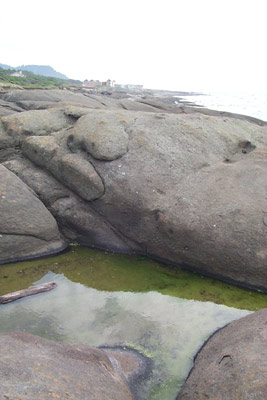 Tide pool at this secret spot
The massive rocks come with strange holes ground into them in places, where tide pools now form. There's also one slab after another to conquer as you amble southward towards town. The waves knock around here with constant intensity, making a never-ending drama to check out. Little pocket beaches of large, dark grains are dropped in between basalt structures, as if someone wanted to remind you this was actually the beach.
Or for a smoother transition, a gentle paved slope begins the 804 Trail, which takes you on an easy walk back to Yachats proper. This is found "in back" of the giant basalt structures, so to speak. More specifically, it begins around the vegetation line. The trail continues above the black masses of rocks and odd little beaches, allowing you access to these wonders at all times.
Unmarked Park Near Cape Kiwanda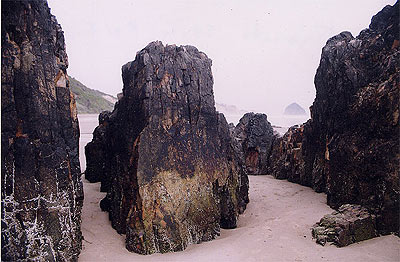 Basalt slabs that look a little like ruins of a Roman structure
This one actually has a name: Cape Kiwanda State Park. Locals sometimes call it McPhillips Beach, however. Either way, you'll know it – or won't know it, that is – by the small, unmarked, inconspicuous road wiggling westward from the highway, about a mile north of Cape Kiwanda.
It is, in actuality, a state park, and it's the rather stunning other side of the big golden cape we all know and love. Driving on the beach is legal here, from the northern face of Kiwanda (almost half a mile down) to the southern edge of Tierra Del Mar. Although it's not always possible to go around the small headland-like structure that juts out from the sandstone cliffs and get up north to Tierra Del Mar.
It's that headland that makes this place rather extraordinary, although gaining access to the more secretive parts of Kiwanda from its northern half is more than enough fun for a few days' worth of exploration. This structure is mostly comprised of sandstone, like the cliff face that spawned it. But inside is a good chunk of basalt, which emerges at the end to form what look a bit like ruins of Roman columns. This is loads of rocky fun at lower tides.
Earlier this year, thanks to unusually low sand levels, this spot went through an astonishing transformation. The basalt rock bed on which the sand sits near the rock structure was uncovered, leaving a strange, alien landscape. The sand levels have since returned, but it's likely there will be more low sand level events in the coming winters.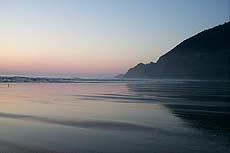 Manzanita
Hidden Accesses of Nehalem Spit
In southern Manzanita, along the roads that tread southward from Laneda and that run parallel to the beach, you'll find a few beach accesses lurking in between homes. Care must be taken when parking here, however, as it's someone's neighborhood.
But there are numerous hidden ones south of the main access, between the homes, along the beachside roads. These eventually dead-end at a back entrance to Nehalem Bay State Park. They are the only accesses between the big one and those of the state park.
You're at the beginning of the Nehalem Spit here, which rambles on for miles. It's typified by softer, less trampled sands and dunes than the main beach accesses. Your chances of being alone out here are better than on the beaches in town or even at the state park.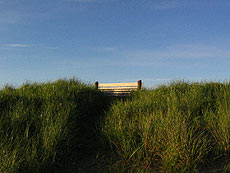 Gearhart and its scenic benches
Nameless Gearhart Beaches
Several streets in this village end in beach accesses. If you're driving the back roads between Gearhart and Seaside, it's often hard to tell you're in another town. It looks much like a suburb of Seaside in many ways.
There's a big one at the end of Pacific Way, but there are numerous little accesses with no names along these charming, mansion-filled streets. Little concrete paths snake their way through dune grass and over large mounds of fluffy dunes. At their ends are often memorial benches placed looking westward – another shot of old world charm.
The soft sands of southern Gearhart spread out here. To the south, they dead-end at the Necanicum River – the dividing line between Gearhart and Seaside. To the north, you eventually wind up at the less pristine sands where driving is allowed on the beach. But the southern end, with the nameless accesses, is where the landscape is untouched and often quite bereft of other humans.
More About Oregon Coast hotels, lodging.....
LATEST OREGON COAST NEWS STORIES