Covering 180 miles of Oregon coast travel: Astoria, Seaside, Cannon Beach, Manzanita, Nehalem, Wheeler, Rockaway, Garibaldi, Tillamook, Oceanside, Pacific City, Lincoln City, Depoe Bay, Newport, Waldport, Yachats & Florence.
12/29/07
Remarkable Oregon Coast Moments of 2007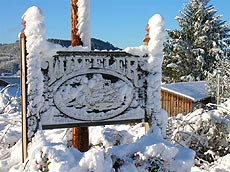 Wheeler covered in snow in January (photo Old Wheeler Hotel)
By Andre' Hagestedt
(Oregon Coast) – This job is full of a lot of adventures. Yes, there's the doldrums of driving to and from the coast, and up and down that 160-mile stretch from Seaside to Yachats that I regularly traverse. Although, who am I kidding? Even the drive is amazing, especially up and down 101.
Every month something interesting happens – every week, if you have the sort of endless curiosity and glee for the coast that I have. And in 2007, it was a nonstop tour of wacky moments and escapades.
It all started with the emergence of 4,000-year-old stumps in Newport at the very end of 2006. I went and visited the site with camera in hand, my girlfriend at the time and her kooky dog Charly.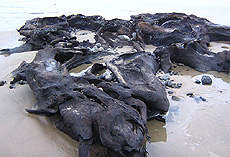 Weird stumps in Newport
We walked around these striking oddities, which looked a bit like something out of Dr. Seuss, and gawked at them. I later interviewed local beach expert Guy DiTorrice on the theories behind this, then turned the story loose on our website. There, it received incredible national attention, including Digg.com and some woodworking TV show. We received some 40,000 hits in one day. It helped put this website on the map a bit more, and it put me smack dab in the middle of a heated argument between scientific camps about the origin of these stumps. I had about five different people write me and tell me they had the right theory on this.
Weiss' Paradise Suites & Vacation Rentals - Seaside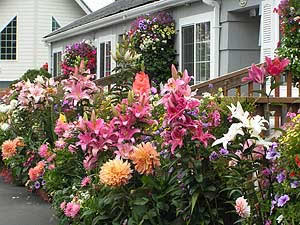 Unique Luxury Accommodations in Seaside. 1BR Suites, 1BR & 2BR Duplex Units and 3BR Houses, units for 2-8 people. Rent entire property for 20-26. Close to beach, river and Broadway St.
Suites are designed for two adults; vacation rental units for families. All units have kitchen and many have fireplace, deck and jetted tub. Comfy robes, slippers, luxury bath amenities, quality linens and more. 741 S. Downing St., Seaside. 800-738-6691. www.SeasideSuites.com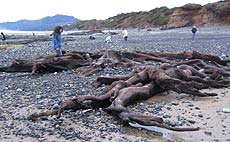 Sorry guys, not all of you can be correct on this. And none of you, to my knowledge, were geologists. Eventually, central coast geology expert Roger Hart chimed in with his own take on the subject, yet another theory – and he is the foremost expert on this stuff. It turned out even my own original story would be wrong: this ancient forest was covered up by encroaching sand over at least several years, killing them and yet preserving them for the ages.
Besides the pure surrealism of these objects, it was an adventure to be in the middle of such a raucous scientific debate.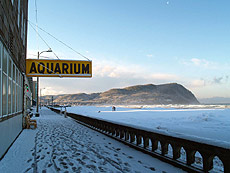 Seaside in the snow (photo Tiffany Boothe)
Charly, got to benefit from this the most. She'd never been to the beach before, in spite of being a resident Newport dog. She zoomed about with insane abandon, so happy and frenetic she was foaming at the mouth.
January also produced major snowstorms, the likes the coast hadn't seen in a generation. I took a trip from Newport to Seaside and back for a few days with a girl, and we were awed by all the white stuff. The beaches were completely covered at times. Our car played slip 'n' slide on the roads around Manzanita and Nehalem at night, as we went bar hopping in the area. We also had a few run-ins with ice on the road during the day just south of Tillamook.
Newport's Jump Off Joe getting attacked by the tide
Sometime in February, that girl and I shivered in the cold wind above Newport's Jump-Off Joe rock structure, watching stormy waves try to take out the enormous beach stalwart. The tide rushed in farther than we imagined it could, smacking the cliffs some 100 feet from where the tideline usually sits, even through most of the winter. We also shivered with awe at the ocean's power here. It was magnificent, but a little frightening – even though we were a good 100 feet away and more than fifty feet above it all.
By far two of the most incredible memories of 2007 involved going up in the air in Seaside in the spring. The first was in Seaside Helicopters, where I zoomed around the skies above Cannon Beach and Seaside, getting unusual aerial views of Goonies Rock – used in the final sequences of that cult film. All this was during an especially weird run of brown goo on the breakers at Seaside, which added another visual jolt.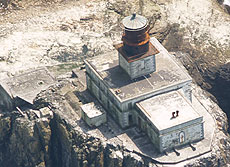 Close-up of Tillamook Rock Lighthouse (photo Boothe)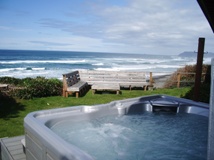 Arch Cape Property Services. Dozens of homes in that dreamy, rugged stretch between Cannon Beach and Manzanita known as Arch Cape. Oceanfront and ocean view , or just a short walk from the sea.
All homes are immaculate and smoke free; some pet friendly (with a fee). Some with broadband, indoor or outdoor hot tubs, fireplaces, decks, and fire pits or barbecues. Call about tempting winter specials that go until March (not valid holidays, however). www.archcaperentals.com 866-436-1607.
Then, in an airplane via Aviation Adventures, I took Seaside Aquarium's Tiffany Boothe along with me for a stunning journey down the coastline, from Seaside south to Manzanita – some 30 miles. We edged slowly along the contours of the various beaches and the rocky headlands that are otherwise unseen by tourists.
It was here I was able to live one of the big dreams of my life: I flew over Tillamook Rock Lighthouse, circling it as close as a plane could legally get. We got some amazing pictures of the place.
We also spotted numerous features in the cliffs around Manzanita and Arch Cape you couldn't possibly know existed from any other viewpoint – cliffs I had intimate knowledge of, but I didn't really know them until I'd seen them from here.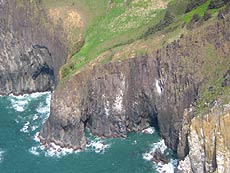 Secret hidden caves discovered by flying past by air
This year, especially summer, brought an astounding number of those oh-so-delectable rarities known as the "green flash at sunset." This happens when the sun just begins dipping below the horizon, and you see a momentary green blob or haze hovering around the top of the sun. It's fairly rare on this coast, actually. But it happens at least a few times a year.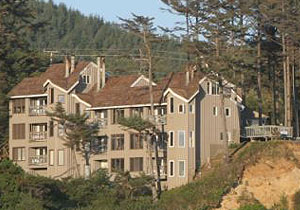 STARFISH POINT Newport - Offers only the finest in luxury condominium lodging. Every unit is focused on the beauty of the sea and the beach.
All units boast two bedrooms, two bathrooms, designer kitchens, wireless broadband Internet, fireplaces, Jacuzzi's and private decks. Friendly staff dedicated to high quality and superb customer service. 140 NW 48th Street, Newport. (541) 265-3751. (800) 870-7795. www.starfishpoint.com
In early winter I spotted it in Waldport, to the surprise of my girlfriend – who'd never seen anything like it. The most spectacular one was on the third of July in Depoe Bay, as my pals Rob and Deb and I were driving past the seawall. I told them to watch, as conditions were just right. And sure enough, a massive blurry green blob appeared – spectacular as hell. Rob muttered something like "wow," and "I wondered what that was," while Deb darted an intense look back at me in the rear seat of the car, obviously blown away. I also spotted it near Cannon Beach in late summer, and I think once or twice in Lincoln City.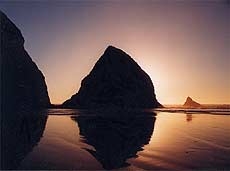 Arch Cape - where amazing moments happened at night on Thanksgiving
In the fall, around Halloween, it's now a tradition every year that I tell stories of Oregon coast ghost tales at two places: Oregon Coast Aquarium in Newport and at Beach Books in Seaside. Both are always a different kind of riotous romp. Every time, there's at least one or more who relate their own stories of ghosts to me, and I learn something. And there's always at least one out of that bunch that is quite the oddball. Like the elderly lady this last time who complained I didn't scare her with my stories, or the wacky hick dude who kept interrupting me with agreeing noises like "yup…heard that one," or "Mmm hmmm."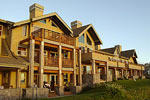 The Ocean Lodge. There will not be another property built like this in Cannon Beach in our lifetimes. Rare, premiere ocean front location; handsome, dramatic architecture and tasteful, fun (nostalgic) beach interiors. Overlooks Haystack Rock. 100 percent smoke free. Imaginative special occasion packages. Massive wood burning lobby fireplace. Library w/ fireplace, stocked with impressive book collection. Pet and family friendly. Lavish continental buffet breakfast. In-room fireplaces, mini-kitchens. Jacuzzi tubs in select rooms. DVD players, complimentary movies. Morning paper. Warm cookies. 888-777-4047. 503-436-2241. 2864 Pacific Street. Cannon Beach, Oregon. www.theoceanlodge.com
This past holiday season kicked off with some spectacular warmth and gourmet food. I spent Thanksgiving with a bunch of strangers at the castle-like B&B called Arch Cape House, which involved a large, multi-course meal, scrumptious booze, and me sitting next to a really hot woman who had an even hotter mind (she was in the medical sciences).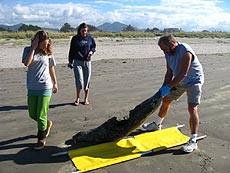 The famed "pukey seal" incident: aquarium staff picking up the rotting thing
Afterwards, her, me and another pair all walked off the enormous amounts of food on the nocturnal beaches of Arch Cape, underneath a breathtaking full moon that shimmered on the waves with magical brilliance. The stars were powerful, the air was chilly and invigorating, and the whole night was filled with heady and thoroughly amusing conversation.
It was one of those poignantly perfect evenings – both on a deeply personal level and as one of those times that reminds everyone why the Oregon coast is such an intoxicating place.
Not long after, a set of storms and a sudden, unseasonably warm spell created one of those wondrous scientific moments that are unforgettable. A deceased seal washed up on the beach at Seaside, and I happened to be at the Seaside Aquarium when the call came in. I was able to go on that hunt for the poor creature and watch the crew in action, retrieving the decaying beast.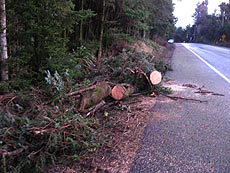 Downed trees near Cannon Beach in early December
This was fascinating. But more so was their impromptu semi-dissection of it in the truck, burrowing through its innards and yanking out organs and analyzing all the gooey stuff. I'm sorry, did I say fascinating? This part was hideous, and between that visage and the occasional waft of decaying flesh, I nearly upchucked several times. I tried to remain professional, but my gag reflex kept insisting otherwise.
The crew, of course, giggled at me. I still refer to this encounter as the "pukey seal."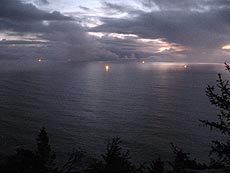 Unbelievably beautiful scene a few days after the big storm: Manzanita, at sunset.
The last great adventure was the aftermath of the famous big storm of December 2. I stayed clear of my Manzanita pad during the big one and kept to my place in Portland, watching with great concern the TV reports. Even more disconcerting was the lack of ability to get through to my friends out there.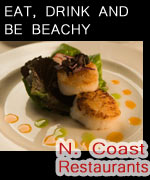 On the Thursday after the storm, practically the minute the roads had cleared, I zipped out there. Along the way was the massive, impressive display of nature's power with all the downed trees along Highway 26. Most of the north coast was still powerless on this day, but most of the big damage was cleaned up as well. A sign here, a roof there – that was all that was really tattered in Seaside. 101 had a few down trees by the side of the road, but everything was perfectly accessible from this day forward.
At sunset, I took one of the most beautiful shots I've ever taken of the Manzanita overlooks, where thick, puffy clouds bounced around the sunset, reflected in the sea, along with a bundle of crab boats that looked like a small city with all their lights.
Highway 26 still shows much of this melee. The hills that broodingly hover the highway are stripped bare in many spots. You can have your own adventure just by driving to the coast and taking a few minutes to ogle this bit of living – and non-living – history by the roadside. By summer, it may not be as impressive.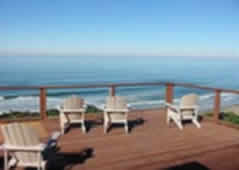 A1 Beach Rentals, Lincoln City. Perfect for large family vacations all the way down to a getaway lodging for two - with over 25 vacation rental homes to choose from. A breathtaking collection of craftsman or traditional beachfront homes, or oceanview houses – from one to seven bedrooms. In various areas of Lincoln City and overlooking the beach, with some in Depoe Bay. All kinds of amenities are available, like hot tubs, decks, BBQ, rock fireplaces, beamed ceilings and more. Some are new, some are historic charmers. Lincoln City, Oregon. 1-(503)-232-5984. www.a1beachrentals.com.

D Sands Condominium Motel, Lincoln City. Free, fresh baked cookie upon check-in is just the start. All rooms beachfront and up against Lincoln City's most famous stretch of beach: the D River. Each room comes as a suite or mini-suite, and has a kitchen and balcony or patio. Some w/ gas fireplaces, while all have a DVD Players; movies to rent come with free popcorn. Heated indoor pool, a spa, and this fabulous beach is lit at night. Rooms sleep from two, four to six - including a deluxe fireplace suite. Gift certificates orspecial occasion packages. www.dsandsmotel.com. 171 S.W. Highway 101. 800-527-3925.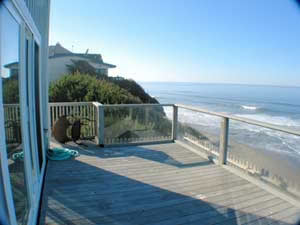 Lincoln City Vacation Homes Something for everyone: smaller homes with a view to a large house that sleeps 15. All are either oceanfront or just a few steps away – all with a low bank access and fantastic views. Most are in the Nelscott area; one is close to the casino. You'll find a variety of goodies: fireplaces, multiple bedrooms, dishwashers, Jacuzzis, washer/dryers, hot tubs, cable TV, VCR, barbecues; there's a loft in one, and another sprawling home has two apartments. Pets allowed in some homes – ask first. Each comes with complete kitchens. Most have seventh night free. Prices range from winter $85 to summer $230 per night. www.getaway2thecoast.com. 541-994-8778.

Tradewinds Motel, Rockaway Beach. All rooms are immaculate and have TV's, VCR's and in-room phones w/ data ports. Oceanfronts have queen bed, a double hide-a-bed, kitchen, cozy firelog fireplace and private deck. Both types sleep up to four people. Others are appointed for a two-person romantic getaway, yet still perfect for those on a budget. Elaborate oceanfront Jacuzzi suite has two bedrooms, kitchen, double hide-a-bed, fireplace and private deck, sleeping as many as six. For family reunions or large gatherings such as weddings, some rooms can connect to create two-room and three-room suites. Some rooms pet friendly. 523 N. Pacific St., Rockaway Beach. (503) 355-2112 - 1-800-824-0938. www.tradewinds-motel.com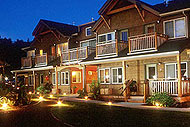 Inn at Cannon Beach. Beautifully wooded natural setting at quiet south end of Cannon Beach. Great during winter storms with a new book by the fireplace – or when the sun is out for family fun and beach strolling. Handsome beach cottage-style architecture. Lush flowering gardens and naturalized courtyard pond. Warm, inviting guest rooms. Continental buffet breakfast. Warm Cookies. Family and Pet Friendly. Welcome gifts. Smoke-free. Complimentary Wireless Connectivity. Wine and book signing events. 800-321-6304 or 503-436-9085. Hemlock At Surfcrest, Cannon Beach, Oregon. www.atcannonbeach.com.
RELATED STORIES
SPECIAL SECTIONS
oregon coast weather
oregon coast mileage chart & map
day trips, suggested itineraries
Oregon Coast Lodging Specials
Search BeachConnection.net's 1,000 pages
Oregon Coast Real Estate
Oregon Coast Pictures
Atypical Things to Do
Oregon Coast Camping
Seaside, Oregon Lodging
Cannon Beach, Oregon Lodging
Manzanita, Wheeler, Rockaway Beach Lodging
Lincoln City Lodging
Depoe Bay Lodging
Newport, Oregon Lodging
Cannon Beach Complete Guide
Lincoln City Complete Guide
Seaside, Oregon Complete Guide
OR TAKE THE VIRTUAL TOUR

ASTORIA
Where the Columbia meets the Pacific, Land of Lewis & Clark and loads of atmosphere & history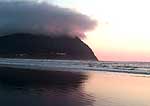 SEASIDE
The Promenade, Tillamook Head, family fun & broad, sandy beaches

CANNON BEACH
A mysterious lighthouse, upscale yet earthy, a huge monolith, fine eateries & an art mecca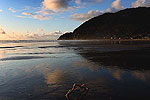 NEHALEM BAY
Manzanita's beaches, Nehalem and Wheeler's quirky beauty; laid back Rockaway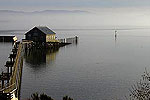 TILLAMOOK BAY
Garibaldi, Barview, Bay City, Tillamook & an oceanfront ghost town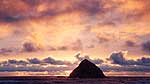 THREE CAPES LOOP
The hidden secret of the coast: Cape Meares, a lighthouse, Oceanside, Netarts and Pacific City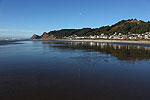 LINCOLN CITY
& THE CORRIDOR OF MYSTERY
Miles & miles of unbroken beaches, Cascade Head, Neskowin and many manmade attractions

DEPOE BAY
A spouting horn downtown, freaky hidden cliffs and whales, whales, whales

NEWPORT
Time-tripping Nye Beach, a bustling bayfront, marine science-central and two lighthouses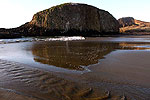 WALDPORT / SEAL ROCK
Pristine, even secretive sands and wild geologic landmarks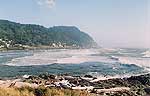 YACHATS
Constantly dramatic wave action, a mix of the rugged & upscale

UPPER LANE COUNTY
25 miles of deserted beaches & oodles of wonders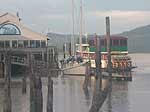 FLORENCE
A lighthouse, ancient bayfront and miles and miles of fluffy dunes