50 Miles of Oregon Coast - Three Weather Systems
Published 08/31/2011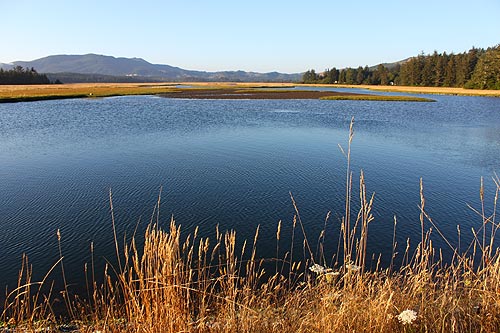 By Andre' Hagestedt
(Pacific City, Oregon) – It never ceases to surprise me how the Oregon coast is full of nature surprises, no matter how well versed I am in its changing moods and science (above: Whalen Island State Park near Pacific City).
Case in point: one mid-August day spent bouncing around Lincoln County and Tillamook County, driving a good one hundred miles.
This begins in Depoe Bay, during a run of extremely good weather that had gone on for weeks. But in this tiny village it seemed to abruptly stop today. This day was foggy and fairly cool.
But there is a silver lining in these clouds – in the form of actually being able to see the end of the clouds. Just to the north there's a break in the mist surrounding the bay.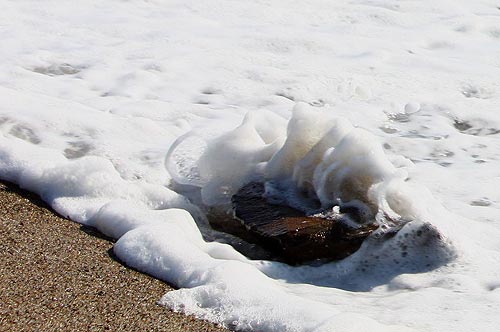 It turns out this is just a few miles up the road, at Gleneden Beach. Here, the sun is shining bright and even hot at times, although a steady wind likes to take over now and then. That huge mass of mist still hovers offshore near these fluffy sands, and sometimes banks of it go flying overhead quickly, causing interesting shadows to dart across the beach.
It's lovely enough here that even the most miniscule of rock subject is suddenly quite photogenic.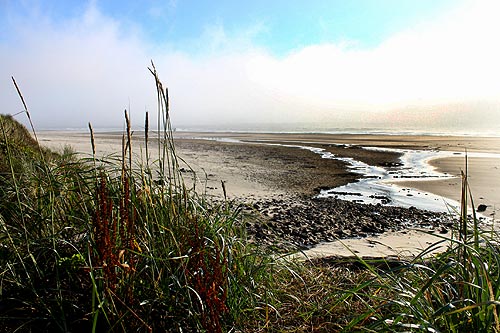 Wandering through Lincoln City there is more of the same mist offshore, plus a mix of moody winds and hazy sun. Here is the Grace Hammond beach access, on the northern end of town.
Zipping towards Cascade Head and then behind it, along that winding stretch of road between Lincoln City and Neskowin, the clouds and fog again take over. This section of the Oregon coast lives up to that name of rain forest.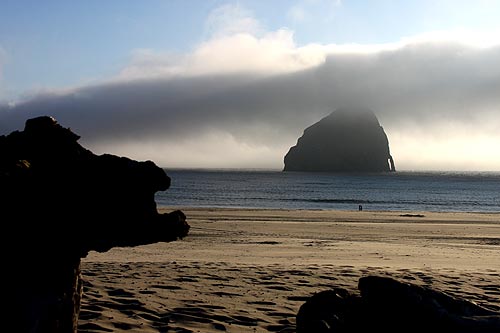 The sun doesn't appear again until 20 miles later as you emerge at Pacific City and Cape Kiwanda. There, again, it's a wistful mix of mist and sun, with the landmark Haystack Rock looking as if it's slowly pushing its way in out of the fog bank, like a mysterious sailing ship in an old pirate movie.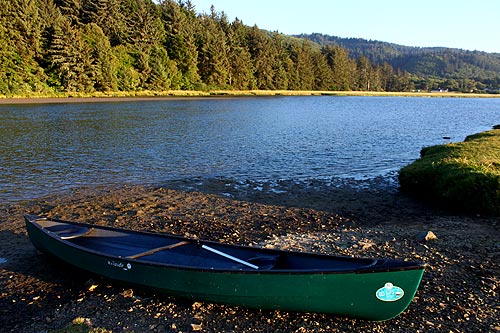 Then, abruptly, the clouds disappear. You head inland just a tad along the Three Capes Loop, past Tierra Del Mar, until you reach Whalen Island State Park. This place, crammed full of campers, people who have gone barbecue-happy and a few day trippers, is basking in the glory of a warm sun and almost no breeze.
A small boat sits waiting for its former occupants to return. Sand Lake is fired up by the sun and turned a deep, inviting blue.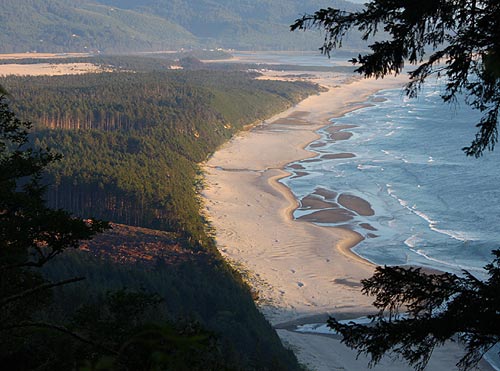 Just a ways up the road, past the junction that takes you either further up the Three Cape Loop or towards 101 and Tillamook, you begin to quickly rise in elevation. Past a boy scout campsite and a dusty stretch of sand dunes trying to encroach on the road, there are a few minor breaks in the trees, allowing you to look down on Sand Lake and the awe-inspiring dunes of the area they call the "other National Sand Dune Recreation Area" – a reference to the one near Florence.
Somewhere here the mists start to grow in strength again.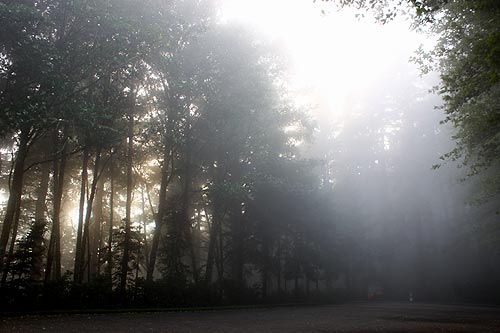 Then, suddenly, as if there was some sort of portal to another time and place, Cape Lookout and its parking lot is enshrouded by a thick mass of wet air. It's not only foggy and misty up here, but it's so full of moisture the leaves of the rain forest canopy are plopping huge drops of water on you and your car. I notice more than one carload come and go quickly, turned off by the situation and the possibility of hiking in this.
It's like it's raining – but it's not. Intriguing.
On top of it all, the hazy sun does mystical things through the mist, and the whole place looks like something out of a medieval fantasy flick.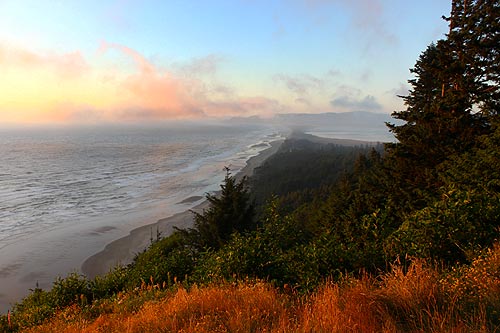 Then just as abruptly as it appeared, the fog disappeared. As you trudge just a few miles up the road to the wayside known as Anderson's Viewpoint, the dusk envelopes the area with a variety of ever-deepening colors. Oceanside in the distance is being attacked by one very pinkish monster of mist, while the fauna on this clifftop vantage point is turned a bright orange.
A little later, the sun drops out of sight with particular intensity in Netarts Bay.
Oceanside is not accessible from this side because of work on a landslide at this time, so I decide to have dinner in Tillamook and make my way back to Depoe Bay.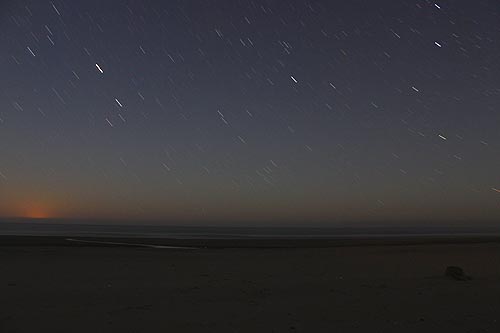 I do so slowly, however, and find the time to discover this striking nocturnal scene at pitch black Tierra Del Mar. Because of the lack of light, this shot takes a high ASA and a good ten minutes of exposure. One thing the photo did not catch, however, was a fair amount of shooting stars. Stunning.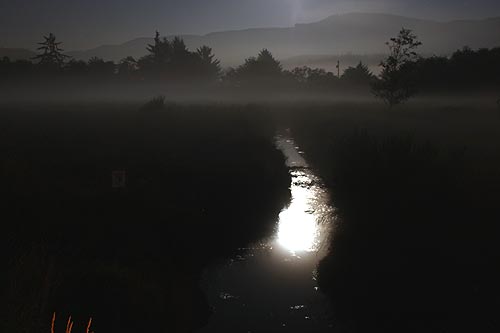 Then, at the wildlife refuge just south of Lincoln City, midnight sees the moon finally come out, illuminating intense, even Halloween-essque mists drifting over this marshy landscape. It is otherworldly, eerie and unbelievably beautiful all at the same time.
I suppose, if you think about it, the nocturnal conditions make for a fourth kind of weather system I witnessed along these 50 miles between Depoe Bay and Oceanside.
More About Pacific City, Oceanside, Netarts, Tierra Del Mar Lodging.....
More About Pacific City, Oceanside, Netarts, Tierra Del Mar Restaurants.....