Covering 180 miles of Oregon coast travel: Astoria, Seaside, Cannon Beach, Manzanita, Nehalem, Wheeler, Rockaway, Garibaldi, Tillamook, Oceanside, Pacific City, Lincoln City, Depoe Bay, Newport, Waldport, Yachats & Florence.
12/22/07
Still Some Misconceptions about Oregon Coast Conditions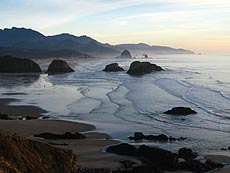 Cannon Beach, as viewed from Ecola State Park, on a sunny day in between storms
(Oregon Coast) – Things are back to normal along the coastline after the big storm in early December that created a lot of damage and power outages, but it seems there are plenty who are still cautious about heading to Oregon's beaches. Traffic has been exceedingly slow for businesses on the Oregon coast, causing it to suffer economically more than usual in the slow season, even though the roads have been clear since days after the storm.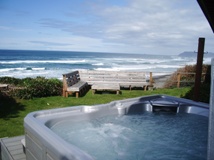 Arch Cape Property Services. Dozens of homes in that dreamy, rugged stretch between Cannon Beach and Manzanita known as Arch Cape. Oceanfront and ocean view , or just a short walk from the sea.
All homes are immaculate and smoke free; some pet friendly (with a fee). Some with broadband, indoor or outdoor hot tubs, fireplaces, decks, and fire pits or barbecues. Call about tempting winter specials that go until March (not valid holidays, however). www.archcaperentals.com 866-436-1607.
Good ski conditions often take a chunk of the tourism business on the Oregon coast during winter, so some of the blame is going to that, as well as some possible economic factors and the fact people are busy with Christmas shopping. But this month's storm and its aftermath of blocked roads and power outages seemed to scare people away a while after all that ended. Some coastal business owners are noting there are still some misconceptions among visitors and potential visitors.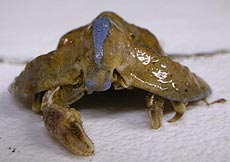 The big storm left a ten-mile debris field on the north, which washed up things like this weird butterfly crab
All this is in spite of the rather historic sights still available to tourists, such as the abundance of downed trees by the sides of Highway 101, remnants of damage to buildings, and those masses of forestland snapped in half along Highway 26 – things that are probably once-in-a-lifetime photo moments. There have also been a number of oddities washed up on the beaches, and subsequent storms this last week have created more major drama to check out – yet all creating little or no buzz among tourists.
The final week of the month is looking up just a bit, however.
Carolyn Plummer, owner of Pacific Retreat Vacation Rentals in Lincoln City, noted one call that stood out.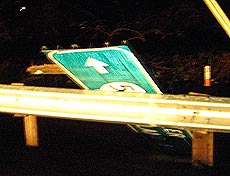 Some fascinating remnants of the storm are still visible by the sides of the roads
"The recent storms at the coast were exciting, to say the least, as they always are," Plummer said. "Some trees and signs came down, but damage was minimal and most local streets and roads were easily navigable. Lincoln City's been rather quiet recently, as potential visitors thought the worst after the storm. One lady called us and asked, 'We'd like to come to the beach. Is your road open yet after the big mudslide?' I had to explain that the 'big mudslide' had occurred on Highway 30 near Clatskanie, well over 100 miles northeast of us."
Most owners haven't received any such inquiries lately, however. But Keith Chandler, manager of Seaside Aquarium, said the facility has received calls about snowy conditions on Highway 26 to the coast. "We've gotten a few asking if there's still snow on Highway 26," Chandler said. "We have to explain that's the other Highway 26 – the one towards the mountains. There's been a lot of news coverage of that lately on TV, and they get that mixed up."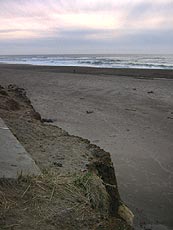 Beach erosion can take out chunks of bluffs, like this sheer drop at Gleneden Beach, which was until recent years a gradual slope to the beach
Peggy Leoni, owner of Trollers Lodge in Depoe Bay, gets frustrated by media coverage of coastal weather and the routes to the coast. She believes it doesn't cover the whole picture like it should, and thus enforces any lingering bad impressions people may still have.
Weiss' Paradise Suites & Vacation Rentals - Seaside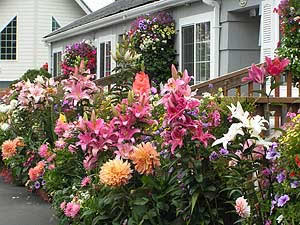 Unique Luxury Accommodations in Seaside. 1BR Suites, 1BR & 2BR Duplex Units and 3BR Houses, units for 2-8 people. Rent entire property for 20-26. Close to beach, river and Broadway St.
Suites are designed for two adults; vacation rental units for families. All units have kitchen and many have fireplace, deck and jetted tub. Comfy robes, slippers, luxury bath amenities, quality linens and more. 741 S. Downing St., Seaside. 800-738-6691. www.SeasideSuites.com
"Drives me nuts when news people and weather pros say things like they said during a recent storm: 'may be trees down and power outages on the coast,' " Leoni said. "That's right up there along with the thinking that Highway 26 is the only road to the coast, and 'snow in the coast range' applies to the entire range, and 'the coast' runs from Seaside to Cannon Beach.
"Please note, the highest point on Highway 18 is Murphy Hill at 760 feet. Snow is very rare there."
Leoni said Depoe Bay had minimal damage and very few power outages. She admits it is the season for slow times anyway – just not this slow.
"Except for Christmas week, December can be very lonely here," she said. "We need all the good publicity we can get.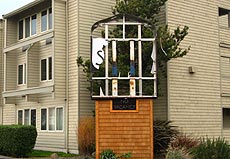 The Inn at Seaside looked like this a few days after the storm
"Actually, it's been nice to be able to get across 101 on the first try and not have a long wait in a store or restaurant. Don't know why more people don't take advantage of reduced rates and no crowds."
Many in Lincoln City and elsewhere on the coast have taken to touting specials to coax people in, while expressing concern about tourists staying away more than usual.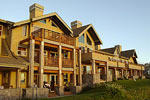 The Ocean Lodge. There will not be another property built like this in Cannon Beach in our lifetimes. Rare, premiere ocean front location; handsome, dramatic architecture and tasteful, fun (nostalgic) beach interiors. Overlooks Haystack Rock. 100 percent smoke free. Imaginative special occasion packages. Massive wood burning lobby fireplace. Library w/ fireplace, stocked with impressive book collection. Pet and family friendly. Lavish continental buffet breakfast. In-room fireplaces, mini-kitchens. Jacuzzi tubs in select rooms. DVD players, complimentary movies. Morning paper. Warm cookies. 888-777-4047. 503-436-2241. 2864 Pacific Street. Cannon Beach, Oregon. www.theoceanlodge.com
"We are open and everything is back to normal," said Connie Barradas, manager of Liberty Inn. "It's been very slow since the storm. We are offering winter rates starting at $69 during the mid-week, Sunday through Thursday. This is a great time for storm watching. The ocean is so beautiful to watch during a storm and after a storm is the best time for finding really cool stuff on the beach."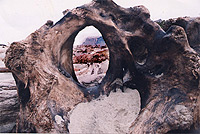 Lots of interesting debris can be found, like this freaky bit of driftwood that washed up in Lincoln City in the 90's
At the D Sands Condominium Motel, manager Kevin Winter gazed out at a stormy ocean earlier this week and talked about what he saw. "We have been trying to get the word out that the 'D' Sands Condominium Motel did not have any damage at all, and that all roads to Lincoln City are open," Winter said. "Now is a great time to come to the beach: All businesses are open and the ocean is wicked looking right now."
Not everyone came out unscathed, however. In Yachats, motel Soma on the Oregon Coast sustained some fairly heavy damage and is out of commission for a while. The Inn at Seaside lost a sign – a totally cosmetic damage. The Ocean Lodge in Cannon Beach reported minor outdoor damage as well.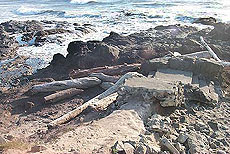 A storm several years ago took out this concrete walkway at Yachats
Nearby, on the more humorous side, the Inn at Cannon Beach found a few fish missing from its koi pond. The bandit was a local heron notorious for scoping out their waters; he took advantage of a lack of guests to spot him and employees being too occupied to run him off.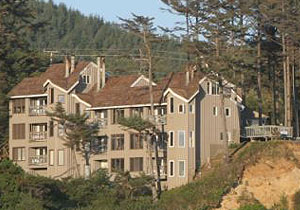 STARFISH POINT Newport - Offers only the finest in luxury condominium lodging. Every unit is focused on the beauty of the sea and the beach.
All units boast two bedrooms, two bathrooms, designer kitchens, wireless broadband Internet, fireplaces, Jacuzzi's and private decks. Friendly staff dedicated to high quality and superb customer service. 140 NW 48th Street, Newport. (541) 265-3751. (800) 870-7795. www.starfishpoint.com
But most any damage on the coast has been long been taken care of – lots of it within 24 hours of the big storm on December 2. So businesses are wondering what is keeping them away, as only a small handful express misconceptions about conditions there. Seaside has been a ghost town and its gift shops are hurting, as displayed on several TV news reports. Officials in Lincoln City are complaining of an extraordinarily slow time.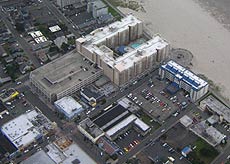 Seaside has been back and in business for weeks, but the tourists haven't all returned yet
"Although large numbers of trees fell, no damage was done downtown," said Patty Coomes, owner of Haystack Gallery in Cannon Beach. "Many people seem to think the roads are closed as are the shops. This is not true. We are open: galleries, shops, restaurants, hotels and the Chamber of Commerce are more than ready to help customers in any way we can. In fact, this time of year, parking is not a big issue and you can get fabulous customer service. The surf is great to watch as the wave action is much better than in the summertime."
Manzanita's Brian Hines is reporting his worst December ever, in spite of November having been up from last year.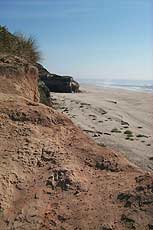 This stretch of beach south of Newport is showing a lot of agates and fossils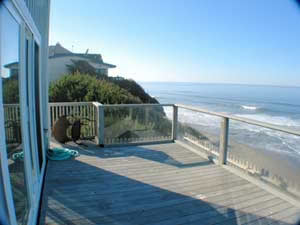 Lincoln City Vacation Homes Something for everyone: smaller homes with a view to a large house that sleeps 15. All are either oceanfront or just a few steps away – all with a low bank access and fantastic views. Most are in the Nelscott area; one is close to the casino. You'll find a variety of goodies: fireplaces, multiple bedrooms, dishwashers, Jacuzzis, washer/dryers, hot tubs, cable TV, VCR, barbecues; there's a loft in one, and another sprawling home has two apartments. Pets allowed in some homes – ask first. Each comes with complete kitchens. Most have seventh night free. Prices range from winter $85 to summer $230 per night. www.getaway2thecoast.com. 541-994-8778.
Hines runs the motel San Dune Inn, and said he stopped receiving calls about the shape of the coast a few days after the power came back on. He thinks most people realize it's no longer medieval conditions and it's something else keeping them away.
"We mostly got calls along the lines of 'I hope you're OK,' " Hines said. "Christmas week is looking pretty good, but this December has been our lowest since we took over five years ago. I think it's the mortgage market and economic news that's keeping people away."
For Judy Joubert, owner of Stonecrest Cellar B&B, just south of Newport, the lack of business has given her the opportunity for a break, although her log cabin-like castle is still doing brisk wedding business. She said it's also a great time for visitors to have some down time on the coast.
"Take a break and indulge in great room rates, shopping, uncrowded restaurants, and a guaranteed romantic time on the coast."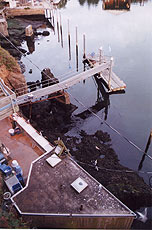 Depoe Bay recieved almost no damage or problems
Coomes said some are doing exactly that.
"One lady came in from Seattle this week - she had come to Cannon Beach to decompress and relax the week before all the hustle of Christmas," Coomes said. "Another gentleman came in and said he never comes during the summer, instead prefers the fall colors driving over from Portland and loves the winter storms. And remember whale watching is about to start again."
Interesting finds and moments – aside from the abundance of whales – are to be found these days as well.
Storms cause erosion on the beaches, and this makes your favorite beach spot look just a bit different, as well as increases your chances for astounding beachcombing discoveries.
This is especially true on the lower central coast right now.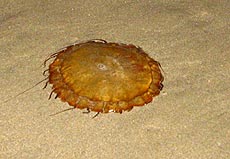 Large jellyfish found at Arch Cape after a recent winter storm
"The beaches have been stripped of so much sand it has uncovered fossil rock and trees," Jourbert said of her area just south of Newport. "Great time for agate and rock hunting as well as viewing unusual beach and bluff erosion. The wild ocean, beach and bluffs are providing great opportunities for any amateur or professional photographer."
Guy DiTorrice, a beach and fossil expert in Newport, noted that beaches north of Newport have not changed much. But south of there is another story.
"Spent the weekend at low tides, checking out exposed sites at Thiel Creek, Lost Creek, Seal Rock and Coal Creek," DiTorrice said. "South of Newport beaches are showing good rock, a wide color selection of agates and jaspers - and nice sizes - as well as some fossils."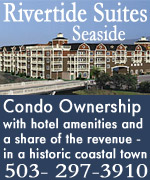 In Rockaway Beach, Rick Cheek runs Rick's Roadhouse Bar & Grille. He said – in a rather humorous fashion - some of his favorite things about the beach happen in the summer, but there are high points to winter as well. "Great seafood, great night life, salty old timers to listen to, and just a short walk to bars, bonfires and babes," he said.
Cheek said dinners by candlelight after a storm knocks the power out are especially lovely, and he joked how lumberjacks right now don't have to do much cutting in the nearby forests.
"How can you not want to be the first to feel the oceans fury?," he said. "The beach: where the speed limit is less than the wind speed."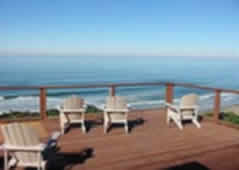 A1 Beach Rentals, Lincoln City. Perfect for large family vacations all the way down to a getaway lodging for two - with over 25 vacation rental homes to choose from. A breathtaking collection of craftsman or traditional beachfront homes, or oceanview houses – from one to seven bedrooms. In various areas of Lincoln City and overlooking the beach, with some in Depoe Bay. All kinds of amenities are available, like hot tubs, decks, BBQ, rock fireplaces, beamed ceilings and more. Some are new, some are historic charmers. Lincoln City, Oregon. 1-(503)-232-5984. www.a1beachrentals.com.

D Sands Condominium Motel, Lincoln City. Free, fresh baked cookie upon check-in is just the start. All rooms beachfront and up against Lincoln City's most famous stretch of beach: the D River. Each room comes as a suite or mini-suite, and has a kitchen and balcony or patio. Some w/ gas fireplaces, while all have a DVD Players; movies to rent come with free popcorn. Heated indoor pool, a spa, and this fabulous beach is lit at night. Rooms sleep from two, four to six - including a deluxe fireplace suite. Gift certificates orspecial occasion packages. www.dsandsmotel.com. 171 S.W. Highway 101. 800-527-3925.

Tradewinds Motel, Rockaway Beach. All rooms are immaculate and have TV's, VCR's and in-room phones w/ data ports. Oceanfronts have queen bed, a double hide-a-bed, kitchen, cozy firelog fireplace and private deck. Both types sleep up to four people. Others are appointed for a two-person romantic getaway, yet still perfect for those on a budget. Elaborate oceanfront Jacuzzi suite has two bedrooms, kitchen, double hide-a-bed, fireplace and private deck, sleeping as many as six. For family reunions or large gatherings such as weddings, some rooms can connect to create two-room and three-room suites. Some rooms pet friendly. 523 N. Pacific St., Rockaway Beach. (503) 355-2112 - 1-800-824-0938. www.tradewinds-motel.com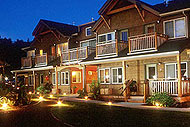 Inn at Cannon Beach. Beautifully wooded natural setting at quiet south end of Cannon Beach. Great during winter storms with a new book by the fireplace – or when the sun is out for family fun and beach strolling. Handsome beach cottage-style architecture. Lush flowering gardens and naturalized courtyard pond. Warm, inviting guest rooms. Continental buffet breakfast. Warm Cookies. Family and Pet Friendly. Welcome gifts. Smoke-free. Complimentary Wireless Connectivity. Wine and book signing events. 800-321-6304 or 503-436-9085. Hemlock At Surfcrest, Cannon Beach, Oregon. www.atcannonbeach.com.
RELATED STORIES
SPECIAL SECTIONS
oregon coast weather
oregon coast mileage chart & map
day trips, suggested itineraries
Oregon Coast Lodging Specials
Search BeachConnection.net's 1,000 pages
Oregon Coast Real Estate
Oregon Coast Pictures
Atypical Things to Do
Oregon Coast Camping
Seaside, Oregon Lodging
Cannon Beach, Oregon Lodging
Manzanita, Wheeler, Rockaway Beach Lodging
Lincoln City Lodging
Depoe Bay Lodging
Newport, Oregon Lodging
Cannon Beach Complete Guide
Lincoln City Complete Guide
Seaside, Oregon Complete Guide
OR TAKE THE VIRTUAL TOUR

ASTORIA
Where the Columbia meets the Pacific, Land of Lewis & Clark and loads of atmosphere & history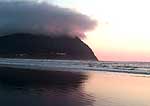 SEASIDE
The Promenade, Tillamook Head, family fun & broad, sandy beaches

CANNON BEACH
A mysterious lighthouse, upscale yet earthy, a huge monolith, fine eateries & an art mecca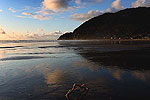 NEHALEM BAY
Manzanita's beaches, Nehalem and Wheeler's quirky beauty; laid back Rockaway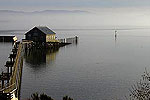 TILLAMOOK BAY
Garibaldi, Barview, Bay City, Tillamook & an oceanfront ghost town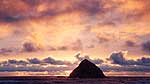 THREE CAPES LOOP
The hidden secret of the coast: Cape Meares, a lighthouse, Oceanside, Netarts and Pacific City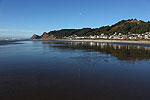 LINCOLN CITY
& THE CORRIDOR OF MYSTERY
Miles & miles of unbroken beaches, Cascade Head, Neskowin and many manmade attractions

DEPOE BAY
A spouting horn downtown, freaky hidden cliffs and whales, whales, whales

NEWPORT
Time-tripping Nye Beach, a bustling bayfront, marine science-central and two lighthouses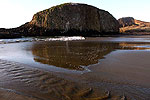 WALDPORT / SEAL ROCK
Pristine, even secretive sands and wild geologic landmarks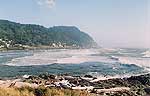 YACHATS
Constantly dramatic wave action, a mix of the rugged & upscale

UPPER LANE COUNTY
25 miles of deserted beaches & oodles of wonders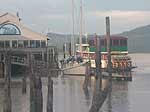 FLORENCE
A lighthouse, ancient bayfront and miles and miles of fluffy dunes