BEACH NEWS YOU CAN USE
Covering 160 miles of Oregon coast travel: Seaside, Cannon Beach, Manzanita, Nehalem, Wheeler, Rockaway, Garibaldi, Tillamook, Oceanside, Pacific City, Lincoln City, Depoe Bay, Newport, Wadport, Yachats & Florence.
Summer Cometh: Are you ready?
More Tourists Turning to 'Living La Vida Local' on Oregon's Coast
(Oregon Coast) - The Oregon coast is not just about tourism anymore.
Just like eco-travel, another growing trend in the tourism industry is about visiting a locale and digging in a little bit, without doing all the common attractions or tourist traps. While this is more prominent among Westerners going to other countries and not staying at fancy hotels or big cities, and instead opting for tinier villages or more rural experiences, the idea has its counterpart among those visiting the coast. It's not as obvious as an American drifting through Nairobi, Jamaica, or even small-town Germany, but living among the locals and engaging yourself in small town, coastal culture - even if only for a day - is happening more and more.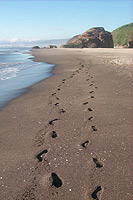 Finding hidden spots, like this one near Neskowin, is a favorite with those digging deeper into coastal fun
There are those that are looking for a more complete experience on the Oregon coast, likely staying for a few days, or visiting numerous times, and really getting to know an area in an intimate way. They explore more of the beaches, hang out at the local bars, spend time at the smaller, less touristy shops and restaurants, and get to know those who live there.
It's about getting a serious taste of local flavor, but not necessarily blending in - and it happens in a variety of ways.
Seaside businessman Warren Kan has noticed it. "The regulars with condos and summer homes primarily seem to walk the prom or beach as the primary reason they come regularly," he said. "I explain it as the innate desire for negative ions and the peace and quiet to get their vitamin D. They have specific restaurants they go to often enough to be recognized by the staff. Some of them are regulars at the small bookstore in Sand Dollar Square. They seem to attend the promotions at the convention center judging from the questionnaires I used to include on drawings."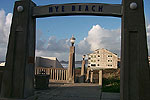 Newport's Deborah Trusty, owner of Village Market & Deli, says she mostly sees it with those who have beach homes. One Portland family she knows comes to stay for a while and indulges in local culture. "They shop locally, go to the Sandbar, breakfast at Panini, work out at Newport's rec center and attend Newport Performing Arts Center performances. Their children go to Tsunami and create ceramic art, and enjoy ice cream from Nye Beach Scoop. If we are holding a special event, like a wine and food pairing, they attend and mix with the locals. They walk the Nye Beach neighborhood and know many residents, especially the business people."
Trusty does see it with others just passing through, however. "Several people have come through our shop that are interested in local features," she said.
Newport, Rockaway Beach and Manzanita are seeing a whole new surge in homebuilding or construction of condominiums, as part time residents begin to make up more and more of the coastal population. These folks not only dig into local culture and towns, they plant roots.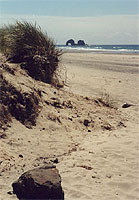 Because of this, Rockaway Beach is about to get a new look. The little town is still kind of a secret, and not busy enough to totally support a tourist industry. So many lodgings in the area are being torn down or renovated into condos. Something in the vicinity of $30 million of construction is happening in the area - the majority of which will be made into high-end condos that will transform this town in a few short years.
The centerpiece of this is the Seacape Townhomes, created by Portland developer Mike Nelson. He's creating 37 units of rowhouses along the beachfront; one of which has four stories, an elevator and skylight, with its more than 3000 square feet going for $1.4 million. Nelson's company is also putting together some other smaller condo ideas.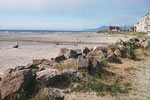 His company is planning to create a high-end restaurant and lounge near the condos, and Nelson said he's currently working on buying up one building to place a wine bar in there. All of these will have ocean views.
Nelson's company isn't the only one. Brian Hemstreet, son of Shilo Inn owner Mark Hemstreet, is creating another extravagant set of condos nearby. Several other lodgings in the area are either being sold with the purpose of being torn down and turned into condominiums, or they are already in the process of transformation.
Nelson also bought up the Sea Treasure Inn last year and has renovated that as well.
Nelson said there just isn't the need for motel rooms - yet. But he believes that will come again. The town will change and create something new with all the upcoming renovations and higher-end attractions.
"It's not so touristy now," Nelson said. "The motels aren't being supported. But the market will adjust itself there. Eventually, the need for motels will come. And many of these owners of high-end condos will put their properties into the pool of vacation rentals. There will probably be something like 100 to 200 homes coming in. It costs more, but people will stay longer, and they'll enjoy that aspect of having a nice beachfront home for a while."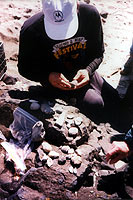 DiTorrice on a tour
Beach Connection's own columnist, Guy DiTorrice, was for years the head of the Oregon Coast Visitors Association - and he knows local tourism. Currently, he gives fossil tours of central coast beaches, and this shows him how deep - quite literally - people are willing to dig into the coast. "I turn down as many fossil beach tours as I book, along with summer Saturday evening fossil programs at Beverly Beach and South Beach State Campgrounds," DiTorrice says. "It tells me people are doing more than just buying postcards and t-shirts when they come to the coast."
Tips on Living "La Vida Local"
The key to enjoying this whole aspect of the Oregon coast is hanging out long enough to discover the local secrets. The rewards are intensely satisfying. To find a hidden deli or restaurant tucked away somewhere, an interesting and friendly bar or a clandestine beach spot is enough to get addicted and keep coming back for more. Of course, making great new friends is yet another dimension to this kind of detailed exploration.
How this is done depends on what area you're in as well, but often repeat visits or a long stay is key. If you're planning a day or simple overnight trip, and would like try a bit of treasure hunting, here's a list of some suggestions according to area: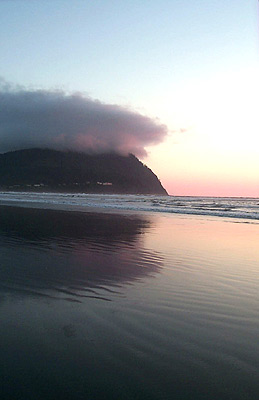 SEASIDE. Walk the length of the Promenade and check out the old, old vacation homes. Spend time exploring shops and restaurants in areas other than the main drag of Broadway, such as the Gilbert District (east end of that street), Holladay Ave., or some of the cafes on 101. Attend events at the Seaside Theater. Check out bars like Girtles, Shilo, Lil' Bayou or Bridgetender. SITES & SIGHTS: The deserted, northern beach which becomes dunes and ends at the estuary. Seaside Historical Museum. The beaches of Gearhart, just north of town. Hike just part of the trail over Tillamook Head.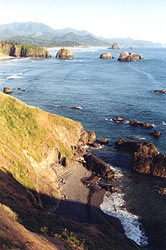 CANNON BEACH. Send time walking around downtown, carefully checking out the shops. Live theater at the Coaster Theater. Keep your eye out for wine tasting events at various spots. Walk the charming, unnamed lane running between the homes and the dunes of Mid-Town and gawk at the sites. The Warren House Pub stays open late and is a kick in the pants. SITES & SIGHTS: The beaches on the extreme southern end and northern end tend to be more deserted. Play tennis at the court by the Chamber. Stop at every beach access just south of town until you reach the tunnel.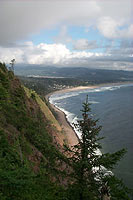 NEHALEM BAY. Stop for a while at Nehalem Bay Winery, then explore Highway 53 a bit. Walk the entire length of Nehalem Bay Spit. Hang out by the Nehalem River. Take thirty minutes to walk briefly into every shop in tiny Wheeler. Sit on the docks of the bay in Wheeler. Grab food to go in Manzanita and munch on the beach or in your car while parked by the beach. Both bars in the area are extremely friendly: San Dune and Sea Shack. Take a boat from Jetty Fishery to tip of Spit. SITES & SIGHTS: Seven miles of incredible beach at Rockaway. Wild hidden spots just north of Manzanita.
TILLAMOOK AREA. Walk the hidden beach and park at Barview, just north of Garibaldi. Watch workers shuck oysters at Pacific Oyster in Bay City as you dine. SITES & SIGHTS: Bayocean Spit, where an entire ghost town once sat.
THREE CAPES TOUR. Includes Oceanside, Netarts, Tierra Del Mar and Pacific City, three capes, a lighthouse - with 25 miles of hidden spots and stuff to discover. You'll need a week of 10-hour days to explore it all (working quickly, that is).

LINCOLN CITY. Dally at the shops up and down 101, hang out at the various coffee shops, tour the antique stores. Bars like Maxwell's, the casino, Snug Harbor and Kodiak are fantastic local faves. SITES & SIGHTS: Siletz Bay and the beaches nearby. NW 15th St. ramp to beach. Hidden accesses around Kyllo's. Hidden beaches of Gleneden Beach and Lincoln Beach (s. of town).
DEPOE BAY. Winetasting and exploring the shops and restaurants are a sure way to dig deeper. Wander the area around the bay slowly. SITES & SIGHTS: Hidden spots abound, but you have to look carefully. Just north of Cape Foulweather contains more secrets as well.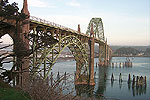 NEWPORT. Loiter around Nye Beach or the Bayfront slowly, see how many kinds of seafood you can taste test. SITES & SIGHTS: Cracks and crevices of a secret nature all around Yaquina Head, including above it. Parks near the jetties. Fishing pier that juts into the bay from the South Beach side.
WALDPORT/YACHATS. Attend events at the Yachats Commons or other community centers. Stroll around the shops of downtown Yachats or Seal Rock. The Landmark in Yachats is a wonderful, colorful lounge. SITES & SIGHTS: This entire area is filled with deserted beaches that will take you weeks to fully explore.

FLORENCE. Old Town has dozens of fun shops to explore at a quiet pace. Florence doesn't end at the bridge either, there's more on the southern end. SITES & SIGHTS: Baker Beach is one big expanse of usually empty sand. Hike the trails in back of the Heceta Head Lighthouse.
Coffee shops, art galleries, delis, small mom & pop restaurants: they all provide such opportunities for closer examination. Find the shops along tiny, obscure side streets, drive through various beachside neighborhoods until you find your own favorite hidden beach.
Whatever you do, look more closely and spend some time.