Covering 180 miles of Oregon coast travel: Astoria, Seaside, Cannon Beach, Manzanita, Nehalem, Wheeler, Rockaway, Garibaldi, Tillamook, Oceanside, Pacific City, Lincoln City, Depoe Bay, Newport, Waldport, Yachats & Florence.
08/21/07
Central Oregon Coast Live Music Hot Spot Sizzles in September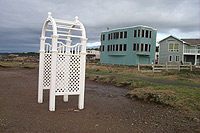 Interesting oddities at Yachats' beaches
(Yachats, Oregon) - September really turns up the heat at Yachats' little lounge that could (and does): the Landmark Lounge. This month you can catch national acts like Mem Shannon & the Membership and the James Armstrong Band, along with some pleasant oddities and surprises, such as punk rock, some esoteric reggae from Eugene and world beat Gypsy outfit that will blow your mind. Plus, there's plenty of blues and rock that will knock your socks off.
All shows are free and begin at 9 p.m. The Landmark Lounge is at 111 Hwy. 101, Yachats, Oregon. All shows are over 21.
On Saturday, September 1, it's Sea-Town Rhythm and Blues Players. One of Seattle's leading blues bands brings in some big city funk to the little town. This veteran group has been a mainstay of the Seattle blues scene for decades and has recently started venturing out of the hometown into neighboring states.
The band members encompass five decades of blues, heading back to the 60s. The leader is singer C.T. Thompson from Monroe, La., who been playing music since age nine. He moved to Seattle when he was 18 and while in college his influences were Jimi Hendrix, Sly Stone, Parliament and Earth Wind and Fire. He moved to Chicago and played with Little Milton, The Dells, Clarence Carter and many others, returning to Seattle to help build the blues scene. On guitar is Steve Black, a native of southern Illinois who has played with Otis Rush and funk bands like Confunkshun, and Lakeside and the
Bar-kays. On the Hammond B-3 is Roger Filgo, a longtime force in the Seattle scene who has opened for groups such as Earth Wind and Fire, John Lee Hooker, The Stylistics and Otis Rush. On drums, it's Vernon Petry "Cool V", originally from Spokane, with 30 years experience with rhythm & blues.


Sunday, September 2, it's The Dimes. From the Beatles to the present, call it hard-working indie rock.
The Dimes are an up-and-coming band from Portland, masters of the indie rock style that lets the story be told without drowning in sound. Johnny Clay cut his licks in the Austin, Texas, club scene, but is happy he made the move to Portland. He runs his band around the country seeking a full-time living from his music. He's close to making that happen. Dust doesn't settle on The Dimes.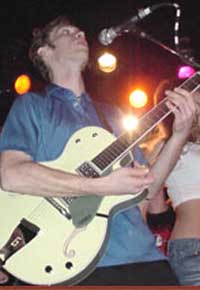 John Michael Young of Hookay Stew
Thursday, September 6, Portland's Hookah Stew performs. John Michael Young can play them all, and he does: funk, blues and rock. Some performers of the electric guitar stay outside the instrument; others, like the leader of Hookah Stew, go inside. John Michael Young formed this band 10 years ago and gave it a crash course of Cherry Poppin' Daddies, Aquarium Release and the Five Fingers of Funk. Some Stevie Wonder and a lot of Hendrix has rounded the sound in the past few years. The strength of this band grows the more it plays. Heading for the freeways of L.A., the band opens its West Coast tour with a Thursday night show.

Friday, September 7: Look for Two Leg Lucy. Classic rock covers and originals from one red hot Eugene guitar-based band. Roger McConnell and his band Two Leg Lucy are growing with every gig. His covers are sharper and his spooky, evocative guitar originals are starting to move into a leading role. Roger has toiled in other bands for years and is now experiencing a breakout run that comes from getting out on your own.
Do not miss this band - it is on the way up.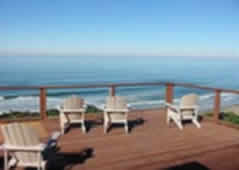 A1 Beach Rentals, Lincoln City. Perfect for large family vacations all the way down to a getaway lodging for two - with over 25 vacation rental homes to choose from. A breathtaking collection of craftsman or traditional beachfront homes, or oceanview houses – from one to seven bedrooms. In various areas of Lincoln City and overlooking the beach, with some in Depoe Bay. All kinds of amenities are available, like hot tubs, decks, BBQ, rock fireplaces, beamed ceilings and more. Some are new, some are historic charmers. Lincoln City, Oregon. 1-(503)-232-5984. www.a1beachrentals.com.
Saturday, September 8. J.C. Rico and Zulu Dragon – a blues mainstay from Eugene - makes his way to the coast.
For the past 15 years or so J.C. Rico has been tearing it up in Eugene, playing all the major clubs, working solo and with others, sticking to the true music of his soul. In July he finally made the trek over the mountains to the Landmark and he liked what he saw, heard and felt. The voice is extraordinary, and the Landmark is pleased to see him return. Consistently in the Top Three of the blues bands rated by readers of the Eugene Weekly, any outfit fronted by this talented cat should not be missed.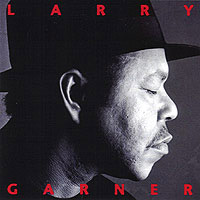 Sunday, September 9: Larry Garner Jr., with five records under his belt, brings his original blues from the Baton Rouge scene.
After quitting his job with Dow Chemical, Larry met and played with such Baton Rouge bluesmen as Silas Hogan, Whispering Smith, Lonesome Sundown, Clarence Edwards, WW Woolfolk, Chuck Mitchell, Arthur "Guitar" Kelly and Raful Neal. He occasionally played in New Orleans at Tipatina's, Rhythms on Bourbon Street, or with Bryan Lee at the late, lamented Old Absinthe House.
After his 1992 JSP debut CD "Double Dues" and his second JSP release "Too Blues," he recorded the classic "You Need to Live a Little" (1995) on Verve/Gitanes. This CD has tunes such as "Keep Four Cars Running," where a father laments about the expenses of heading a large household, and the hilarious "The Preacher Man Stole My Woman." His recent efforts include "Baton Rouge" (Evidence), "Standing Room Only," "Once Upon the Blues" and "Embarrassment to the Blues?" (Ruf).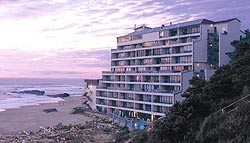 Inn At Spanish Head, Lincoln City. Lincoln City's only resort hotel built right on the beach with all oceanfront rooms - nestled against a rugged cliffside overlooking a soft, sandy beach. Dine in penthouse restaurant and bar, for casual meal or candlelight dinner. An array of seafood specialties, juicy steaks and other Northwest favorites, including decadent Sunday buffet. Rooms range from bedrooms to studios to 1-bedroom suites with microwaves and refrigerators to full kitchens. Also, wi-fi, spa, saunas, exercise room and year-round heated swimming pool. Kids will love the game room and easy beach access. Full-service conference/meeting rooms for that inspirational retreat; extensive wedding possibilities. 4009 SW Highway 101, Lincoln City. 1-800-452-8127 or 541-996-2161. www.spanishhead.com
Thursday, September 13: From New Orleans, it's Harmonica Red and the New Herd, a legendary harp player. This hard working band plays more than 250 dates a year, and has lately been showcasing its release, "Even Trolls Love Rock and Roll." George Heard, AKA Harmonica Red, has appeared on hundreds of recordings, working with some of the true heavyweights of the music business, including Clarence "Gatemouth" Brown, Little Feat, The Meters, The Neville Brothers, Al Hirt, Dr. John, Bruce Daigrepont, Big Al & the Heavyweights and many more. His band includes the drummer on the last five Little Feat CDs. Red promises to bring along beads from the gutters of Bourbon Street and other Mardi Gras treats.
Friday, September 14 brings the T Club to Yachats: positive reggae, hip-hop, and Dub from young Eugene outfit.
Now, here's a band that is just starting out. But with originals like "Catholic Guilt," "Social Responsibility" and "War Junkies," it's a not the kind of group you usually see. This is a fully urban trip, bringing the sounds of city to the edge of the world. Some come to Yachats to get away from this kind of stuff, but there are those who wish there was a lot more of it. Make up your mind as you dance the night away.

On Saturday, September 15, it's the Bluesdusters. Originals soaked in the blues tradition, from Ashland. This group is the project of a couple of veterans: Johnnie O. (John Nelson) from Chicago via Denver and L.A., and Grif (Leonard Griffie) from L.A. These two and their band mates generally stay away from covers. While they have a blues sound, they have a unique sound - dare we say it, an original sound. They call it American roots music and they know what they are talking about.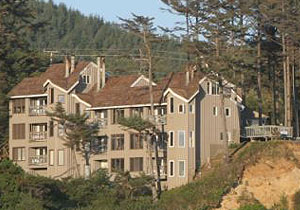 STARFISH POINT Newport - Offers only the finest in luxury condominium lodging. Every unit is focused on the beauty of the sea and the beach.
All units boast two bedrooms, two bathrooms, designer kitchens, wireless broadband Internet, fireplaces, Jacuzzi's and private decks. Friendly staff dedicated to high quality and superb customer service. 140 NW 48th Street, Newport. (541) 265-3751. (800) 870-7795. www.starfishpoint.com
Sunday, September 16. The Co-Stars. They're an indie pop and rock outfit from Eugene - one of those Eugene bands known for its high energy, tight harmony, ripping rock riffs and fast change lyrics. Led by drummer Micky Fuchs and lead vocalist Sassy Fuchs, this is power punk from start to finish. Every once in a while things calm down, but that just allows snazzy lead guitar player Shawn Notdruft and bassman Joe Pettit, Jr., AKA The Wave Generator, to get in a string of rugged riffs.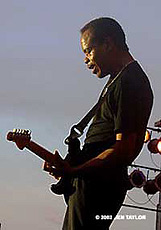 James Armstrong
Wednesday, September 19: The James Armstrong Blues Band. Guitarist, singer and songwriter, it's a special show from a part of the top echelon of American blues players.
His mother was a blues singer. His father played jazz guitar. Armstrong formed his first band in the seventh grade and by the age of 17 he was touring the country. Today, he travels the world, keeping the foundations of the music alive night after night. He's had three releases on HighTone Records and two WC Handy nominations. He credits Jimi Hendrix and Robert Cray as singing influences, and Albert Collins, Albert King and Eric Clapton as guitarists who constantly inspire him. After a near-fatal incident in 1998, he became more of an introspective player, introducing a variety of moods and atmospheres into his shows.
Friday, September 21: it's blues and soul from a favorite Northwest songstress, Kita Montgomery and the LB 4 LB Band. She brings with her amazing bassist John Pounds.
Kita tore the Landmark up a couple of years ago with her Koko Taylor-style renditions of blues classics. She went into a bit of a hiatus but is now back in full force, playing with her old band, the John Pounds-led funk mainstay. Expect a few surprises in the new set lists and also expect plenty of cheers.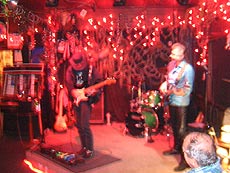 J.R Sims plays the Landmark last year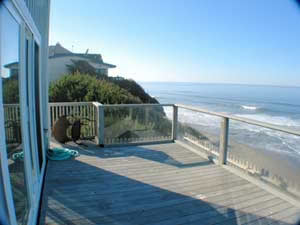 Lincoln City Vacation Homes Something for everyone: smaller homes with a view to a large house that sleeps 15. All are either oceanfront or just a few steps away – all with a low bank access and fantastic views. Most are in the Nelscott area; one is close to the casino. You'll find a variety of goodies: fireplaces, multiple bedrooms, dishwashers, Jacuzzis, washer/dryers, hot tubs, cable TV, VCR, barbecues; there's a loft in one, and another sprawling home has two apartments. Pets allowed in some homes – ask first. Each comes with complete kitchens. Most have seventh night free. Prices range from winter $85 to summer $230 per night. www.getaway2thecoast.com. 541-994-8778.
Saturday, September 22: J. R. Sims & Texas Special. From SRV to Hendrix – it's a host of rippin' blues from the south.
J.R. is the consummate blues guitar player who can recreate the sound of the tradition as well as anyone. Stevie Ray rewrote the Texas blues of the 40s and 50s into the high-flying guitar styles that last today. J.R. was there when Stevie Ray invented this stuff and J.R. brings it right into Yachats' living room for your listening pleasure
Sunday, September 23: Fishtank Ensemble brings with it atmospheres from the caravan to the café - another world beat sound of the Gypsy.
This group sports quite a list of instruments: violin, saw, accordion, shamisen, flamenco guitar, contrabass, percussion and voice. Romanian folk music forms the bulk of the material with a healthy helping of flamenco, Swedish folk music, klezmer, Gypsy jazz, other folk sources as well as original songs.
The band formed in San Francisco in 2005 around the French fiddler Fabrice Martinez, who spent seven years traveling around Europe in a mule-drawn caravan learning and playing folk music, often in Gypsy villages.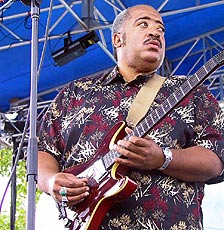 Mem Shannon
Tuesday, September 25: It's a special show with another national attraction, Mem Shannon & the Membership. One of New Orleans' hottest performers, these guys yank out funk dug from deep in the French Quarter.
For 15 years, Mem Shannon drove a cab in the French Quarter of New Orleans. In 1995 he turned the experiences into "A Cab Driver's Blues," a record that launched a career. Shannon has put out four more albums and solidified a place in the top strata of the New Orleans scene. The Washington Post called him "the blues field's finest social commentator." He had a hit record with "S.U.V." in 2002, earning Living Blues Magazine's Critics Poll Best Song of the Year. He has expanded the definition of the blues with performances at the King Biscuit Blues Festival and the Montreal Jazz Festival. He's shared the Kennedy Center stage with Gregg Allman, Buddy Guy, Koko Taylor and John Hiatt. He's performed with Robert Cray, Karl Denson, Taj Mahal, Toots & The Maytals, and RL Burnside. And for 14 years in a row he has performed at the invitation-only New Orleans Jazz and Heritage Festival.
Friday, September 28: I-Chele & the Circle of Light. The drifting rhythms of reggae groove are hard to find in the land of the big trees, but they are there. I-Chele has put together a sensuous unit of sound and built it carefully over the years, never losing the spark. Vince Black adds that true Jamaican feel, songmate Julie provides the icing and a large and talented percussion section weaves that tropical balance.
Saturday, September 29: Blue Moon Society. Eugene rockers bring a mix of blues and originals. Blue Moon Society is a three-piece band consisting of Jason Anderson, vocals and lead guitar; Dan Pacheco, drums and vocals; and Brian Beck, bass and vocals. Thinking he could learn to play in one day for a grade school talent show, Jason got his first guitar when he was seven. Playing at the talent show didn't work out, but getting that first guitar started an obsession that's lasted to this day and only grown stronger. Jason's musical style has changed a lot throughout the years, but the blues always seemed to be at the core. Within the last several years, he fully realized his true passion for the blues and has yet to look back.
Sunday, September 30: it's a debut at the Landmark with Portland band Mars Retrieval Unit playing layers of funk. They describe themselves as "Layered funk and progrock, soaring vocal harmonies, instrumental dazzletation, and all within the framework of catchy, hooky songs….the ultimate technologofunkical groove that will gnaw away at you till you hear more." That description alone is enough reason to come out for a visit.
www.landmark-yachats.com. 541-547-5459.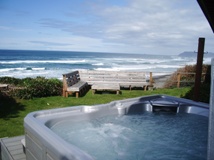 Arch Cape Property Services. Dozens of homes in that dreamy, rugged stretch between Cannon Beach and Manzanita known as Arch Cape. Oceanfront and ocean view , or just a short walk from the sea.
All homes are immaculate and smoke free; some pet friendly (with a fee). Some with broadband, indoor or outdoor hot tubs, fireplaces, decks, and fire pits or barbecues. Call about tempting winter specials that go until March (not valid holidays, however). www.archcaperentals.com 866-436-1607.

D Sands Condominium Motel, Lincoln City. Free, fresh baked cookie upon check-in is just the start. All rooms beachfront and up against Lincoln City's most famous stretch of beach: the D River. Each room comes as a suite or mini-suite, and has a kitchen and balcony or patio. Some w/ gas fireplaces, while all have a DVD Players; movies to rent come with free popcorn. Heated indoor pool, a spa, and this fabulous beach is lit at night. Rooms sleep from two, four to six - including a deluxe fireplace suite. Gift certificates orspecial occasion packages. www.dsandsmotel.com. 171 S.W. Highway 101. 800-527-3925.
Weiss' Paradise Suites & Vacation Rentals - Seaside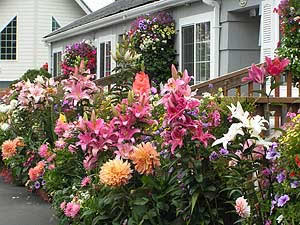 Unique Luxury Accommodations in Seaside. 1BR Suites, 1BR & 2BR Duplex Units and 3BR Houses, units for 2-8 people. Rent entire property for 20-26. Close to beach, river and Broadway St.
Suites are designed for two adults; vacation rental units for families. All units have kitchen and many have fireplace, deck and jetted tub. Comfy robes, slippers, luxury bath amenities, quality linens and more. 741 S. Downing St., Seaside. 800-738-6691. www.SeasideSuites.com

Tradewinds Motel, Rockaway Beach. All rooms are immaculate and have TV's, VCR's and in-room phones w/ data ports. Oceanfronts have queen bed, a double hide-a-bed, kitchen, cozy firelog fireplace and private deck. Both types sleep up to four people. Others are appointed for a two-person romantic getaway, yet still perfect for those on a budget. Elaborate oceanfront Jacuzzi suite has two bedrooms, kitchen, double hide-a-bed, fireplace and private deck, sleeping as many as six. For family reunions or large gatherings such as weddings, some rooms can connect to create two-room and three-room suites. Some rooms pet friendly. 523 N. Pacific St., Rockaway Beach. (503) 355-2112 - 1-800-824-0938. www.tradewinds-motel.com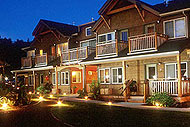 Inn at Cannon Beach. Beautifully wooded natural setting at quiet south end of Cannon Beach. Great during winter storms with a new book by the fireplace – or when the sun is out for family fun and beach strolling. Handsome beach cottage-style architecture. Lush flowering gardens and naturalized courtyard pond. Warm, inviting guest rooms. Continental buffet breakfast. Warm Cookies. Family and Pet Friendly. Welcome gifts. Smoke-free. Complimentary Wireless Connectivity. Wine and book signing events. 800-321-6304 or 503-436-9085. Hemlock At Surfcrest, Cannon Beach, Oregon. www.atcannonbeach.com.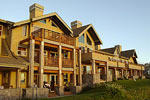 The Ocean Lodge. There will not be another property built like this in Cannon Beach in our lifetimes. Rare, premiere ocean front location; handsome, dramatic architecture and tasteful, fun (nostalgic) beach interiors. Overlooks Haystack Rock. 100 percent smoke free. Imaginative special occasion packages. Massive wood burning lobby fireplace. Library w/ fireplace, stocked with impressive book collection. Pet and family friendly. Lavish continental buffet breakfast. In-room fireplaces, mini-kitchens. Jacuzzi tubs in select rooms. DVD players, complimentary movies. Morning paper. Warm cookies. 888-777-4047. 503-436-2241. 2864 Pacific Street. Cannon Beach, Oregon. www.theoceanlodge.com
RELATED STORIES
SPECIAL SECTIONS
oregon coast weather
oregon coast mileage chart & map
day trips, suggested itineraries
Oregon Coast Lodging Specials
Search BeachConnection.net's 1,000 pages
Oregon Coast Real Estate
Oregon Coast Pictures
Atypical Things to Do
Oregon Coast Camping
Seaside, Oregon Lodging
Cannon Beach, Oregon Lodging
Manzanita, Wheeler, Rockaway Beach Lodging
Lincoln City Lodging
Depoe Bay Lodging
Cannon Beach Complete Guide
Lincoln City Complete Guide
Seaside, Oregon Complete Guide
OR TAKE THE VIRTUAL TOUR

ASTORIA
Where the Columbia meets the Pacific, Land of Lewis & Clark and loads of atmosphere & history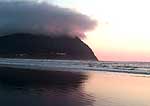 SEASIDE
The Promenade, Tillamook Head, family fun & broad, sandy beaches

CANNON BEACH
A mysterious lighthouse, upscale yet earthy, a huge monolith, fine eateries & an art mecca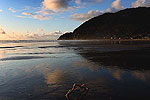 NEHALEM BAY
Manzanita's beaches, Nehalem and Wheeler's quirky beauty; laid back Rockaway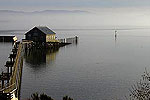 TILLAMOOK BAY
Garibaldi, Barview, Bay City, Tillamook & an oceanfront ghost town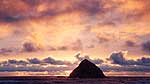 THREE CAPES LOOP
The hidden secret of the coast: Cape Meares, a lighthouse, Oceanside, Netarts and Pacific City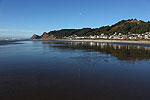 LINCOLN CITY
& THE CORRIDOR OF MYSTERY
Miles & miles of unbroken beaches, Cascade Head, Neskowin and many manmade attractions

DEPOE BAY
A spouting horn downtown, freaky hidden cliffs and whales, whales, whales

NEWPORT
Time-tripping Nye Beach, a bustling bayfront, marine science-central and two lighthouses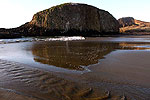 WALDPORT / SEAL ROCK
Pristine, even secretive sands and wild geologic landmarks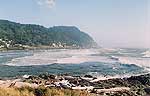 YACHATS
Constantly dramatic wave action, a mix of the rugged & upscale

UPPER LANE COUNTY
25 miles of deserted beaches & oodles of wonders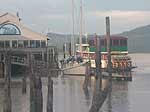 FLORENCE
A lighthouse, ancient bayfront and miles and miles of fluffy dunes