One Tiny Oregon Coast Spot Yields Dozens of Science Discoveries
Published 03/25/2011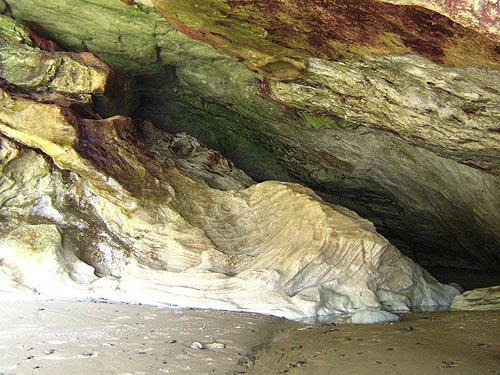 (Cannon Beach, Oregon) – Just south of Cannon Beach, on the north Oregon coast, sits a rather stunning beach that is so layered in its discoveries it's almost startling. Like an onion, you peel back one section of Hug Point to reveal something else beneath – quite literally.
About half the time, the tide hides a set of wonders just beyond the first rocky outcropping, as beyond that sits an ancient road that was carved out of the rock a good 100 years ago, a waterfall, and some interesting caves. The road itself hosts a small bundle of details, as do the caves. Then there's the geology of the place, which tells more than one fascinating story about all sorts of wild, even frightening natural events that caused the place to look the way it does.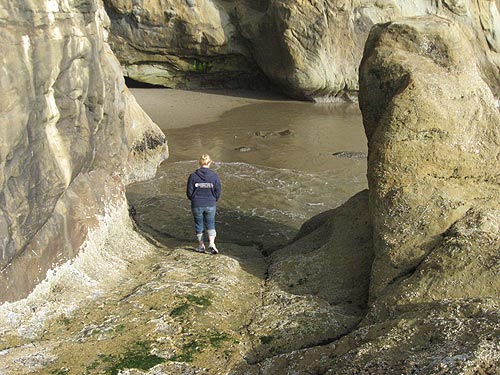 Combing these details is one heck of a treasure hunt at Hug Point.
The road around the point is now a barnacle-covered flat stretch of rock that mysteriously wraps around this promontory. Bits of concrete are still visible. It was built to allow old carriages and Model T's to pass around this bend, back before the existence of Highway 101. You can even see the remnant of the old traffic light still jammed into the rock at one point.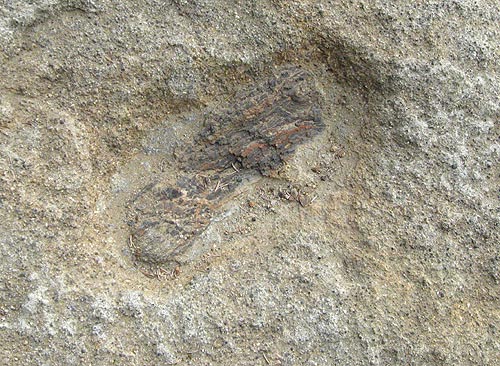 Look a bit closer and you'll notice two striking things: a brass knob with writing on it, embedded in the rock, and a chunk of something else also embedded in there that looks a bit like petrified wood frozen forever in time.
North Oregon coast resident Tom Horning is a prominent geologist who has studied the beaches here in depth. He says it might be wood, but it is more likely another chunk of rock that the sandstone of Hug Point simply grew around as it formed some 15 to 20 million years ago.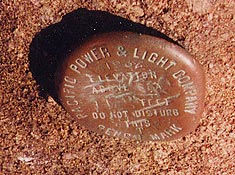 Knob at Hug Point
"It is probably a piece of laminated gray mudstone that was ripped up from the sea floor at the time the sandstones were being deposited," Horning said. "That's why we call them rip-ups. Possibly it is wood. Growth rings of wood and sediment laminations look surprisingly similar."
Horning said the rip-up is about the same age as the sandstone.
"They were laid down and buried at the same time," Horning said. "The rip-up was eroded by a meandering channel of the Columbia River, and the sandstones are channel sands from the estuary in Miocene time."
Sandstone is a common sight along the Oregon coast. Major landmarks made of this are Cape Kiwanda at Pacific City, Jump-Off Joe in Newport's Nye Beach, and many of the beachside cliffs you see at Newport, Waldport, Seal Rock, Lincoln City or Gleneden Beach.
Sand stone is created by sand grains getting pressed together beneath the beaches itself or bodies of water, and then bound by other things that seep into these subterranean layers.
"Once sands are buried (examples: in dunes, beaches, lakes, seafloor), cementing minerals (calcite, quartz, clays, iron oxides) bind together the sand grains," Horning said.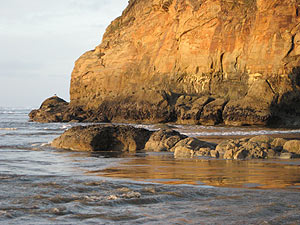 Hug Point, near the ancient road: only hit this area at low tide.
That little brass knob with writing on it is a USGS geodetic survey marker, Horning said - in spite of the impression it gives as having something to do with electricity with its inscription of a power company name. It has the year 1932 on it, and some designation of feet above sea level.
"They are brass and are embedded on bedrock as survey control points," Horning said. "Surveyors tie into them and build networks that reach into towns for lot surveys."
You can find these little oddities in plenty of rocky places along the coast, like at a couple of hidden spots around Depoe Bay, at Neskowin and others.
Then there are the caves at Hug Point, which are trippy little spots to visit and explore. The one next to the ancient road is one of the deepest and most intricate along the entire Oregon coast. Inside you'll find a host of unusual colors as well, which make for some fun eye candy moments, but they tell a fascinating story as well.
"The funky colors are mostly caused by the oxidation of iron-bearing minerals and cements in the sandstone," Horning said. "The original color of the sandstone is gray. But as oxygen gets to it, it begins to oxidize and take on red and yellow hues. Individual beds vary in their susceptibility to oxidation, so streaky gray and brown and yellow and orange results."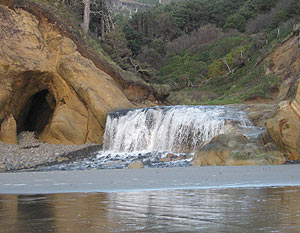 Other sea caves host weird bugs that are sometimes enormous and look somewhat prehistoric.
At very low tides, the area just below the old road reveals some stunning rocky slabs, teeming with sea life, like colonies of starfish. Other slabs sit just below the calm, blue waters (during such conditions), and look like remnants of some ancient civilization lurking beneath this road.
Hug Point is a mesmerizing spot along the coast with even more to offer in its landscape and geologic history. Sometimes, low sand level events reveal oddities called "red towers," and the markings along the cliffs tell of frightening, geologic upheavals involving lava flows hundreds of miles long and maybe thirty feet high.
A warning about this area: make sure you only go beyond the first point at low tide, then keep a watch on them as the breakers like to sneak up on you.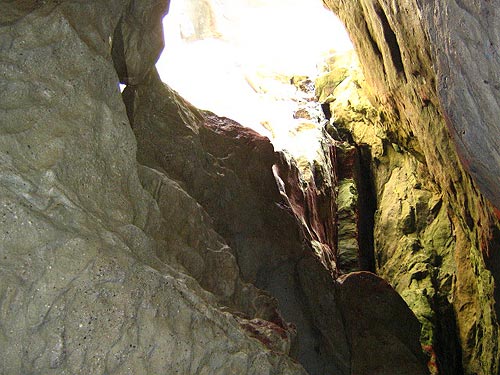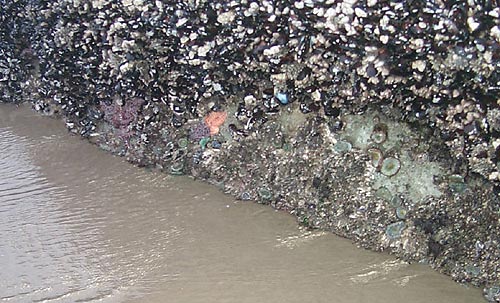 More About Cannon Beach Lodging.....
More About Cannon Beach Restaurants, Dining.....
LATEST OREGON COAST NEWS STORIES