Covering 180 miles of Oregon coast travel: Astoria, Seaside, Cannon Beach, Manzanita, Nehalem, Wheeler, Rockaway, Garibaldi, Tillamook, Oceanside, Pacific City, Lincoln City, Depoe Bay, Newport, Waldport, Yachats & Florence.
11/27/07
A Different Holiday Gift Guide: Unique Oregon Coast Goodies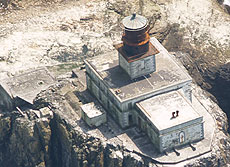 Get up and close and personal with this elusive lighthouse with the documentary Oregon Lights
(Oregon Coast) – Cyber Monday may have come and gone, but the idea of buying Christmas gifts online can take a decidedly relaxed, coastal turn by turning to a variety of beachy ideas. Numerous places on the Oregon coast allow you to either take a bit of the beach home with you, or you can order some of the beach online or over the phone.
In either case, what could be more perfect for a gift idea? Oregon coast craftsmen, artisans and lodging and dining businesses offer the chance to either have a bit of the beach at home, or give the gift of lodging or eateries to a loved one, and letting them head out there and have a blast.
American Tiki Idol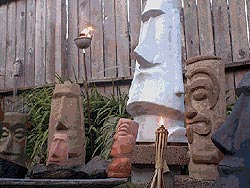 Have you ever wanted a piece of the Oregon coast to take home – but maybe one that reminded you of warmer weather?
Enter this Tiki idol-maker from Waldport. Tikis by Seamus creates a variety of whimsical beings in the Polynesian style, from spitting fountains, objects for your backyard or even your desk.
The Tikis fountains are hand sculpted concrete, but surprisingly light because they're hollow. They're three to four feet tall and cost around $300.
The garden Tikis are concrete castings, ranging from 9 inches to two feet tall. They can work with indoor décor as well as outdoor situations, running the buyer $25 - $55.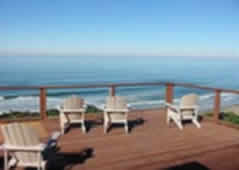 A1 Beach Rentals, Lincoln City. Perfect for large family vacations all the way down to a getaway lodging for two - with over 25 vacation rental homes to choose from. A breathtaking collection of craftsman or traditional beachfront homes, or oceanview houses – from one to seven bedrooms. In various areas of Lincoln City and overlooking the beach, with some in Depoe Bay. All kinds of amenities are available, like hot tubs, decks, BBQ, rock fireplaces, beamed ceilings and more. Some are new, some are historic charmers. Lincoln City, Oregon. 1-(503)-232-5984. www.a1beachrentals.com.
Bring out the headhunter in you with mounted masks of terra cotta. These ten-inch by 13-inch exotic lovelies are gouged, burned and clearcoated, coming with a brown burlap background. They're about $45. www.tikisbyseamus.com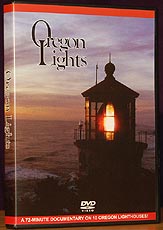 Oregon Lighthouses Under the Tree
"Oregon Lights" is a DVD from Oregon Coast Show cameraman and producer Scott Gibson and writer David Anslow, now available online at www.oregonlightsdvd.com. The award-winning show was aired on Oregon Public Broadcasting a few times in the early part of this decade, and made a splash then. Now, you take those lighthouses home with you.
13 chapters of the video take you through all ten of Oregon's lighthouses, including the private lighthouse owned by famed maritime author Jim Gibbs, as well as some other related subjects.
Those who love to travel the Oregon coast will find this film intoxicating. The DVD is 72 minutes of glorious footage, beautiful scenery, and fascinating background information and history. It takes the viewer on a tour of all the lighthouses up and down the coast, through their history, and touches upon the legends of hauntings as well. It even features interviews with Gibbs, who not only served aboard the crazed Tillamook Rock Lighthouse until it was shut down in 1957, but created his own small lighthouse at his home in Yachats.
Weiss' Paradise Suites & Vacation Rentals - Seaside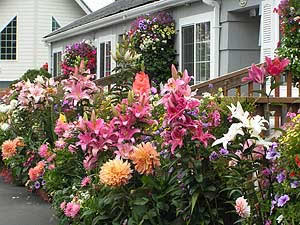 Unique Luxury Accommodations in Seaside. 1BR Suites, 1BR & 2BR Duplex Units and 3BR Houses, units for 2-8 people. Rent entire property for 20-26. Close to beach, river and Broadway St.
Suites are designed for two adults; vacation rental units for families. All units have kitchen and many have fireplace, deck and jetted tub. Comfy robes, slippers, luxury bath amenities, quality linens and more. 741 S. Downing St., Seaside. 800-738-6691. www.SeasideSuites.com
The DVD is $14.95, with free shipping and handling. It can be previewed and ordered at www.OregonLightsDVD.com.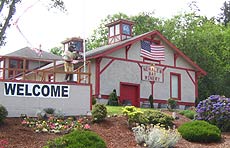 Nehalem Bay Winery
Wine on the North and Central Coast – and Helping a Cambodian Village
Fine wine is always welcome at Christmastime, and the Nehalem Bay Winery is certainly the hotspot for this on the north coast, as well as on the central coast at Depoe Bay Winery. For the holidays, they spotlight the slightly spicy "Santa's Elixir," as well as sweatshirts with that little, whimsical logo emblazoned on them. This delightfully unusual place adds a fun, new slant to the whole wine tasting experience.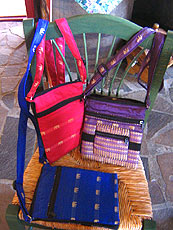 Cambodian bags at the two wineries
At both Depoe Bay Winery and Nehalem Bay Winery, they're featuring enchanting gift ideas with Cambodian handbags and winebags, made by a group of hard-working villagers. All the proceeds from these purchases go to help this impoverished little burgh. The handbags, backpacks and wine bags, made from a silk-like fabric of bright colors and a hint of iridescence. They run $15 to $25.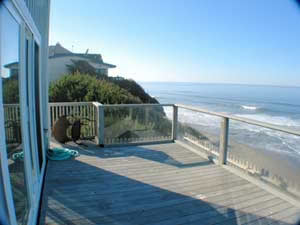 Lincoln City Vacation Homes Something for everyone: smaller homes with a view to a large house that sleeps 15. All are either oceanfront or just a few steps away – all with a low bank access and fantastic views. Most are in the Nelscott area; one is close to the casino. You'll find a variety of goodies: fireplaces, multiple bedrooms, dishwashers, Jacuzzis, washer/dryers, hot tubs, cable TV, VCR, barbecues; there's a loft in one, and another sprawling home has two apartments. Pets allowed in some homes – ask first. Each comes with complete kitchens. Most have seventh night free. Prices range from winter $85 to summer $230 per night. www.getaway2thecoast.com. 541-994-8778.
At the Depoe Bay facility, they have crystal Depoe Bay ornaments with a whale tale - $10. Also, Christmas Cork Stoppers - just a few left - but they are also $10.
Check out www.nehalembaywinery.com or make sure you stop by on your next visit to the area. You can also order cases of wine from them over the phone. Highway 53 - about two miles from Wheeler. 1-888-368-WINE. Or in Depoe Bay, right on Highway 101.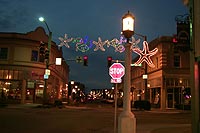 Shop Seaside and other north coast towns online with one website
One Stop Online Shopping for Coastal Gifts
A couple years ago, Manzanita resident Rachel Sip started an idea that's not only different but needed in the world of gift registries: RegisterLocally.com. Instead of signing up at one particular large store for your registry, why not have the entire coast at your disposal with its unique, handcrafted items? Sip also added another interesting slant by including the element of eco-friendly gift items. She was inspired by noticing that at the bridal and baby showers of friends, the best gifts were the indie ones purchased from smaller shops on the coast. The site is still relatively new, but new places are added all the time. And you can buy with the good conscience of knowing you've supported local small business people as well as assisted the environment.
There are all kinds of gift ideas floating around this little gem of a site, not just bridal or baby shower ideas. There's also a section for Portland gift ideas. This ain't your parents' online shopping spree. www.registerlocally.com.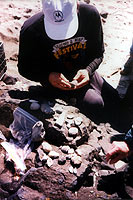 DiTorrice really "digs" his work
Oregon Beach Fossil Tours with Oregon Fossil Guy
Get great gifts for the geek in your life, with a tour around Oregon beaches, looking for remnants of stuff millions of years old. It's the closest the Oregon coast comes to Jurassic Park. $29 per person, $100 for four. Just email oregonfossilguy@hotmail.com to request and for payment information. Will mail directly to recipient complete with holiday-themed wrap, should you desire. Guy DiTorrice: PO Box 256. Newport, OR. 97365. 541-961-1762. www.OregonFossilGuy.com
Lodging and Dining Gift Certificates
Most places on the coast do offer such a service, letting your loved one wriggle their toes in the sand. And who knows? They may thank you by taking you along.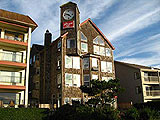 Seaside Oceanfront Inn
Seaside
The Seaside Oceanfront Inn and Restaurant. The Inn is located on Seaside's historic prom, with astounding views, right on the ocean. Certificates and holiday packages are available for both the restaurant and the inn. Call Linda at the Inn for help with this service. 581 South Prom Seaside, Oregon. 800-772-7766. 503-738-6403. www.theseasideinn.com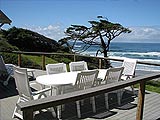 Amazing rentals in Cannon Beach
Cannon Beach
Cannon Beach Vacation Rentals. Sells any denomination. Outstanding homes all over Cannon Beach. Some pet friendly. 164 Sunset. Cannon Beach, Oregon. 503-436-0940. 866-436-0940. www.visitcb.com
Inn At Cannon Beach. Superb luxury hotel. Can purchase gift certificates over the phone or through their website. 800-321-6304 or 503-436-9085. Hemlock At Surfcrest, Cannon Beach, Oregon. www.atcannonbeach.com.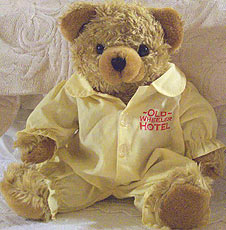 Adorable bear comes bearing gifts at Old Wheeler Hotel
Wheeler / Manzanita / Rockaway
Old Wheeler Hotel. A lovely, romantic idea from one of the most romantic places on the whole coast: "Gift Certificates Delivered by PJ Bear." A little stuffed bear comes bearing gifts, dressed up in an Old Wheeler Hotel t-shirt. Certificates can be purchased in any denomination. They can be bought without PJ, of course... but it makes a nice gift with the bear (comes in a nice mailable box which we can gift wrap if requested). More info here. Hwy 101 and Gregory. 877-4theview.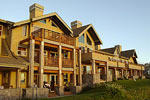 The Ocean Lodge. There will not be another property built like this in Cannon Beach in our lifetimes. Rare, premiere ocean front location; handsome, dramatic architecture and tasteful, fun (nostalgic) beach interiors. Overlooks Haystack Rock. 100 percent smoke free. Imaginative special occasion packages. Massive wood burning lobby fireplace. Library w/ fireplace, stocked with impressive book collection. Pet and family friendly. Lavish continental buffet breakfast. In-room fireplaces, mini-kitchens. Jacuzzi tubs in select rooms. DVD players, complimentary movies. Morning paper. Warm cookies. 888-777-4047. 503-436-2241. 2864 Pacific Street. Cannon Beach, Oregon. www.theoceanlodge.com
San Dune Inn. Certificates available in any denomination for a quirky, adorable little motel in the midst of mysterious Manzanita. "It's a good way to spend a cool yule at the coast, particularly during these high/low tide events," said owner Brian Hines. www.sanduneinn.com. 428 Dorcas Lane, Manzanita. 503-368-5163.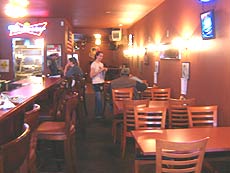 Rick's Roadhouse and Grill
Meredith Lodging in Manzanita. "Many of our renters purchase our gift certificates for every special occasion," said owner Kay Christianson. "Just a dollar amount or a special house they enjoyed." Full kitchens and a myriad of other features. Office in Lincoln City, Oregon. 541-996-2955 or 1-800-224-7660. Web Site Here
Rick's Roadhouse & Grill. Fine food and fun surroundings in a smoke-free environment. Just drop by and purchase in any amount desired. Certificates are redeemable for 1 year. Over 21 only. 184 Highway 101. Rockaway Beach, Oregon. 503-355-2052
Lincoln City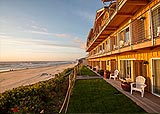 Pelican Shores Inn, Lincoln City
Looking Glass Inn, Pelican Shores Inn (and Schooner's Cove in Cannon Beach): They sell gift cards in any amount, and they are good at any of their properties. Two hotels in Lincoln City: Looking Glass Inn and Pelican Shores Inn; plus Schooner's Cove Inn in Cannon Beach and the Lakeshore Inn in Lake Oswego. 861 SW 51st Ave. Lincoln City, Oregon. 800-843-4940. www.lookingglass-inn.com
Liberty Inn. Continental breakfast, an indoor pool and Jacuzzi – all to be found under the tree, via a gift certificate. 4990 NE Logan Rd. Lincoln City, Oregon. (541) 994-1777. 877-994-1777. www.libertyinn.com.
The Starfish Manor Hotel. Pure romance and luxury overlooking the waves. 2735 NW Inlet Ave. Lincoln City, Oregon. 800-972-6155. www.onthebeachfront.com

The Beachfront Manor Hotel. New magnificence on the coast. 2855 NW Inlet Ave. Lincoln City, Oregon. 800-972-6155. www.beachfrontmanorhotel.com

The Nantucket Inn. Gorgeous min-hotel with serious upscale slant. 3135 NW Inlet Ave. Lincoln City, Oregon. www.thenantucketinn.com. 800-972-6155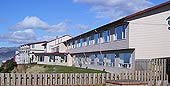 Sea Horse Oceanfront
Sea Horse Oceanfront Lodging. Lovely oceanfront views. Certificates in any amount. 1301 NW 21st Street, Lincoln City, Oregon 97367. Toll Free 800-662-2101 or 541-994-2101. www.seahorsemotel.com
Inn at Spanish Head. Any denomination of gift certificates; also quite a few pre-designed packages that are listed their website. 4009 SW Highway 101. Lincoln City, Oregon. 1-800-452-8127 or 541-996-2161. www.spanishhead.com
Depoe Bay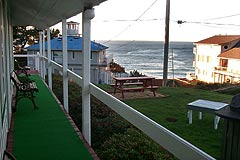 Trollers Lodge
Oregon Beach House Rentals. Gift certificates can be purchased by the night or by any amount applicable to rental. Custom made certificates especially for each person. Visa or MC for purchase. Homes in Lincoln City, Neskowin, Depoe Bay and Newport. 888-755-7783. www.cottagesbythebeach.com.
Trollers Lodge. Charming rooms and beautiful vacation rentals overlook the drama of waves in Depoe Bay. Gift certificates for specific dollar amounts from $25. 355 SW Hwy 101. (800) 472-9335 or (541) 765-2287. www.trollerslodge.com.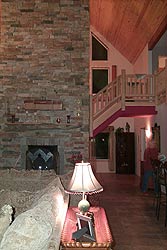 Stone Crest B&B, Newport
Oregon Beach Vacations. Gift certificates in all denominations for exceptional homes in Yachats, Waldport, Newport, Nye Beach, Otter Rock, Depoe Bay, Gleneden Beach, Lincoln Beach, Lincoln City, Neskowin, Pacific City, Tierra Del Mar and Rockaway Beach. Some pet friendly. Office in Lincoln City. 1-800-723-2383. www.oregonbeachvacations.com
Newport
Stone Crest Cellar B&B. Somewhere between a woodsy cabin and castle. Antiques, fine linens, Turkish bathrobes, wine, hor d'oeuvres, tea and full gourmet breakfasts – so romantic it hurts. Not only do they offer cards in any amount, but they can be applied towards the inn's elaborate wedding services. South Beach, three miles south of Newport (first driveway past 95th Street and Hwy 101). 9556 South Coast Hwy. (541) 867-6621. www.stonecrestbb.com

D Sands Condominium Motel, Lincoln City. Free, fresh baked cookie upon check-in is just the start. All rooms beachfront and up against Lincoln City's most famous stretch of beach: the D River. Each room comes as a suite or mini-suite, and has a kitchen and balcony or patio. Some w/ gas fireplaces, while all have a DVD Players; movies to rent come with free popcorn. Heated indoor pool, a spa, and this fabulous beach is lit at night. Rooms sleep from two, four to six - including a deluxe fireplace suite. Gift certificates orspecial occasion packages. www.dsandsmotel.com. 171 S.W. Highway 101. 800-527-3925.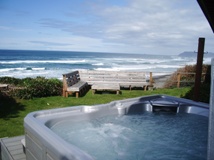 Arch Cape Property Services. Dozens of homes in that dreamy, rugged stretch between Cannon Beach and Manzanita known as Arch Cape. Oceanfront and ocean view , or just a short walk from the sea.
All homes are immaculate and smoke free; some pet friendly (with a fee). Some with broadband, indoor or outdoor hot tubs, fireplaces, decks, and fire pits or barbecues. Call about tempting winter specials that go until March (not valid holidays, however). www.archcaperentals.com 866-436-1607.

Tradewinds Motel, Rockaway Beach. All rooms are immaculate and have TV's, VCR's and in-room phones w/ data ports. Oceanfronts have queen bed, a double hide-a-bed, kitchen, cozy firelog fireplace and private deck. Both types sleep up to four people. Others are appointed for a two-person romantic getaway, yet still perfect for those on a budget. Elaborate oceanfront Jacuzzi suite has two bedrooms, kitchen, double hide-a-bed, fireplace and private deck, sleeping as many as six. For family reunions or large gatherings such as weddings, some rooms can connect to create two-room and three-room suites. Some rooms pet friendly. 523 N. Pacific St., Rockaway Beach. (503) 355-2112 - 1-800-824-0938. www.tradewinds-motel.com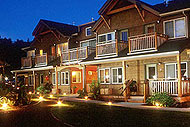 Inn at Cannon Beach. Beautifully wooded natural setting at quiet south end of Cannon Beach. Great during winter storms with a new book by the fireplace – or when the sun is out for family fun and beach strolling. Handsome beach cottage-style architecture. Lush flowering gardens and naturalized courtyard pond. Warm, inviting guest rooms. Continental buffet breakfast. Warm Cookies. Family and Pet Friendly. Welcome gifts. Smoke-free. Complimentary Wireless Connectivity. Wine and book signing events. 800-321-6304 or 503-436-9085. Hemlock At Surfcrest, Cannon Beach, Oregon. www.atcannonbeach.com.
RELATED STORIES
OREGON COAST VIRTUAL TOURS
Explore Every Beach Spot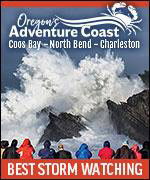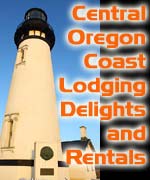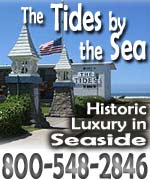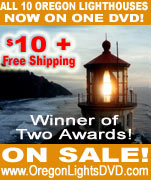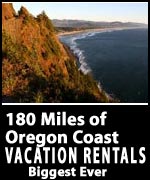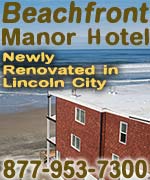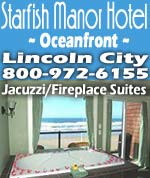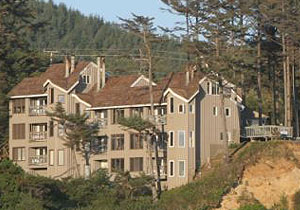 STARFISH POINT Newport - Offers only the finest in luxury condominium lodging. Every unit is focused on the beauty of the sea and the beach.
All units boast two bedrooms, two bathrooms, designer kitchens, wireless broadband Internet, fireplaces, Jacuzzi's and private decks. Friendly staff dedicated to high quality and superb customer service. 140 NW 48th Street, Newport. (541) 265-3751. (800) 870-7795. www.starfishpoint.com