Covering 180 miles of Oregon coast travel: Astoria, Seaside, Cannon Beach, Manzanita, Nehalem, Wheeler, Rockaway, Garibaldi, Tillamook, Oceanside, Pacific City, Lincoln City, Depoe Bay, Newport, Wadport, Yachats & Florence.
5/01/07
Weekly Oregon Coast Tourism and Fun Picks for May 1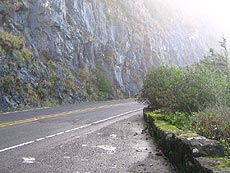 Atmospheric places above the waves near Florence (see last item)
(Oregon Coast) – The beginning of May means the beginning of wondrous weather on the coast, as the area starts to steer towards summer, while spring conditions still mean plenty of wild sights and that crazed, schizo kind of consistent change between sun and showers that puzzles tourists to the coast. Along with the lack of crowds and cheaper lodgings, it's still a mishmash of enormous amounts of fun for anyone looking for something very different.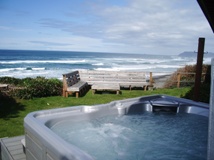 Arch Cape Property Services. Dozens of homes in that dreamy, rugged stretch between Cannon Beach and Manzanita known as Arch Cape. Oceanfront and ocean view , or just a short walk from the sea.
All homes are immaculate and smoke free; some pet friendly (with a fee). Some with broadband, indoor or outdoor hot tubs, fireplaces, decks, and fire pits or barbecues. Call about tempting winter specials that go until March (not valid holidays, however). www.archcaperentals.com 866-436-1607.
This week, there are some interesting events that will surprise you, and one big festival in Newport that is full of family frivolity. Live music is especially hot this weekend in Yachats. Then, there are the remarkable beaches, views and some lodging ideas you've probably never considered before. BeachConnection.net has some recommendations that will wow you.
Newport's Loyalty Days and Seafair Festival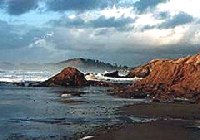 Nye Beach, Newport
Visitors and coastal residents alike will celebrate Newport's 51st Annual Loyalty Days and Seafair Festival May 3, 4, 5 and 6. The festival will include a traditional hometown patriotic parade, a carnival, rides, arcade games, scholarship awards and the crowning of a Loyalty Day queen.
This year's Loyalty Day Festival celebrates Newport's 125 years in existence along with the usual declaration of patriotism and honors for the military. The theme this May is "Reflections on 125 Years," looking back on the town and its history, having been incorporated in 1882.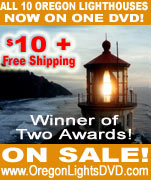 The carnival begins on Thursday, May 3, and runs all four days of the festival. Hours and costs of the carnival vary, with wristbands going for $8 to $20, depending on day. It is held at the Lincoln County Fairgrounds on Harney Street between NE 3rd and NE 7th streets. Lorrie Crook, treasurer of the Newport Loyalty Day and Seafair Festival Association, said the carnival is a large affair, with the arcade containing "just about any game you can imagine," along with plenty of big rides and food stuffs.
Parade on Saturday at noon. Other activities include classic car show at Flashback's Restaurant in South Beach. 800-262-7844.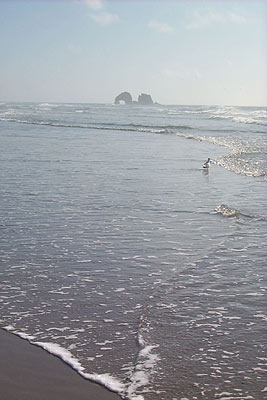 Twin Rocks, as seen from the main wayside
Rockaway Beach
It's a long stretch of town that has a rustic, rugged and slightly Victorian vibe in many spots. Many of the homes here look like they were built back in the late 1900's when the town was a resort bustling with wealthy and middle class Portlanders. But these have often been gussied up in interesting colors or decorated with wacky sea flotsam.

Tradewinds Motel, Rockaway Beach. All rooms are immaculate and have TV's, VCR's and in-room phones w/ data ports. Oceanfronts have queen bed, a double hide-a-bed, kitchen, cozy firelog fireplace and private deck. Both types sleep up to four people. Others are appointed for a two-person romantic getaway, yet still perfect for those on a budget. Elaborate oceanfront Jacuzzi suite has two bedrooms, kitchen, double hide-a-bed, fireplace and private deck, sleeping as many as six. For family reunions or large gatherings such as weddings, some rooms can connect to create two-room and three-room suites. Some rooms pet friendly. 523 N. Pacific St., Rockaway Beach. (503) 355-2112 - 1-800-824-0938. www.tradewinds-motel.com
Rockaway tries to be commercial and touristy, but it doesn't always succeed – thankfully. It still retains a sleepy, rugged quality in spite of the copious lodging and a few oddball, curio shops. The main attraction is still the beach, with about seven miles of it in either direction.
The most recognizable landmark on 101 is the main park and access, with the big red caboose catching the eye This now houses the town's visitor center. The parking lot also features restrooms and a viewing area. During the summer, this beach has a giant volleyball net set up. There are also a myriad of stores nearby.
The other big landmark isn't on land at all. Rockaway is famous for the Twin Rocks - the double rock arches laying just a ways offshore. You can check these out with pay binoculars from this main wayside.
To view them a bit closer, head to the southern edge of town and turn at Minnehaha St. Immediately you'll see Twin Rocks looming much larger than ever before right in front of you – almost in a frightening way. This is the spot closest to the two arches.
In fact, at low tides you can walk so far out towards the giant rocks that they really do become a little scary. There's an indentation in the tide level directly in front of them too, adding to this awe-inspiring vibe. It's obvious they're somehow changing the water or sand levels in front of them because of their enormous size.
The Passion and the Reggae at Landmark in Yachats
For a hefty dose of live music delirium, Yachats' The Landmark gets an A plus this weekend.
Friday, it's I-Chele and the Circle of Light, with some passionate reggae from Eugene. Saturday features The T-Club, with more reggae from Eugene, but this time mixed with hip hop and dub. Next Friday, May 11, look for John Shipe, the fiery and bold progressive pop folkster from Eugene who takes Americana to new, emotional and intellectual levels.
All shows start at 9 p.m. and are free. 111 Hwy 101 in Yachats. 541-547-5459. www.landmark-yachats.com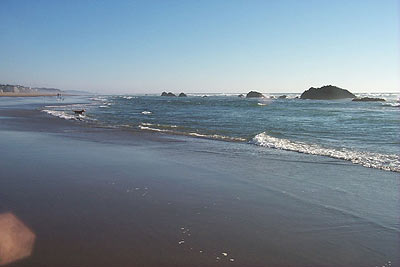 Near Road's End, where many of Pacific Retreats' homes sit
Pacific Retreats in Lincoln City
Over 40 delightful vacation rentals to choose from in various areas around Lincoln City. Ocean view, oceanfront and panoramic ocean views: you could say they have it all (while some have partial ocean views). Homes sleep anywhere from four to 16, with most in the 10 – 14 people range. If they're not right on the ocean, they're within a short walk. Many are in the gorgeous, upscale Road's End neighborhood, some are close to the casino, while there are plenty in SW Lincoln City, close to the shopping center, as well as a few in pristine, private Gleneden Beach. Duplexes, cozy cottages and even condo units are available, along with the homes. Depending on the house, you may find such interesting attractions as rock fireplaces, extensive game rooms, large decks, skylights, hot tubs overlooking the beach, wood fireplaces and big kitchens, among other surprises. Some homes pet friendly. Perfect for honeymooners or large groups or families. 3126 NE Highway 101. Lincoln City, Oregon 541-994-4833 / 1-800-473-4833. www.pacificretreats.com.
DIVE INTO LUXURY, HISTORY AT THE TIDES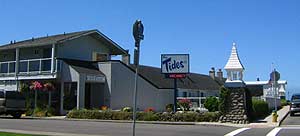 THE TIDES BY THE SEA, Seaside. For over 80 years a favorite of Seaside visitors. 51 oceanfront condos, individually owned and decorated. Suites for couples, small apartments with fireplaces and kitchenettes, one or two bed family units with fireplaces, kitchens and dining rooms. Oceanview cottages sleep anywhere from two to eight, w/ two bedrooms, some with lofts, fireplaces and kitchens. Heated outdoor pool, enormous grounds w/ picnic tables - all at quiet southern end of Seaside. 2316 Beach Drive. 800-548-2846. www.thetidesbythesea.com.
Dining Events in Tillamook
Sometimes the best food isn't just about restaurants. Tillamook has some interesting surprises in the culinary world, and quite grassroots as well – resulting in some fine home cookin'.
On May 6, it's the Oregon Hunter's Banquet at the Tillamook County Fairgrounds. Contact Sheila DeLoe at (503) 842-3511. It happens in the auditorium.
On May 9, it's the Annual Ham Dinner at St. Alban's Episcopal Church. This community event happens 5 p.m. - 8 p.m. 2102 Sixth Street. Tillamook. (503) 842-6192.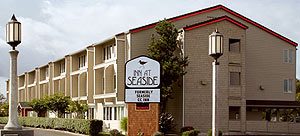 Indulgence at the Inn at Seaside
Formerly the Seaside Convention Center Inn, you'll find the Inn at Seaside located in the center of the action and adjacent to the Seaside Convention Center. It's perfect for beach lovers, families looking for a fun vacation and, of course, conventioneers. Spacious two bedroom suites, double queen-bedded rooms and hospitality suites are perfect for families, small groups or traveling couples. Each cheerful, well-appointed room provides guests with unexpected comfort and convenience. Amenities include: indoor heated swimming pool and spa, in room coffee service, weekday Oregonian newspaper, deluxe continental buffet breakfast and guest laundry facilities. This pet friendly gem is near all the action of Seaside: bumper boats, biking on the promenade, surfing, golf, fishing, crabbing, picnics, volleyball, factory outlet stores, aquatic center, a skate park and the requisite saltwater taffy tasting contest. 800-699-5070. 503-738-9581. 441 Second Ave. Seaside, Oregon. www.seasideccinn.com
If you're coming from the north from Newport, you'll soon spot Beaver Creek spilling into the sea and forming a small bay. There are some small parking spots and unmarked accesses on the north side of that bay.
Ona Beach and its park are a pleasant respite, with a small trail meandering next to the creek and a lovely little footbridge getting you onto fluffy dunes, and then leading you to this large beach.
At low tides – and if the sand levels aren't too high – odd tracts of rock structures emerge, containing a myriad of sea life.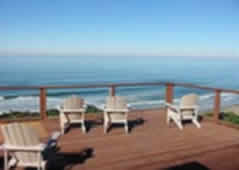 A1 Beach Rentals, Lincoln City. Perfect for large family vacations all the way down to a getaway lodging for two - with over 25 vacation rental homes to choose from. A breathtaking collection of craftsman or traditional beachfront homes, or oceanview houses – from one to seven bedrooms. In various areas of Lincoln City and overlooking the beach, with some in Depoe Bay. All kinds of amenities are available, like hot tubs, decks, BBQ, rock fireplaces, beamed ceilings and more. Some are new, some are historic charmers. Lincoln City, Oregon. 1-(503)-232-5984. www.a1beachrentals.com.
There are full restroom facilities and a boat ramp. And the park features a variety of picnic tables with little fire pits – so barbecuing just seems as if it should be de rigueur here.
On cold winter nights, the bridge going over the creek can get very icy – more so than other areas nearby.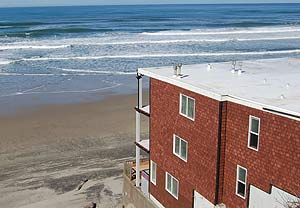 A New Beachfront Hotel in Lincoln City
The Beachfront Manor Hotel will be opening in about two weeks, and it's a "Must-See" on the oceanfront. A mere 30 upscale rooms grace the north end of Lincoln City, close to shopping, restaurants and the casino, making it cozy and hands-on in some unique ways. It's decorated with a "spa-like" feeling, featuring pillow top mattress, luxury linens and robes, flat screen TV's, microwaves/small refrigerators, custom art work, granite counters, upgraded soaps - all add to the pampering. Oceanfront and ocean view units have a gas fireplace to enhance the relaxation. To really spoil yourself and that special someone, reserve one of the oceanfront Hot Tub units. Romance Packages available!
There is a "luxury room for every budget." Direct beach access takes you to miles of sandy beach to enjoy. Meeting room available: this is the perfect place for your corporate retreat or small beach wedding. 2855 NW Inlet Ave., Lincoln City, Oregon. 1-877-953-7300. www.onthebeachfront.com online reservations currently available for any time beginning after 5/17/07.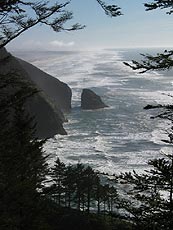 Stunning secret viewpoint next to Sea Lion Caves
Breathtaking Vistas North of Florence
As you drive along 101 just north of Florence, you soon find yourself high above the world on a set of basalt cliffs that are sprawling and magnificent. More of this road is winding and twisting after the Sea Lion Caves, sometimes dotted with various viewpoints and small waterfalls tumbling off the basalt rocks on the landward side of the highway.
BREATHTAKING CLIFFTOP IN NEWPORT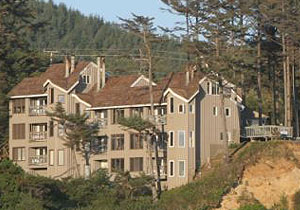 STARFISH POINT Newport - Offers only the finest in luxury condominium lodging. Every unit is focused on the beauty of the sea and the beach.
All units boast two bedrooms, two bathrooms, designer kitchens, wireless broadband Internet, fireplaces, Jacuzzi's and private decks. Friendly staff dedicated to high quality and superb customer service. 140 NW 48th Street, Newport. (541) 265-3751. (800) 870-7795. www.starfishpoint.com
These viewpoints are bordered by black rock walls which give them a slight Gothic castle vibe – especially if you stop by on a stormy night. Below them can be spotted various kinds of wildlife, from birds to sea lions. But mostly they provide opportunistic views of the Heceta Head lighthouse, which help make it among the most photographed lighthouses in the world.
At one spot, you can look down upon Baker Beach from several hundred feet above, and about a mile away. Another viewpoint is an unofficial one just a few steps south of the Sea Lion Caves, where the ocean and some headland structures make for amazing sights and shapes.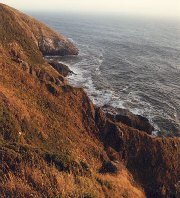 Grandioise viewpoints n. of Florence
The area also hosts Devil's Elbow State Park, the beach that is the gateway to the grand Heceta Head Lighthouse and a favorite with families.
There's a fair amount of sand here for lounging around. Although not the largest beach you've ever seen, one side is covered by Heceta Head and the other by another towering basalt structure about an eighth of a mile away. There's also picnic tables and the occasional wild bunny rabbit hopping around.
And of course, who can resist that lighthouse? It's known as the world's most photographed lighthouse, and for good reason. This stately beauty is visible some 21 months out to sea and has been around since the 1890's.
During the summer months, you can get tours of the lighthouse. When it's windy, you can feel the building creek and bend just a little as you tread that old, metallic circular staircase.

D Sands Condominium Motel, Lincoln City. Free, fresh baked cookie upon check-in is just the start. All rooms beachfront and up against Lincoln City's most famous stretch of beach: the D River. Each room comes as a suite or mini-suite, and has a kitchen and balcony or patio. Some w/ gas fireplaces, while all have a DVD Players; movies to rent come with free popcorn. Heated indoor pool, a spa, and this fabulous beach is lit at night. Rooms sleep from two, four to six - including a deluxe fireplace suite. Gift certificates orspecial occasion packages. www.dsandsmotel.com. 171 S.W. Highway 101. 800-527-3925.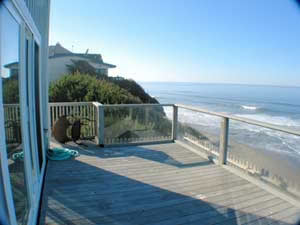 Lincoln City Vacation Homes Something for everyone: smaller homes with a view to a large house that sleeps 15. All are either oceanfront or just a few steps away – all with a low bank access and fantastic views. Most are in the Nelscott area; one is close to the casino. You'll find a variety of goodies: fireplaces, multiple bedrooms, dishwashers, Jacuzzis, washer/dryers, hot tubs, cable TV, VCR, barbecues; there's a loft in one, and another sprawling home has two apartments. Pets allowed in some homes – ask first. Each comes with complete kitchens. Most have seventh night free. Prices range from winter $85 to summer $230 per night. www.getaway2thecoast.com. 541-994-8778.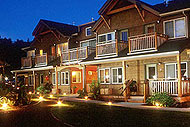 Inn at Cannon Beach. Beautifully wooded natural setting at quiet south end of Cannon Beach. Great during winter storms with a new book by the fireplace – or when the sun is out for family fun and beach strolling. Handsome beach cottage-style architecture. Lush flowering gardens and naturalized courtyard pond. Warm, inviting guest rooms. Continental buffet breakfast. Warm Cookies. Family and Pet Friendly. Welcome gifts. Smoke-free. Complimentary Wireless Connectivity. Wine and book signing events. 800-321-6304 or 503-436-9085. Hemlock At Surfcrest, Cannon Beach, Oregon. www.atcannonbeach.com.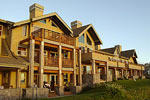 The Ocean Lodge. There will not be another property built like this in Cannon Beach in our lifetimes. Rare, premiere ocean front location; handsome, dramatic architecture and tasteful, fun (nostalgic) beach interiors. Overlooks Haystack Rock. 100 percent smoke free. Imaginative special occasion packages. Massive wood burning lobby fireplace. Library w/ fireplace, stocked with impressive book collection. Pet and family friendly. Lavish continental buffet breakfast. In-room fireplaces, mini-kitchens. Jacuzzi tubs in select rooms. DVD players, complimentary movies. Morning paper. Warm cookies. 888-777-4047. 503-436-2241. 2864 Pacific Street. Cannon Beach, Oregon. www.theoceanlodge.com
RELATED STORIES
SPECIAL SECTIONS
oregon coast weather
oregon coast mileage chart & map
day trips, suggested itineraries
Oregon Coast Lodging Specials
Search BeachConnection.net's 1,000 pages
Oregon Coast Real Estate
OR TAKE THE VIRTUAL TOUR

ASTORIA
Where the Columbia meets the Pacific, Land of Lewis & Clark and loads of atmosphere & history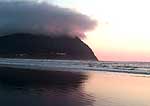 SEASIDE
The Promenade, Tillamook Head, family fun & broad, sandy beaches

CANNON BEACH
A mysterious lighthouse, upscale yet earthy, a huge monolith, fine eateries & an art mecca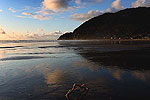 NEHALEM BAY
Manzanita's beaches, Nehalem and Wheeler's quirky beauty; laid back Rockaway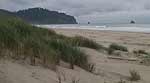 TILLAMOOK BAY
Garibaldi, Barview, Bay City, Tillamook & an oceanfront ghost town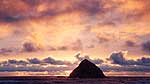 THREE CAPES LOOP
The hidden secret of the coast: Cape Meares, a lighthouse, Oceanside, Netarts and Pacific City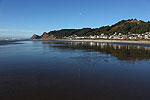 LINCOLN CITY
& THE CORRIDOR OF MYSTERY
Miles & miles of unbroken beaches, Cascade Head, Neskowin and many manmade attractions

DEPOE BAY
A spouting horn downtown, freaky hidden cliffs and whales, whales, whales

NEWPORT
Time-tripping Nye Beach, a bustling bayfront, marine science-central and two lighthouses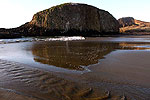 WALDPORT / SEAL ROCK
Pristine, even secretive sands and wild geologic landmarks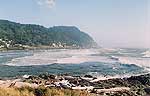 YACHATS
Constantly dramatic wave action, a mix of the rugged & upscale

UPPER LANE COUNTY
25 miles of deserted beaches & oodles of wonders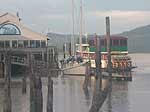 FLORENCE
A lighthouse, ancient bayfront and miles and miles of fluffy dunes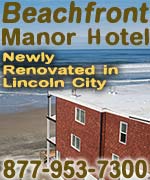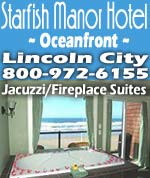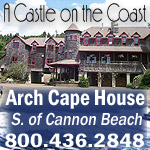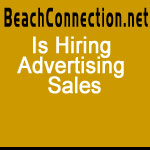 Weiss' Paradise Suites & Vacation Rentals - Seaside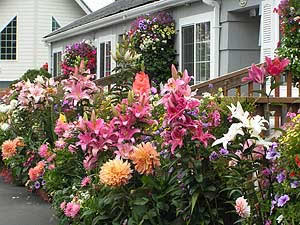 Unique Luxury Accommodations in Seaside. 1BR Suites, 1BR & 2BR Duplex Units and 3BR Houses, units for 2-8 people. Rent entire property for 20-26. Close to beach, river and Broadway St.
Suites are designed for two adults; vacation rental units for families. All units have kitchen and many have fireplace, deck and jetted tub. Comfy robes, slippers, luxury bath amenities, quality linens and more. 741 S. Downing St., Seaside. 800-738-6691. www.SeasideSuites.com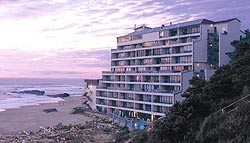 Inn At Spanish Head, Lincoln City. Lincoln City's only resort hotel built right on the beach with all oceanfront rooms - nestled against a rugged cliffside overlooking a soft, sandy beach. Dine in penthouse restaurant and bar, for casual meal or candlelight dinner. An array of seafood specialties, juicy steaks and other Northwest favorites, including decadent Sunday buffet. Rooms range from bedrooms to studios to 1-bedroom suites with microwaves and refrigerators to full kitchens. Also, wi-fi, spa, saunas, exercise room and year-round heated swimming pool. Kids will love the game room and easy beach access. Full-service conference/meeting rooms for that inspirational retreat; extensive wedding possibilities. 4009 SW Highway 101, Lincoln City. 1-800-452-8127 or 541-996-2161. www.spanishhead.com